The taste of mud coats my tongue as the crystal clear sun beats down from above. My muscles strain as I swing my leg and struggle to find proper footing on the swaying rope ladder.
"Let's go!"
The common cry from those already over the obstacle shout back at those yet to conquer the random beasts of burden splayed out on the course constructed by Rugged Maniac.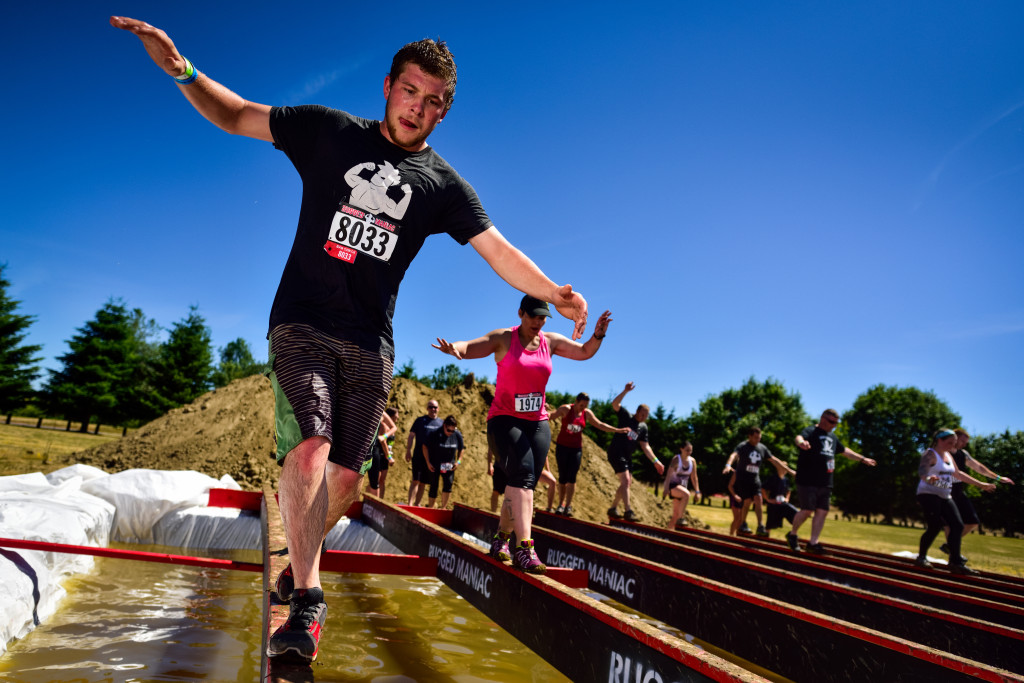 Just over three miles of running and twenty-five obstacles stand in my way between a free beer, participant medal, but most importantly a free t shirt. So how did I find myself trying to recapture the lost days of summer camp youth in my early thirties?
Simple: It's fun.
Running next to a varied cast of characters including Kale Consumers and Donut Devourers, Rugged Maniac is as much about pushing yourself to your own preset boundaries as it is about letting go and having some down and dirty fun. The whole movement of obstacle races and fitness runs, seems to have reawakened that long lost necessity of scrapped knees, sore muscles and muddy smile fun.
So here I am crawling down a ten foot black pipe that smells like a forgotten pile of dirty gym socks, into a mud pit covered by menacing barbed wire, only to have to pull myself up another black pipe equipped with a rope and I'm loving every minute of it.
Quick relationships are made with other participants as we collectively weave through the twenty-five obstacles that spring memories of an extreme gym class to the forefront of our minds.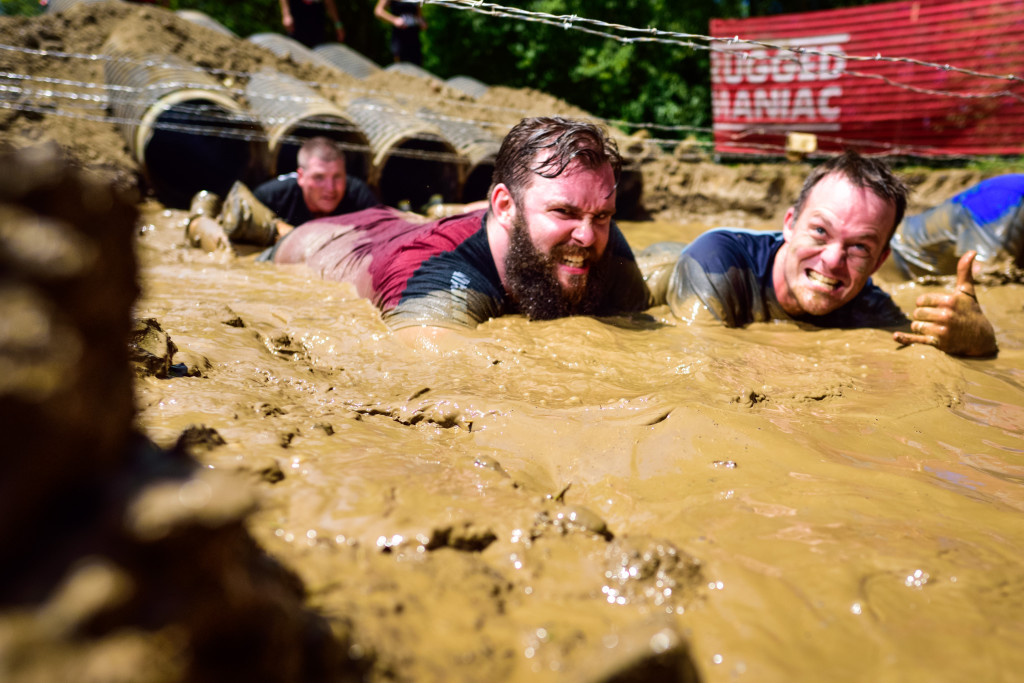 Rugged Maniac gives you the chance to drop the tie, the pant-suit, the data analysis and the mandate of adulthood for an hour to literally become one with nature. The mud almost acts like a re-baptism into our childhood. Every stinging scrape reminds me of the hours spent rolling down grass hills, sliding into third base and hours of kickball.
Of course if you are looking to push yourself into your own great unknown and raise the bar of your workout schedule, the winner did the whole thing in just over twenty-eight minutes. That means this ultra specimen of a human ran three winding miles of trail terrain, scaled obstacles, dragged himself through a dozen mud pits, sprinted through waist-deep mud pools and bleacher climbs in about how long it takes me to watch a South Park.
While he was more than likely enjoying his well deserved free beer, there were others running in teams sporting causes, friends laughing at each other and couples enjoying their own moments of dirt-soaked memories.
To add to the experience, Rugged Maniac had vendors, music, a mechanical bull, contests, a free-fall plunge and even bouncy houses for the kids. They took some of the best parts of summer camp and rolled it into one excitement-laden, fun-filled day.
Adding another layer to the feel-good event, Rugged Maniac has partnered with The Max Cure Foundation with their special program Dunk Your Kicks. At the end of the race I donated my nearly unrecognizable running shoes to be cleaned and given to a local family down on their luck.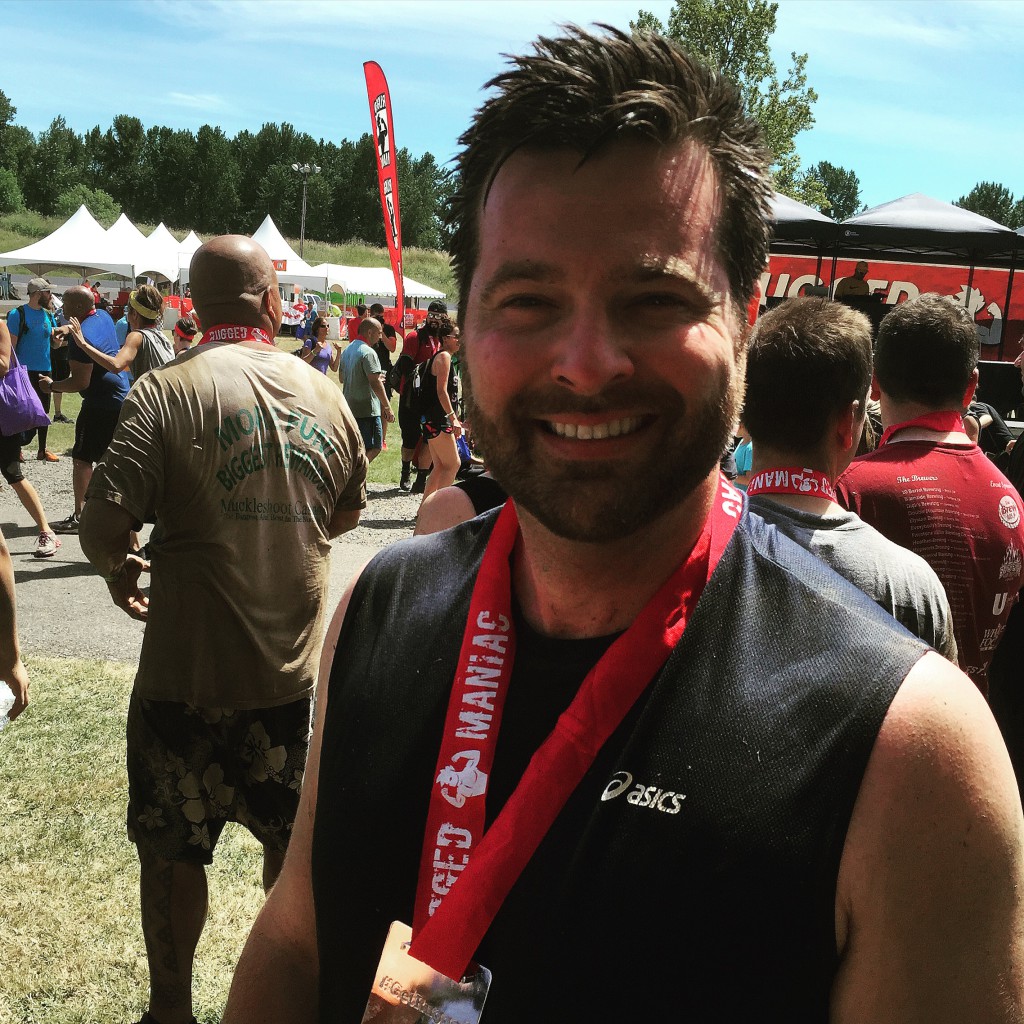 If your shoes are beyond repair, Max Cure recycles them and collects a small proceed that goes directly to helping battle childhood cancer. No matter if you finish first or not at all, getting the chance to help means we all win.
Now I sit, my body feeling surprising energized and thankful for the crisp, cold beer, while my wife snickers at the mud caked in my beard, air in other parts I'd rather not talk about. The participant medal that hangs around my neck will more than likely be confiscated by my son as some sort of pirate treasure and my daughter will make sure she finds every bruise when she crawls over my back.
But for this moment, I am ten again. I am sunburnt, scraped, muddy beyond reason and smiling from ear to dirty ear.
Check out the up coming events in your area and let yourself have the fun you've missed.