Polk Audio is most famously known for their high quality in-home and car audio speakers, but in recent years they've entered the personal audio fray with some exciting new products, including lifestyle oriented over-ear headphones and sports inspired earbuds/earphones geared toward the audiophiles on the go. Polk's mission is to spread the gospel of great sound, anywhere. A message that we here at Busted Wallet can truly appreciate!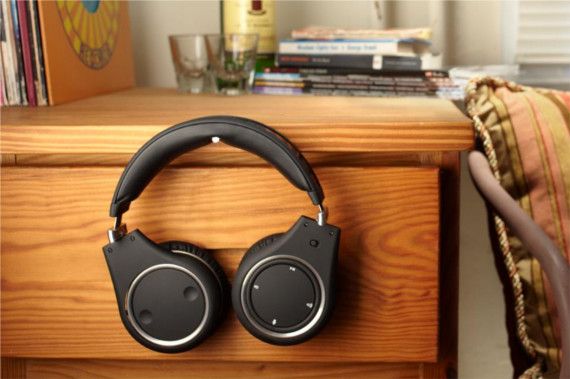 Recently we hooked up with our buddies at Polk Audio to test and review one of their newest products – the UltraFocus 8000 Headphones. The UltraFocus 8000's are Active Noise Canceling (ANC) headphones that feature leather ear cups and an on-ear 4-button remote control that enables manipulation with the use of any iPhone, iPod and iPad. While product images and descriptions might have you believe that these headphone are wireless, please understand they're not. They simply have a detachable audio cord and everything pictures better with out cords, we all know that!
Key Features:
Active Noise Canceling Technoligy
Optimized Active Tuning
Stainless steel, lightweight aluminum and carbon fiber construction
Apple Microphone & Audio Control Buttons
Push-To-Hear Ambient Control
Removable 55 inch Ultra-flexible tangle-free audio cord
Gold-plated connectors
StrainGuard Kevlar core technology
Pefect Fit Headband
40 to 60 hour battery life (running 2 AAA's)
Tech Specs:
Max Sensitivity: 110 dB
Input Connections: Gold-plated 3.5 mm
Minimum Impedance: 32
Total Frequency Response:  8Hz – 28kHz  
UltraFocus 8000 Headphones Review Breakdown
Design: 
By all accounts, Polk Audio has done a fantastic job with the overall design of the UltraFocus 8000 Headphones. They have a cutting edge look that is both functional and effortlessly elegant in our opinion. The brushed aluminum accents really "pop" against the matte black exterior and the lightweight carbon fiber headband is a touch of class that even looks and feels sporty. If you look close – in just the right light you'll see the Polk Audio name etched into the carbon fiber at the top of the headband. It's very sublet – not gaudy like most brands which we applaud!
Beyond its handsome physical attributes, the UltraFocus 8000's also have well thought out features for the iPod, iPad and iPhone allowing Apple geeks manipulate volume and play/pause controls without having to lay a finger on their device. Integrated into the right ear of the headphone is a four button control system. Two buttons for volume control, one for  play/pause and the fourth for "push to hear" ambient control, which actually mutes what you're listening to and amplifies outside sound. A great feature for having conversations without having to constantly remove the headphones to hear what the other person is saying. Sadly these controls (except push to hear) are only compatible with Apple devices. Leaving Android fans fluttering in the wind.
Additionally we were truly impressed with the vast array of connectors and cords that come boxed with these headphones, including:  a detachable (tangle-free) 55″ headphone cable, a 2.5mm connector on one end and a right-angle 3.5mm connector on other end, a 6.5″ Mobile phone adapter, a dual headphone adapter, a 7″ Skype adapter, and an airplane adapter with specially designed attenuator to optimize airline system performance. You might be thinking – "wow that's a lot of crap" well, it is, but it also means these headphones will connect with absolutely anything that produces sound!
Comfort / Fit: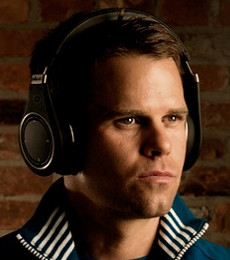 The lush cushioning on the ear cups and underside of the headband is simply awesome! We've never experienced such a comfortable duo. It's hard to express how soft the leather and cushions are. This padding is what makes the UltraFocus 8000's excellent for wearing for extended periods of time – think long flights, public transit or movies on your laptop. Your ears might get a little warm in the process, but you won't experience sharp pressure points or undue strain along the way. We certainly didn't.
Overall these headphones fit nicely on a wide variety of head sizes (pinheads and bigheads alike). They're simple to adjust for head size with using the expanding headband and each earphone itself articulates left and right as well as up and down for a truly comfy fit.
One downside that couldn't help but notice was that these headphones are just a little bulky and heavy for some people. They pack some impressive power which is supported by 2 AAA batteries and all that power comes with some heft. People with average to large sized heads will have no problem with the extra bulk, but folks with smaller heads found them to be a little over sized and heavy for their liking.
Audio Quality: 
We were very impressed with the noise canceling abilities of theses headphones. By turning them on (there's a small sliding on/off switch located on the right earphone) before playing music it's easy to appreciate the technology. The UltraFocus 8000 Headphones take the "hummmmm" of daily life in a big way and silences it… well, almost. Polk's noise canceling technology truly does dampen the noise from the outside world, but it then replaces it with a slight electrical hiss. That hiss was only noticeable to us when operating the headphones without playing music, which lets be honest isn't often. The ear cups themselves are also great for dampening sound. Both the ear cups and noise canceling technology work together in tandem great to provide an excellent listening experience.
Did we mention these headphones are freakin' LOUD? Well, they are! Running on two AAA batteries the UltraFocus 8000's are dangerously loud when called upon. At max volume they deliver ear thumping audio with minimal distortion. Though we'd suggest running these bad boys around the 60% volume mark if you care anything about your eardrums.
Overall we really enjoyed the listening experience these headphones provided. The bass is deep and powerful while the vocals remained clear and vibrant at low to mid volumes. Polk Audio's UltraFocus 8000's have a bit of a bass focused bias in our opinion, but overall come across very well balanced for all genres of music listening.
Value: 
The fact of the matter is that high quality noise canceling headphones simply don't come cheap. It's a fact! That's why the $299 price tag Polk Audio slapped on these headphones isn't totally outrageous. You can easily spend upwards of $500 these days on a premium pair of ANC headphones. We found the retail pricing of these headphone to be quite fair, though $250 would be perfect in our opinion.
Buy Now: $299 or go to: PolkAudio.com
Polk Audio UltraFocus 8000 Headphones
If you're in the market for a handsome pair of headphones with active noise canceling capabilities and robust audio quality, we highly recommend you strap on the Polk Audio UltraFocus 8000 Headphones ASAP. They're a tad bulky, but fit well on most average to large head sizes and are extremely comfy to wear for extended periods of time. They have integrated controls that Apple geeks will love and Android fans will fawn over. We've tested quite a few headphones over the years and these are top of the heap for comfort and audio quality currently.
The Good:
Very comfortable
Excellent battery life
Great acoustics and noise canceling capabilities
The Not so Good:
Bulky somewhat heavy construction
No Android support