You don't have to worry about loosing your phone on the slopes any more. The cumbersome task of having to remove your gloves to play music or dig your phone out of your ski jacket to answer a call is a thing of the past. We just finished testing the Outdoor Tech CHIPS Universal Bluetooth Wireless Helmet Audio. These headphones deliver great features that will have snow bums rushing to snag a pair of their own. The CHIPS are equipped with HI-FI wireless audio and feature a built-in mic for making hands-free phone calls. The easy drop-in "chips" were designed for any ski and snowboard helmet equipped with an audio liner. Bluetooth connectivity, simple to navigate controls, and cordless audio leave you free from fumbling around on your phone to achieve simple tasks like answering a phone call or adjusting volume and skipping audio tracks. Best of all… no cords!

Key Features:

Connect to any Bluetooth-enabled device with easy one-touch pairing
Rechargeable lithium-ion battery
Patented 2-button control system allows you to adjust volume, change tracks, play/pause music and answer calls from outside your helmet knit without removing your gloves
Rugged, minimal design fits into virtually any helmet designed to take audio drop-ins
IPX4 sweat and water resistant
Reconnects automatically to previously paired device
Play Time: 9-10 hours
Standby Time: 280 hours
Specs:

Wireless Range: up to 30 feet
Size: 2″ x 2″ x .5″
Tested to work perfectly at -20° C/-4° F
Weight: .18lbs
Max Volume: 112 decibels
Includes: USB charging cable, backup audio line-in cable w/controls, carry pouch, and instruction manual
Outdoor Tech CHIPS Review Breakdown
Design:
With a sleek design and easy to use functions, Outdoor Tech is on top of it with the CHIPS. These headphones are universally bluetooth compatible (iOS or Android) meaning no need for wires! The two button design is quick to master and operate.  The built-in mic is a great bonus feature too. We were a little skeptical at first, but even with the chips nestled inside the helmet lining, we were quite impressed with the quality of the mic/audio and the clarity of phone calls.
The CHIPS take about 2.5 hours to fully charge. Once charged, they have about a 9 hour play time, 10 hour talk time and 200 hours standby time. An added bonus is that there is the option of using an included 3.5 mm aux jack for when you forget to charge your CHIPS so you are not left high and dry without music on the slopes. Using the Aux jack will deactivate the mic though. The cumbersome task of having to remove the chips to charge every time is one of the disadvantages. Now it is completely understandable, it's just not convenient. Plus it's easy to forget to charge them. As for charging though, the chips do charge via USB cord (included) and charge through the aux port.  The overall design of the chips is great!
Audio Quality:
The audio quality is AWESOME!  At a max of 112 decibels, you can definitely drown out your surroundings. We tested the audio both indoors as well as outside in a blizzard and gale force winds pushing 30+mph.  The sound was superb and crystal clear. Testing the quality of the built-in mic was good also. In mild weather, the phone calls were clear on both ends. When we tested it in the high winds and nasty weather, it was very clear on our end.  While we came across as a little muffled, we could still be heard and understood considering the weather conditions we were in.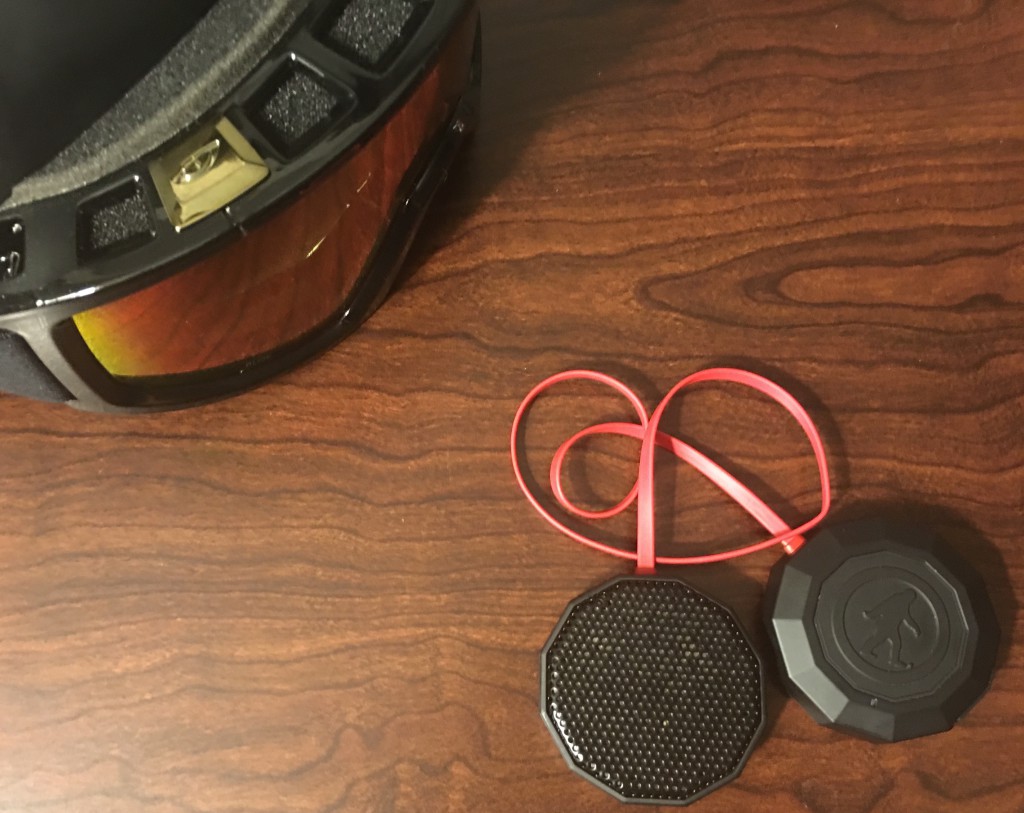 Pairing:
Overall the pairing of the chips is fairly streamlined. Once you set up the headphone to your device its super easy from there on. We tested it out by turning off the speakers and waiting a few days. With a simple hold of the right chip for 3+sec. the chips paired back up and we were back in action.
Functionality:

The audio quality that play through the speakers is fantastic. Its bold and clear all while not making you deaf. The buttons are easy to press, especially when wearing gloves, and they streamlined the functions on the chips by using a series of long or short presses and holds on the buttons. The left chip will control the volume and track management. The right chip controls the power/pairing, calls, and playback. Lastly, press both chips to activate voice activation. Being able to make and receive calls all while keeping your phone safely tucked away, is an awesome perk.

Durability:
They seem to be fairly durable, but they do have a list of care and maintenance. Like avoid dropping, keep out of the direct sunlight or heat as it can affect the battery and shorten the life of the chips. Avoid harsh chemicals when cleaning, keep dry and don't try to disassemble. These are all pretty typical for electronics. They are sweat and water resistant so rest assured, they are good for the snow.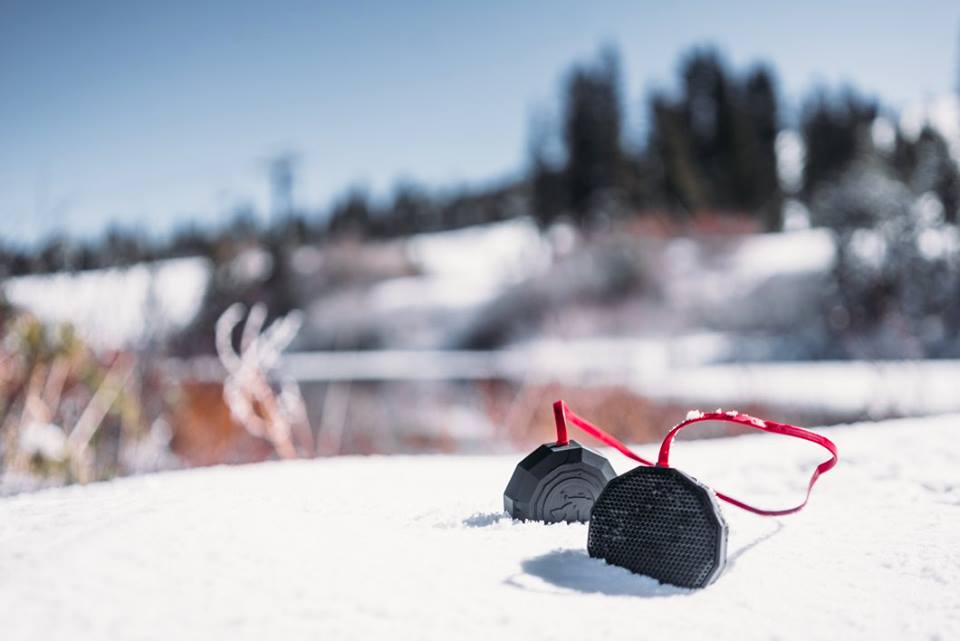 Value:
Bottom Line, these are a fantastic! The price is high in relevance to other bluetooth wireless headsets, but they have a lot to offer. Just the fact that everything can be done hands-free and your phone is safely in your jacket is worth it alone. Add in the superior audio quality and a built in mic and we have the "it" device for hitting the slopes.
Buy Now: $129.95 or to learn more, visit: OutdoorTechnology.com
Outdoor Tech CHIPS Headphone - Tech Review
The wireless, bluetooth, and easy to use functions make these headphones a must-have for winter adventures. With the added bonus of the built-in mic, you can easily take, or ignore, a call with the press of the right ear piece. Even better, you can operate everything from volume, to music, to voice activation and calling all with the press of the right and left ear pieces. These high tech, awesome sounding headphones do not disappoint.
The Good:
Having a max output of 112 decibels, the audio on these is awesome!
A built-in Mic allowing for making/receiving calls
The 2 button control system allows for easy access to functions from the outside of your helmet all while keeping your gloves on and hands warm
The Not so Good:
Slightly tedious to have to remove the chips to charge every time, but understandable
Mic becomes disabled if aux chord has to be used to play music