It's no secret that we love our coffee at Busted Wallet. It's also no secret that we are big fans of the Ninja Coffee Bar with our previous reviews here and here. If you look back at our old reviews, we never thought Ninja needed to come out with a new system. But when they do they always give you the upgrades you never know you wanted. That sentiment hasn't changed as we recently got our hands on the new Ninja Hot and Cold Brewed System. Introducing the game changing tea brewing system in this year's model was a really nice surprise. You now can wow your friends with making specialty coffee drinks and fresh loose leaf brewed tea. How did the coffee and the tea taste from the new system? Read on for the full review breakdown!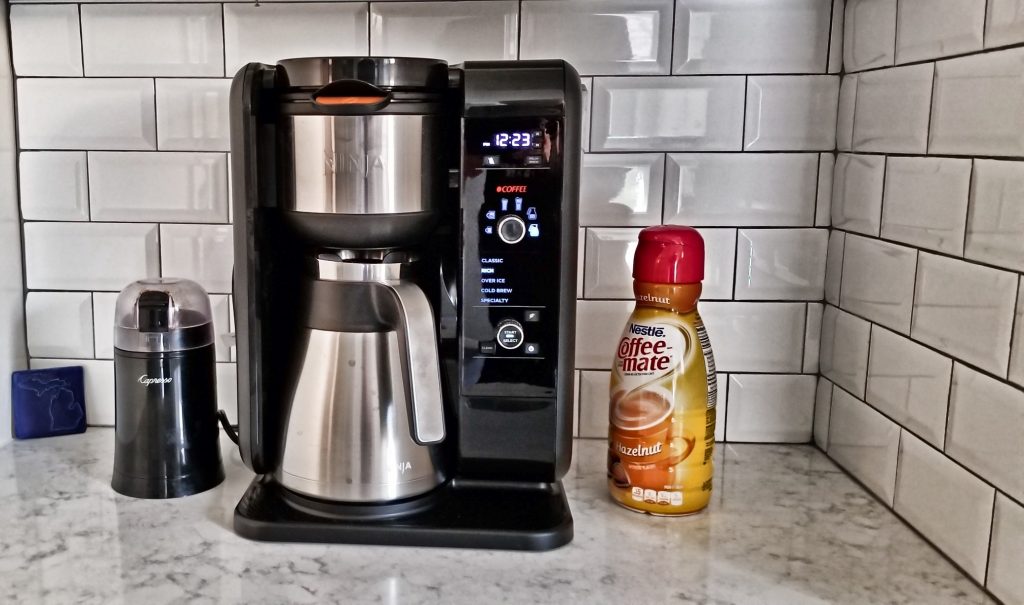 Ninja Hot and Cold Brewed System Review Breakdown
"Coffeehouses are known for having an endless selection, but current at-home brewers haven't given users the vast variety of choice we thought possible, and certainly not all in one product. The Ninja Hot & Cold Brewed System changes the category entirely. This innovative system is more than just a machine you use in the morning; it's your all-day brewing partner. Ninja is setting the new standard for what premium coffee and tea enthusiasts should own." – Mark Rosenzweig, CEO of SharkNinja.
Key Features:
50 oz. (10-Cup) double-walled thermal carafe
Separate coffee & tea brew basket
Fold-away frother
Coffee permanent filter
Tea permanent filter
Ninja Smart Scoop™
Removable water reservoir
Quick start guide
40-recipe book
Design:
This year's Ninja features a completely redesigned model. More sleek and modern with a digital focus for the settings and buttons. The Ninja is really first-of-its-kind coffee and tea maker that brews an entire menu of hot and cold drinks fresh when you want them. You are able to create cold brew coffee and tea, matcha masterpieces, macchiato-style specialty brews, and more. The system features a programmed brewing system that consistently produces quality drinks using their new advanced Thermal Flavor Extraction automated brewing technology. This extraction method allows the Ninja to know the precise temperatures, correct bloom times, and proper levels of saturation for a wide-range of beverage combinations to ensure a great taste for every sip.
One of our favorite features of the system is how fast it works. The Ninja allows you to make fresh cold brew in as little as 10 minutes and authentic iced coffee and tea, as well as other favorites like frothy specialty drinks, and classic or rich-strength coffee and tea. Some cold brew machines on the market require up to 24 hours for steeping, this new breakthrough brewer uses an accelerated lower-temperature brewing process to create a smooth, naturally sweet cold brew beverage in as little as 10 minutes.
Similar to last year's model the Ninja features a built-in automatic frother, the Ninja smart scoop, and permanent filter. It now also features a separate coffee and tea brew basket as the tea brewing process requires a different method.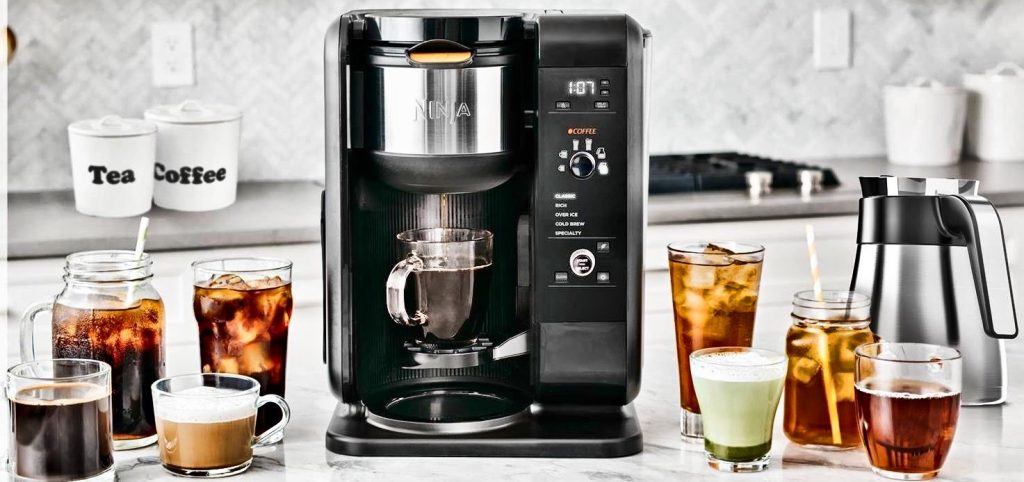 Coffee Brew Quality:
The coffee brew quality continues to be tremendous. The Ninja features different modes such as classic, rich, over ice, specialty and the new cold brew mode. The over ice brew method is not new and continues to operate similar in years past. It brews and extra rich since you will dilute it with ice. It brews at similar temperatures as regular coffee. With the new cold brew mode it is a slow extraction process that brews at an accelerated lower temperature. Because of this method, it will take about 10 minutes since it needs to completely extract the flavor. The flavor won't be as potent as the over the ice mode and is easier to drink if you don't want to use ice.
Tea Brew Quality:
It is time to pick up your tea game! Throw those old tea bags away and head to your local tea shop for some loose leaf tea. This mode is a real game-changer in the brewing world. It allows everyone the ability to brew loose leaf tea without specialized equipment. The system also lets you select different tea types that you are brewing. Since tea can be made from hard, dense ingredients like spices and dried fruit, or soft, delicate ingredients. Each tea type requires different brewing temperatures to yield the best flavor. The system is calibrated to brew each of the major types of tea— Herbal, Black, White, Oolong, Green to bring out their freshest flavors and complex nuances. Overall, we loved the new tea method and experimenting with different flavors and types. The only issue we had is that the tea doesn't brew as hot as you would with your stove kettle. It was still very warm but we would prefer it a little hotter.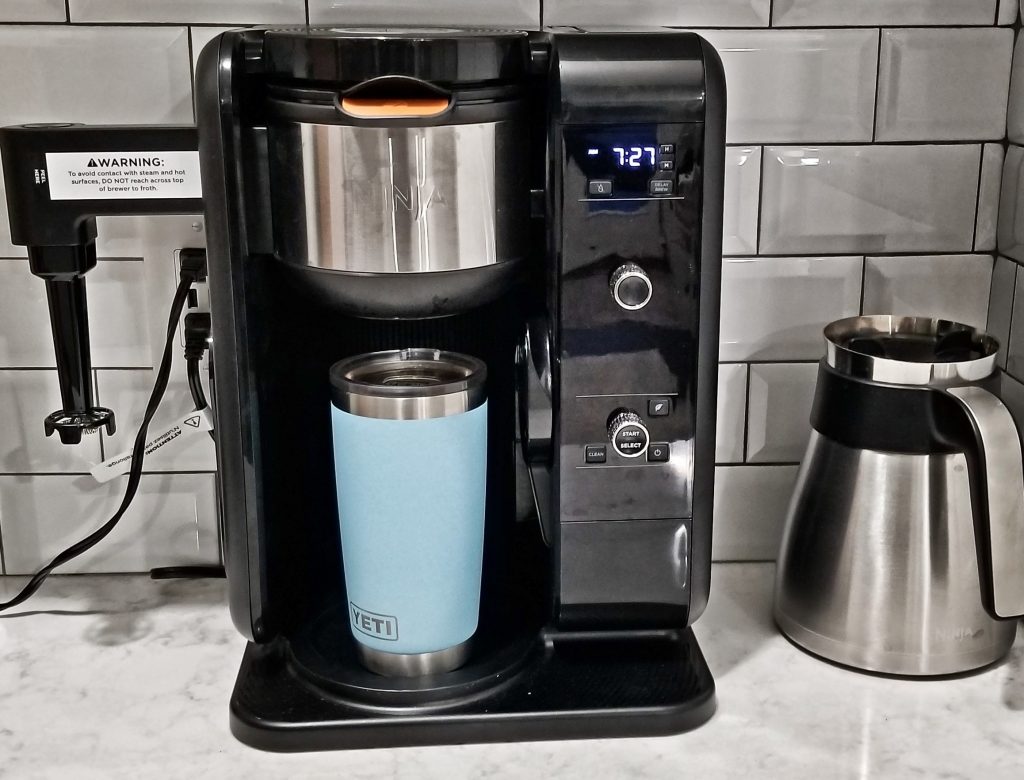 Value:
We tested the Ninja Hot and Cold Brewed System with Thermal Carafe that is priced at $299.99. You can get the glass carafe model for $199.99. Either way we love the value that the Ninja system brings to the table. With the ability to have so many different modes and now by adding tea brewing to the equation makes it worth the investment. Even if you just love a good cup of coffee and don't need the other modes, we highly suggest you still consider the system. It brews a perfect cup of coffee every time. Whether you need a mug to go, a full pot or a simple cup in the morning, the Ninja always knows how to make it perfect. With the holiday season approaching it might be time to treat that coffee or tea lover in your family to the new Ninja. If you feel like you need it for yourself, we understand, feel free to treat yourself. You won't be disappointed!
Buy now for $229.99 or visit NinjaKitchen.com for more information.
Ninja Hot and Cold Brewed System- Kitchen Review
Ninja continues to produce one of the best coffee brew systems on the market and this year's model is no exception. Now with the ability to brew all of your specialty tea drinks, the Ninja just got a lot more valuable. If you like good coffee, then you shouldn't settle for a run of the mill coffee maker, take a hard look at the new Ninja system and you won't be disappointed
The Good
Wide variety to make over 40+ different drink options
New Cold Brew system brews at a lower tempature for easier to drink experience
Tea brewing system adds even more value to the system
The Not-So-Good
Tea doesn't brew as hot as expected