Nike Running is on a dedicated pursuit for speed and distance with their recent development focus and they won't stop until records are broken.  They recently launched three new shoes, which they define as  a 'new future for running'.  We recently got our hands on one of those  shoes; the Nike Zoom Fly. The Zoom Fly is designed to improve the efficiency of all runners – from world-class marathoners to those training for their first distance test. The Nike Zoom Fly, Zoom Vaporfly 4%, and the Pegasus 34 are a trio of racing and training shoes that aims to redefine the look and feel of fast running. The Nike Zoom Fly is advertised as a shoe that is fast enough for race day, yet durable enough for everyday training. We took the shoes to pavement and put them to the test, here's what we discovered…
Key Features:
Reinforced rubber heel for lasting durability
Offset: 10mm
Weight: 8.75 ounces (men's size 10)
Flywire-Reinforced Upper
Full-length Carbon infused nylon plate
Lightweight foam midsole
Nike Zoom Fly Review Breakdown
Design:
For the Nike Zoom Fly, we will start at the top of the shoe with the Flywire- reinforced upper. For those of you new to Nike, Flywire consists of strategically placed filaments that are designed to function like cables on a suspension bridge. They are supposed to offer support  where it's needed. Flywire technology is applied to the shoe upper,  which reduces weight to create a light set of footwear that will help you attack your speed records.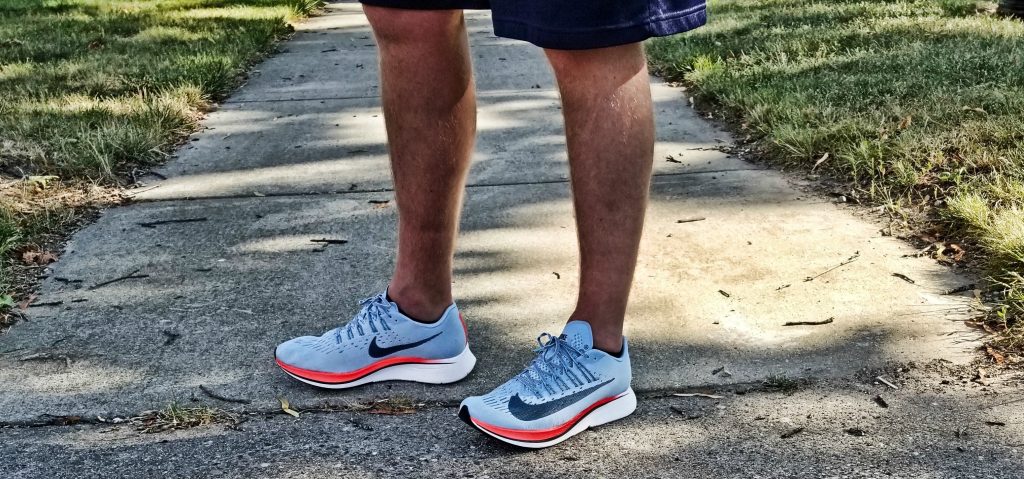 The Flywire will also help give your feet a secure and stable feeling throughout your run. As we work lower down the shoe, the next piece is the full-length carbon infused nylon plate. The carbon plate is designed to minimize energy loss during toe bend without increasing demand on the calf.  The mid-sole, which is infused with the carbon plate is lightweight, soft, and resilient Lunarlon foam. This aims to create a light, responsive underfoot experience.
The heel features a high abrasion rubber for increased durability that completes the tooling.  Also, the Nike Zoom Fly's 10mm offset is designed to minimize Achilles strain. The 33mm stack height is designed for long distance training and to keep your feet and legs fresh throughout your training.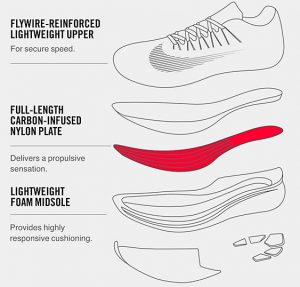 Comfort:
The Nike Zoom Fly was definitely a unique shoe to first step in to. The heel is very stiff in the beginning and is not exactly a perfect fit. However, over time the cushioning conforms around your feet to give you a shoe that feels like it was customized for your feet. The cushioning is truly outstanding and gives you the feel of a heavy comfort shoe but with the weight of a minimalist shoe. Nike touts the shoe to give you a smooth and responsive ride and they do not disappoint. The Lunarlon cushioning combines soft and firm foam for a balance of shock absorption, stability and response, without sacrificing comfort.
This may sound odd, but the Nike Fly Zoom's are not a "beginner" shoe. Meaning, if you are a runner and looking for a responsive shoe then these will fit great. However, if you are just getting into running, then these might take longer to get used to. The Zoom Fly requires better overall form and some knee drive forward to go fast. Some people will note that they feel the shoe pushing them forward and that the heel and arch do not seem positioned correctly.  A lot of this has to do with your form but it also Nike is designing a shoe for speed and race day. They are trying to put your feet and legs in the best position to achieve maximum speed.
So while the fit may be awkward, our advice will be to roll with it and trust the design team at Nike to put your feet in the best position. If you are in pursuit of your personal best time, then let the Zoom Fly's help you out.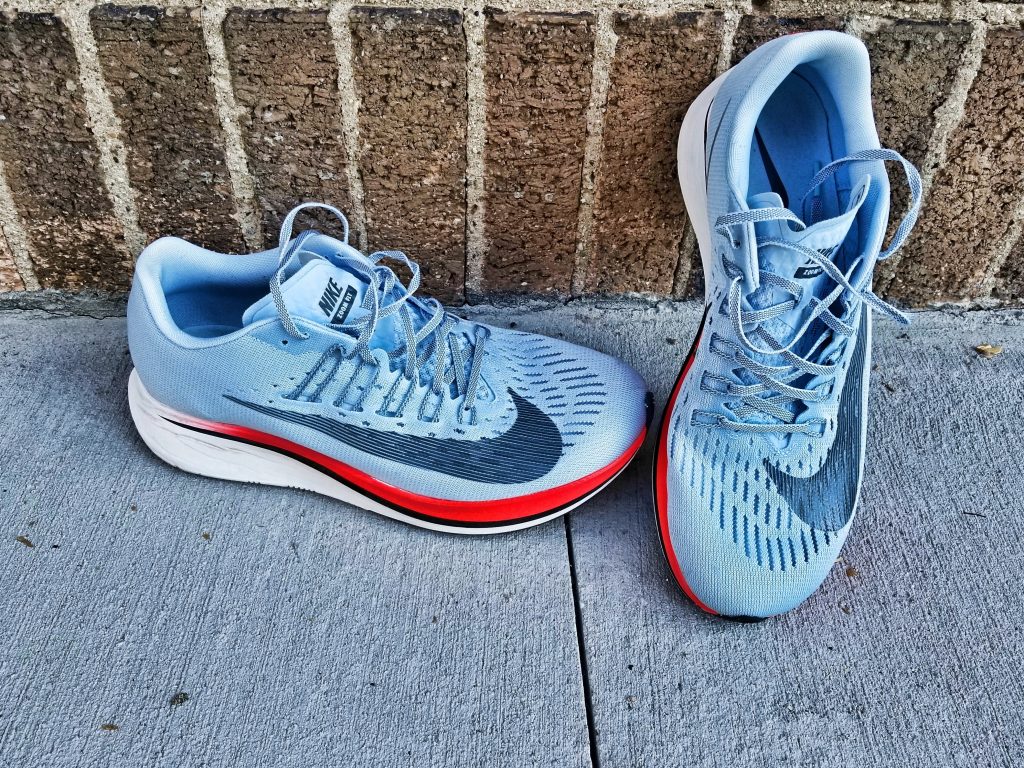 Durability:
The Nike Zoom Fly's are designed for speed and distance so it is important that they hold up over time. If you are going for ultra distance of 70+ miles a week, you might start to notice some wear and tear in the sole faster than a comparable shoe. However, with the superior cushioning, support, and responsiveness you are still getting a quality ride. You may need to change out the shoes faster but your feet will thank you for keeping them happy. For regular runners, the Zoom Fly's offer great durability while maintaining strong cushioning and support throughout the lifespan of the shoe.
Value:
Priced at $150.00, we feel the Nike Zoom Fly's over great value. The Shoe will meet the demands of your toughest tempo runs, long runs and race day. The shoes achieve this with a responsiveness that keeps your feet and legs feeling fresh with each stride. The shoe construction and execution is top quality, which you would expect out of Nike. These shoes are designed to increase your speed and comfort come race day. We can assure you that you will not be disappointed with the results. Long distance runners may need to swap out a little bit earlier, but at this price point that isn't too big of an issue.
Buy Now: $150.00 or visit Nike.com for more information
Nike Zoom Fly - Fitness Review
Nike looks to revolutionize the running shoe market once again with the Nike Zoom Fly. The shoes are designed with speed and distance and they do not disappoint. While they may feel awkward at first, sit back and let Nike take your feet on a magical run while achieving your best time to date.
The good
Lightweight design with great comfort
Feels like a customized shoe after a few runs
Good price point
The Not-So-Good
Awkward feel for beginners
Mararthon runners may have to replace sooner than usual