The holidays have passed and now we are nose-to-nose with those dreaded New Year's resolutions, waiting to be conquered.  Many people will resolve to get back in shape and luckily for you, your old friend Nike are here to help. Nike's mission statement is "To bring inspiration and innovation to every athlete in the world" and Nike believes "If you have a body, you are an athlete." Truer words have never been spoken and with the New Year here, we want to push you to get out and get working!  To help us tackle the New Year with a vengeance, Nike sent over a pair of the new LunarGlide 7's.  The LunarGlide 7 Men's Running Shoe is designed to offer a lightweight, supportive fit and soft cushioning underfoot for an ultra-smooth ride that racks up the miles.
How did the LunarGlide 7 perform on the road? Well, here's what we discovered throughout miles and mile of testing…
Key Features:
Flywire cables wrap the midfoot for lightweight support and an adaptive fit
Plush internal bootie for seamless comfort
Pressure-mapped outsole for lightweight traction and durability
Flex grooves promote more natural range of motion
Nike LunarGlide 7 Review Breakdown
Design:
The Nike LunarGlide 7 continues the traditions of the earlier LunarGlide versions which were designed to deliver a quality, lightweight stability shoe that has immense cushioning and provides a smooth ride to help you rack up the miles. The patented Nike Flyknit construction on the heel and midfoot, and Flymesh on the forefoot provide lightweight, supportive comfort and ventilation giving your feet superior comfort and flexibility while pounding pavement.  The LunarGlide 7 also offers a two-piece, dual-density Lunarlon midsole that features a softer foam core and firmer foam on the medial side for a lightweight, responsive ride with enhanced support.  For those of you new to the Lunarlon midsole it is a cushioning system that consists of two parts that work in tandem to deliver a light, soft, responsive feel. The lightweight foam core spreads impact evenly over a large area so that you are not pounding just one area on the foot.  The updates from the LunarGlide 7 do nothing but it make it a more comfortable shoe that allows your feet to withstand those long runs, but it also maintains its lightweight design that make it barely noticeable on your feet.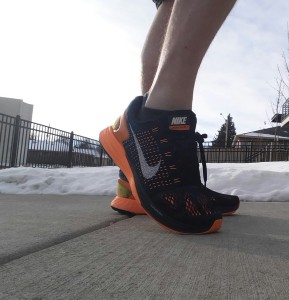 Comfort/Traction:
Thanks to all of the features we mentioned in the previous paragraph these shoes are incredibly comfortable.  The lightweight design makes them hardly noticeable and don't weigh your feet down on runs or workouts.  For this version, Nike included their Flyknit design that allows you to adjust the security of your foot to your liking and giving you personalized comfort and security.  The shoes also feature the Dynamic Support platform in the midsole that provides just the stability you need without adding weight for ultra-smooth transitions, and while providing exceptional cushioning, allowing the runner the ability to put on many miles in comfort.  The shoes offer great traction on the road and very well-groomed trails.  We do not recommend taking these out in those deep forests or mountain runs where the paths are not very stable.  These perform best on the road to really maximize their stability and responsive cushioning.
Durability:
We logged over 50 miles on our test run and the shoes are showing no sign of wear and tear.  The sole and traction still are showing minimal wear and the treads are still fresh.  These shoes are designed for people who really want to get the most out of their running footwear and pack on the miles, the LunarGlide 7's deserve your attention.  We've put these shoes through the paces and they seem prepared to handle the long haul.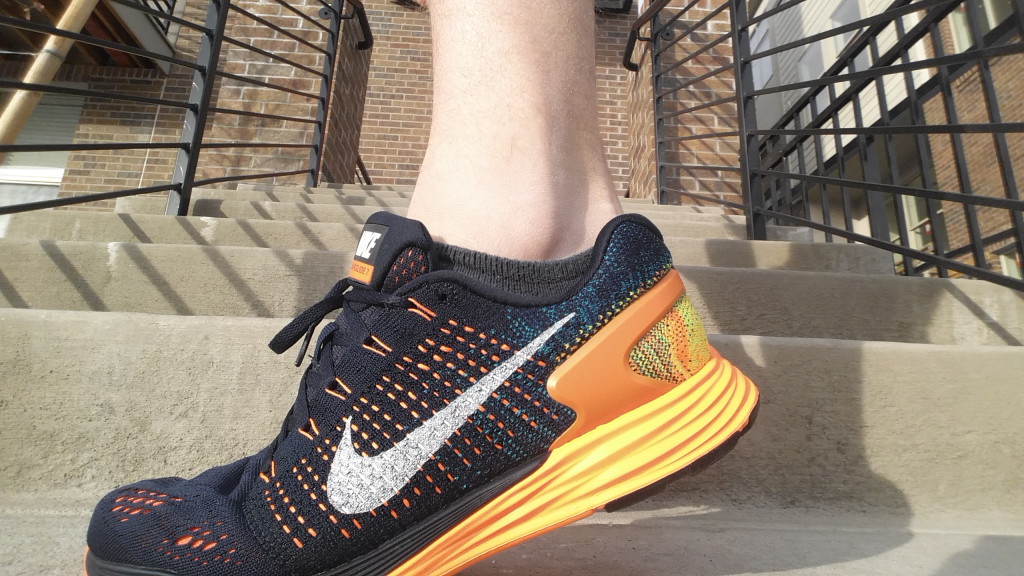 Value:
Priced at $125, the Nike LunarGlide 7 are offer great value and you will definitely get your money out of these shoes.  They offer great comfort and technology that allow you to tack on those extra miles.  $125 is very reasonable in the running shoe market and if you are someone who puts on a lot of miles then the LunarGlide 7's are a great investment for you.
Nike LunarGlide 7 - Fitness Review
Priced at $125 Nike's LunarGlide 7 will be a staple in your running shoe rotation for a long time. This shoe provides great comfort and support while also delivering excellent durability which you've come to expect from Nike.
Great comfort and support
Flyknit technology lets you determine the perfect support
The Not-So-Good
Not great traction off the road