The holidays are fast approaching and Nike is determined to keep your fitness goals on track. Recently, Nike launched their new Air Zoom Pegasus 34 men's running shoe that is built for runners of all ability. So drop that turkey leg and grab your Nike's. The Pegasus 34's feature that Nike technology that we have come to love and expect. We strapped on our new Pegasus 34 and hit the pavement. Midway through our testing, the elements got a little too cold and wet for us, so we had to move our workouts inside. Once we moved inside, we discovered that while the Pegasus 34's are billed as a running shoe, they actually became our go-to workout shoe for all workouts. Curious to learn more? Read on for the full review breakdown.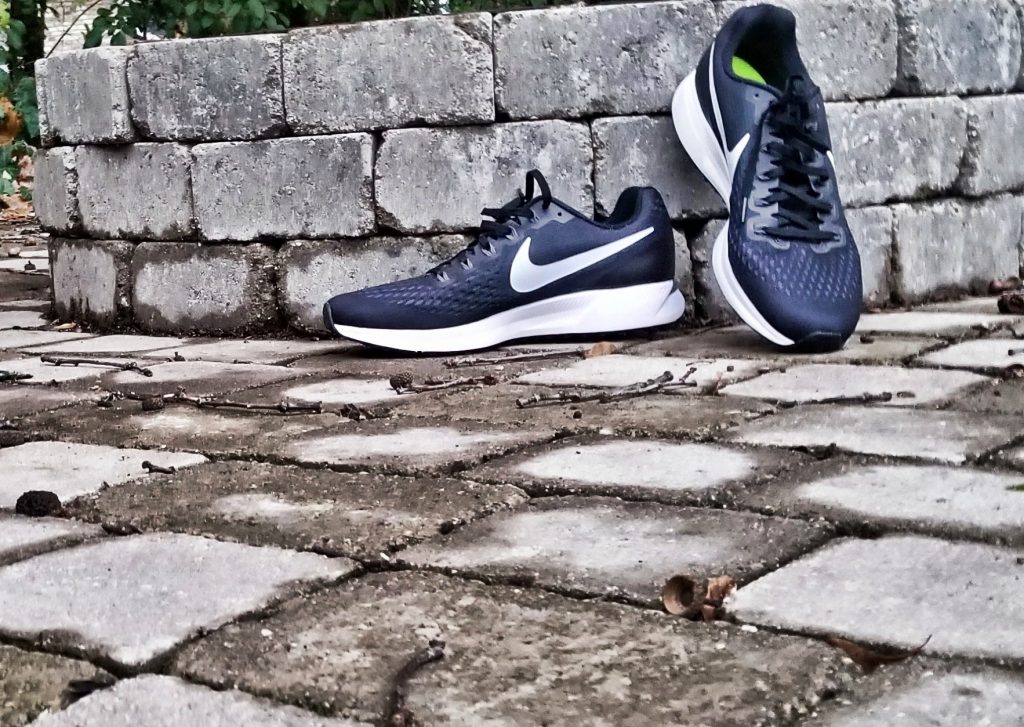 Key Features:
Rubber strip along the bottom of the shoe helps you transition from heel to toe
Raised rubber sections on bottom of the shoe provide traction
Weight: 10.1 ounces/285 grams (men's size 10)
Offset: 10mm
Responsive feel
Flywire technology
Flymesh breathable fabric to keep from overheating
Nike Air Zoom Pegasus 34 Running Shoe review breakdown
Design:
Nike describes the Air Zoom Pegasus 34 as a shoe that is a designed and built for beginner and experienced runners. The shoe features an updated, lighter Flymesh material that helps reduce heat buildup when you run. The shoe also features Nike's tried and true cushioning and support that runners love. The Pegasus 34's feature a one-piece flymesh fabric that is extremely lightweight and designed to be breathable. This is a really nice feature because it allows for continuous airflow around the feet so they do not overheat. This is a new version of the flymesh that we really enjoyed in our workouts. It is getting to point in the running season where more runs are taking place indoors so heat around the feet is becoming a factor again.
The Pegasus 34's also feature a rubber strip along the bottom of the shoe. This will help your feet transition easier from the heel to the toe. There are small cuts that allow for more flexibility in the shoe that will keep your feet feeling fresh and not stiff. The Pegasus 34's are designed to fit all types of runners and while they are not as advanced as the Zoom Fly's we did earlier in the year, they still have that great Nike Technology that your feet appreciate. Also of note, if you have the Pegasus 33's, then the 34's will be similar but they are more narrow and a little bit softer. If you loved the 33's then the 34's will be different feel for you that you might not like.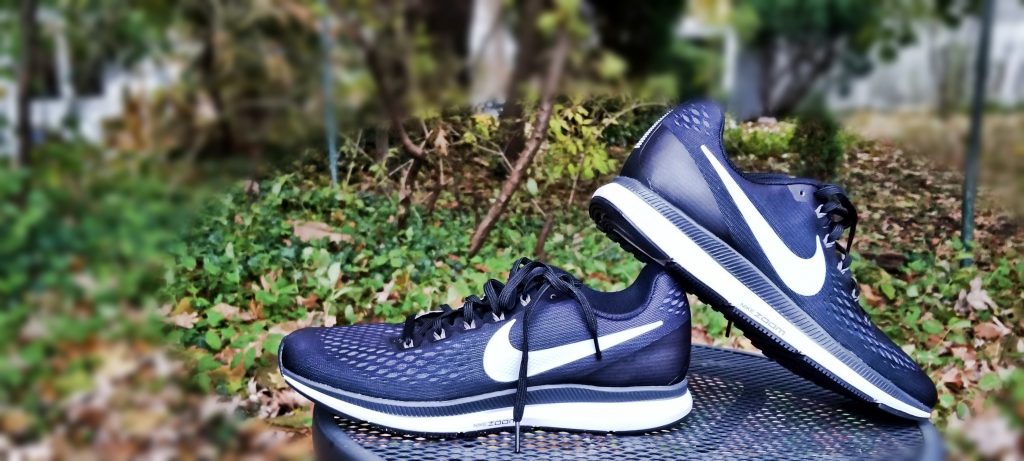 Comfort:
The Nike Air Zoom Pegasus 34′s feature two very important things for us when it comes to comfort. First, having a nice secure fit. The shoes feature our favorite Nike Technology, the Flywire. These strong cables work together with the laces to wrap the arch of your foot for snug support. This helps keep your shoe in place as your foot moves. The shoes also have firm heel cups for increased stability. The second comfort feature is the responsive feel. You want running shoes that have a spring like effect so when you plant your foot it isn't stiff. You should feel the shoes responding to the pavement versus just landing.
The Pegasus 34's have a foam cushion that works with the Zoom Air units in the forefoot and the heel to give you a feeling like push forward as you run. Overall, the shoes feature great comfort. If you are an advanced runner you might want to look into the higher end Nike Lineup. However, the Pegasus 34's will work great for anyone looking for a responsive, soft, running shoe.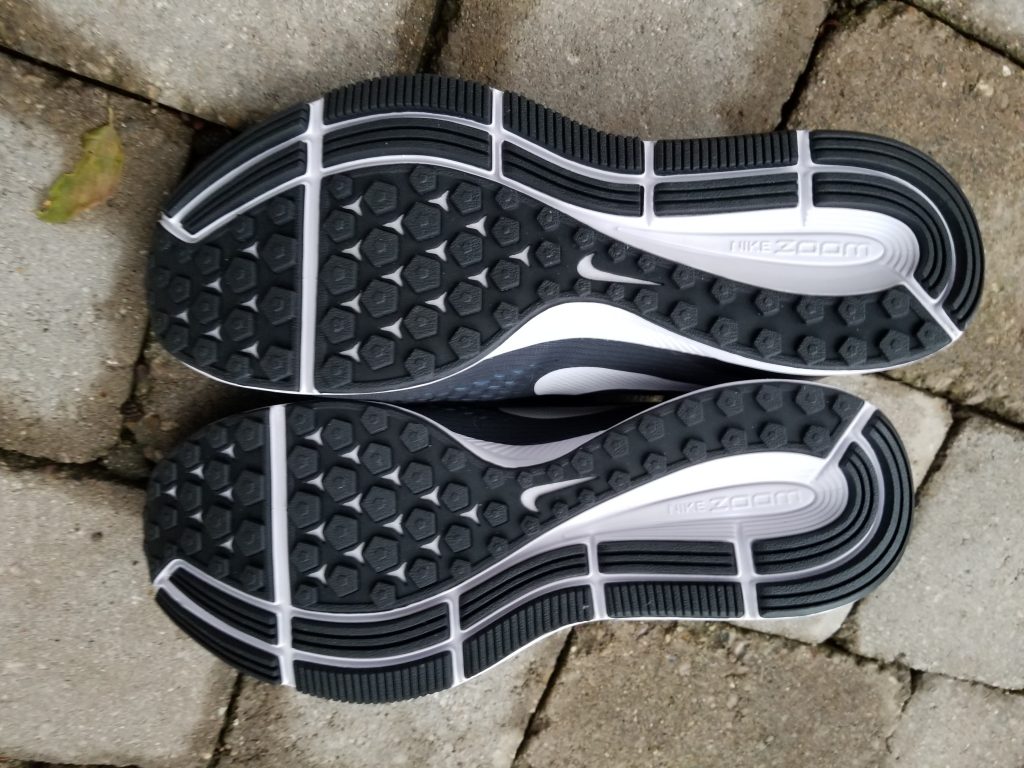 Durability:
We have logged over 100 miles on the Pegasus 34's but we have also logged a lot of gym time. While not necessarily designed to be all-around gym shoe, we found it to be a go-to for all workouts. The lightweight design and the secure fit make it a great workout shoe. If you are taking part in an Orangetheory type workout class that requires a variety of workouts you will like how the Pegasus performs. Through all of the workouts the shoes continue to hold up. We think we are going to wear it down faster than normal because it's the only shoe we want to wear for our workouts right now.
Value:
Priced at $110, we think the Nike Air Zoom Pegasus 34's offer great value. A running shoe at this price point typically is not this durable and comfortable. Usually you have to sacrifice one or the other, but not with the Pegasus 34. As we stated earlier, the shoes are versatile so you can use them for running but are very comfortable for all workouts.  Built with that the Flymesh and Flywire technology you are getting some of the best technology Nike offers, at a great price to boot. Overall, these are well-priced shoe that perform above their price point.
Buy now for $110 or visit Nike.com for more information
Nike Air Zoom Pegasus 34 - Fitness Review
If you are looking for an everyday running and workout shoe, then the Nike AirZoom Pegasus 34's are a great option. Built for runners of all skill levels, the Pegasus 34's offer great comfort and a nice secure fit that your feet will appreciate.
The Good
Soft, responsive feel
Little to no break-in time
Great price point
The Not-So-Good
More narrow and softer than the 33 model
Advanced runners may want to look at higher end Nike's