Candidly, I heard of Nidecker for the first time when they reached out with an opportunity to check out their revolutionary new binding – the Supermatic. Now, they're a name I am telling all my friends about. 
Nidecker's sister company, Flow Bindings, has been making step-in bindings for years. I was always skeptical of Flow's offerings, mainly worried about the ability to put down power, so I have mostly avoided step-ins until now. 
While most will call Nidecker's Supermatic step-in bindings like most of their competition, they've gone with the term automatic, which I feel is a rather apt marketing name. With the right "tightness" of the binding straps, you truly can stomp in and ride off. No manual pulling up the backplate and locking it like Flow's offering. 
To get you interested in reading more… the Supermatics are good… really good. With a 700+ inch season out here in Utah, I've got plenty of hours on 'em, too. 
Let's get into the Supermatic first, and then I'll also talk about Nidecker's Kita boots that feature a double BOA lacing system. Double BOA is another treat that has been on my testing radar for some time now. 
Nidecker Supermatic Bindings Review Breakdown
Design
At first glance, the Supermatics are rather unassuming. When the high backs and heel pedals are locked in place, and straps ratcheted down, they look like any standard entry snowboard binding. And that's certainly not a knock on Nidecker at all – familiarity is nice when you're actually out shredding down your favorite run. 
However, bend down to release the highback, and any snowboarder in the lift line will immediately know something is different. The high back can drop nearly parallel to the ground depending on how loose your straps are. Not something snowboarders are used to seeing. 
Upon closer inspection, there are a few other features that set the Supermatics aside from a standard entry binding: 
Release levers for the reclining high back on the inside of each binding base

Hybrid straps that are connected in across the middle of your boots to keep them moving together while stepping in and out of the binding

A pivoting heel plate that pushes the high back in place as you step into the Supermatic

A Slip-N-Grip plate that allows for easy boot slide in, but grips once you're locked in

And a heel cup roller that helps boots slide in and out of the setup
All these subtle, well-incorporated differences each contribute to a fantastic and unique overall experience with the Supermatics! 
Functionality 
Now that you've read through Supermatic's unique features, let's talk about how it all works. The Supermatics are considered dual-entry, meaning you can easily use them like a standard entry, ratchet-based binding if conditions force you to – think hiking to the top of a chute, back bowl, deep snow conditions, etc. 
I've made use of standard entry a few times this season at the top of No Name (hike to terrain) at Snowbasin Ski Resort here in Ogden, Utah. I find the ratchet releases are not as ''easy" to work as some other bindings I have, but not a major ding for Nidecker as they're really intended to be step-in 95% of the time. 
Not surprisingly, where these babies shine is the automatic, step-in entry.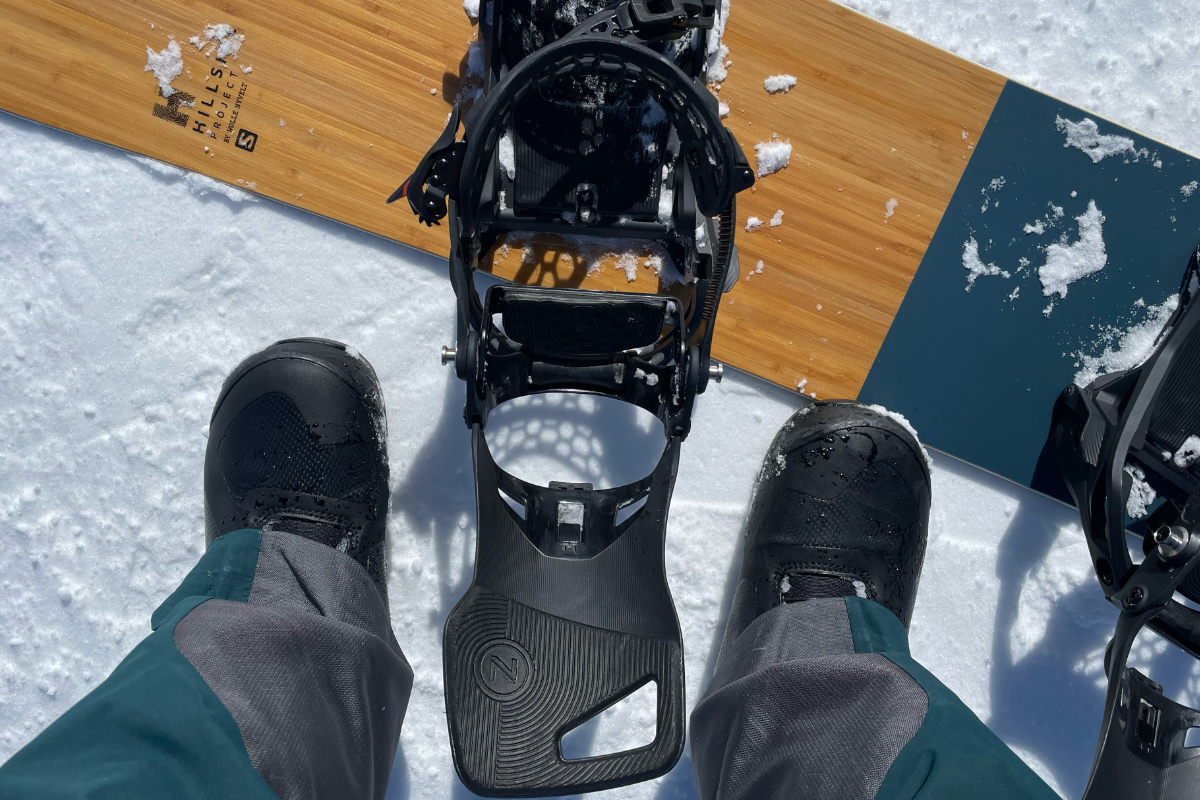 The release lever is large enough to hit with mitts on, and releases without on flat ground at the bottom of a run or cat track. The release lever is a bit hard to work if you're still putting pressure toe side as you can release, but then can't step out. Nidecker claims you can ride these with your straps a bit looser, but I might just be too old school. I tend to ride with the straps tight, loosen the straps a bit right before I hit the release, and then ratchet back down a notch or two right after stepping back in up top.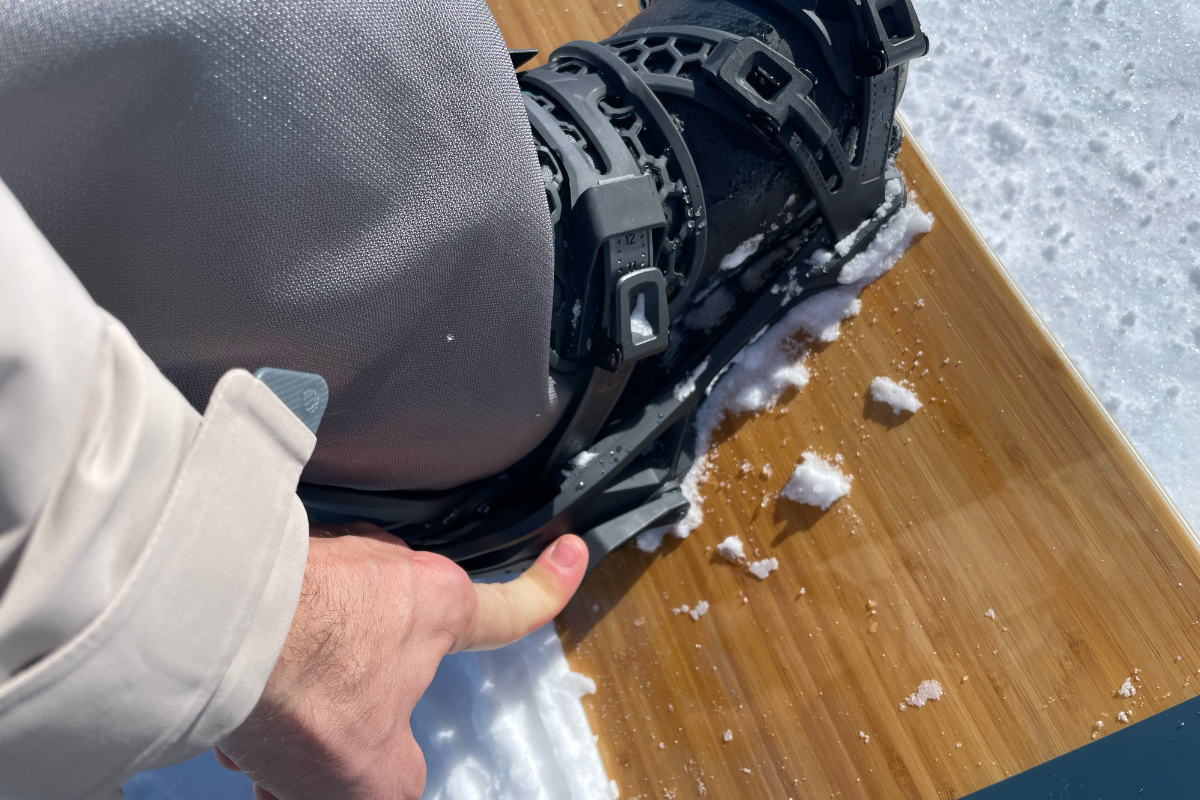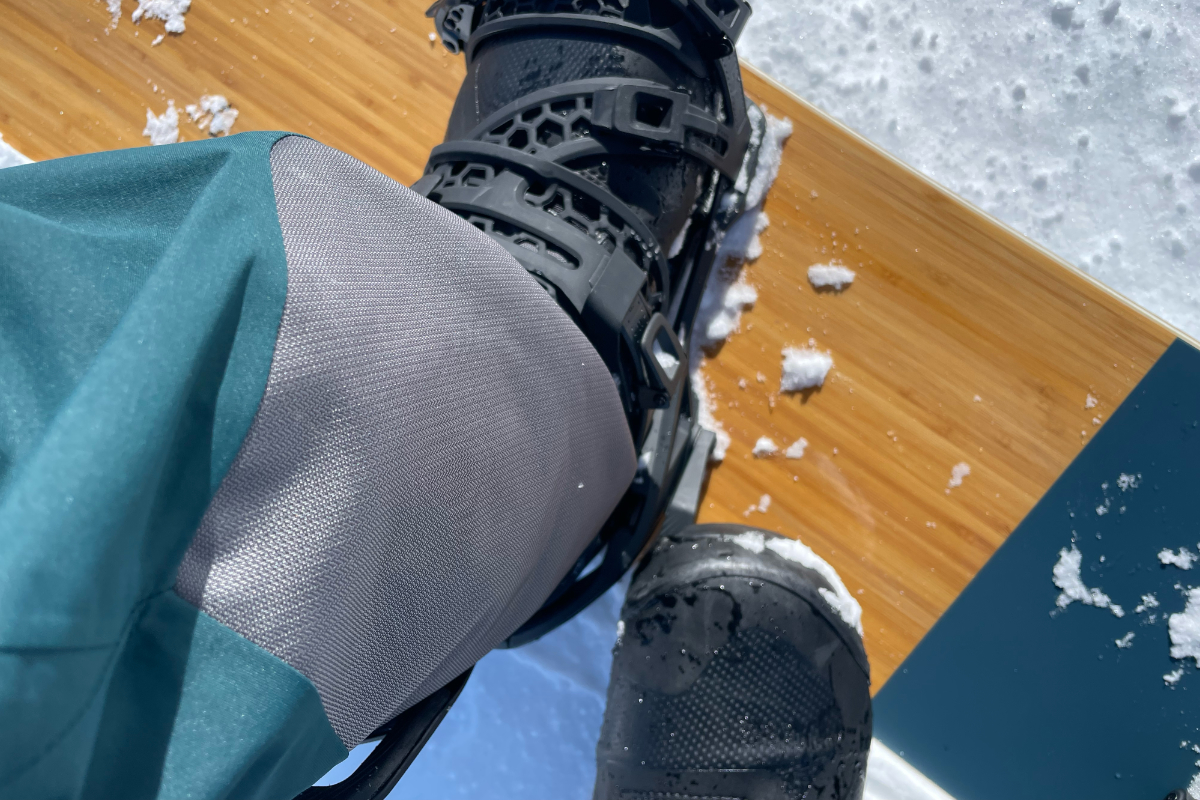 As for the step-in, the highback has a very satisfying "clip" noise accompanied by physical feedback letting you know you're ready to ride. Check out fellow Utah rider, Bored Progression's, Insta Reel clearly demonstrating the stomp in action and click – also, yes, he does crush his buddy's speed with a traditional ratchet binding. 
If you're still curious about how this all works, Nidecker has a fantastic setup video.
Durability
To be honest, I've lost count of the number of days I've ridden the Supermatics this season, but it's easily double digits. I've done everything from fast groomers to pow stashes in the trees, to hike-to chutes, and I've yet to see much wear and tear besides a little bit of paint transfer. They have the stability and build quality of a standard binding, but have so much more functionality. Nidecker spared no expense in ensuring that the moving parts in this system could stand up to a few seasons of true physical abuse, as they quite literally get stomped on every time you get out and ride.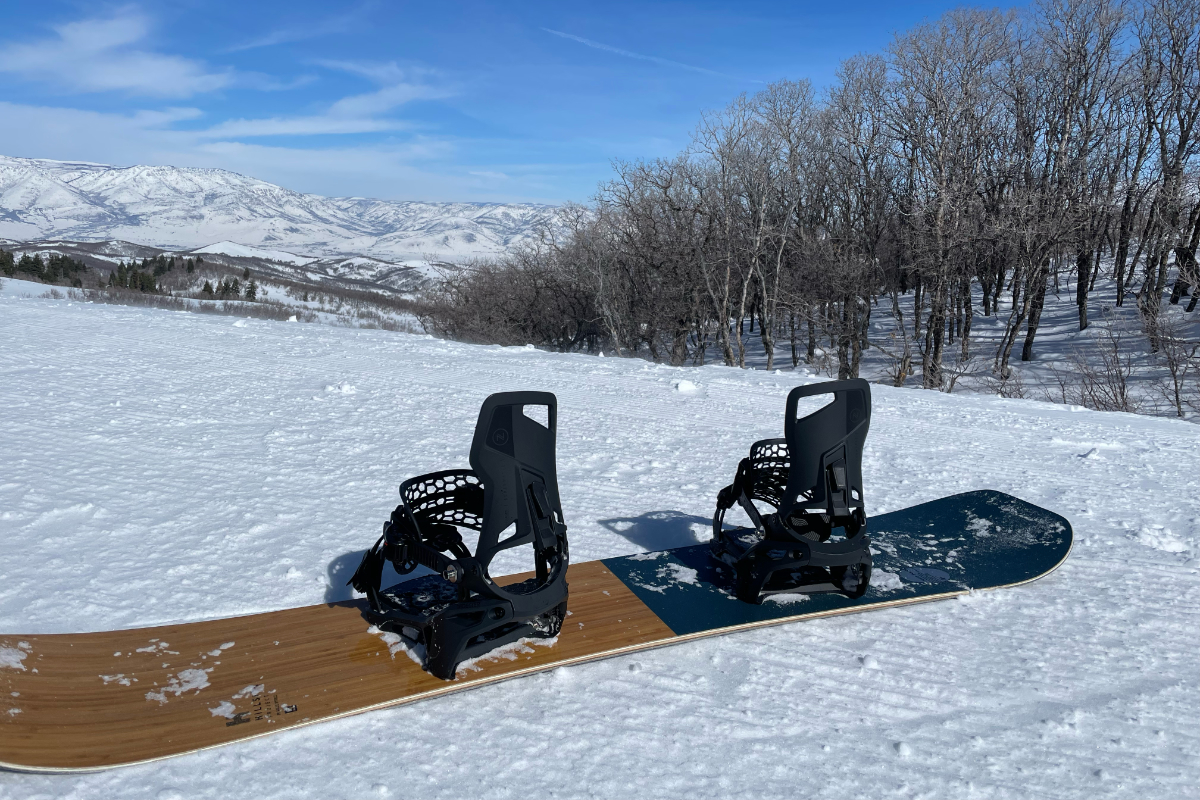 Thanks for an outstanding product, Nidecker!
Buy the Supermatics now for $399
Nidecker Kita Boots Review Breakdown
Now that the coolest part is over, let's dig into the Kita boots. Just because the Supermatics have the wow factor doesn't mean that the Kitas aren't exciting. I was majorly in need of a boot upgrade, so I had a hard time containing my stoke to test these out. I came from an old set of lace-up boots. No special tricks, no fancy tech – just tried and true lace-up boots. 
Not only did Nidecker nail these boots from a usability standpoint, they also partnered with some of the best brands to ensure they can handle double-digit day count seasons. 
Design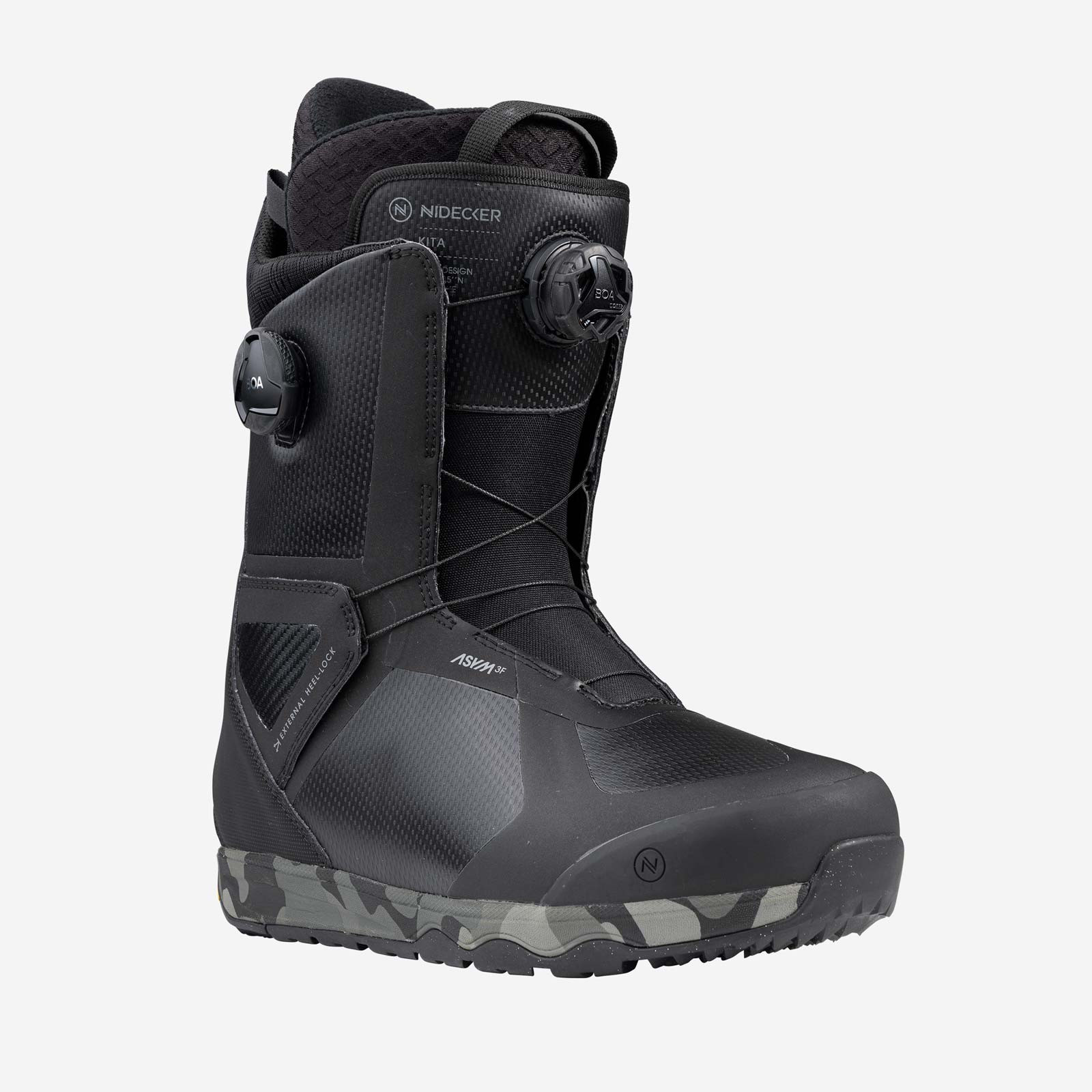 The Kitas are a stiff, all-mountain boot built to last with premium materials and functional design partners. The Kitas feature a Dual BOA lacing system, which is a game changer in many ways – on/off foot speed, fine-tune fit/tightness control, and overall accessibility. I have Rheumatoid Arthritis, and the BOA system has made me dread getting ready to ride a hell of a lot more. 
The Kitas also feature a Vibram Sole, which, if you know a thing or two about the outdoors outside winter sports, they are the absolute go-to for shoe manufacturers from hiking boots to sandals to running shoes to climbing shoes.
The final neat trick the Kitas show off is mostly welded uppers. Instead of traditional sewn seems, the Kitas are welded for a clean look and seamless design that improves waterproofing and reduces failure points. 
Functionality 
I gave this part away a bit above, but the Dual BOA is a dream for me. My handy little trick when getting in and out of the boot is to lock the BOA dial on the tongue in place after fully extending the tongue forward. This prevents the BOA system from coiling back in as you're working your foot in. 
The Kitas also have a specially designed external heel lock system, which is controlled via the tongue dial, that helps keep your foot in place when riding. It is pretty cool to watch the heel lock "suck in" as you crank the dial. 
The tongue dial does most of the heavy lifting and the side dial tightens the bottom of the boot over the top of the foot. 
Overall, I find the BOA system to be incredibly reliable. It has not surprised released on me, and it really is easy to use. I have noticed, however, that after my first run down, I like to crank the dials a few more turns after my feet really settled into place on that first run. 
Additionally, the Kitas also have heat-moldable liners to customize your fit further. Since I didn't buy these in a shop, mine have not been properly heat-molded. I do have boot driers that warm the boots up overnight and on my way up to the mountain, so when I step in, it always feels like a warm molded fit. 
Durability 
Like the Supermatics, I lost track of my actual number of days with the Kitas, but there's no noticeable wear, even from resting my board on across my free foot on lifts. The BOA system has also lost no recoil speed, and everything is fast and snappy like the day they arrived. 
Overall, the Kitas are easy to wear, comfortable from the first to last run, and grippy when skating. Their seamless design also limits visible wear, making these look and ride good as new.
Nidecker Supermatic Bindings | Gear Review
Nidecker's Supermatic bindings and Kita boots are a perfect combo to jump off the lift, stomp in, and charge hard. The automatic, step-in entry of the Supermatic binding will have you wishing they were invented a decade ago!
Supermatic Functionality
9
THE GOOD:
Supermatic automatic entry
Supermatic quick release
Kita BOA + heel lock
THE NOT SO GOOD:
Supermatic automatic entry can be tricky to lock if straps are too tight