With warmer weather approaching, it is time to put our 4-season gear away and get ready for spring and summer camping. The crew at Busted Wallet is pretty familiar with sleeping in standard shaped sleeping bags, so we were very intrigued and excited to test out the new NEMO Nocturne 30 sleeping bag from NEMO Equipment. NEMO claims that their revolutionary Spoon design "strikes a balance between the performance you want on the trail and the comfort you want in camp," giving you a little extra room around the elbows and knees. How would the bag hold up on our test? Continue reading to find out.
Key Features:
Unlike traditional sleeping bags or mummy bags, the Spoon™ design curves to the shape of your body, giving you extra room around the shoulders and knees.
DownTek™ 700-fill-power duck down provides excellent loft and warmth in both dry and wet conditions.
Tuckable Blanket Fold™ that can be used to block drafts or vent excess heat, depending on the position.
2-way zipper to vent heat from your legs and feet.
Tech Specs:
Temperature Rating: 30 F / -1 C
Fill Type: 700 Fill Power Down with DownTek™
Fill Weight: 12.6 oz
Minimum Weight: 2 lbs 0 oz
Regular size fits up to 6'0'', Long size fits up to 6'6''
Shoulder girth: 66 in
Hip girth: 60 in
Knee girth: 70 in
Shell Fabric: 15D Nylon Ripstop + DWR
Lining Fabric: 30D Nylon Ripstop Taffeta
NEMO Nocturne 30 Review Breakdown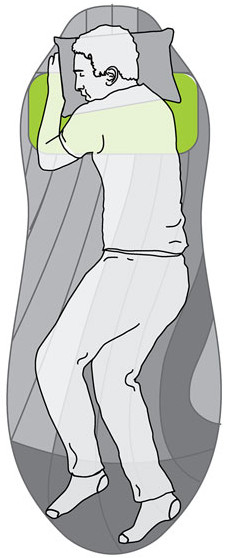 Design:
The "Spoon Design" is what really caught our attention with this bag. If you are one of those people that often has trouble sleeping on their back, or you are one of those people that likes to toss or move while sleeping, you will really appreciate the Spoon shape. I had plenty of room to turn on my side and spread out my arms and legs. In fact, the first time I turned over while in the Nocturne, I slightly hesitated because I am familiar with the feeling of pulling or stretching of  the sides of a normal or mummy shaped sleeping bag when your limbs get in the way and the bag tries to move one way while you are still laying on it and there isn't enough room (you know exactly what I am talking about). However, neither my arms nor my legs came close to stretching the bag. I am not even sure if my knees touched the side of the bag when I turned. Now, whether or not this was the case the entire night through, I have no idea, because I was sound asleep.
The two way zipper allows you to vent your legs and feet while remaining zippered. This is a small, but great feature to have on those cool, yet not entirely warm nights, when it might still be too cool to fully unzipper, but might be on the warmer side if fully zipped.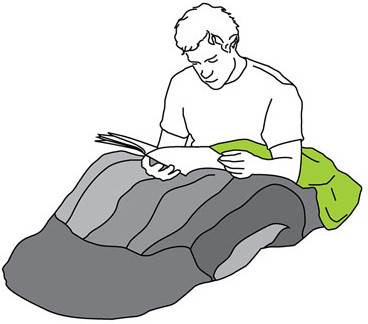 One last highlight to mention is the DownTek 700-fill down insulation. I had left my tent setup without the rainfly on for roughly 20 minutes, and it started to rain very, very lightly. It was raining so lightly, that I thought that it would be a great way to test out the DWR coating (without having my tent get too wet), and see how the bag held up. The shell of the bag had droplets of water collecting on the outside, but the interior of the bag was still dry. Most importantly, the interior was still warm. Again, this was a very light rainfall, but I feel confident saying that this bag can perform well while dealing with light moisture.
Comfort:
If you choose not to read the rest of this section, at least read the following sentence. This bag kept me warm, was easy to adjust when I got too warm, and it allowed me to move around freely. It is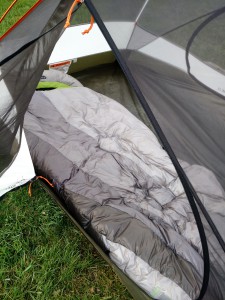 hard to say much more than that because when I wasn't testing the bag by rolling over and seeing how much room I had by my shoulders and knees, I was sleeping. I was comfortable, and I slept through the entire night. Granted, since I was sleeping in above average temperatures for this area for May (mid 60s at night), I did have to unzipper the bag at one point because I was warm, but once I did that, I felt comfortable.
One thing that is important to note is that this bag, despite being called the Nocturne 30, has an EN lower limit rating of 23 degrees Fahrenheit. If you are unfamiliar with the EN13537 rating system, the "lower limit" is the temperature at which the bag will keep an average man warm while sleeping for eight hours in a curled position. So if you are worried about the 30 degree rating that NEMO gives, it will probably be a warm 30 degree bag.
Pack-ability:
At 2 lbs, this bag is by no means unbearable. Sure, there are some minimal and lighter options available, but if you are looking for a traditional style hood and zipper bag, this weight should not be a huge issue. My first synthetic sleeping bag that I purchased when I first started backpacking was just over 3 lbs, and I was able to manage.
The bag comes with a stuff sack that will help you get the bag into a manageable size to stuff into your pack. NEMO provides a great chart comparing the packed size to a 1 liter water bottle.

Value:
The (regular size) Nocturne 30 has an MSRP of $349.95 (the long version is $379.95). For a 30 degree bag, this seems on the higher end of the spectrum. If you can live without some of the features in the Nocturne, there are plenty of 30 degree options in the $200 range. However, if you want a roomy bag with a down fill that isn't too heavy, the Nocturne is a good choice.
Buy Now: $349.95 or to learn more, go to: NEMOEquipment.com
NEMO Nocturne 30 Sleeping Bag - Gear Review
If you like sleeping comfortably and don't mind the price, the Nocturne 30 is a great sleeping bag that will keep you warm and comfortable.
Pros
Spoon design offers plenty of room to sleep comfortably in multiple positions
DownTek 700-power-fill down will keep you warm, and offers light water resistance
Packs down small for a hood + zipper sleeping bag
Cons
If you are really looking to cut back on weight, there are lighter, more minimal options available for summer.
Price is on the higher end for a 30 degree bag.