If there is one thing we've noticed with MVMT watches, it's that they have STYLE (without the ridiculous price tag of course). Most watches that have a similar style to MVMT's, are a bit pricey. I know what you're thinking… "you get what you pay for", and for most things, I would agree. However, MVMT watches not only have the style we were looking for, but they also have the quality build that has continued to keep up with us.  MVMT has a variety of both Men's and Women's watches (as well as sunglasses and other jewelry), but for this review, we are taking a look at the Chrono Gunmetal Sandstone watch for Men with the 45MM case size.
Key Features:
45MM Brushed Gunmetal Stainless Steel Case
Blue Second Hand & Subdials
100% Genuine leather strap
Color – Sandstone (Interchangeable)
12mm Case Thickness
22mm Strap Width
Hardened mineral crystal glass
5 ATM Water resistance
MVMT Watch Review Breakdown
Style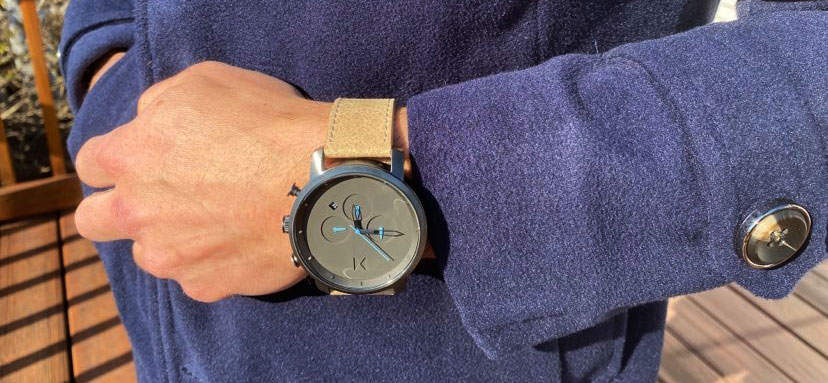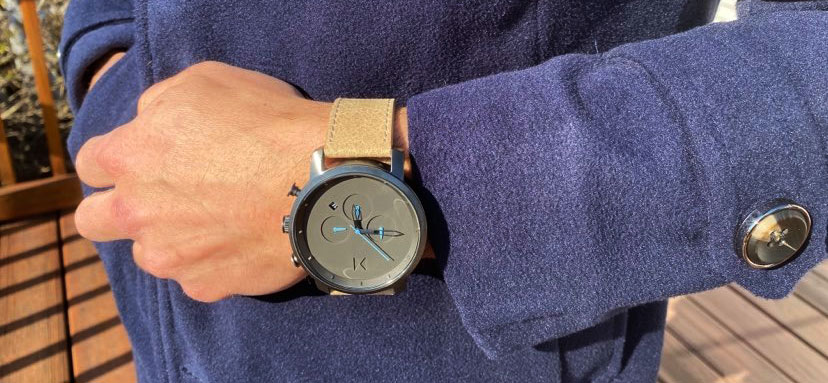 As I mentioned above, "STYLE" is where it's at with this MVMT Chrono Gunmetal Sandstone watch. The oversized 45MM case screams "LOOK AT ME", while still remaining calm and cool with its minimalistic features. I've never been keen on watch faces that had actual numbers on them, however, MVMT does carry those as well if you're in to that sort of thing. With the MVMT Chrono Gunmetal Sandstone face, you still get more than enough info/options with little clutter. The gunmetal hands and markers are simple and elegant and allow for the blue second hand and sub-dials to really pop. The sandstone strap is made out of 100% genuine leather and has a beautiful contrast against the gunmetal case. If you prefer less contrast or a different material, this watch has the option to swap straps. You can opt in for a black leather (+$35), steel metal (+$40), or the natural leather (+$35) for more strap options and ultimately an entire different look to go with any outfit. If you prefer a slightly smaller case size, this watch has a 40mm option as well (but hey… go big or go home right?). The MVMT Chrono Gunmetal Sandstone is a 6 hand chronograph that also includes a date dial. Even though I'm not sure when I'll ever need it, I do like the option of having a 60 second timer (as well as a 30 minute timer) built in. Plus, this feature also adds a little character to the face while still carrying over the minimalistic design.
Build Quality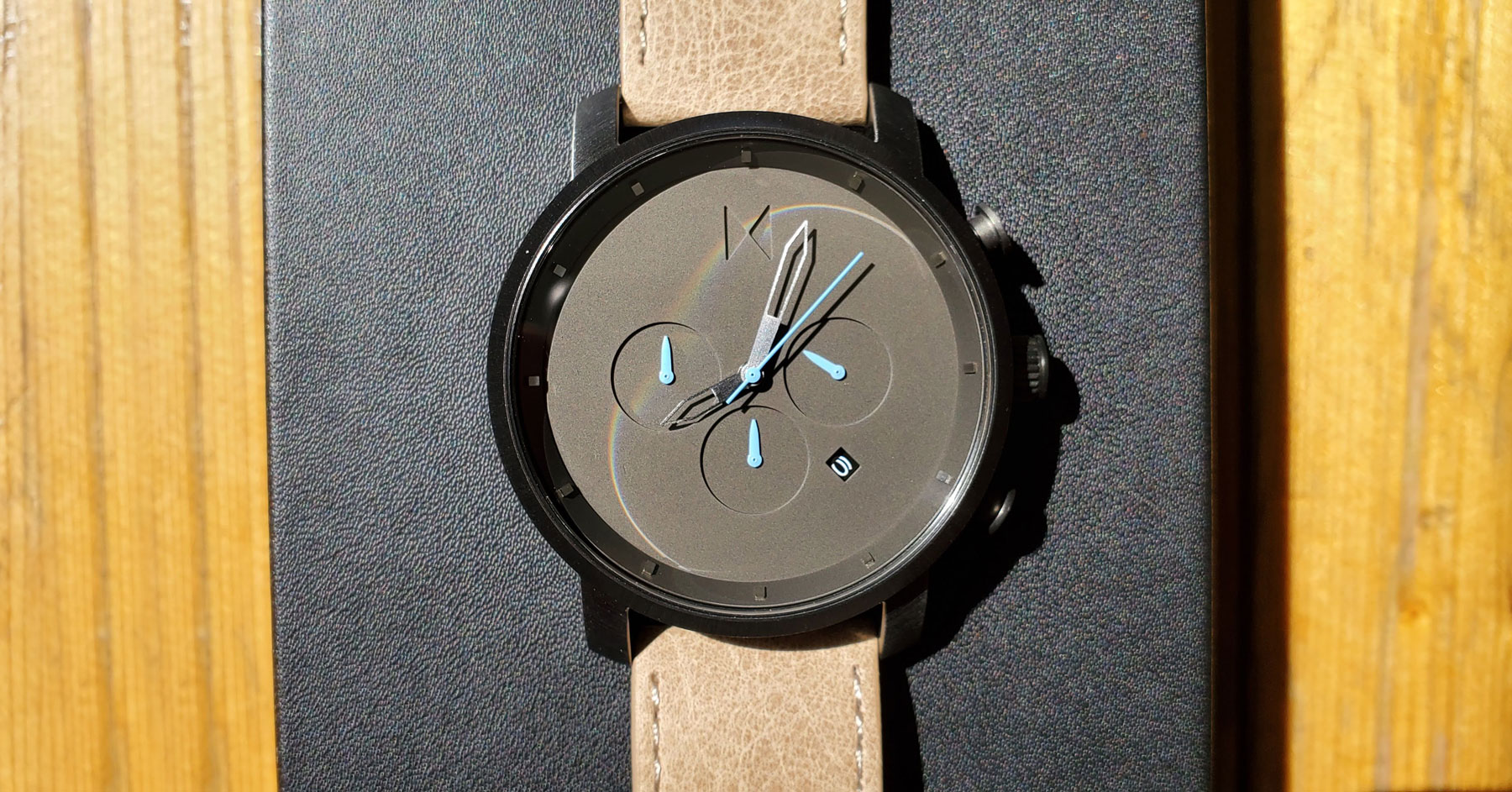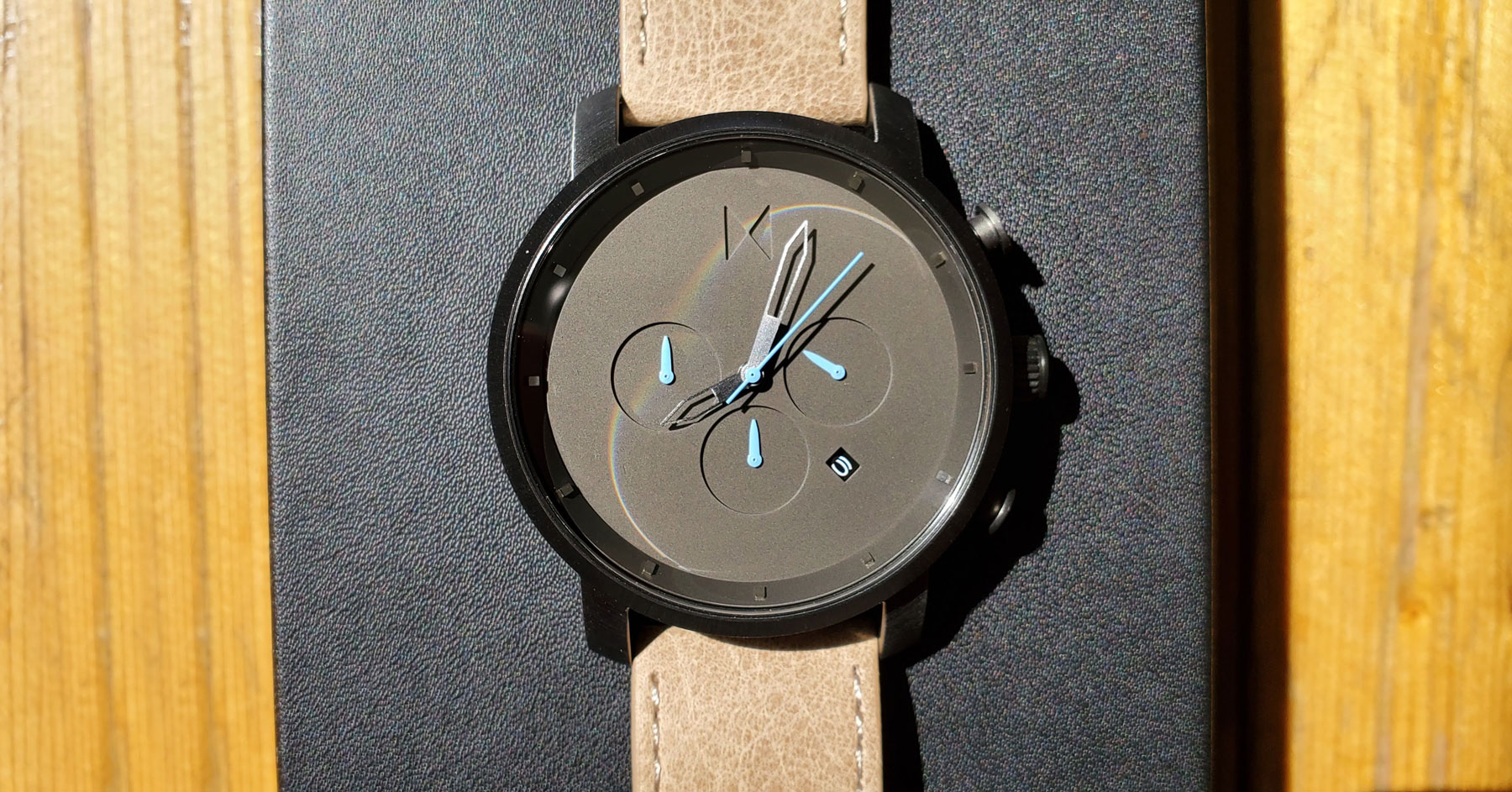 What good is the design, if the build quality isn't there? Luckily, the MVMT watches are built pretty tough and backed with a 2 year warranty with free returns (worldwide). Hopefully you won't ever need that option, but it's nice knowing you have it when purchasing a MVMT watch. The build quality is most noticeable in the case. The glass is made of a hardened mineral crystal with a super clear finish. This glass has been treated to withstands scratches. While it's not as scratch-resistant as sapphire, it is more scratch-resistant than plastic. This is one way to cut down on the cost of these expensive looking watches without taking away too much build quality. It's also water resistant with a 5 ATM rating. The 100% genuine leather strap is lightweight yet durable.
Comfort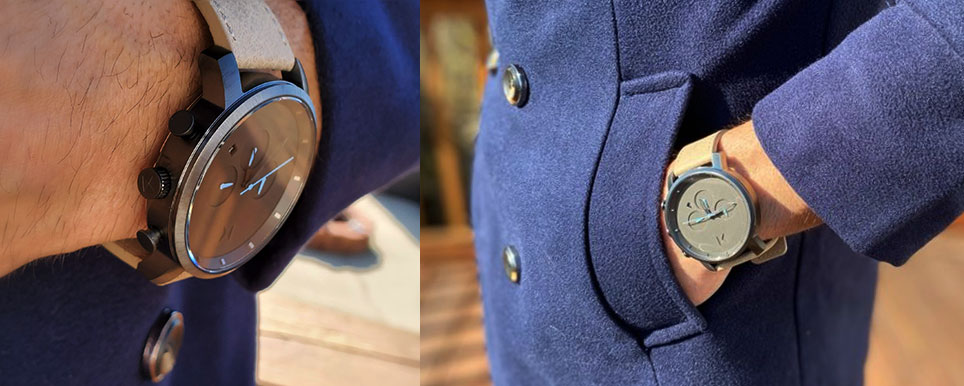 A good comfort level on most watches this size can sometimes be a challenge because of the overall weight and how it rests on your wrist. I can't speak for the other straps, but the leather sandstone strap is comfortable, lightweight, and remains firm without being too restricting. The case is a bit heavy but not uncomfortable. The only thing that is slightly uncomfortable, is the crown (for adjusting the dials). This is most noticable when really bending your wrist back to the point the crown jabs into the back of your hand. So if you plan on doing any pushups, you may want to just take the watch off and set it aside before you start flexing those muscles.
Value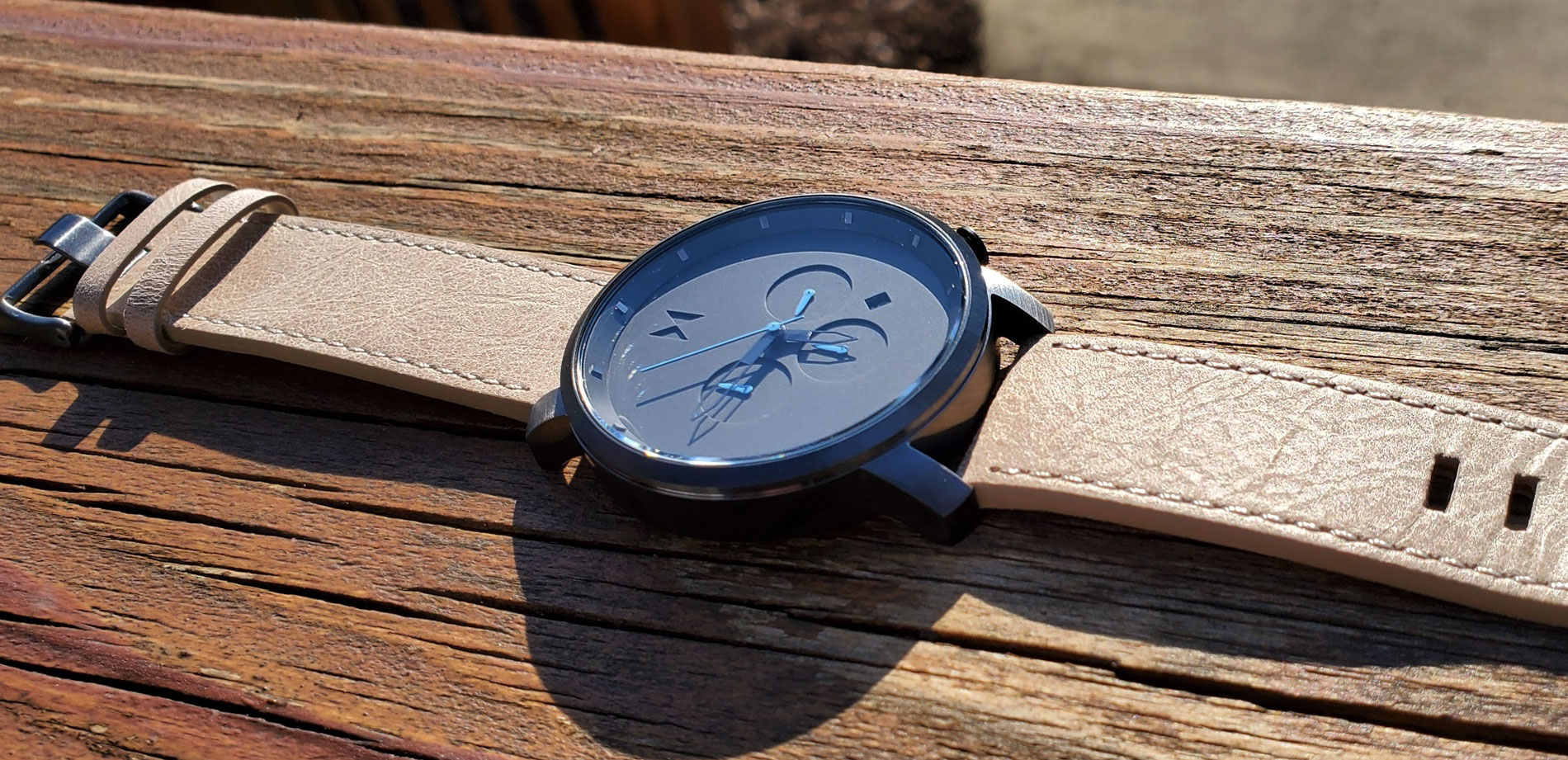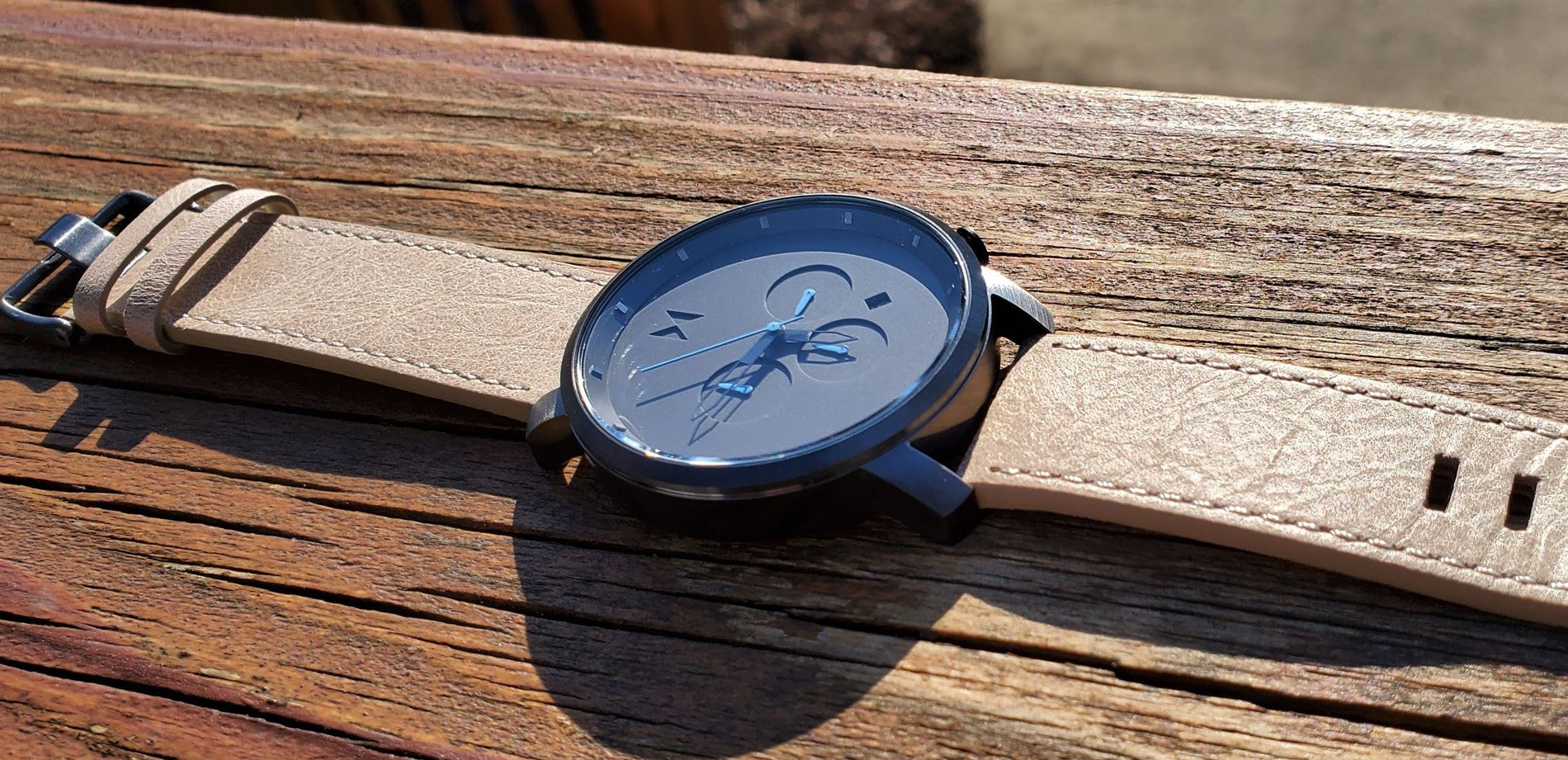 Life is all about balance. MVMT seems to follow the same principles when it comes to valuing their products. I think the value is well balanced for the build quality and the style you get with any of their watches. I'm happy with the MVMT Chrono Gunmetal Sandstone watch and look forward to keeping time and staying fashionable for as long as time will allow. If you're in the market for a new watch that won't break the bank, then MVMT could have exactly what you are looking for.
Buy Now: $135 or to learn more, check out: mvmtwatches.com
MVMT Chrono Gunmetal Sandstone - Style Review
The Chrono Gunmetal with Sandstone band is another example of the clean style and overall good quality one would expect when purchasing a MVMT watch.
The Good
High Standard of Style with Low Price
60 sec and 30 min timer
Interchangeable Straps
The Not So Good
A little heavy to wear the entire day