There's nothing worse than when your phone is on its final sliver of battery life. Typically no one has a charger with them or if you do, it is the most inconvenient set up to try to charge your phone let alone if you even have the time. We've all been there, and it always seems to happen at the worst moment possible. This is where the Mophie Space Pack comes in handy. With the flip of a switch, your phone will get up to a 50% charge while you continue on with your plans. No need to stop what you are doing and try to find a power source.
In the past Busted Wallet put the Mophie Juice Pack case for the iPhone 5 through the paces and now we are at it again. This time we are testing the Space Pack on the newly released iPhone 6s Plus. Over the past month we've spent a lot of time with this case and here's what we discovered…
Key Features:

50% extra battery life
Sleek Slim Case design
32G of extra built in storage capacity
12 Hours of Talk
7 Hours of Video
40 Hours of Music
Personal Wifi Space Portal
Premium Case Design
Digital Power Management
USB Charging
Technical Specs:
Product Dimensions: 3.27 x 6.85 x 0.57 in
Weight: 3.88 oz
Compatibility: Model tested was for the iPhone 6s Plus/6 Plus
Battery Compacity: 3,300mAh
Package Contents: space pack, micro USB cable, headphone adapter
Mophie Space Pack iPhone 6s /6s Plus Breakdown
Design:
The rather thin sleek design packs on some powerful features. Compared to our last Mophie review, the Mophie Space Pack not only can charge your battery, but also has additional storage up to 128G depending upon the model. Best part is that they managed to make the case even thinner!  Another perk is that the even though the iPhone 6s Plus only takes the lightening charger, the Mophie Space Pack charges using a micro HDMI giving you flexibility between charging cords.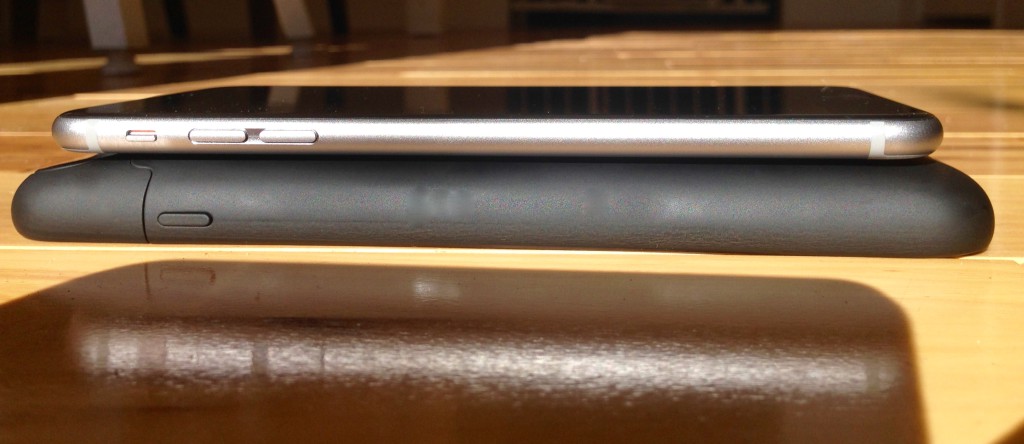 Battery Life: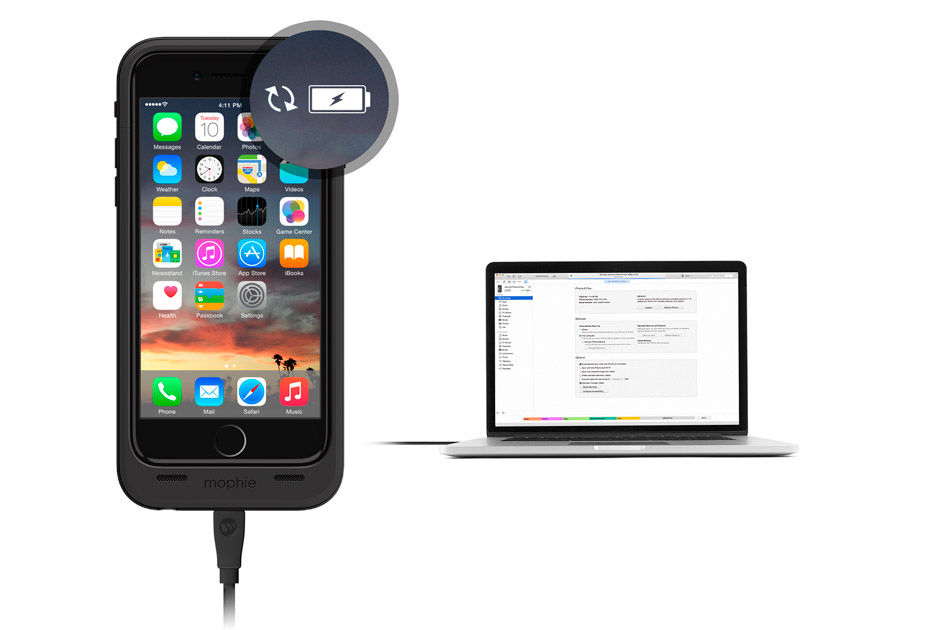 The Mophie Space Pack gives you the freedom to charge your device anywhere, anytime with the flip of a switch.  When you get the case, it actually comes fully charged, which is a huge bonus not typically heard of with tech gagets. You typically have to wait and charge them for a few hours. Like the Juice Pack, the battery only case by Mophie, the Space Pack integrates the Priority+ Charge and Sync technology. It allows a bypass to charge and sync the phone first before moving onto charging the Space Pack.
The battery pack is designed to give you up to a 50% charge. We thought we would take this spec and put it to the test. After testing the amount the pack charged the phone and the time it took to do so, the spec was accurate. We tried it three times and each time the phone charged an additional 50% taking about 2 hours.  Now, we took it a few steps further to really see how much charge we could get. With the phone in low power mode we saw a 60%+ battery charge and when we put the phone in airplane mode, a 85%+ battery charge!  So if you are desperate and can manage to go rogue for a few hours, airplane mode will maximize the battery charge to its full potential and almost fully recharge your phone.
Storage:
The Mophie Space pack is designed to give you up to additional 128G of storage space. We tested the 32G space pack on the 64G iPhone  6s Plus.  The space Pack is easy to access. With the download of the Mophie Space App, all it takes is registering your pick and its ready to sync. You can easily sync, access, delete, and add photos, videos, music, files, and more to the space pack freeing up that valuable space.  This is great for when you enjoy capturing videos and photos that traditionally eat away at storage quickly.  Whats even better is that through the app, you can link wirelessly with the space pack from your computer by entering an access code for security. Then you are able to download files directly from the space pack like you would a USB
Durability:
With its sleek rubber grip design, the space pack is built to protect. It features an edge to edge protection with the additional or rubberize pads to protect the device from the drops and falls. Now we weren't playing "see  how high we can drop the phone" to test the case, but it definitely heald up to the typical wear and tear a phone would go through.
Value:
Bottom line, the Mophie Space pack does hold its value. While it may be a bit heavy in comparison to the iPhone itself without a case, the functionality of the case would leave that to be expected. It is also rather thin for being a battery+storage case. In addition, our test showed that the case can charge the battery to 60%+ if switched into power save mode.
Buy Now: $149.95 or visit Mophie.com
Mophie Space Pack - Tech Review
The Mophie Space Pack is great for power users on the GO. If you are always using your phone while running to search for that outlet before your battery dies, then you need to get one of these. With the flip of a switch, your battery is charging up to 50%. Then to top it off, you have additional storage space to keep those videos and photos safe without bogging down your phones storage.
What's Good
Easy Additional Battery life up to 50%
Clean, durable design to help protect your device from life's accidents
Additional storage to protect all those cherished files
The Not So Great
The phone can be difficult to take in and out of the case if needed
It makes the phone more bulky
You have to use the AUX extension (provided) in order to access the phone AUX port