Treasure hunting can easily become an addiction.  Never knowing what you might find, if anything at all, generates extreme curiosity.  Then when you do finally find something you only hope it has some value or great history to it.  Metal detectors are the perfect treasure hunting companion (aside from your sibling who just so happens to share the same addiction).  One company that makes it easy for newcomers to give metal detecting a try is Minelab.

Minelab has been producing metal detectors since 1985 and is the world leader in providing metal detecting technologies for consumers.  We had the opportunity to test out one of their newly released GO-FIND 60 metal detectors; the consumer model.  This model is perfect for anybody who is new to metal detecting.  We are always up for an adventure and loved the idea of spending the day at the beach.  We hit the beach in the early morning hours in search of treasures and before we knew it the sun was setting.  Here's how the GO-FIND 60 performed.
Key Features:

VLF (VFLEX) Technology
Frequency/Transmission- 7.8 kHz
10″ waterproof Monoloop Coil
Internal speaker & 3.5mm headphone jack
Visual Display 60mm x 36mm (2.36″ x 1.42″) LCD
Backlight monitor
Smartphone Pro App
3 Levels of Depth Indication
4 Detect Modes
4 Find Icons – Nail, Foil, Ring, Coin & Treasure
Audio tones- Low, Mid1, Mid2, High
Automatic Tracking Ground Balance
Audio & Visual Pinpoint Mode
5 Levels of Sensitivity
Length – Collapsed: 21.9 in / 555 mm Extended: 51.4 in / 1305 mm
GO-FIND 60 Review Breakdown
Design:
The greatest thing about the GO-FIND 60's design is its collapsibility.  Most detectors don't do this and make it difficult to transport them.  MineLab really has a great consumer level metal detector here.  We were able to strap this one to the outside of a backpack (where we would usually put a camera tripod), hop on our bikes and go.  The overall length of the detector can be adjusted for different heights and arm lengths so adults and children can both enjoy using it.

Function:
To get the most out of the detector, it is best to have it calibrated before use by a product specialist at any of your local dealers.  They are helpful to get you started off the right way and can answer any questions you may have.  The GO-FIND 60 is one of three in the GO-FIND series.  This one has the maximum number of detect modes, depth indication levels and sensitivity levels.  While it isn't a high end professional detector, it was still able to find buried items.  A couple great features are the pinpoint mode and depth indicator.  Once you get a signal that their may be a treasure, you can switch on the pinpoint mode and it will help you find almost exactly where it is buried.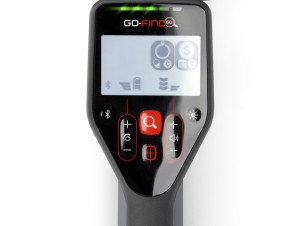 Then you can use the depth indicator to find out how far down it is.  The Find Icons on the screen will give you a better idea of what you may be digging for.  But be aware that many times items will give a false signal.  Wanting to see how it compared to other consumer detectors, we took it out to test it with another basic metal detector.  We quickly noticed that the other detector actually found the buried items faster at first pass over (even with the sensitivity turned down), but the PinPoint mode and depth indicator on the GO-FIND 60 was able to bring us closer to the exact location of the items.  So if you go very slowly and keep your sensitivity level up as high as possible without getting all the constant "trash" signals, you should be able to find many treasures.
Pro App:
The GO-FIND Pro App comes free with this model of the GO-FIND series.  All you have to do is download the basic app to your smartphone (which is also free) and then when it links up to the detector it automatically updates to the Pro version.  Once the app is synched with the detector it is fairly easy to use.  Once you are good to go with the Pro App, it is fun to use.  It will give you a bit more information on what the detector may have found, like coin identity, and even has Google Maps capability and allows you to take pictures and store them with notes about your find.  The app is not necessary though, just an added bonus for your fun filled adventure.
Ease of Use:

Set the length adjustments to fit you, turn on the detector and you are good to go.  Besides syncing the app in the beginning, there isn't anything else for you to do but enjoy your treasure hunting.  This model comes with a digging shovel, ear buds and a smart phone holder.  They pretty much provide all you need for a successful hunt.  Use the app to get a more detailed reading on what may be buried below.  Play around with the sensitivity levels and detect modes to suit the area you are searching in for optimal performance.  We use it mostly for beach hunting, so we had to turn the sensitivity down to weed out all the false signals from any trash.  We ended the most of our testing sessions with lots of bottle caps, a few coins, and a cheap ring. No gold or diamond rings this time.
Value:
At about $300, this detector is a great deal for newcomers.  It will keep you entertained outdoors all day.  The bad part is that you may become addicted like we have and want to quickly upgrade.  For families and those who just want to have some fun, this metal detector should be perfect.  You may need to get more than one as it is difficult to share it once you get started.
Buy Now: $315 or to learn more: MineLab.com
Minelab GO-FIND 60 - Tech Review
Made with newcomers in mind, but suitable for all treasure hunters.
The Good
Collapsible and easily transportable.
Pin Point function.
Easy to use.
The Not So Good
A lot of false readings and missed finds.