What happens when you mix outdoor enthusiasts with professional photographers and product designers? A company that develops gear suitable for outdoor photographers and adventurers alike, that's what! MindShift Gear made its mark on the outdoor photography gear industry with its Rotation 180º backpacks. We had the opportunity to test out their Rotation180º Professional backpack a while back and were beyond impressed (it's still the go to bag for the big trips). Since then they have developed a variety of backpacks and gear in multiple sizes and uses. Naturally we were stoked to have the chance to give one of their smaller lightweight backpacks a try; the UltraLight Sprint 16L. We packed up the bag with some gear and headed out on some day long adventures!
Key Features:
Large capacity for personal gear: extra layers, a light jacket, food, etc.
Integrated tripod/monopod or trekking pole mounting system on front
Trapdoor platform allows you to use the entire bag for personal gear
Seam-sealed rain cover included
High quality YKK RC Fuse zippers, 420D high-density nylon, reinforced stress points for long lasting durability and strength
Highly breathable three-layer shoulder straps with daisy chain for additional gear
Removable webbing waist belt provides stability during extreme activity
Internal compression strap and drawstring collar maximize capacity and minimize bulk
Stretch side pocket
Internal zippered mesh pocket for small items
Lid closure doubles as a lash point for a large jacket or other bulky items
Ergonomic zipper pulls are easily gripped with gloves or chilled fingers
Adjustable dividers for different camera gear configurations
Adjustable sternum strap
Side compression straps
Gear Profile:

Holds 1 large (un-gripped) Mirrorless body and 1-2 standard zoom lenses or primes
Holds 1 compact DSLR (Rebel, 3300 or 5300 series) and 1-2 lenses
Fits up to a 10" tablet or most 1.5L hydration reservoirs
9L of capacity for personal gear
Maximum lens size:

Mirrorless: 70-200mm f/2.8 equivalents attached to body
DSLR: 24-70mm f/2.8 attached to body
UltraLight Sprint 16L Review Breakdown
Design:
Sleek and simple seems to be the best way to describe the Ultralight line of bags. The Sprint 16L still allows for easy access to gear by swinging the whole bag around to your front. The gear pocket has a side access door near the bottom. One great feature is that the waist belt can be removed. Not many hidden compartments on this bag. It was definitely meant to be a minimalist day trip bag. A feature that many may not notice are the ergonomic zipper pulls. These are great if you have gloves on or your hands are going numb from the cold. Another added bonus is the included rain cover.  It will be a welcomed accessory for the sudden down pours.
Storage:
Keep in mind that this is a small lightweight daypack. It only has space for minimal gear so if you need to carry a bunch of stuff, then maybe check out some of their larger bags. This version holds about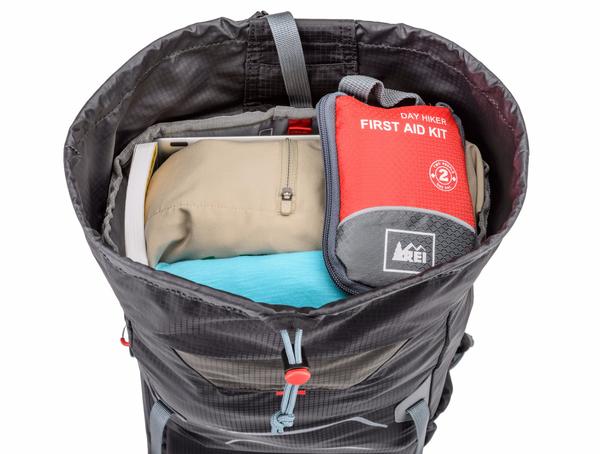 one camera body and 1-2 lenses max, all depending on sizes. The personal gear compartment is great for a jacket, snacks or other personal items. You could put more camera equipment in there also if absolutely needed, such as extra batteries, cards, cords etc. It also holds up to a 10" tablet or a hydration reservoir. A side pouch is great for a small water bottle, but put an emphasis on small. It's a very tight squeeze to get a medium to large bottle in there. Tucked away are top and bottom tripod mounting system straps suitable for lightweight tripods or monopods. If you need to carry a jacket or other bulky item, you can use the top lid closure as a lash point.
Comfort:
Mindshift knows how to make their bags comfortable. They never fail in this category (in our opinion). The shoulder straps never caused irritation and it was always easy to swing it around to access the gear. The option to fully remove the waist strap is great for this lightweight bag as it is not always needed. The bag itself is small enough to comfortably rest on our backs and never feel awkward.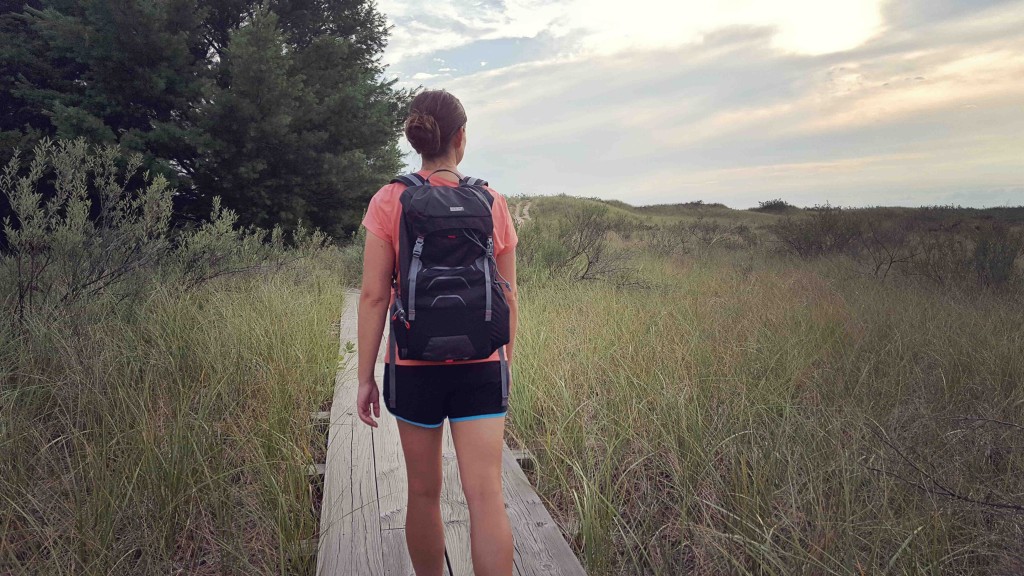 Durability:
As expected, the Ultralight Sprint 16L has held up top notch. While we haven't purposely abused it much (because why would we do that?), it has not shown any weakness at the seams, zippers or buckles. Only a few scuff marks from the tight trails.
Value:
Comparing this bag to others of similar use, we believe the Ultralight Sprint 16L is on the lower end of the price range. This of course doesn't mean that it is made cheaper (because it most definitely is not), just more affordable. That being said, the Mindshift Ultralight Sprint 16L is well worth the $120.
Buy Now: $119.99 or to learn more go to: Mindshiftgear.com
Mindshift UltraLight Sprint 16L - Gear Review
For the outdoor enthusiasts and photographers who like to travel light for their daily travels. This bag will hold what you need for a day's adventure.
The Good:
Lightweight and comfortable.
Still holds a decent amount for the small size.
Removable wast belt.
The Not so Good:
lacking a couple small outer pockets for easy access.