It's no secret that we've enjoyed reviewing Mizuno running shoes over the years here at Busted Wallet. In fact, our staff has reviewed 6 pairs of running shoes from Mizuno. With an average rating of a 9.2, they are consistently one of our most highly rated brands we cover. It is obvious we have grown to love Mizuno running shoes, and I am here to tell you the Mizuno Wave Sky WAVEKNIT 3's did not change our minds one bit! We have seen an evolution in comfort and quality over the years from Mizuno. The Waveknit 3's feature their latest technological advances, the Foam Wave and XPOP foam technology which is designed for premium comfort. We recently hit the pavement and the gym to put these new shoes to work. You already know that we like them, but continue reading to find out why.
Key Features:
Blown Rubber Outsole
New Premium Sockliner
MIZUNO WAVE: The Mizuno Wave plate disperses energy from impact to a broader area providing a stable platform and a superior cushioning.
U4icX Midsole: A lighter, more cushioned iteration of U4ic, delivering a softer underfoot feeling for a smooth transition. Found in the Wave Enigma, Wave Inspire, Wave Rider, and Wave Prophecy.
X10 Outsole: Durable carbon rubber that allows for longer wear.
Curved top and bottom hem to ensure accurate fit while minimizing excess fabric
XPOP
MEN'S WAVE SKY WAVEKNIT 3 Review Breakdown
Comfort:
When I receive a new pair of running shoes for review, I do my best to avoid reading about them because I don't want my judgement clouded by a press release or other reviews. When I slipped on the Wave Sky WAVEKNIT 3's, I instantly felt comfort. No break-in needed, just pure comfort.
I have recently been dealing with severe foot pain that it has hindered my workouts and my ability to walk comfortably in most shoes. The WAVEKNIT 3's have become my go-to shoes. They allow me to do some workouts I couldn't do before. They have also become my regular day-to-day shoes because of the stress they take off of my sore foot. I was able to get a few miles under my belt on some casual runs and came back feeling great with no pain the next day. The forefoot cushioning is very comfortable, dispersive, and responsive. If you are training for long distance runs, you need to check these shoes out.
Design:
The Wave Sky WAVEKNIT 3 is designed to be the show piece for Mizuno innovation with their latest technologies, Mizuno Foam Wave and XPOP. They are built to deliver premium performance comfort.  The WAVEKNIT technology was released in 2018 to rave reviews. Fellow BW contributor Ryan Stevens was a big fan as well. Now, they are combining WAVEKNIT with the new XPOP to deliver a shoe that allows natural movement, leverages both comfort and style, and provides a high-performance fit.
The shoe is a great fit for those style-conscious, high mileage runners seeking extra comfort in the underfoot. The dual-combination of cushioning of the Mizuno Foam Wave and XPOP delivers an all-new floating experience. This will give runners an extra bouncy feel from heel to toe. For those of you new to WAVEKNIT, it's upper construction allows for a stable hold, yet flexible fit that supports natural foot movement through its dynamic sock-like fit. Constructed without reinforcements in the midfoot, the wave vectors seen throughout the Wave Sky WAVEKNIT 3 work as hold areas, compensating for the stretch in other areas of the knit to maintain the proper support.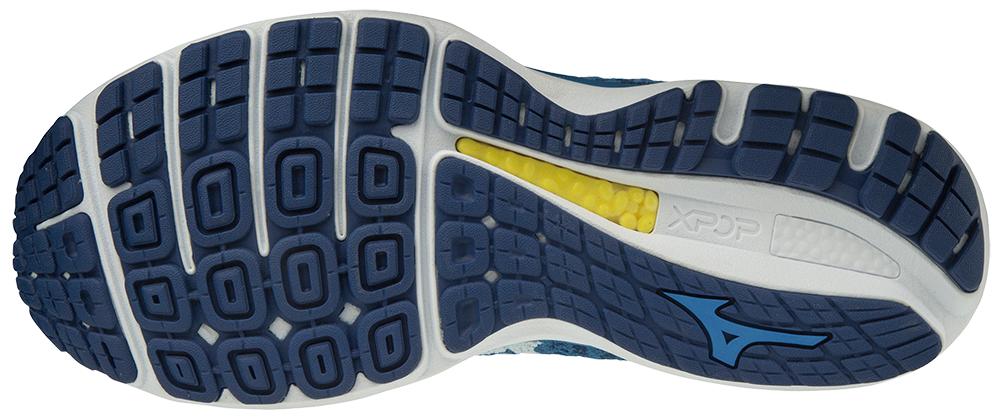 Durability:
If you have used Mizuno running shoes before, the Wave Sky's outsole's will be familiar. The shoe uses the Mizuno's X10 blown carbon rubber that is the standard for most of the brand's models. There are a few variances for this model. You will notice the rubber splits for a portion of the underarch. Also, the tread fans out again at the forefoot in concentric squares. This will help increase the surface area.  Given that these shoes are designed for long distances you might not get over a year out of them, but you will get a lot of comfortable miles out of them. The only reason we have seen some deterioration is because of the amount of usage on the shoe. Given the sleek look, the all-day comfort, it's hard not to let your feet live in them.
Value:
Priced at $160, I really think the Mizuno Wave Sky WAVEKNIT 3'S are under-priced. With running shoes, everyone has a different idea of how a shoe's value should be determined. Some simply determine by the lowest price (not recommended). Some look at it purely by the amount of miles tacked on. Others by a combination of miles, cost, comfort, etc. When I went back and looked at the original price for the shoes, I was surprised. I would have easily paid $180-$200 for these shoes based on the overall comfort and durability. Given my recent foot pain it only endeared me to these shoes even more. If you are in the market for the most comfortable running shoes on the market, then check out the WAVEKNIT 3.
Buy Now: $160 or to learn more, check out: MizunoUSA.com
Mizuno Wave Sky Waveknit 3 - Fitness Review
The Mizuno Wave Sky WAVEKNIT 3 running shoes features premium comfort packed full of the latest technology the designers at Mizuno have to offer. If you want your feet to float down the pavement like an old Cadillac, then you need to check out these Mizuno running shoes.
The Good
All day comfort
Sleek and stylish design
Excellent improvements with XPOP foam addition
The Not so Good:
Little heavier due to added cushioning and comfort enhancements