Longer days, warmer weather, short shorts…. Summer is finally here! What better way to get out and enjoy this weather than by hopping in a pair of Rollerblade's MAXXUM EDGE 90 inline skates? That's what I did anyways. If you've been looking for a new pair (or even a first pair) of inline skates and you've made your way to this review, welcome! You don't need to take my word for it, but at least keep reading to see if these skates are right for you. I'll break down what these skates are all about and why I feel these are the best pair in which to invest your time and money.
Key Features:
Molded Shell
Premium Liner
Extruded Aluminum Frame
Supreme Wheels (90mm/85A)
ILQ-7 Plus Bearings
Easy mircro adjustable cuff & 45° buckle
Integrated Brake
X-Training (Ideal for urban, fitness, commute, and recreation)
Rollerblade MAXXUM EDGE 90 – Review Breakdown
Design: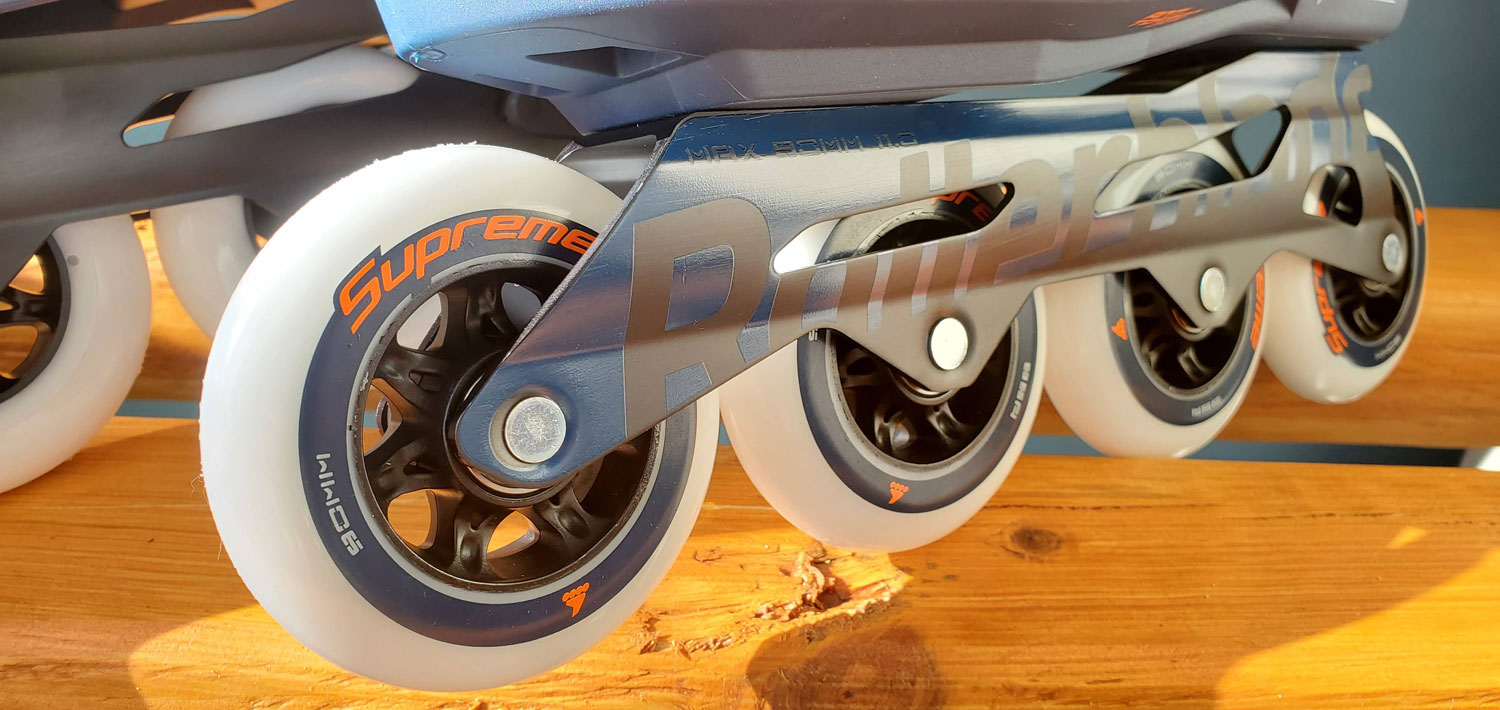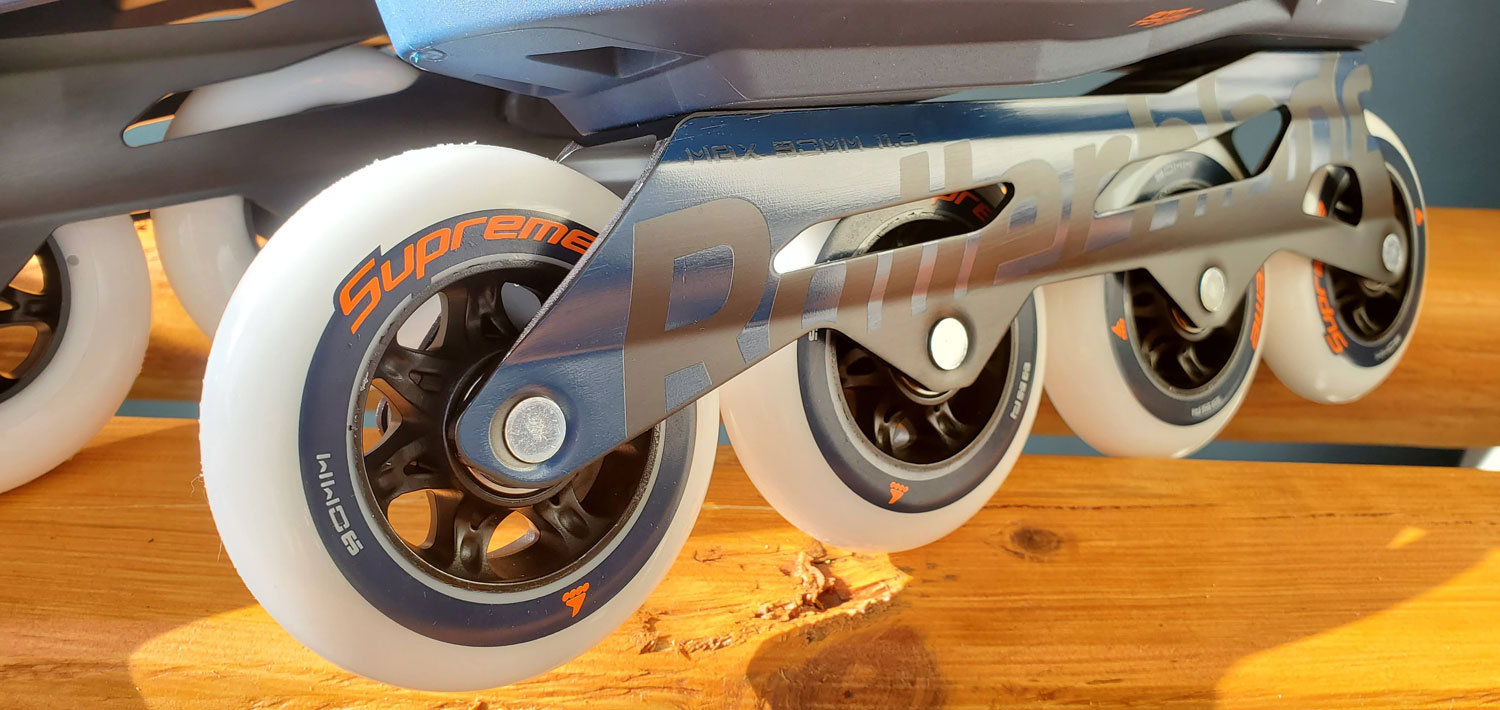 At first glance, it seems like the MAXXUM EDGE 90 is just a ski boot with some wheels slapped on the bottom. Although it resembles a ski boot (for good reason), its design serves many purposes. Starting with the noticeable hard shell and micro-buckles, these features give this skate its support, durability, and control. Each skate is equipped with four 90mm/85A wheels that are a great size for higher speeds and tucked in close proximity for more control and maneuverability. Within each wheel are Twincam ILQ-7 Plus bearings that make it easier to get moving and coast between each push. The lightweight extruded aluminum 280mm/11″ frame embrace the wheels and the integrated brake that comes pre-installed on the right skate. The brake is also removable with one simple key.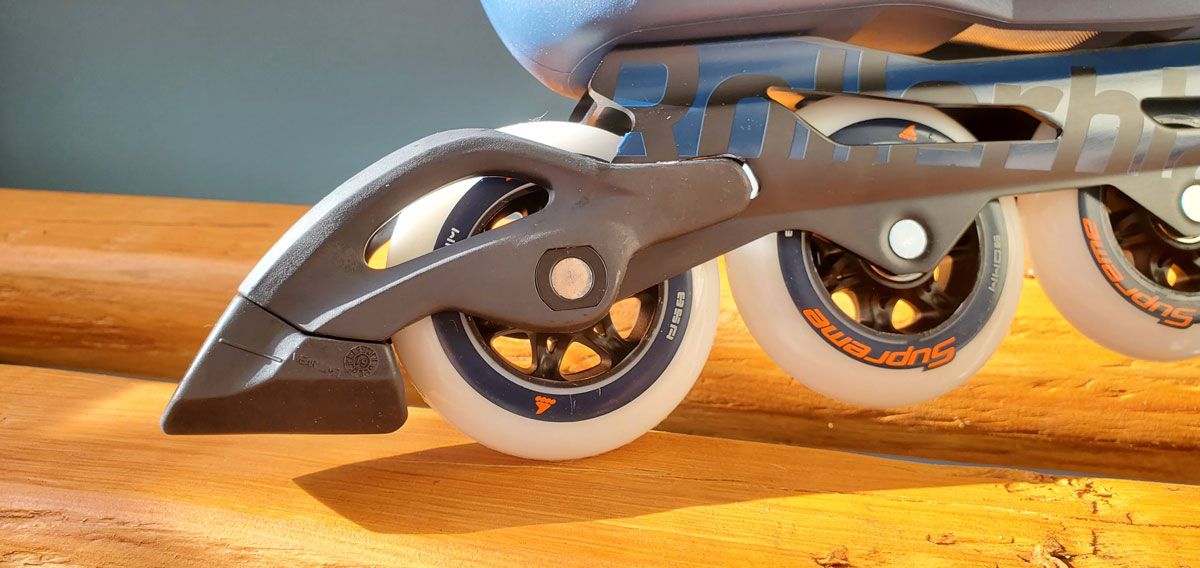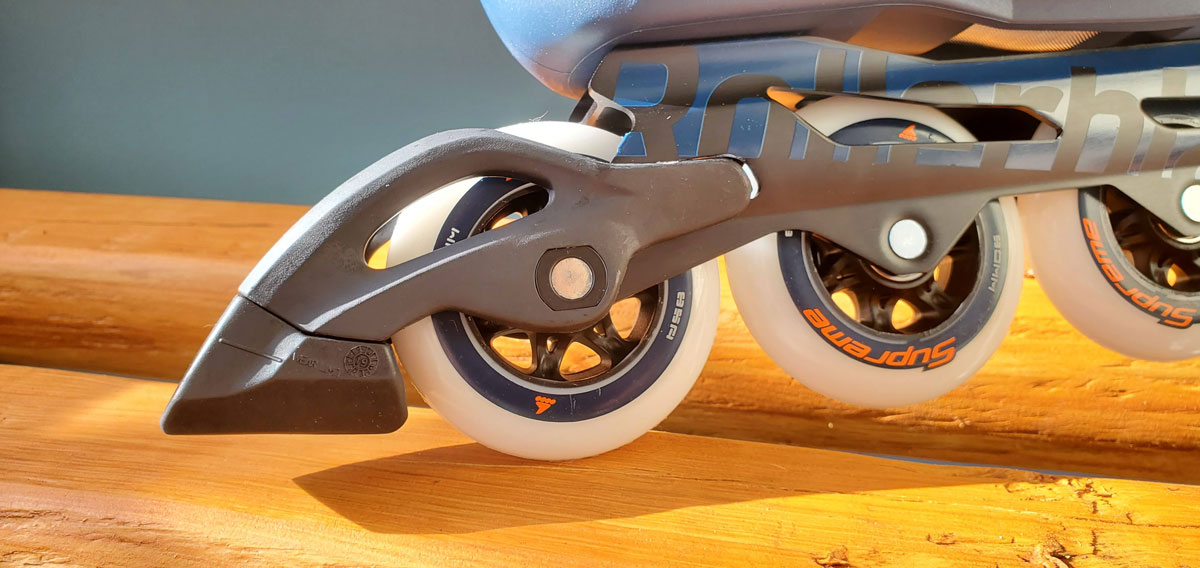 Performance: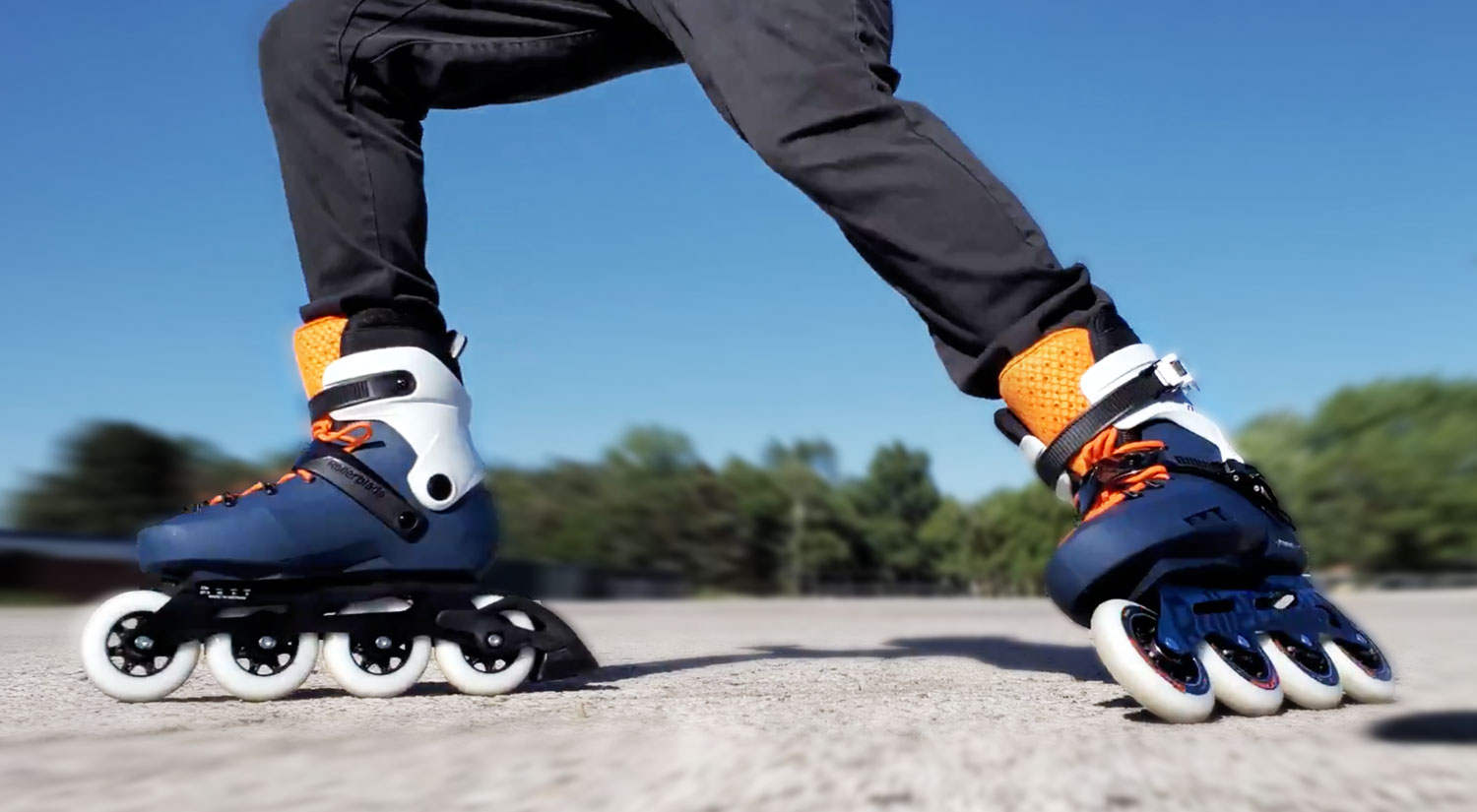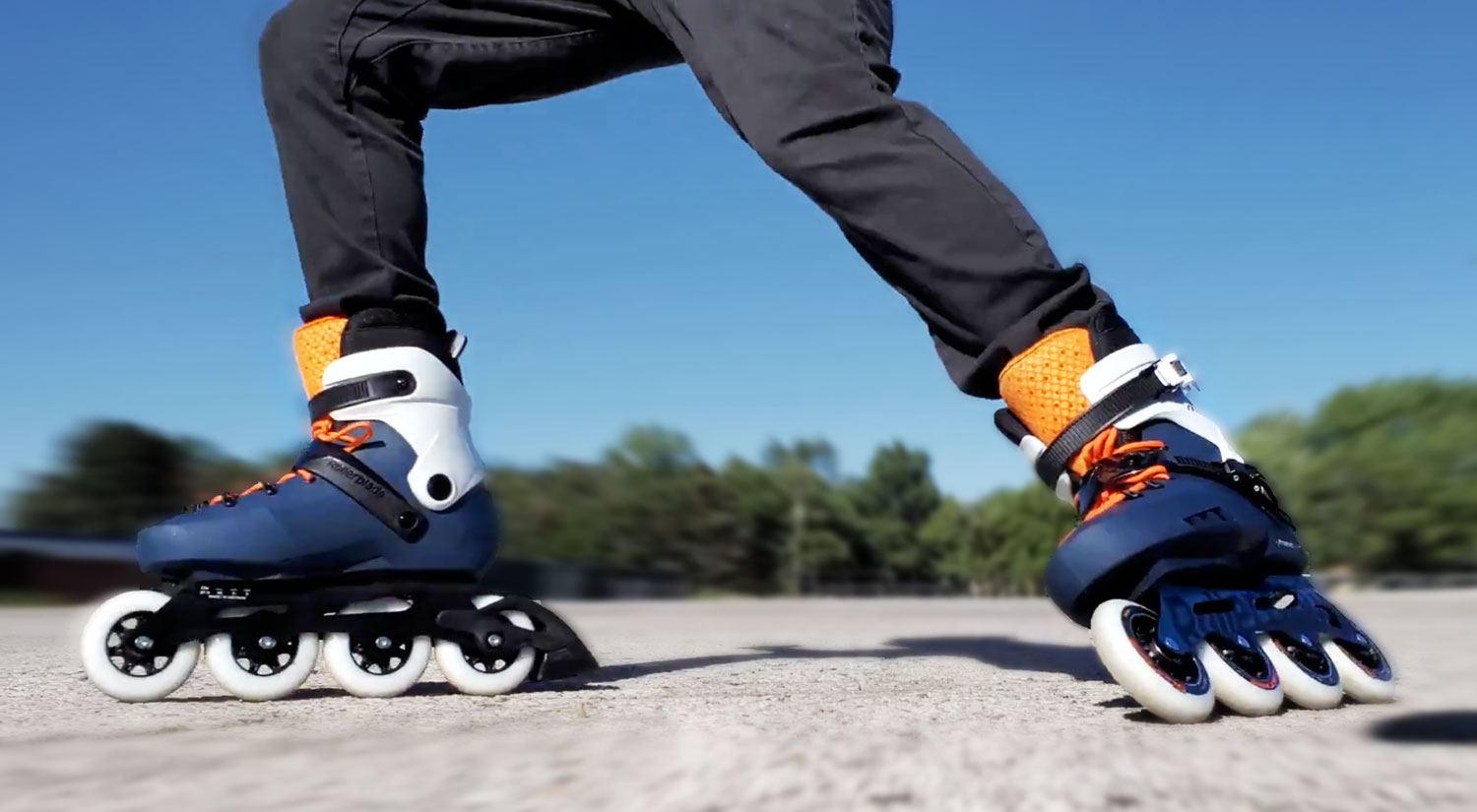 Coming in at an "Intermediate" level, the MAXXUM EDGE 90 is the perfect "everything" skate for urban, fitness, commute, and recreation.  You don't need to be a Pro to handle these skates, but they also have some wiggle room to grow with your skill level and will be sure to keep up with you as you become more comfortable shredding the pavement. As far as maneuverability goes, these skates have extra high lateral support, which provides you the ability to maintain higher speeds and make sharper turns while remaining in control. The 90mm/85A wheels and Twincam bearings also provide another level of agility and power transfer, allowing you to get up to speed quicker and coast when you need to.
Comfort: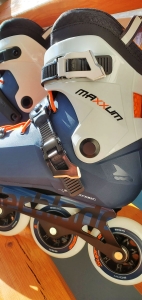 The high lateral support is great for securing your ankle and provides you more confidence on sharper turns and higher speeds. The premium mesh lining includes anatomical padding that allows for heel shock absorption. This is most noticeable if you've tried other brands with lesser quality /thinner liners. After taking these down a "not-so-smooth" street with rough pavement and potholes, I felt a great deal of shock absorption that allowed me to keep pace with minimal discomfort.
While the inside is equipped with mesh lining, it isn't as breathable as some other skates with a mesh exterior. However, I would rather have more support and sweaty feet than sore ankles and dry socks.  Overall, the comfort level on these skates are great when considering the hard exterior and added support you get.
Rollerblade Value:
When you invest in Rollerblade, you get more than just a great pair of inline skates. You also get access to their learning resources and support to help enhance your skill level and increase your confidence while skating. If you have been wanting to learn how to ski or simply want to improve your skiing skills during the off season, Rollerblade has developed a "Skate to Ski Training System" in partnership with the US Ski team where you can follow along with America's top professional ski instructors in a step-by-step video training course found on their website and downloadable app: 
https://www.

rollerblade

.com/usa/skate-to-ski/
Overall, these skates are the perfect blend of durability and speed with a high level of support, making it a true hybrid skate for a wide range of skaters looking to expand on their versatility and responsiveness.  So if you're like me and want the most out of a skate, I recommend spending a little extra cash on a pair that will last and offers the most bang for the buck.
Buy Now: $279.99 or to learn more, check out: rollerblade.com
MAXXUM EDGE 90 - Rollerblade Review
If you want a skate that is great at just about every level, then the MAXXUM EDGE 90 is the perfect fit.
The Good
Great ankle support
Fast and easy to control
Durable and mobile
The Not So Good
Breathability could be better