Without a doubt, the world of cycling has become so much more than just pedaling from point A to point B.  In the old days, a stop watch and someone telling you where to end up was all it took to track a bike ride.  These days we ride bikes made out of composite materials that were designed by computers and built by robots.  Why we wouldn't want to collect data coming from space while we ride?  That's exactly what the Magellan Cyclo 505 GPS enabled bike computer does, and more.
Most cyclists would agree that we crave data collection and we strive to be better through the little details provided by technology.  When you decide to start tracking your cycling training more than just by looking at your average speed, you need something like the Magellan Cyclo 505 bicycle computer.  GPS navigation with turn by turn directions, automatic route planning, workout tracking, topographical climb tracking, gear monitoring, heart rate monitoring, power monitoring, Bluetooth music and phone integration…it's the bike computer you've been wanting.
Cyclo 505 Key Features:
3″ Daylight Readable Touchscreen
12 Hour Rechargeable Battery Life
GPS Turn By Turn Navigation
Automatic Route Suggestion
High Resolution Topographical Data
Built-In Wi-Fi, Bluetooth, ANT+ & Di2 Wireless
IPX7 Waterproof
Automatic Sync to Strava
Multiple Profile Support
Magellan Cyclo 505 Tech Review
Design:
Magellan is a long standing and trusted name when it comes to consumer GPS devices and the Cyclo 505 is their top of the line entry into the full featured bike computer market.  The Cyclo 505 was built for the durability and ease of use needed while mounted to the handlebars of a bike that may be flying over hot blacktop in the sun or bouncing through the woods on a rainy day.
A 3″ color transflective screen offers an easy to read display that has no problems being read in direct sunlight.  This screen is a full touchscreen and allows for easy navigation of the on-screen buttons even when wearing gloves. The 3″ screen offers plenty of room to show a lot of data but also keep it readable at a quick glance so you aren't distracted on your ride.
I'm a fan of touchscreen devices that have a physical button also and the Cyclo 505 has that.  A single button is found at the bottom that quickly takes you back to the home screen in case you find yourself buried in the trail of on-screen menus.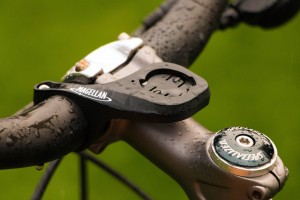 The Cyclo 505 comes with 2 options for mounting.  One is a pod that attaches using simple zip ties and can be attached anywhere that is convenient.  The other is an out-front mount that works great to keep the Cyclo 505 in a comfortable place even when down on the bars on a road bike.  I found the Out-Front mount actually worked great for my mountain bike to mount the Cyclo 505 in close right over the stem in a protected place that was easy to reach.
Both mounts hold the Cyclo 505 by twisting into place and locking securely in its display position.  I had no worries of anything bouncing away or falling onto the tarmac at speed.
Up to 12 hours of battery life is promised by the built in lithium battery.  That should be long enough to cover any rides I plan on doing, but I guess it's not unheard of for cyclists to put in a really long day in the saddle and push that limit.  If you are one of those cyclists, you may need to plan on a charge break or just stick with a traditional computer.
The mini-usb port is covered on the bottom by a rubber tab that allows for easy access and simple recharging when needed.  I do wish however that it was micro-usb.  That's the way the industry seems to be going but it's not the end of the world to have 2 charge cables in my kit.
Data Collection:
This device collects so much data that you will have a hard time knowing where to start.  It all starts by organizing the data into different pages that are visible while you ride.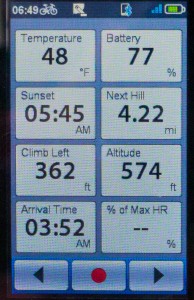 At the core of data collection is a library of 68 different data points all related to your ride.  To keep it organized, the first 2 pages can be configured to show up to 8 data points each.  The next page is an elevation graph that will show a graphical representation of the terrain around you.  On this page, you can also include up to 4 data points from the library to be displayed.  The next page is for navigation which will show a GPS navigation map view along with up to 2 data points from the library.  Finally, if you have started a workout, you will have one more page to choose from that will provide your current workout goal along with up to 6 data points from the library.
Data points in the library are split across multiple categories and include basic points like speed and cadence as well as more complex such as the number of feet remaining in your current climb and distance to your next turn or hill.  With so many points, I did find it hard to decide on which points to display.  I wish there was an option to add more than 2 pages of 8 data points.  With 68 options, it's hard to decide on which 16 to pick.
In addition to data points, full location tracking is also saved so that you can save a trail or route that you like. This data is great for analysis later or if you stop paying attention to where you were riding, you can use it to back track your ride and find your way back home.
Once all this data is collected, it is saved directly on the device, or is automatically uploaded to the MagellanCyclo.com website.  While MagellanCyclo is an ok site, it certainly is not the first choice for most riders which is why the Cyclo 505 can also automatically upload directly to Strava. Magellan also promises more data upload options are coming.
To help organize your data or display it differently if you ride different bikes, the Cyclo 505 allows multiple profiles to be created.  Maybe for different riders or maybe for different bikes.  The idea is that you can make a profile that fits your mountain bike data points, another that fits your road bike data points, another for your indoor trainer and even one more for your cruiser bike that doesn't even have a computer…but you panic a little inside when every pedal stroke isn't on Strava.
Connectivity:
The power of the Cyclo 505 comes through its ability to use many other devices to pull in data.  The most basic of which is the GPS connectivity that provides full turn by turn directions and data collection.  The GPS unit is built in and is a SiRFstarIII GPS that provides accuracy up to 3 meters.
Other connectivity options come through built in Bluetooth.  This allows the Cyclo 505 to connect to your phone with full media and phone Bluetooth support.  The Cyclo 505 can handle phone calls while you ride through on screen prompts and built in support for text messaging is also available.  Program in an emergency contact and by clicking the "Where Am I" menu, with a single button, you can quickly send a txt with your location to your emergency contact.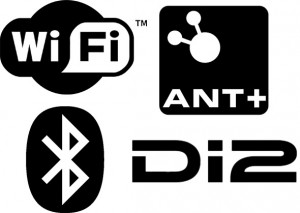 For my test, I used bluetooth headphones that allowed me to listen to and also control the music streaming from my phone on Spotify.  Bluetooth is not just limited to the phone, however.  Support for Bluetooth smart sensors such as those used for cadence and heart rate continue to be added to increase the data point library.
Other wireless sensors can also be added through the use of the popular ANT+ technology.  I was able to easily pair a heart rate sensor and also a speed+cadence sensor without any issues very quickly.
ANT+ support is also built in for power meters and there are plenty of excellent menu options that display various power based data points.  From my usage in this area, it doesn't appear there is the ability to display a full power graph to analyze right vs. left usage or push vs. pull stroking.  Maybe in future releases, though.
In addition to standard ANT+ devices, the Cyclo505 can also connect to ANT+ capable indoor trainers.  Easily create a profile that doesn't include GPS and you can use the Cyclo 505 to control grade, resistance and simulated wind all while monitoring speed, cadence heartrate and power.
For uploading your data at the end of the ride, the Cyclo 505 even includes built in Wi-Fi.  No need to sync with a phone or plug into a computer, you can upload from anywhere that has Wi-Fi in seconds.
An interesting feature that I didn't get to test is Magellans "Shake & Share."  The idea is that if you have a route you are about to ride, you can share it with your riding buddy that also has a Cyclo 505 or Cyclo 315 by simply shaking both units near each other.  The devices will connect up and the route data can be transferred making it easy for your whole group to stay together.
A final connectivity point is that the Cyclo 505 is fully compatible with the Shimano Di2 electronic shifting systems.  This data relies on having a Di2 system and the wireless unit installed on your bike.  If you have that equipment, you will be treated with data points that include gear number, gear position and the battery level of your Di2.  Data here can be displayed as a point in the library, or it can be viewed through a series of charts and graphs.
Routing:
Magellan is a GPS company that specializes in making GPS routing devices.  So it is no surprise that when it comes to routing, there are plenty of features.
Basic GPS functionality such as multiple waypoints and address entry for a destination are a given.  What is fantastic is that the map database is preloaded with a set of OpenStreetMap maps that are tuned specifically for biking.  They show cycle lanes, tracks and even bike shop POIs in case you need a replacement tube in an emergency.
While connected to my phone, I was also pleasantly surprised to find that with music playing, it is briefly muted the song during a turn instruction that flashed on the screen and also audibly told me where to go so that I could keep my eyes on the road.
Probably my favorite feature of the Cyclo 505 is the "Surprise Me" routing.  It works by entering a location where you would like to go, or selecting a loop.  You are then prompted to enter how many miles you would like to ride or for how many minutes/hours you would like to ride.  The Cyclo 505 then works its magic to present you with 3 options of routes of varying terrain and distance.  Pick which one is most appealing to you and off you go.
This feature is simply fantastic.  In your selected profile, you can even select the % of on-road vs off-road you would like to ride if you are on a mountain bike and your route will even include segments off the beaten (or paved) path.  I used this quite a bit to ride in familiar areas and it took me to places that I didn't even know of that were wonderful bike rides.  A few times it did route me by just zig-zagging through a neighborhood just to stretch the mileage, but most of the times it did a great job of finding new routes.
Durability: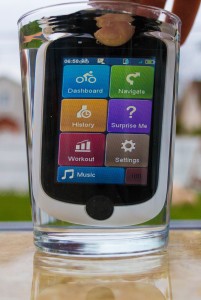 To be honest, many of the features built into the Cyclo 505 can be mimicked through a carefully selected menu of apps on phone.  But the difference is that I don't want my phone out in the open, gripped to my handlebars with a cheap phone mount while I rip through the woods on a muddy day or during a freak downpour on a sunny day.
The Cyclo505 is designed exactly for that.  The mounting system helps keep it safe from falling off the bars, but a solid build also protects it from drops, falls or trail debris.
It is also built to IPX7 waterproof standards which means it is rated to be completely waterproof in up to 1 meter of water for up to 30 minutes.  There is no worry about rain or mud ruining your Cyclo 505 and it also means that if its dirty after a dusty day on the trails, you can just rinse it off under the faucet.
Value:
Although an MSRP of $429 is listed by Magellan, the Cyclo 505 can be found online for about $280.  This is a bit higher than your traditional bike computer, but the features you get really exceed the ones your $500 phone can provide.
So if you are an avid cyclist who enjoys reviewing ride data and learning to make your rides better, then put your phone safely in your ride pack for good and get the Cyclo 505.  You'll love it.
Buy now at Amazon.com ($280) or directly from MagellanGPS.com
And stay tuned to BustedWallet.com because next week we're hosting a
giveaway in partnership with Magellan where one lucky cyclist will win their own Cyclo 505!
Magellan Cyclo 505 - Tech Review
The Magellan Cyclo 505 is a full featured cycling computer that offers tons of data points, many options to connect to other devices and amazing routing abilities that can actually bring something extra to your boring rides. Combined with the durability and connectivity options of your phone, you'll never again want to risk having your phone out in the open while you ride.
The Good:
Very durable and waterproof
Excellent routing options
Lots of connectivity options
The Not So Good:
Mini-USB means you'll probably need a 2nd cable
Surprise Me occasionally just had me ride around the block
All the data will leave you craving more data visualization