At the end of a long day hiking, there is nothing better than resting tired, achy bones by the fire. A camp chair is a luxury on most hikes, to be sure. The bulk and weight of most loungers makes it impracticable to bring along a seat, even on short excursions. Enter the Sub 1. Innovated by Leki,  a world-class designer and manufacturer of ski and hiking poles since 1948, the Sub 1 turns the traditional camp chair on its head. By incorporating the technology, quality, and style of its renowned ski and hiking poles into the Sub 1, Leki managed to make a lightweight, durable, and comfortable chair that you can easily tote along on any adventure, big or small. After testing out the Sub 1, we are ready to toss our old folding chairs…. and here's why:
Key Features
lightweight, sturdy aluminum frame
Breathable polyethylene and mesh seat
Leki Speed Fold joints allow for quick assembly and disassembly
2 pound total weight
12″ seat height
Convenient stow and go carry case measuring 5.5″ x 5.5 " x 13″
Adjustable carry straps
Optional cup holder and X-Band for stability
319 pound capacity
Leki Sub 1 Gear Review Breakdown
Design 
With dozens of folding chairs to choose from, what makes the Sub 1 a cut above the rest? Portability! This puppy is so small that it fits in my purse (seriously, check out that picture)! When folded and stowed in its pack, the Sub 1 measures 14 cm x 12 cm x 33 cm (for us metrically-challenged Americans, that is approximately 5.5 in. x 5.5 in. x 13 in.) and only weighs about 2 pounds, which makes it easy to carry on a hike. The chair unfolds to a seat-height of 12 inches, which is perfect for lounging on the beach or around a campfire.
Though it be small, it is mighty! The Sub 1 can hold up to 319 pounds. The Sub 1's capacity is not only due to its design, but the high-strength 6.5 aluminum tubes used for its frame. The aluminum is very lightweight and rust resistant. The tubes are connected by Leki's proprietary Speed Fold system. The Speed Fold system is two fiberglass reinforced plastic joints that connect the aluminum tubes. When collapsed, the Speed Fold system makes the chair frame look a bit like an octopus! The Speed Fold joint system and aluminum tubes make the Sub 1 exceptionally lightweight, durable, and sturdy.
The seat is made of durable polyethylene and mesh. I found that the material was breathable and very easy to clean. The corners of the Sub 1 are reinforced and padded for maximum comfort.
Use
I admit, I am not one to follow instructions. I usually toss any instruction booklets that come with a new product, thinking that I can figure it out on my own just as well. When I opened the Sub 1's pack, I was tempted (only slightly) to flip through the instructions because it looked so dang complicated! Like I said above – octopus.
With that said, I was pleasantly surprised that the Sub 1 quite literally unfolded by itself.  This is certainly due to Leki's Speed Fold joints that align the Sub 1's frame almost like tent poles. There is no guessing as to how the tubes connect to the Speed Fold joints.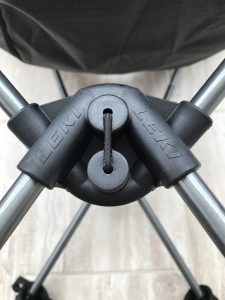 When the Sub 1's frame is opened, the mesh flex seat pops right over the tubes – but don't forget to attach the handy cup holder first! The cup holder's support attaches to either side of the chair frame and the cup holder itself velcros to the corner of the chair. After testing with a cold beverage (beer, of course) I am happy to report that my drink was secure and that the cup holder is large enough to accommodate a can with a koozie. I will note, however, that the cup holder does sit at a bit of a slant, so take a nice chug before you set that drink down!
The only downside that I discovered when using the Sub 1 was that it is so lightweight that it did blow away in the strong lake shore winds! The seat cover merely perches on the frame, so there is a risk that you will have to chase down the cover and frame if you are not seated and a gust comes along. It would be awesome to see Leki integrate an anchor into their next generation of adventure chairs! (Oh, and maybe an integrated bottle opener).
When you are ready to move on to your next adventure, the Sub 1 folds down in a snap. The carrying pack is nice and streamlined with an adjustable heavy-duty nylon strap that is long enough for cross-body wear. There are also loops of various sizes that you can use to clip the Sub 1 onto your backpack, bike, or purse.
Comfort 
What's the point of toting a chair around if it's not comfortable to sit in? Unlike most folding chairs, the Sub 1 has a bucket-seat design that cradles and supports your back. This style of chair usually does not work for me because I am so petite (5 foot, to be exact). I find that with bucket seats my legs tend to dangle and the front chair legs dig into my thighs. Needless to say, I was skeptical that the Sub 1 would be a good fit for me. Boy was I wrong! The Sub 1's low profile (seat height of 12 inches) allowed me to fully relax in the seat of the chair with my feet (not just my toes!) firmly on the ground! My husband (5'10") found the Sub 1 just as comfortable and has actually taken to lounging in it in our house. The extra-thick corner padding prevents the Sub 1's frame from digging into your shoulders and legs, which I have found to be a common problem with most portable folding chairs.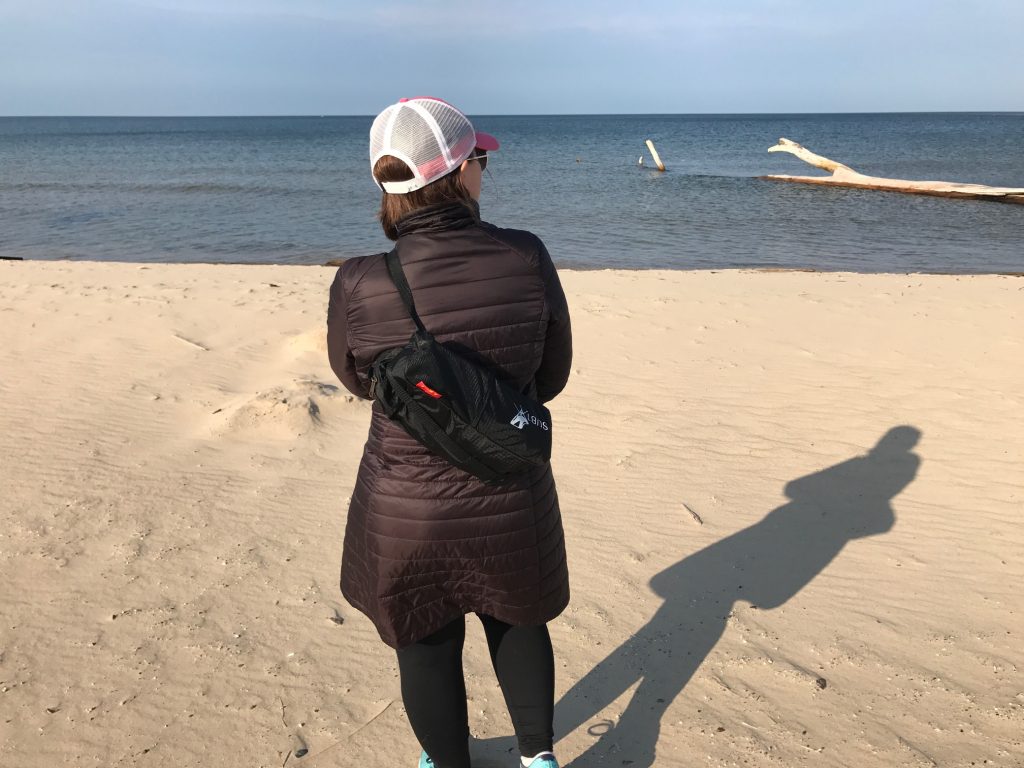 The Sub 1's seat provides great lower-back support, but note that there is no rest for your shoulders or neck. This is not a chair that you can fully recline in. For a lightweight folding chair, I found that the Sub 1 did provide adequate support for my back, however after long periods of use I could see how your neck would get tired.
Stability also matters when it comes to comfort. Leki's Sub 1 is like the mountain goat of folding chairs! The center cross bar provides extra rigidity and support, while the rubber feet lend grip on soil, asphalt, concrete, and rock. The additional X-Band (available for purchase) prevents the Sub 1 from sinking in the sand. The X-Band does come with a price tag of $29.95, but is well worth it if you are a beach bum like me.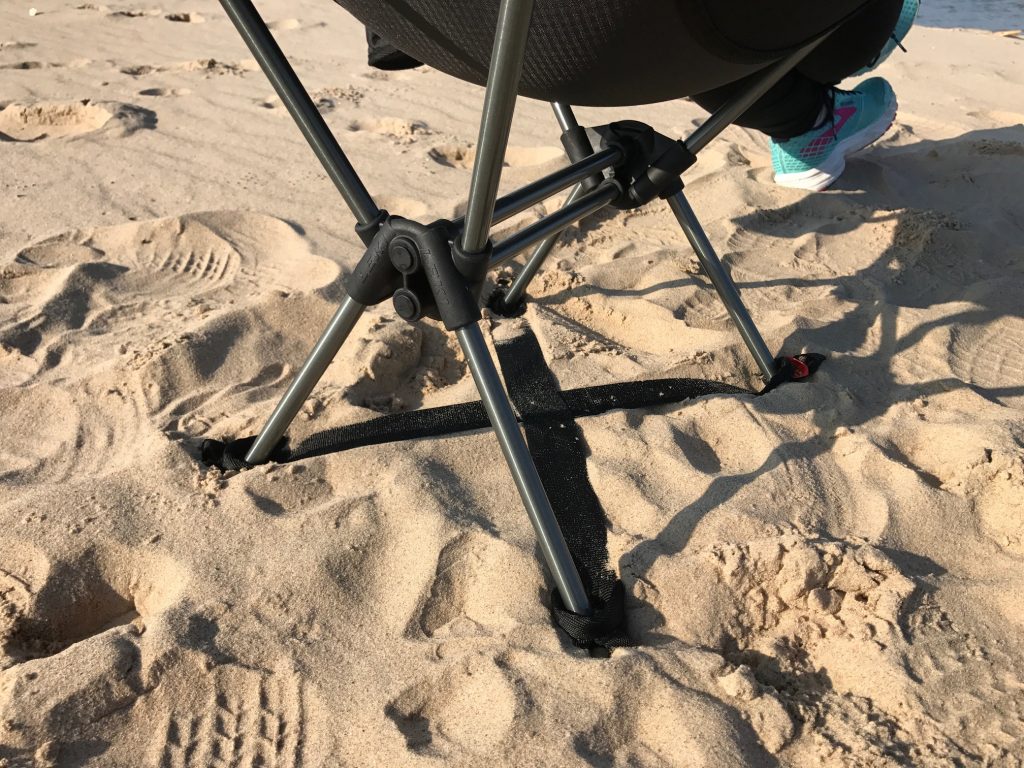 Value
Leki's Sub 1 chair is a luxury item at a cost of $109.95. Accessories, like the cup holder and X-Band, come at an additional cost. For a full set-up, you could easily spend as much as $150.00 per chair.  The Sub 1 may not be the best value for a casual tailgater or backyard warrior. With that said, if you are an avid camper, hiker, or beach bum (like me) this is the chair for you! It is so durable that you likely will not need to purchase another folding chair for years to come.
Buy Now: $109.95, or learn more at Leki.com 
Leki Sub 1 - Gear Review
The Sub 1 is clearly the brainchild of a world-class innovator of ski and hiking poles. Lightweight, durable, and portable, the Sub 1 is an awesome addition to any adventurer's gear pack!
The Good.
Super lightweight and easy to carry.
Simple to assemble and stow.
Comfortable seat with a stable base.
The Not So Good.
The Sub 1 is pricey, especially if you purchase the accessories.
So lightweight that the chair will blow away in a gust of wind.
Cup holder sits at an angle; give that drink a good chug before you set it down!