I'm a terrible sleeper. I have trouble sleeping just about every single night, and I search for any way to improve my sleep that I can think of. Two of the obvious variables I've explored for years are my mattress and my pillow. I've had a variety of mattress styles over the past 20 years and have gone through dozens of different pillows, never quite finding the sweet spot. I've had cheap old spring mattresses, luxury spring mattresses, early knock off memory foam junk, retail store memory foam, and several new online brands.
When I was given the chance to review the Layla Mattress, I jumped at the opportunity to find improvement. I sleep hot, so their copper infused memory foam offering was a new and exciting variant I haven't tried before. Add to that the 2 firmness options in a single mattress and you have some notable differentiating factors in an increasingly crowded space. Let's see how it stacks up.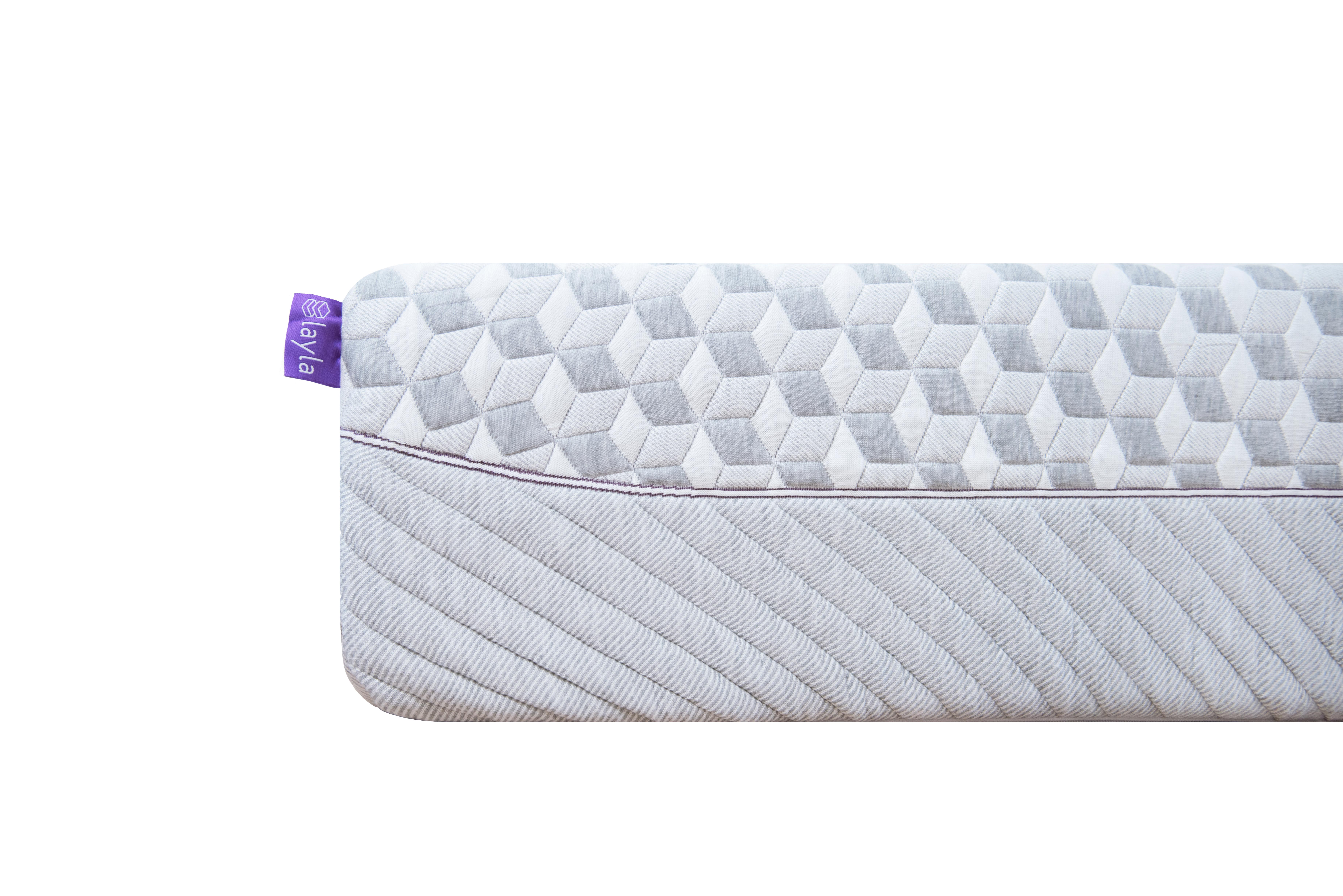 Key Features / Specs:
Copper infused memory foam
Flippable Firmness® (2 options in one bed)
Lifetime warranty
2 types of support foam totaling 6.5″
120 night trial period
Made in the USA
Layla Mattress Review Breakdown
Ordering / Shipping:
Like all online mattress options you gain the convenience of having your bed shipped right to your door without having to deal with a sales person trying to land a commission. I still remember my last purchase at a retail store – it was utterly ridiculous. The sales people were straight out of an SNL skit or something – and in the end I bought a mattress that wouldn't arrive for several days and that I overpaid for by about 150%.
The Layla Mattress ships for free to the lower 48 states and arrives in less than a week. Nobody bothers or pressures you, and they have a lot of assurances in place to put you at ease about the large purchase. They have an industry leading 120 night trial period, during which you can return the mattress at no cost, not even return shipping, for a 100% refund. Pretty amazing. They also offer a lifetime warranty on the mattress. It really doesn't get much better. They even offer financing.
There are a few downsides to buying online however. For one, you don't get to try it out first. On that topic, I'd argue that any mattress you lay on as a test feels great. I spent a few hours laying on options in a retail store and it was not helpful. Another downside is that mattresses are heavy. It will show up at your door nice and compact, but the box weighs 80 lbs. for the Queen size that I tested. Not everyone is as strong and bad ass as I am, so you might need some help carrying it to the bedroom and setting it up. Finally, a frustrating part of online mattresses is the box spring. Buying from a retail store you take the free box spring for granted, but when you need just a box spring they can be difficult and expensive to find. Even Layla's own foundation is $299 for the Queen mattress that costs $799, that's 38% of the mattress cost!
Bottom line is that the minor downsides to buying a mattress on the internet are far better than being subjected to the retail mattress experience – and the cost savings are substantial.
Design:
Visually, the Layla Mattress looks really cool. It's got a Qbert kind of thing happening and the grey plus purple combo is nice. The pattern is textured slightly as well and running your hand over it feels bumpy, but not in a bad way. Those little bumps are holding thermo gel which works in tandem with the copper infused memory foam to act as a giant heat sink for your body. Layla Pillows have the same look and feel.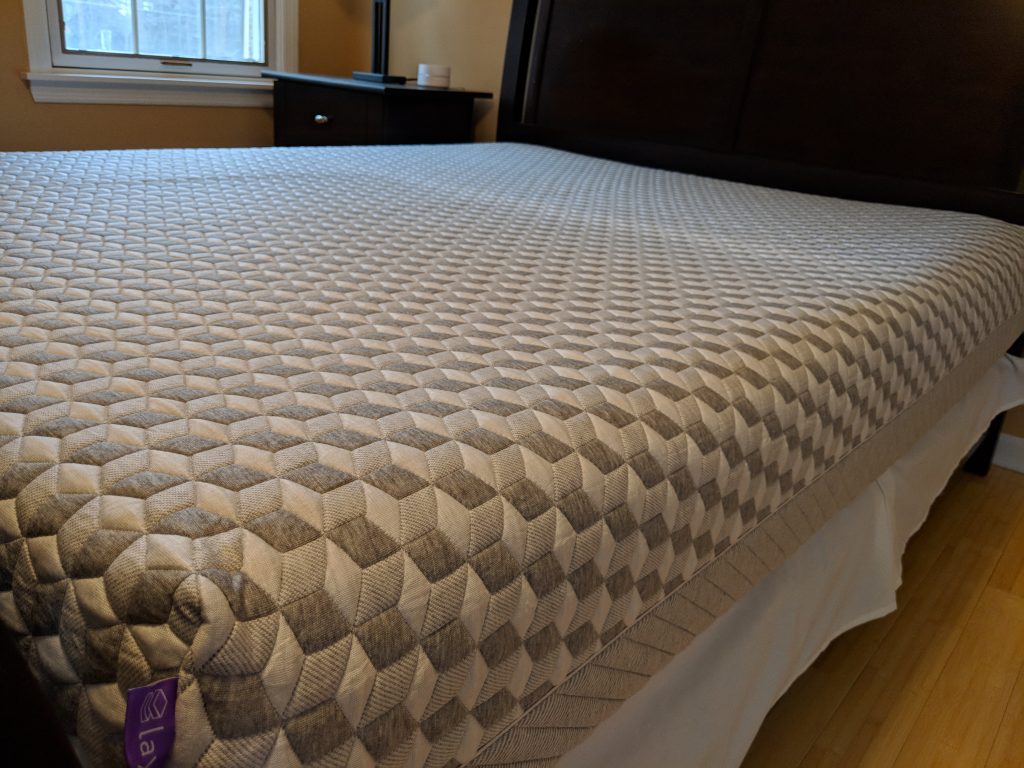 The materials and construction of the Layla Mattress are what set it apart from competitors. The biggest factors being the copper infused memory foam top layer and the second, more firm copper infused top layer on the opposite side of the mattress. The ability to flip between two levels of firmness, and flip a memory foam mattress at all for that matter, is great.

There are a lot of claimed benefits to the copper in the Layla Mattress, and thankfully most are backed in actual science. It's true that copper is an excellent conductor and it's used in heat transfer applications everywhere – it stands to reason that it would work the same for body heat. It's also true that copper is anti-microbial, and Layla says that by infusing the memory foam with copper, it's creating a much more sanitary bed. Finally, Layla claims that the copper in the memory foam adds better and variable support when compressed over traditional memory foam. Layla is careful when it talks about the potential 'healing power' of copper (a pseudo-science) and doesn't try to sell you on that.
So to recap, it's all about the copper with the Layla Mattress. It promises to keep you cool, keep you clean, and keep you comfy.
Comfort:
There is no perfect mattress for everyone of course. Your happiness with any bed is a matter of preference and opinion. With the Layla, the odds of you finding the mattress comfortable are double that of other memory foam mattresses thanks to their Flippable Firmness®, a second thinner and more firm top layer on the other side of the mattress. Additionally, the heat wicking properties of the Layla bed could be a turn off for those that are perpetually cold, my wife for example.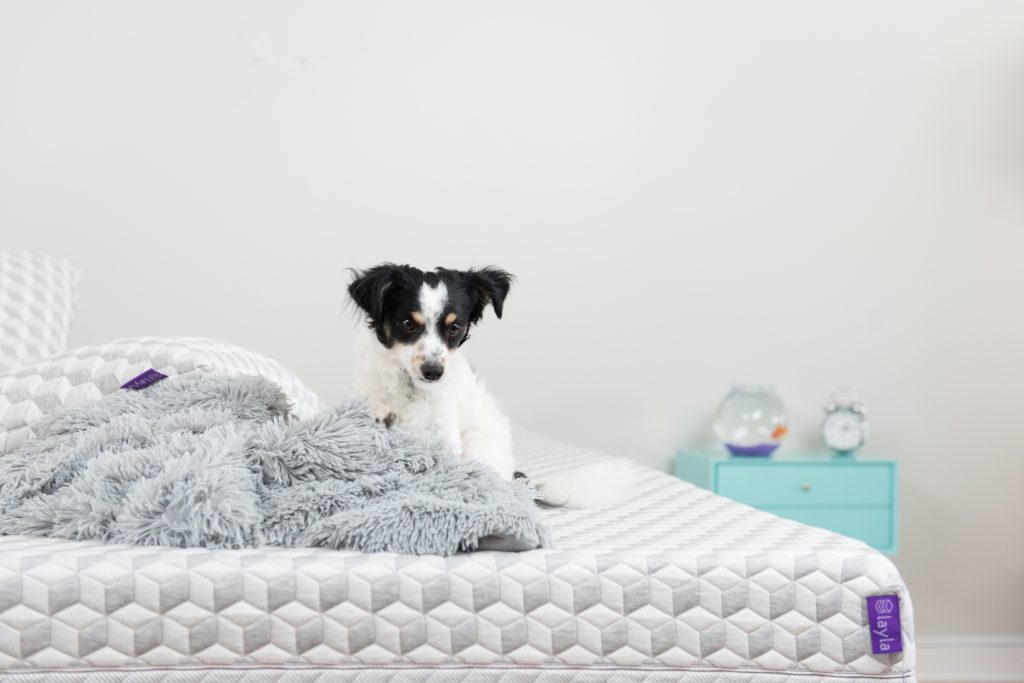 For me, this bed is pretty dynamite. The claims Layla makes about their copper tech really do hold up in reality. I find it really comfortable on the default side (the less firm layer). I also found the cooling factor to actually work really well – unlike my much more expensive Sealy gel-memory foam mattress. In fact, it worked so well that I needed to use a more insulating comforter to hold in heat on top while heat was simultaneously disbursed from the bottom through the mattress. The result was the perfect balance, which is key for me to sleep well.
The copper compression and support claim held true too. You can feel your body being supported properly when you first lay down, and it keeps that support all night so you wake up feeling good. The most surprising thing I found during my testing was that I was able to sleep on my side with my arm under my body, and it was comfortable somehow. On other mattresses if I did that, I would wake up with a record breaking dead arm.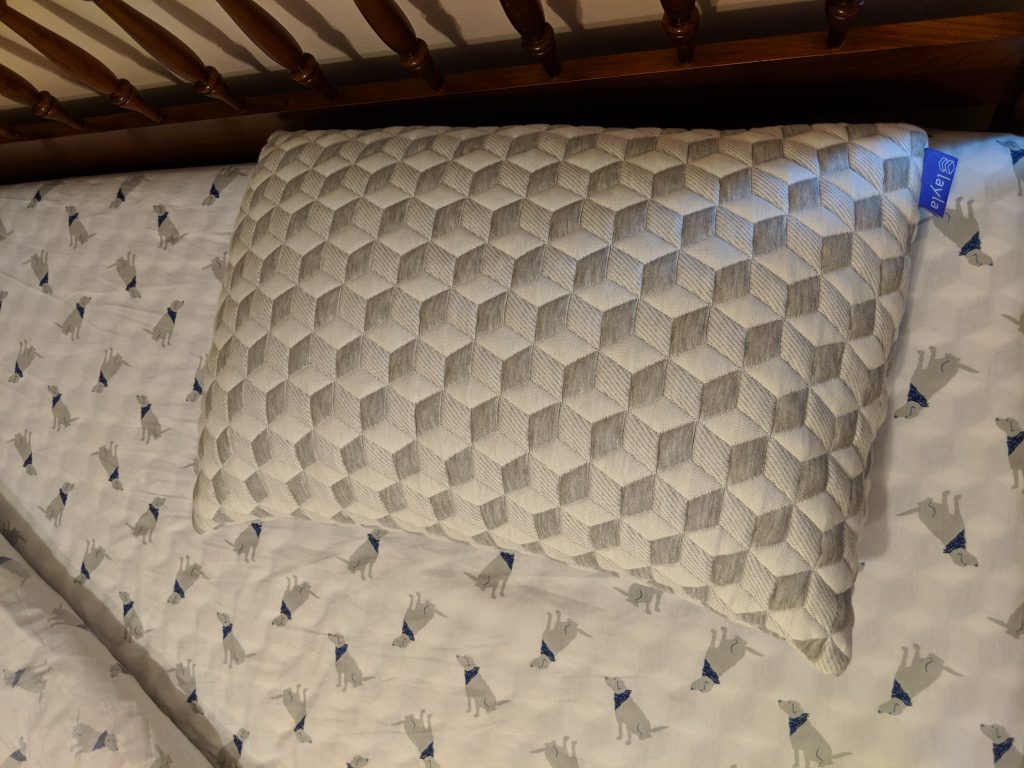 The Layla pillows are nice as well. They are plush but supportive, and they feel nice and comfortable when you first lay on them. Again, pillow comfort is a matter of preference, and for me the Layla pillows were a little too high for my sleep style. They made their way to my kids who are obsessed with them and think they are the most comfortable things ever.
The other thing about mattresses is that you tend to change your opinion of them over time. I've had beds that I hated at first at then came to like. I've also had a bunch that I started out really liking and things went down hill from there. So far I'm probably still in the honeymoon phase with Layla after a couple of weeks. It's the most comfortable bed in my house… at least today.
Value:
One thing I can say for sure is that you're overpaying if you buy a new mattress from a brick and mortar mattress store vs online. The longevity of memory foam mattresses is still a big question. I can't say that Layla will perform at its current level for 10 years, even though it has a lifetime warranty, but it may. What I can say is that my much more expensive Sealy has devolved into an unsupportive mush in just 5 years – and at nearly 3x the cost I could have bought a new Layla every 5 years for 15 years instead and been much more happy.
This is a highly satisfying mattress at an exceptional price, making for a high value buy. It's also a top rated online brand, made in the USA, with awards ranging from Forbes to Good Houskeeping and Sleep Advisor – so you can purchase with confidence.  Add to that the risk free 120 night trial, the free shipping, the free returns, and the lifetime warranty, and you have one of the top picks for a mattress in 2018.
Buy Now: $399 – $899 or to learn more, head over to: LaylaSleep.com 
For Busted Walled fans: $25 off any pillow using promo code: BWPILLOW25
And$100 off any mattress using promo code: BUSTED
Layla Mattress - Sleep Review
A really comfortable memory foam mattress for thousands less than retail stores and big brands
The Good
Copper really seems to work
2 firmness options in one bed
Save thousands over brick and mortar
The Not So Good:
Pillows too high and expensive
Mattress might be too cool for some