When it comes to outdoor gear, turning to a trusted brand that stands by their products makes the difference between mediocre camping and great camping.  Kelty is a brand that is known and trusted for their vast amount of outdoor gear and equipment. Recently we were given the opportunity to take the new Kelty Outback 6 Tent with us camping to see if it upholds to its name.
As you already know, we are no strangers to putting tents to the test. When is comes to tents, having a tent that can provide the flexibility of feeling like you are a part of nature while also being able to be closed off and secure is essential for all outdoor lovers.  The Kelty Outback 6 is a tent that held true to the brand with both quality and practicality.
Tent Specs:
Seasons: 3
Number of doors: 1
Number of vestibules: 1
Capacity: 6
Minimum weight: 13 lb 12 oz / 6.2 kg
Packaged weight: 15 lb 3 oz / 6.9 kg
Floor area: 87 ft2 / 8.1 m2
Vestibule area: 22 ft2 / 2 m2
Length: 118 in / 300 cm
Width: 106 in / 269 cm
Height: 76 in / 193 cm
Packed diameter: 8 in / 20 cm
Packed Length: 27 in / 69 cm
Body Features:

Freestanding design
Taped floor seams
No-see-um mesh side walls
Big D door
Internal storage pockets
Clip and pole sleeve construction
Fly Features:

Vestibule with two stake points
Guyout storage pockets
Full coverage fly
Taped seams
Noiseless zipper pulls
The Kelty Outback 6 Review Breakdown
Design:
The Kelty Outback 6 is designed to be spacious, without compromising on comfort and durability. Intended for 3 seasons, the tent offers a No-See-Um Mesh design for an open-air concept. This is great if you want to feel a part of nature while not being eaten alive by mosquitoes. The mesh is durable and was a perfect when the weather was fantastic. If the weather isn't going to be the best, there is the option of pulling the full coverage rain fly over during inclement weather.  The disadvantage in the fly is that there are no windows, so there is the feeling of being shut out from nature a little, but that is also the point of a fly. Conveniently, the guy-lines are built-in with storage pockets on the fly for easy use when added stabilization is preferred.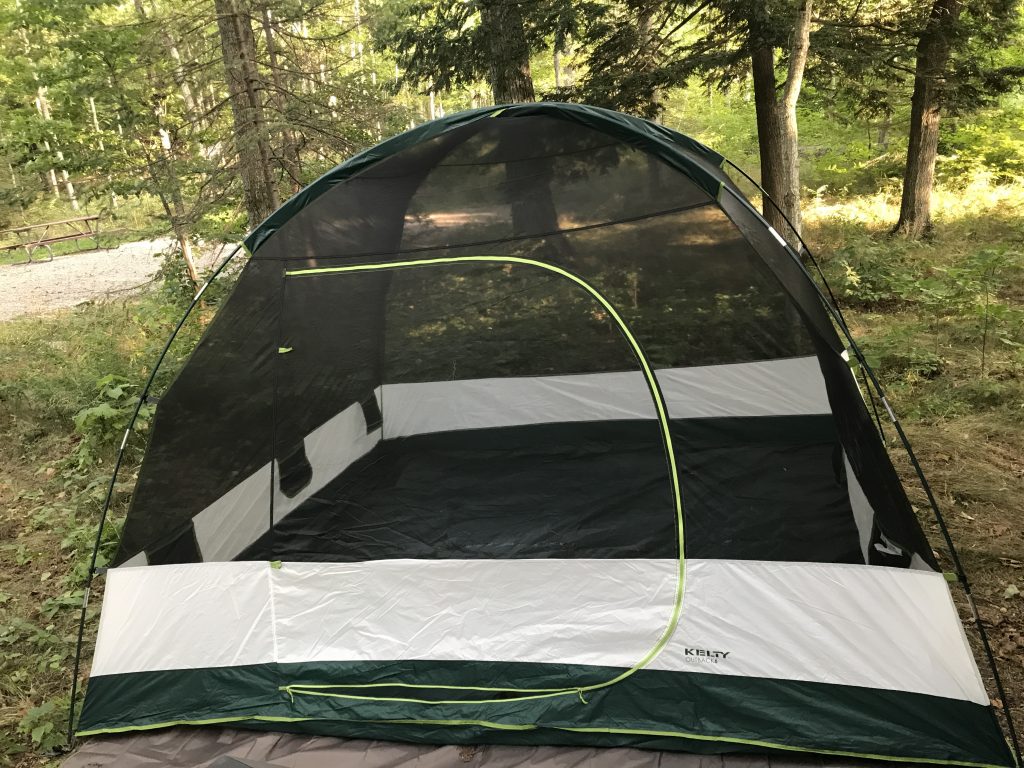 While the tent only has one door, it is a big D door.  This made it convenient when we were hulling our gear in and out. The noiseless zipper pulls are one of the best features on this tent and they are actually noiseless! We tested The Outdoor 6 Footprint (not included) with the tent for additional protection to the tent floor. The design is meant to be slightly smaller than the actual tent to prevent water from pooling between the footprint and the tent floor.
Weight and Size:
When it comes to car camping and festivals, this is the tent to have, hiking, not so much. The tent is designed for 6 people so the packed weight of 15lbs+ shouldn't be so much of a shock. We just might leave this behind for our hiking trips. The size is awesome!  There is so much room in this tent.  87 ft 2 worth of room to be exact. Designed for you, whoever else you are willing to share the tent with, plus all the gear. The double stake-point vestibule with the clip and pole sleeve construction, is what provides the spacious interior.  The tent is a little over 9.5ft long by 8.8ft wide. Not to mention the 6+ feet of height makes it very convenient for moving around inside.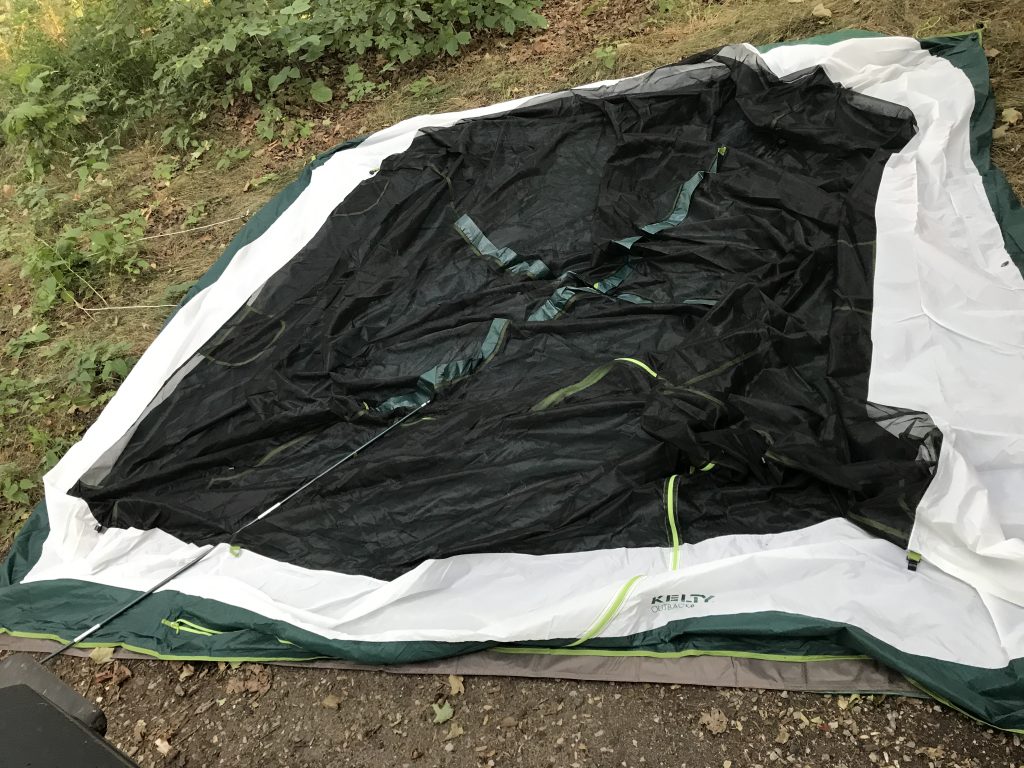 Setup:
Yes, there are the instructions included with the tent! We, however, decided to do what so many people often do and not to look them. We wanted to see if we could figure it out without them.  The tent is actually very easy and quick to set up.  Kelty took the time to color code it for starters. Second, the Outback 6 sports the easy-to-set-up X design. Two poles, that's it!  We timed it and it… less than 15 minutes to set up. We did discover however that the fly set up can be a bit more challenging with The Outback 6 if you set up the tent solo. This is due to the size and height of the tent. We still seemed to manage maneuvering it over the top and into place, it just took a little work.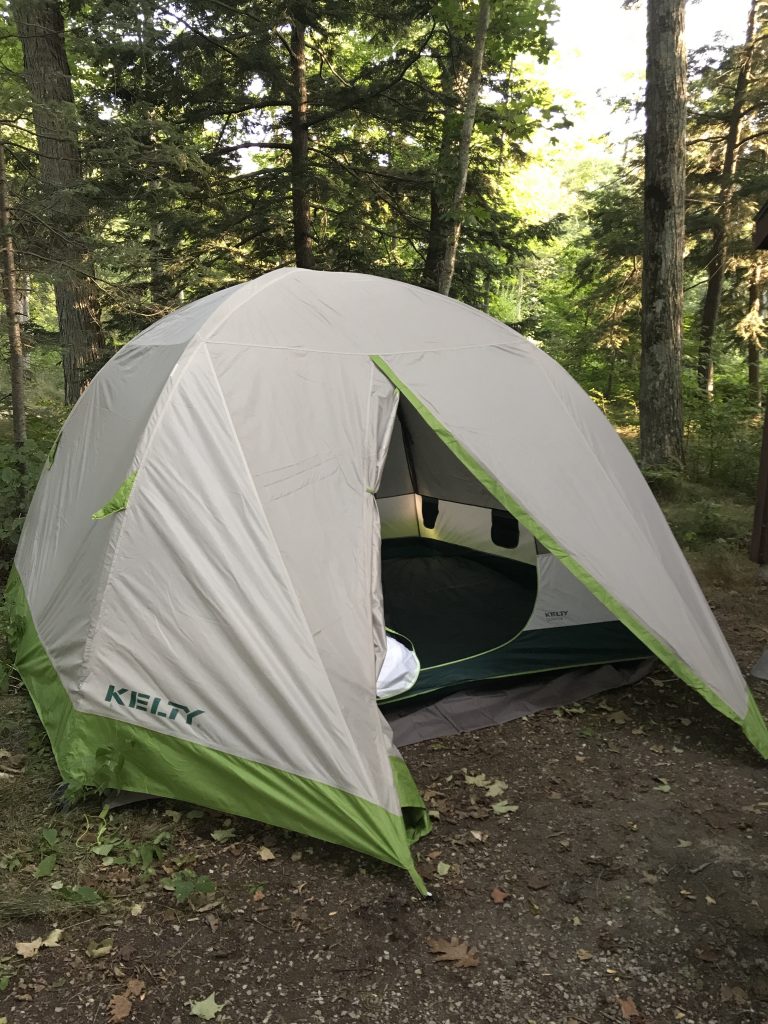 Durability:
Taped seems are common through the Kelty tent designs. This goes for the Outback 6 too.  The floor seams as well as the fly are both taped at the seams to ensure maximum durability as well as keeping out moisture.  The storage pockets were surprisingly well-constructed too. Often those get passed over. The Fiberglass poles were very durable. They had optimum flexibility while not seeming flimsy and thin like most. We also tested the tent with the Outback 6 Footprint. It's designed to make the tent floor last longer by protecting it from rough ground.  So basically a tarp, only way lighter and easier to work with.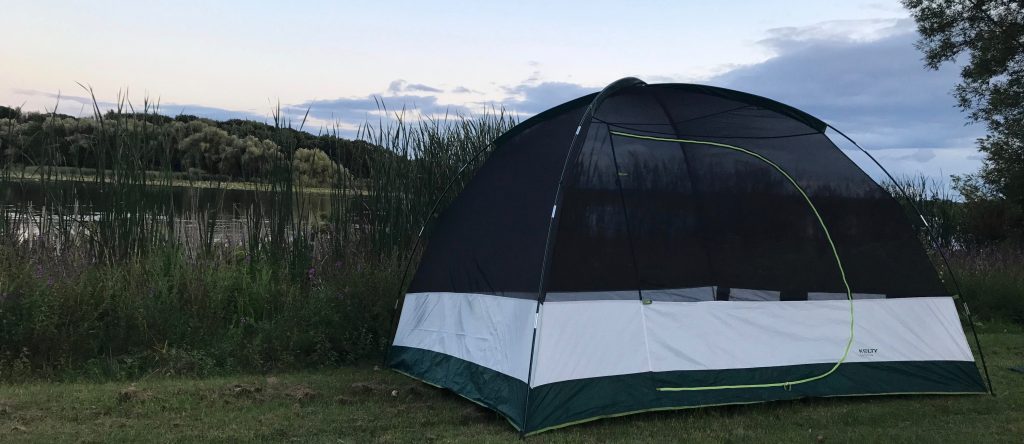 Value:
This tent sleeps 6 and is extremely spacious. The full coverage fly allows for a 3 season use of the tent. Then add in the quality design and durability, this is actually a good price for the tent. Plus its backed behind the Kelty brand. They live and breathe outdoor products and will stand by their name.
Buy Now: $229.95 or to learn more, go to: Kelty.com
Kelty Outback 6 - Gear Review
The Kelty Outback 6 is a durable, practical tent that is great for car camping. The tent provides the flexibility of having a full mesh top, so you can feel like one with nature, while also being able to keep closed off from mother natures ailments with the full cover fly, making this a great 3 season tent.
The Good:
Taped seams and noiseless zippers with a large D door
No-See-Um mesh design with 87 sq. ft. interior
Easy-to-set-up X pole design with double stake-point vestibule
The Not So Good:
Only one door
It's a heavy tent