Oh, hey there beautiful, warm sunshine! It's nice to finally have you back again. Winters are long here in the midwest, and with the first break in the cold weather comes our version of "spring cleaning" – meaning we get out all of our warmer weather camping/hiking/outdoor adventure gear and prep it for awesome days to come. One piece of gear that we hardly ever leave home without is a hammock. The folks over at Kammok recently sent us their new Kammok Roo hammock with the additional Python straps to test out. We took it out the first chance we got and became instant fans. Check out what we learned, what we liked and what we didn't like.
Kammok Features: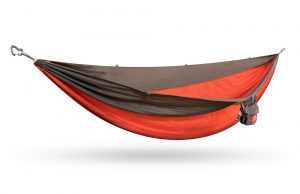 Dimensions:  5'7″ x 10′ / 170cm x 300cm
Total Weight:  24oz / 674g
Fabric:  LunarWave™ Ripstop
Stress Points:  Reinforced and Bar-Tacked
Seams:  Triple Stitch and Comfort Seams™
Max Capacity:  500lbs / 227kg
Gear Loops:  8 Reinforced
Components:  YKK Ultralight
Thread:  High Tensile Strength
Python Straps Features: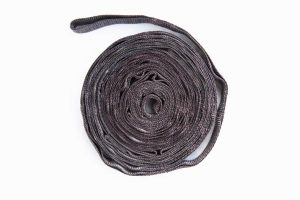 Combined Length:  20 ft.
Total Weight:  12oz / 340g
Weight Capacity:   500lbs / 227kg
Fabric:   Polyester Tubular Webbing
Stitching:   Bar-Tack
Attachment Points:  18 Daisy-Chain Points
Thread:  High Tensile Strength
Tree Friendly
Lifetime Warranty
100% Satisfaction Guarantee
Kammok Roo Review Breakdown
Durability
Featuring triple stitched seams at all the load bearing zones, and Kammok's soft, hemmed comfort seamsalong the sides, you won't want to get out of it. Equipped with easy hang double-certified climbing strength carabiners called Kanga Claws that can handle up to 5,000 pounds of force, this hammock isn't going anywhere once it's hung. The Kanga Claws are designed to focus the load on the major axis of the carabiner while the double wire gate keeps the straps from slipping out. The Racer Slings are made from a strong, ultra low stretch material that is stronger than the average rope commonly used on hammocks.
Design
Made with a special design of diamond ripstop nylon, that Kammok calls Lunarwave Fabric and can hold up to 500 lbs, it is 10' tall/long and has a 5'7" wingspan, yet only weighs 24 oz and packs into a pouch that only measures about 5" wide by 6" tall. The pouch has a roll down top and an extended top so you can carry your Python straps with the Kammok Roo hammock. Their Lunarwave Fabric is breathable, quick drying, lightweight, has less stretch and is water and fade resistant. We haven't taken the Kammok Roo out into any substantial rain, but the morning dew collection dries fairly quick and never seems to fully soak in. The Python straps, while they look skinny and are lightweight, are the best straps we've come across thus far. The daisy chain design allows for simple adjustments for hanging and the slim lightweight material is perfect for easy packing into the sack. You'd never know there was 20′ worth of straps and a hammock all tucked into that tiny pouch. To top it off, the straps are tree friendly (and we love our trees).
Comfort
It's a great day if you can be lounging out in a Kammok Roo for the day. We fit two people in it for hanging out. If you don't mind being a little crowded, you could probably even sleep two people in it, however, we like to have a little space for sleeping. The design of the Roo is supposed to allow you to sleep flatter than other hammocks. We noticed a slight difference between the Kammok Roo ENO hammocks, but it wasn't an eye opening difference. This isn't to say that the Roo wasn't comfortable to sleep in. Sleeping through the night was easy to do in this hammock. The only thing missing is a way to keep a sleeping pad in place for those much colder nights.
Value
Tipping on the high end of the scale for just the hammock alone, it may deter you. All of it's little features make it worth the $99 though. It hasn't let us down. Don't forget about the Python Straps. They are the best investment that can be used for any hammock. You will most likely want more than one set, and at only $29 for the straps, you can even buy some for friends.
Buy Now: $99 or to learn more, head over to: Kammok.com
Kammok Roo - Gear Review
The Kammok Roo is top notch for taking on those camping and hiking trips, and also perfect for just hanging out in the yard. The Python Straps should be a part of everybody's gear list with the slim lightweight and easy to use design.
The Good:
Packs down small into its own sack.
Durable.
Water resistant.
The Not So Good:
Doesn't lay as flat as expected.