These days it's all about accessibility on the move. Thanks to an unimaginable variety of apps that are presently available for listening, our music, podcasts, and audiobooks are right at the tip of our fingers. Now that Bluetooth technology has become a common fixture in just about all tech, our ability to consume our favorite media whenever we want is becoming more accessible by the day. We had the opportunity to try JBL's Free Wireless Headphones for the last month, and learn what it is to be truly free to experience our favorite audio media.
Specs:
Dynamic frequency response range: (Hz)
10Hz – 22kHz
Charging time:
2hrs (from empty)
Number of drivers per ear:
1
Driver sensitivity at 1kHz/1mW (dB):
< 9.5dBm
JBL Free Wireless Headphones – Review Breakdown
Design:
The JBL Free arrives in a neat and tidy package. Minimalism is everything, and with this wireless headphone a pile of extra accessories isn't all that necessary. In the box, you'll get the headphones themselves, charging/storage station, USB charging chord, 3 sizes of gel ear tips, and 2 sizes of gel sleeves. We'll get into detail why these items are useful throughout this article.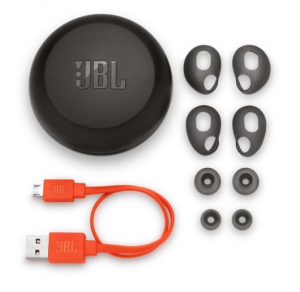 The main guts to this product are the headphones and accompanying carrying case. The headphones magnetically connect when placed in the case. Although they hold strongly while nestled in position, pulling them out for use is a snap. The case is spring-loaded to snap shut, and remarkably sturdy. While we haven't had any issue with it becoming open and exposing the hardware inside, there's no waterproof seal to speak of, so you'll want to be sure to store the case in an environment that's sure to keep dry. In all, the case is only 3″ wide and about 1″ thick, so portability of the set while not in use has never become an issue for us.
Once fully charged, the earbuds hold a 4 hour charge, and the charging unit holds an additional 20 hours of battery life. As you can imagine, at Busted Wallet we split a lot of our time between being on the move and time in front of the computer, so we have a lot of opportunities to pop in our headphones and listen to whatever we're into at the moment. We tested the JBL Free wireless headphone lifespan on a single charge, and were pleased to discover that we were able to use them for an entire week worth of work and activities and still have some charge left in the tank. If you're worried you might run low with this much power on the ready, the carrying case is equipped to signal how much charge it has left at all times.
Acoustics:
We've had a lot of experience with JBL products, and their reputation has remained promising. While you're not going to get the quality you might find in a beefy high-end headphone, JBL did manage to pack some punch into a considerably tiny package. Although this headphone has to rely on Bluetooth connectivity as well as the limitations of the chosen app, we found the sound quality of the JBL Free to be clear and crisp for such a small earbud.
Although the initial sound quality is well received, the JBL Free is limited to very little in the way of customization. JBL does have apps available for some of their products to enhance sound quality, but the JBL Free is not recognized by any of them and does not come with any noise cancellation capabilities.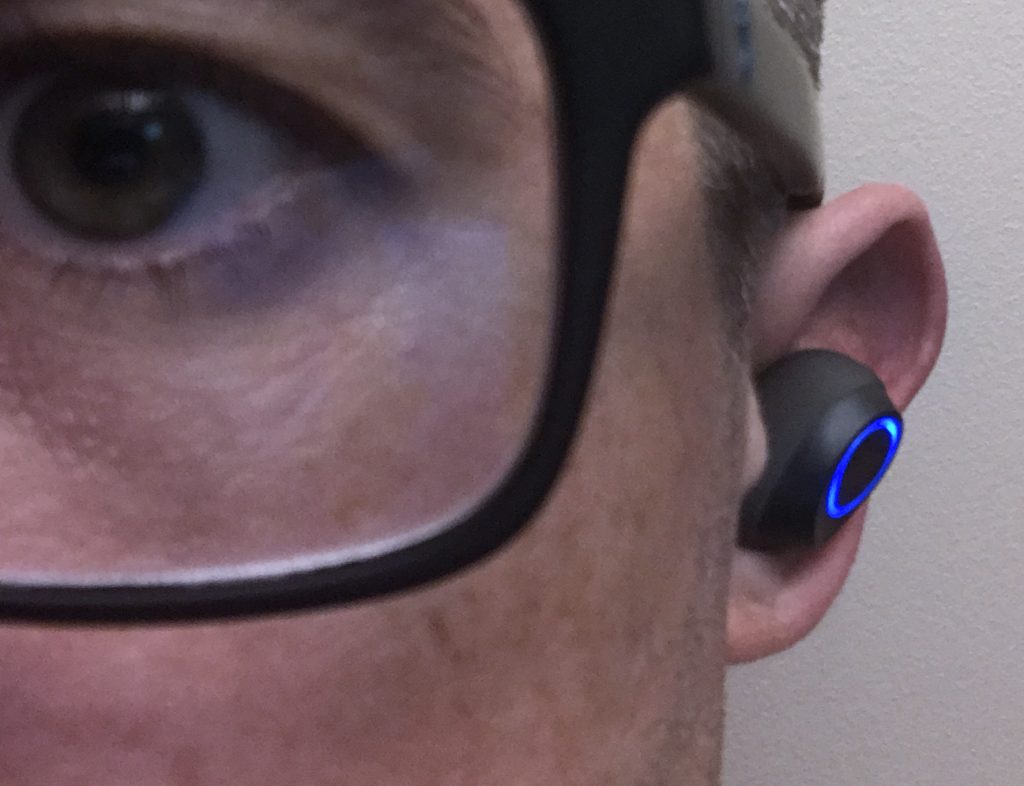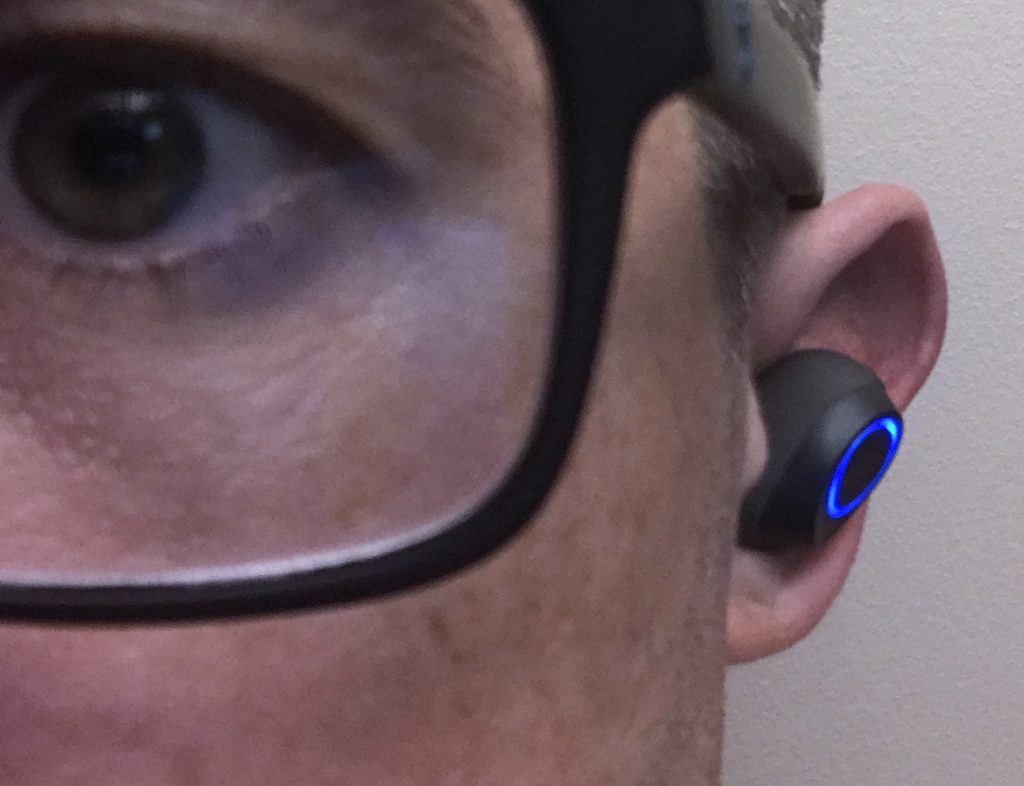 Connectivity:
Initial setup works just as one would expect for a Bluetooth headphone. Once recognized by the devices we tested with, we discovered that connectivity is one of the areas where the JBL Free happens to excel. Most wireless headphones require the press of a button, usually for an extended period of at least three seconds, but the JBL Free starts on it's own and connects to a recognized device within around 5 to 10 seconds. While it can be turned on and off through the touch of the earpiece, simply placing the earbuds in the carrying case will turn them off and immediately restart the charging process.
While we were quite impressed with the automatic connectivity of the JBL Free, the compact build leaves the user limited in any controls beyond the capability of playing/pausing or switching tracks. If you want to switch volume, you'll need to do so from the connected device or a connected smart watch.
Pro Tip: Want to watch a movie with your travel companion? You each can take 1 earbud that fits comfortably and wire free!
Comfort: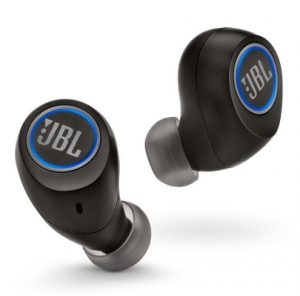 As we've mentioned, the JBL Free comes with three different sized removable gel tips, so getting a proper fit should be no problem. The body of the headphone fits comfortably in the larger ear cavity, but in the event fit remains an issue, the gel sleeves can make the difference. not only do they add girth to the headphone for a snugger grip, the gel material gives some added friction to prevent movement or loosening.
This is a sweat-proof earbud as well, and built to handle extreme workout conditions. despite times of heavy movement and the added moisture of our more intense exercise routines, we didn't have any occurrence of an earbud falling out of place. However, the possibility remained on our mind, and we found ourselves compulsively checking and readjusting to ensure a snug fit.
Value:
Compact size, portability, customizable fit, and great sound quality with 24 hours of total charge, the JBL Free will stick with you weather you're on your commute or doing an intense workout. It doesn't have the sound customization you'll find in top of the line headphones, but the clarity you get with all of these other benefits are well worth the asking price by our estimation.
Buy Now: $149.95 or to learn more, check out: JBL.com
JBL Free Wireless Headphones - Tech Review
With great portability, a long-lasting charge, and impressive connectivity, you'll learn what it is to truly be free with the JBL Free wireless headphone no matter what your activity or destination!
The Good
Long Lasting Charge
Small and Portable
Broad Sizing Options for Comfort
The Not-So-Good
Limited Sound Customization
Limited Controls from Earbuds