We live in an age where the world around us is constantly bustling, and sometimes we just need a moment to free ourselves from the chaos. Perhaps you want to keep up on your favorite podcast on your commute on the subway…or maybe you'd rather listen to the audiobook you're currently into rather than mow the lawn all afternoon…or you're attempting to to cut together a video with a righteous soundtrack, but the kids in the next room are making an ear-splitting ruckus. Luckily, we also live in an age of technology that has given us the solution to whatever distraction happens to be plaguing us with the invention of noise cancelling headphones! We spent the last month testing JBL's E65BTNC Headphones with the goal of turning down the volume on a world that doesn't want to be silenced.
Specs:
Plug: 
3.5mm (1/8″) stereo mini-jack
Frequency response: 
20-20kHz
Microphone sensitivity @1kHz dB v/pa:
-: 42
Bluetooth transmitted power: 
0-4dbm
Bluetooth transmitted modulation: 
GFSK, π/4DQPSK, 8DPSK
Bluetooth frequency: 
2.402GHz–2.48GHz
Bluetooth profiles: 
HFP v1.6, HSP v1.2, A2DP v1.2, AVRCP v1.4
Battery type: 
Polymer Li-ion Battery (3.7V, 610mAh)
Music play time with BT on and ANC on: 
Up to 15 hours
Music play time with BT off and ANC on: 
Up to 30 hours
Music play time with BT on and ANC off: 
Up to 24 hours
Talk time with BT on: 
Up to 24 hours
JBL E65BTNC Wireless Headphones Breakdown
Design:
At first glance, the JBL E65BTNC is pretty ordinary to look at. Available in 3 different colors (Matte Black, Blue, and White), options for anyone interested in a more specific look. Upon closer inspection, we have to hand it to JBL for building a well balanced aesthetic that combines smooth matte finish, sleek continuity of construction, and striking detail in both the texture of the fabric headband and the metal components of the earpieces.
Size adjustment is of no concern, as the earpieces swivel with ease and adjust to the wearer automatically. The headband expands and contracts with little effort and stays where it needs to, even allowing enough room to go over our winter caps so we can listen to our favorite tunes while snowblowing the driveway in the winter months. The earpieces can also be swiveled to lay flat during storage or folded in under the headband for added options in portability.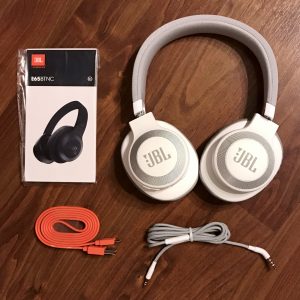 The Polymer Li-ion Battery is solid to say the least. As we've mentioned, we've been using them outdoors during the coldest part of the year and they've held up quite well without having the re-charge at all hardly. With the noise cancelling feature activated, they last up to 15 hours and without it up to 24 hours. There is an aux cord included, so you can make it last put to 30 hours if you're okay with bypassing Bluetooth.
Acoustics:
Sound quality of the JBL E65BTNC is actually surprisingly good! We didn't get the kind of crispness that the heavy hitters of this marketplace will bring, but considering the price of this headphone we can't complain. The most important aspect here is in the noise cancelling feature, which we have to admit is quite impressive to behold. For those who aren't familiar with the feature, this technology is made possible by a microchip that processes peripheral sounds in the environment around you and feeds the exact opposite wavelength consistently into the speaker of the headphone, thus cancelling the external sound. It tends to work better against perpetual sounds, like the drone of an engine or rusting leaves from the wind. However, abrupt noises like gunshots or slamming doors are a surprise to the system, so it doesn't filter them as well. This will be the case with pretty much any noise cancelling product, so we won't take the JBL E65BTNC to task on that. We just want our readers to be aware of how it works under different conditions.
Note: you can use the noise cancelling feature with no sound moving through the headphones. It creates a white noise that we've gotten mixed opinions on. Some people are perfectly fine with it for the quiet moment, but some people have been known to become disoriented, dizzy, and even a bit sick from the experience. Some will say the side effect depends on the headphone. Luckily this hasn't been the case for us with the JBL E65BTNC , but this may vary from person to person.
Connectivity:
Mostly we've had good results in connecting using the Bluetooth of our phone. The buttons on the headphones were quite accessible and user-friendly once we familiarized ourselves with them. Basic functions like pausing and volume control were no problem. We were a bit let down at the lengthy 3 seconds hold to move tracks forward and backward though. For further functionality we've had mixed results in our options. For example, our ability to skip backward and forward in 15 second increments was not available on our Podcasts app, but it worked amazingly well while listening to audio books on our Kindle app. I'm welcome to experiment on apps from the comment section if you're interested in something specific that I have access to on my iPhone. Just say the word and I'll see what I can do.
The range of the Bluetooth and Wifi to the JBL E65BTNC gets high marks based on our experience. Going across the house has posed no real issues with either. We have been experiencing random, widely spaced breaks in music while streaming music on Spotify that we have no way of explaining.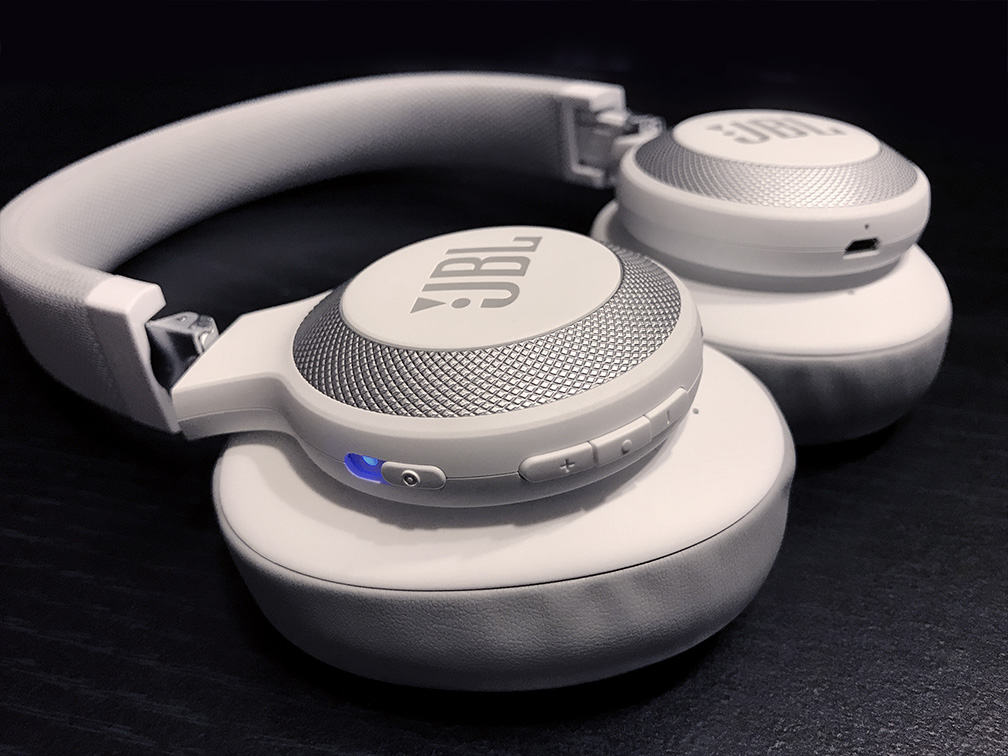 The one major issue we've had is when connecting via Bluetooth to our iMac. In our attempt to listen to the Spotify app while working on other projects, we discovered the headphones sometimes became confused about what app we were listening to. For anyone interested in using a headset while editing sound or video while running other apps or internet browsers, we definitely recommend looking at headphone options designed more specifically for the task. However, If your looking for basic streaming without too many other functions happening simultaneously, the JBL E65BTNC will do the job just fine.
One other aspect we absolutely have to take note of is the JBL E65BTNC's ability to switch between connected devices. While listening to our favorite tunes from our phone, we were able to pause and seamlessly switch to the YouTube video from our computer without the usual disconnects and re-connects we've experienced with other similar headphones. Once the video was done, we hit play on our phone again and with no effort required, our jams were back!
Comfort:
There's not a ton to discuss here, which is a good thing! The JBL E65BTNC fits great on all varieties of head shape with little work required. The fabric headband is soft, and doesn't squeeze against the head uncomfortably at all. Adjustment is as basic as it gets, and the earpieces settle in around the ears pretty much on their own. The cushion of the earpiece is soft leather, so optimal comfort remains while creating the tight seal necessary for the noise cancelling function to work at peek performance. The only criticism we have is that over extended periods they can get a little on the warm side, which might bring on some noticeable discomfort in the summer months.
Value:
The price-point on some JBL E65BTNC Headphones lands somewhere in the mid-to high range of the marketplace, and its suitable for this particular piece of technology. Although we've experienced a few minor hiccups in our connectivity based on specific patterns of use, the common customer looking for a strong noise cancelling system for the common listening experience will get a good crisp sound with little interference from the world around them. We're confident that with typical use, whether it be music, audiobooks, or podcasts, listener's will get their buck's worth out of this one!
Buy Now: $199.95 or to learn more, check out: JBL.com
JBL E65BTNC Headphones – Tech Review
The JBL E65BTNC Headphones will not only feed you your favorite sounds, they'll block out everything else that might interfere with the experience. You'll get your moneys worth out of this noise cancelling headphone!
The Good
Long Lasting High Sound Quality
Impressive Noise Cancellation
Seamless Device Switch
The Not-So-Good
Limited Control on Some Apps and iMac
Can Get Warm