When you think of iKamper, your mind likely immediately goes to "rooftop tents", and for good reason! iKamper has been around since 2014 enhancing soft- and off-road vehicles with the joy, comfort, and easy setup that is rooftop tents.
Over the years, iKamper has diversified its product line, offering multiple sizes and configurations of its tried and true rooftop tents. 
A progression toward sleeping mattresses/pads was a natural and logical next step for the iKamper crew, and I was fortunate enough to check out a few components of their sleep system!
However, I wanted to test a very unique use case for this sleep system – dispersed car camping inside my 2015 Outback, not one of iKamper's rooftop tents. 
The RTT Comfort 6944 – dimensions 69″ x 44" – is nearly perfect for the back of my Outback with the seats folded down. The only imperfection in the fit is a slight pinch in at the wheel wells, but the length is perfect. 
Now that you understand my use case, let's get cozy for this in-depth iKamper sleep system review! Please keep this use case in mind as you read on.
iKamper Sleep Setup Review Breakdown
RTT Comfort
First up is the RTT Comfort, the inflatable base of iKamper's new sleep system. At a high level, I'd describe it as a hybrid between an inflatable mattress and a foam core inflatable sleeping pad. It has the comfort, luxury, and width of an air mattress, with the quick inflating benefits of a foam-cored pad.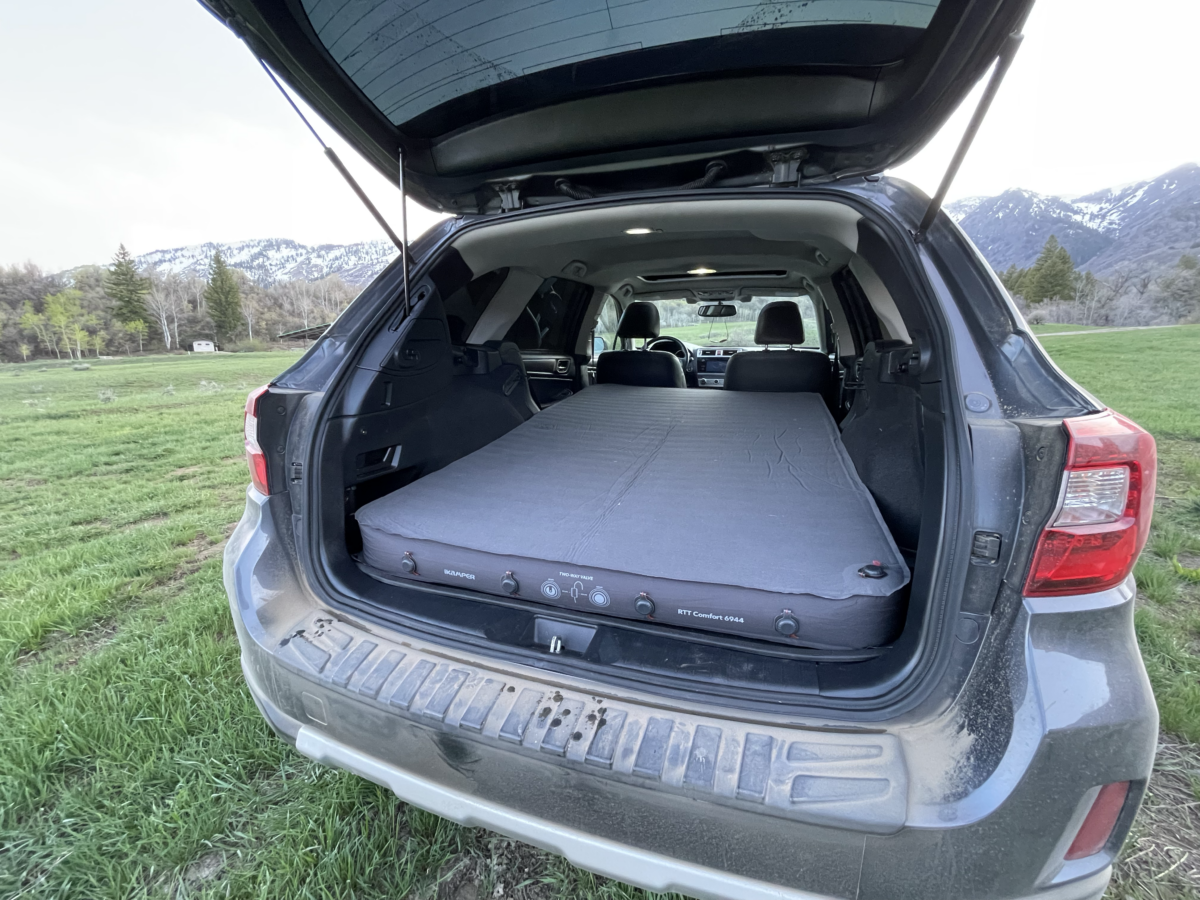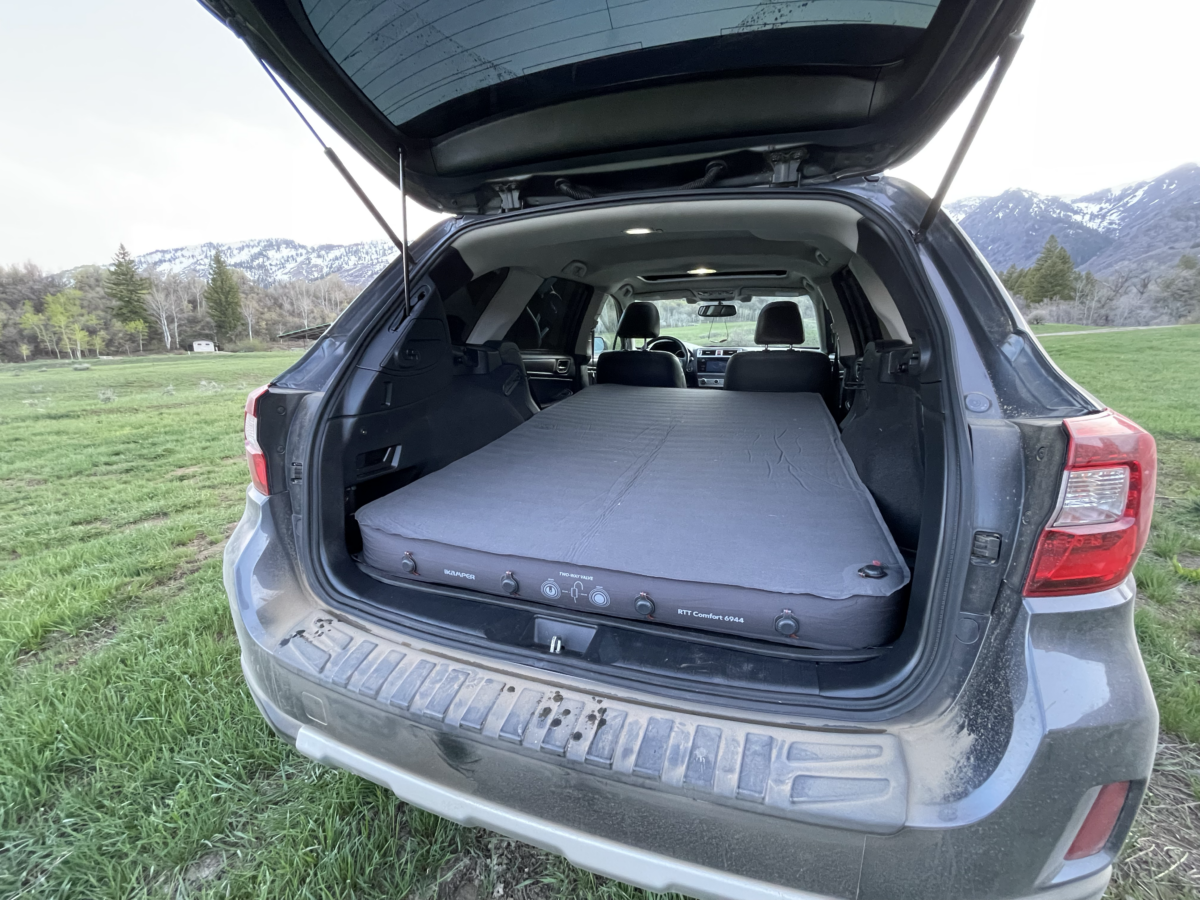 Design
First impressions were strong for the Comfort. The materials are top-notch – a soft-touch top layer, and thick, durable poly sides and bottom. It has a hefty feel, not dissimilar to a nicer home inflatable mattress.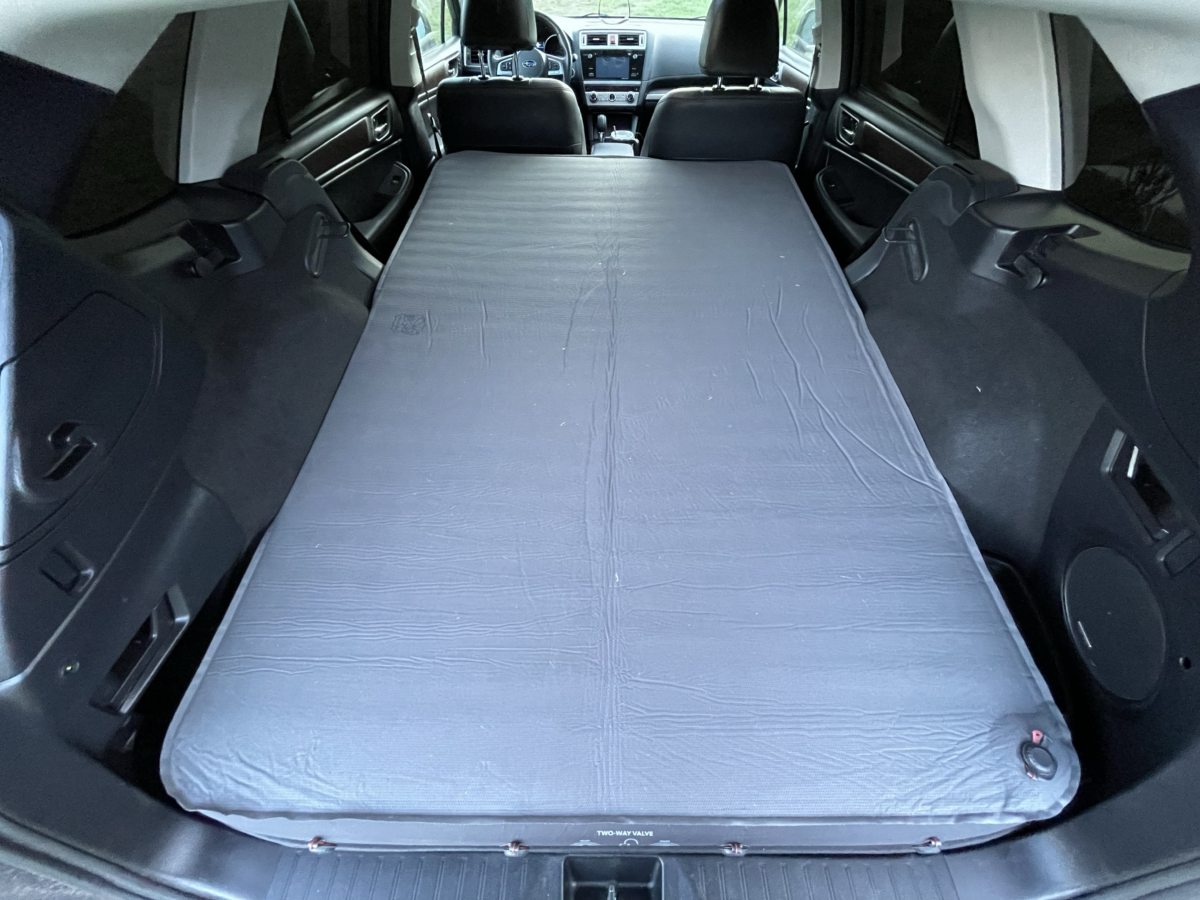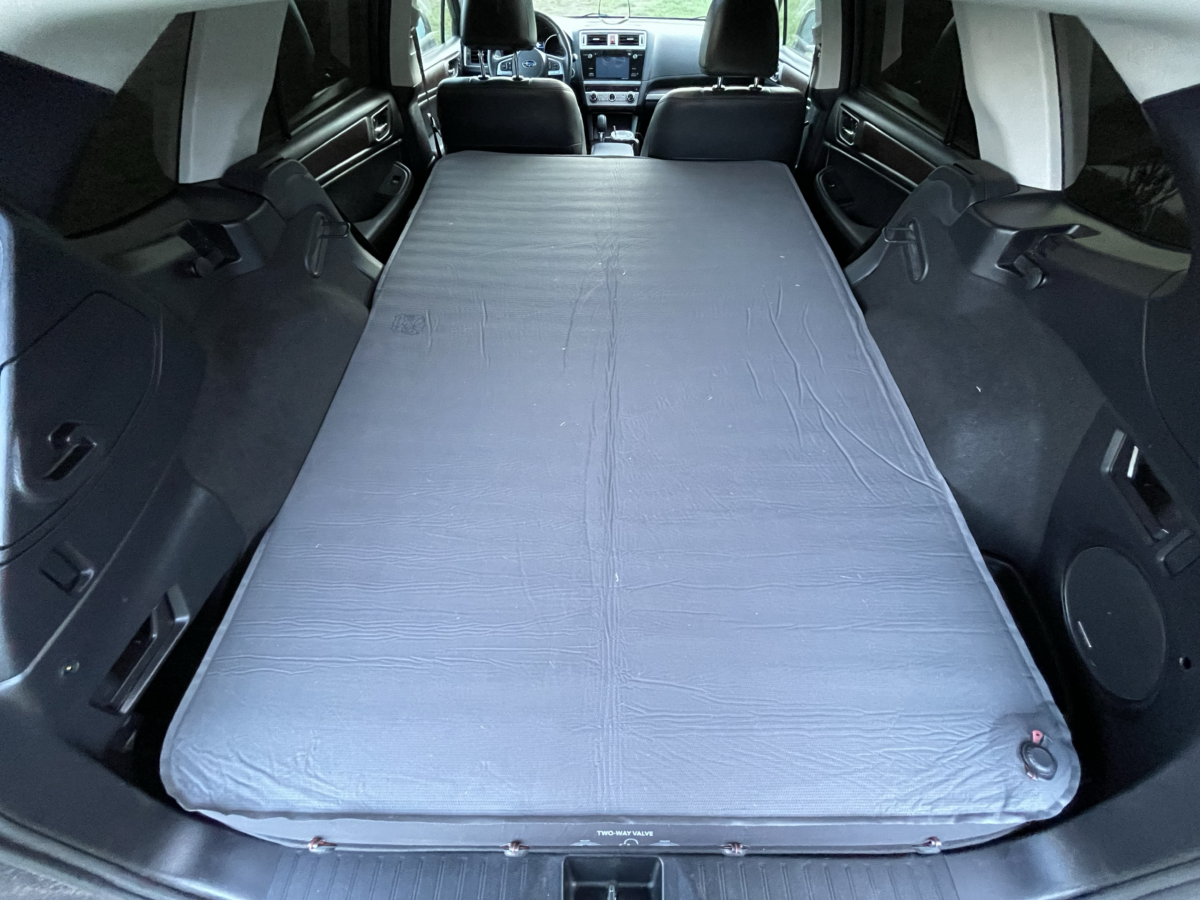 While iKamper claims the Comfort is self-inflating, I have not fully tested that capability. I already had a spare mattress pump laying around, and have been using that during testing. It plugs into my 12v socket and fills the Comfort in under 5 minutes. That said, the Comfort has a number of valves at one end of the pad, which I can only assume improves the time for self-inflation. Overall, pretty awesome to know that if I forgot my pump, or if it broke, I wouldn't be out of luck! But with car camping, it's nice to have the pad ready to go in under 5 if we arrive at a site late and in the dark. When using the pump, I (as you likely assumed) only use one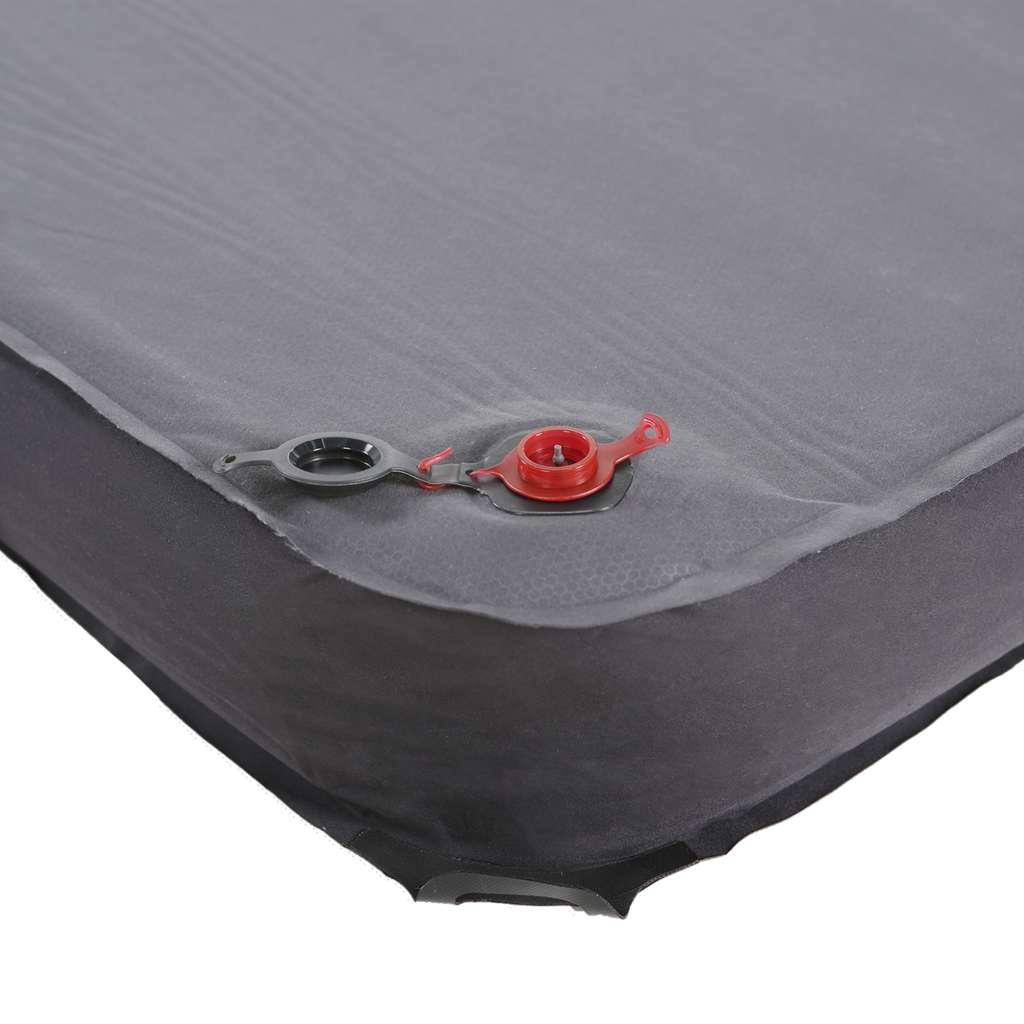 of the valve openings, but deflation is a different story. I open all them valves up! 
Speaking of deflation, I would argue this is the trickiest part of the Comfort, but not a deal-breaker. Because of the closed-cell foam, if the valves are open, it wants to inflate… not roll up. So, the deflation process does take some patience and energy. A helpful tip is to make use of the inner red one-way valves. Once you get close to the end, close up most of the valves except for one or two, roll and squeeze toward the valve, then press in the red valve with your finger to release air without letting more in when you stop rolling. 
Comfort
Well, the name speaks for itself here. The RTT Comfort provides 4 inches of comfortable, closed-cell foam-supported sleep. Part of my hybrid description above relates to the sleep experience of the Comfort. Due to the imperfect left-to-right fit in my Outback, I inflate the mattress about 90-95% full. On a traditional home air mattress, at 90% full you'd feel like you were sinking into the mattress. With the Comfort, the foam insulation really allows the mattress to retain its shape, so there really isn't a major sacrifice for underinflation. 
Honestly, I sleep just as well on the Comfort in my Outback as I do my 100% memory foam mattress in my master bedroom. It is a genuinely comfortable hybrid inflatable mattress. As far as camp pads go, 4 inches is the luxurious end, and I'd say it is even comparable to an 8-10in framed bedroom mattress! 
All that said, sleep is a super personal experience, and your mileage may vary. Generally, camp sleeping is pretty solid for me – fewer distractions, only the noise of nature, and total darkness. 
Worth noting, the 4-inch thickness of the Comfort helps bridge the awkward bump between the trunk bed and the folded-down seats. The hinge bump presses up into the mattress, the foam is compressed at the hinge, and the air is distributed. This is all thanks to the ability to slightly underinflate the Comfort. 
A Few Extra Nuggets
At the time of writing, the Comfort comes in 6 sizes. If you have a rooftop tent, it is pretty easy to match up the right Comfort for your tent; if you're considering a Comfort for car camping, be sure to match up the closest possible dimensions to your trunk space as I did. 
Skycamp Main Panel & Skycamp 2X – 78″ x 50″ x 4″

Skycamp Extension Panel – 73″ x 32″ x 4″

Skycamp Mini – 82″ x 50″ x 4″

X-Cover – 69″ x 44″ x 4″
RTT Sleeper
Next up is the RTT Sleeper, a very well-thought-out sleeping bag alternative to the typical mummy bag.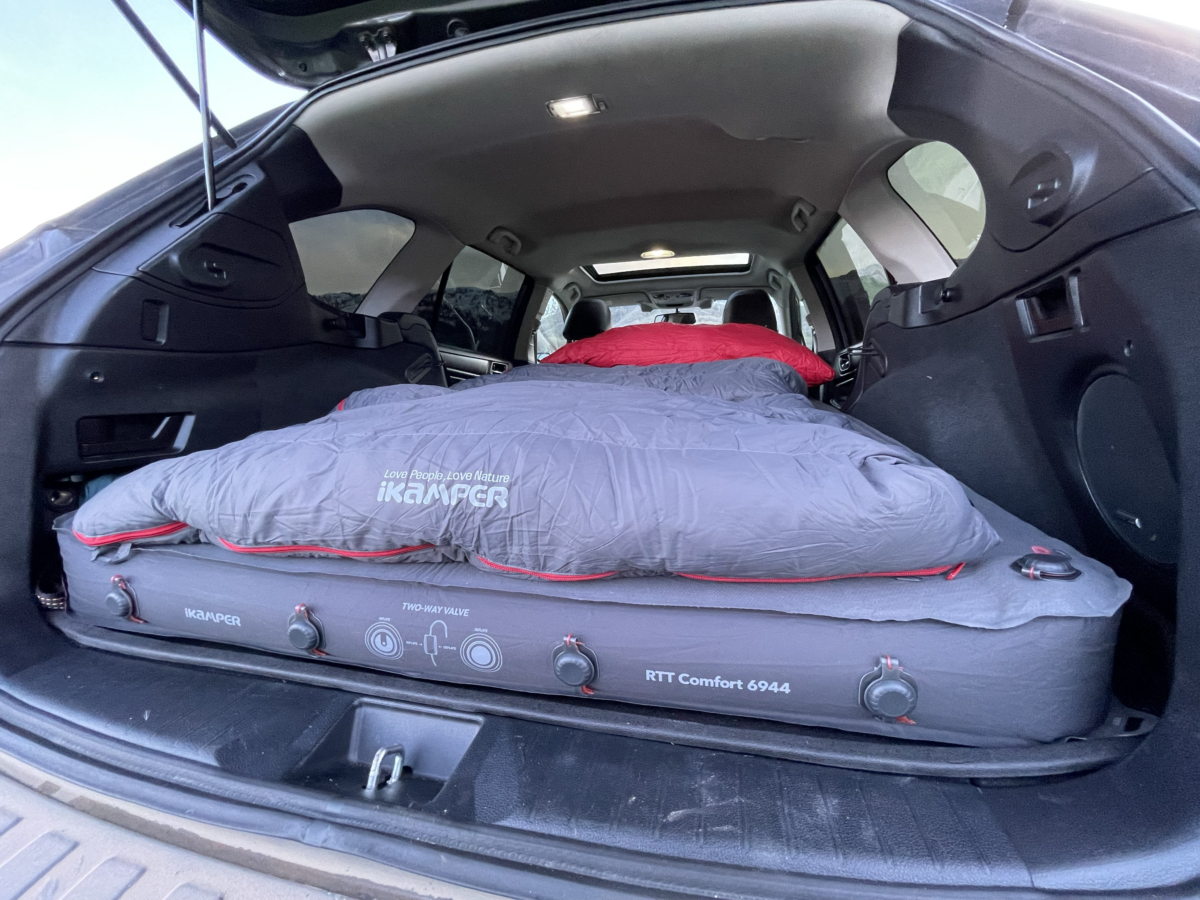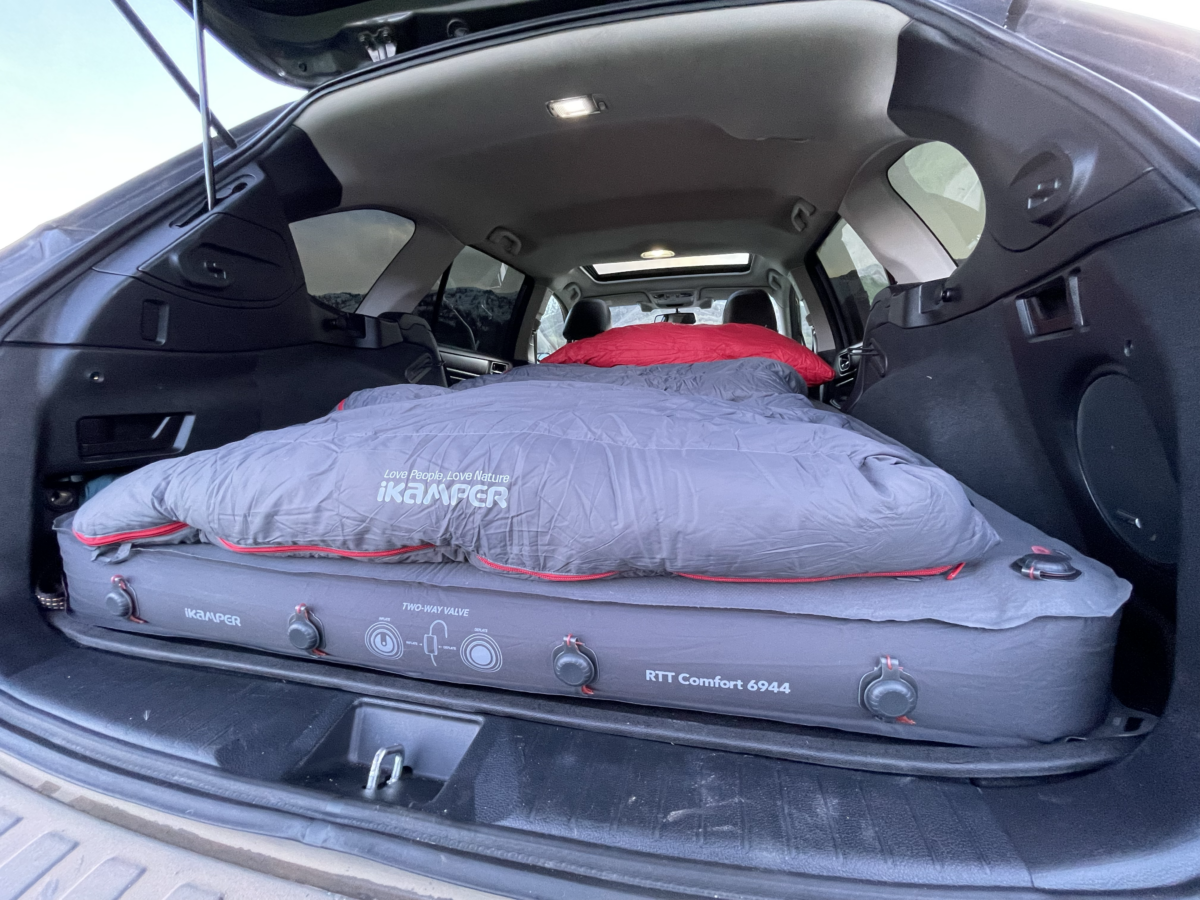 Design
With car camping, weight is certainly not an issue, but packability is. The Sleeper packs down to an acceptable compressed size, but really shines in all the extra features and customization that a classic mummy bag doesn't have.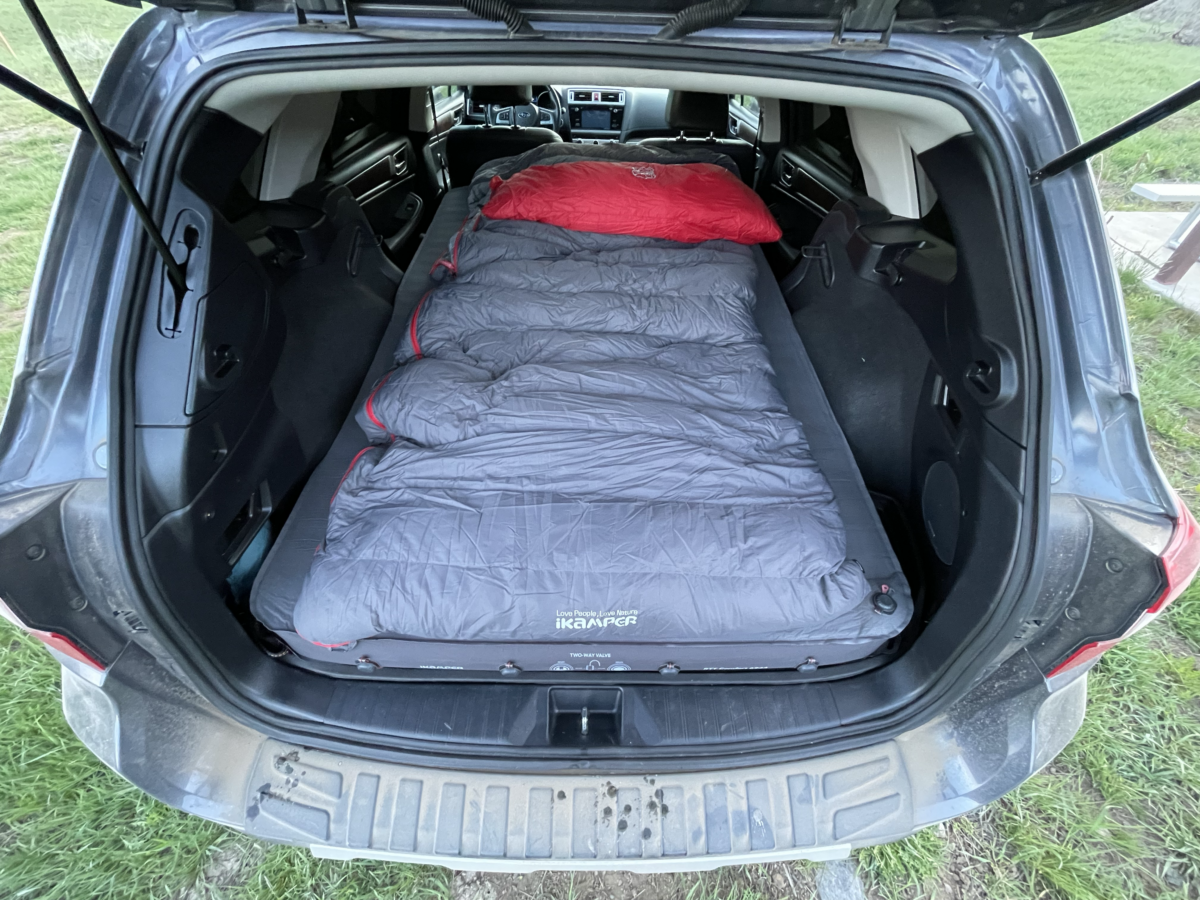 Out of the box, the Sleeper is a boxy sleeping bag. Four rounded corners, make this bag wide and roomy to sleep in. You can roll to your sleep's content, stretch your legs, spread your feet – all the joys of a heavier, boxier sleeping bag. You can also completely unzip the bag to create a blanket.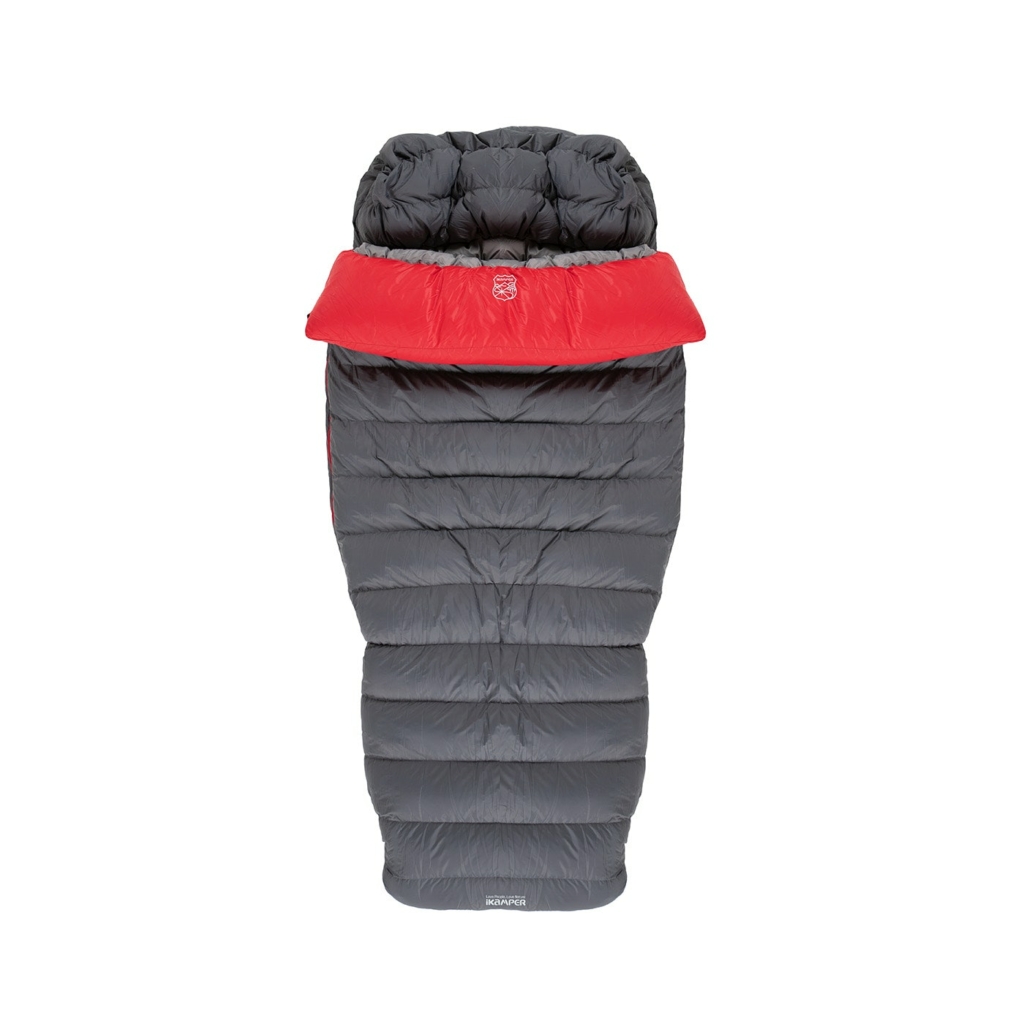 But wait! Here's the cool part, if it is a cooler night and you want to reduce the empty space, or if you're feeling like you want to be more "tucked in", simply cinch the drawcords strategically placed throughout the Sleeper. You can customize the fit to be boxy, tighter & cozier, or mummy-shaped. Neat idea and the versatility didn't go unnoticed. 
Comfort & Warmth
The Sleeper has more tricks up its sleeve. Specifically designed for rooftop tents, 60% of the Sleeper's down insulation is in the top baffles of the bag. Since rooftop tents are obviously up off the ground, there is not a big worry about losing heat through your underside. Paired with an RTT Comfort, there's very little need for underside insulation! 
In my car camping use case, this was appreciated as I am, of course, also quite well insulated from the cold, hard ground. 
That 60/40% insulation split not only makes this bag feel super cozy, but it also gives a nice weight to the cover. So if you're like me and appreciate a nice, dense comforter, you'll have a slight calming effect from the heavier top-insulated cover.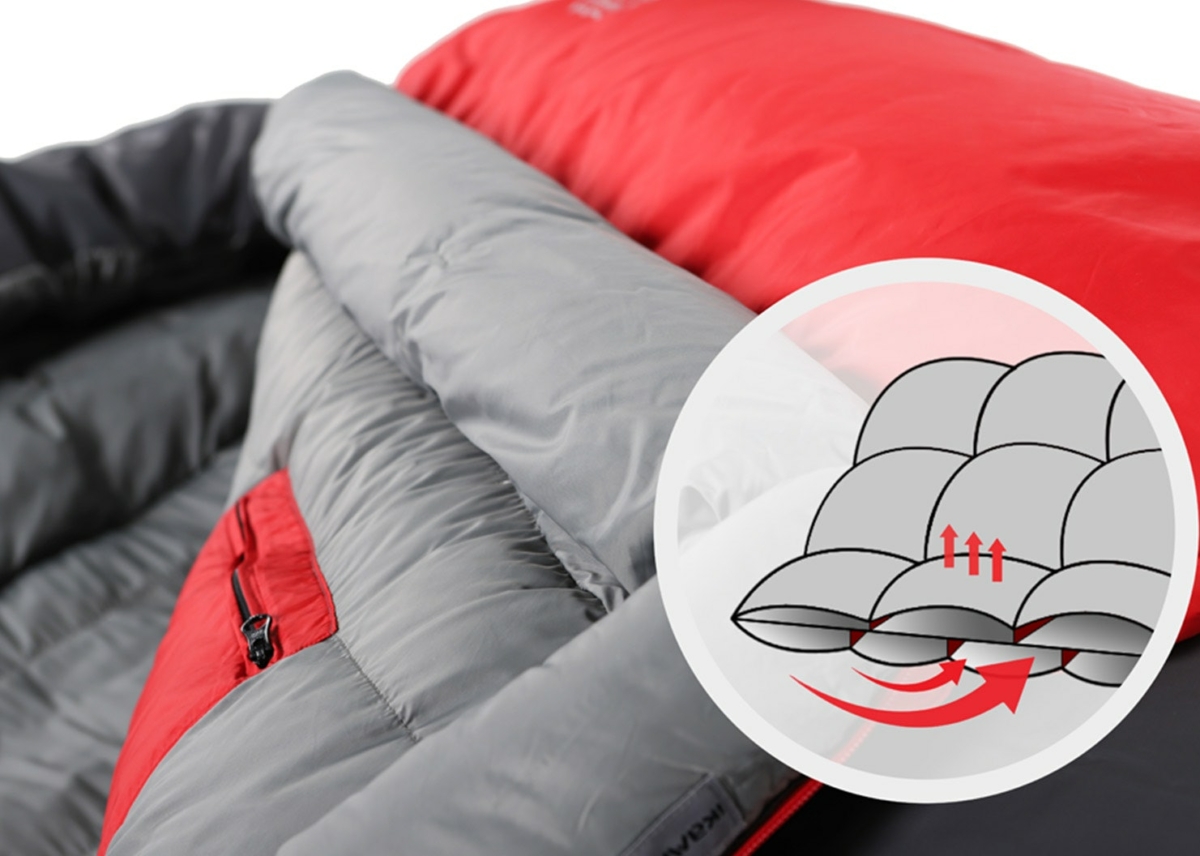 Like the width and "fit" of the bag, the Sleeper's warmth is also customizable – spoiler alert to next section! The RTT Blanket can be conveniently added with a series of 8 snap loop closures to the inside of the top cover. Bring on the warmth, and bring on even more of the dense comforter feel! 
A Few Extra Nuggets
At time of review, the Sleeper has a second "DPL" size which is roomy enough for two. Apart from that major difference, the Sleeper DPL has recycled Primaloft synthetic synthetic insulation vs. Responsible Duck Standard duck-filled insulation in the single, and there is no "fit" customization in the DPL. While I wanted to test the DPL for me and my girlfriend, I would have missed out on all the cool features of the Sleeper single. That said, there is a DPL Blanket to add the same extra warmth to the Sleeper DPL. 
Buy now, $389 (or $289 for the non-down, 2-person DPL)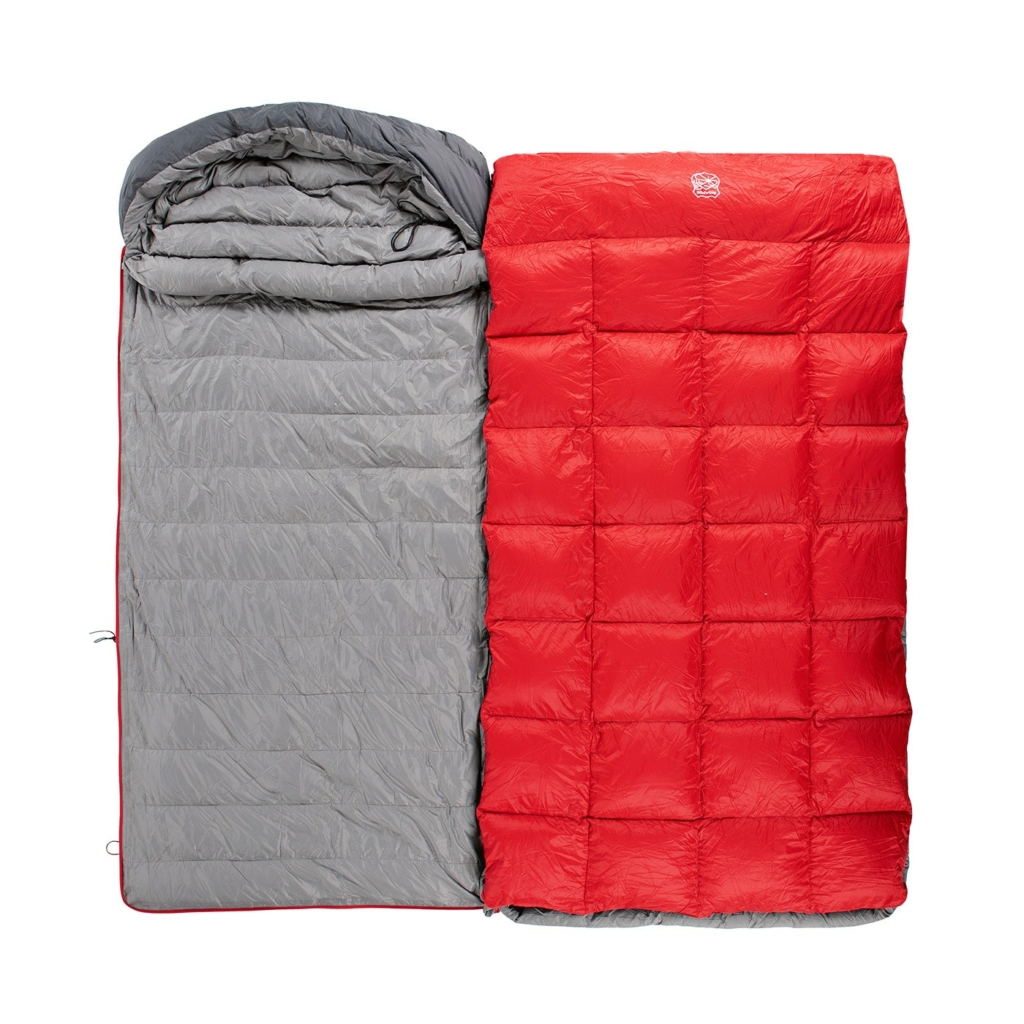 RTT Blanket
Well, since I already spoiled most of the details here, I won't spend as much time on the Blanket. Overall, it is a pretty typical camp blanket – soft touch, sleeping-bag style exterior with warm, cozy down inside (for the single) and recycled Primaloft synthetic. It isn't too dissimilar from what you'd expect from the likes of Rumpl but does have the loops to snap into the Sleeper or Sleeper DPL (pictured right).
The added benefit here is total versatility – use it in your camp hammock (that's what I do!), take it on a grassy picnic, or use it as a comforter instead of the full Sleeper on a hot summer day (that's also what I do!). You name it, it's ready! 
Buy now, $179 (or $199 for the non-down, 2-person DPL)
iKamper Sleep System | Gear Review
iKamper's RTT sleep system is so comfy, you won't miss your $1k mattress bedroom mattress.
THE GOOD:
Fast & easy setup on all RTT pieces
Well thought out features on all RTT pieces
Versatile use-cases for the Sleeper
THE NOT SO GOOD:
Self inflating properties make the Comfort hard to deflate