Springtime in the Midwest at its best is seriously unpredictable. The weather swings wildly between warm breezes and sunshine to blustering snowstorms. No matter how fair or inclement the weather on the lake shore, true Michiganders (like us!) know that they can almost always count on fresh powder up north! In my humble opinion, the spring skiing season in Michigan offers the most blue-bird days with the softest powdered-sugar snow. To fully enjoy late season skiing, my gear has to bring its "A" game. This year, I was lucky enough to test Helly Hansen's Cordelia Jacket. Functional, durable, and stylish, the Cordelia Jacket exceeded all my expectations! Here's the lowdown…
Key Features:
Helly Tech® Performance Waterproof, windproof and breathable
2 ply fabric construction
Mélange fabric
Durable Water Repellency treatment (DWR)
PrimaLoft® Black Insulation Down Blend
Fully insulated
Mechanical venting
RECCO® Advanced Rescue system
Hi-Viz brim and details for safety
Fusion modular system jacket to pant
Snap away powder skirt
Fixed helmet compatible and adjustable hood
Dual hand warming pockets
Wrist gaitors with thumb hole
Internal pockets for goggles, w/goggle shammy and electronics
Ski-pass pocket
YKK® Vislon® 2-way center front water resistant zipper
Helly Hansen's Cordelia Jacket Review Breakdown
Design:
Helly Hansen's Cordelia Jacket is the Cadillac of free-ride ski coats. If the Cordelia Jacket was a pizza, it would be extra-large, deep-dish, super-supreme, with stuffed crust. Jokes aside, Helly Hansen packed the Cordelia Jacket with an an impressive arsenal of high-tech features to keep you warm and safe out on the slopes.
The first thing that I noticed about the Cordelia Jacket is the hood. The hood's over-sized design allows it to fit over almost any standard ski helmet. Once you pull the hood over and cinch it down with the easy-pull bungee cords , you are impervious to the wind, snow, rain, and ice.  The Hi-Viz brim trims nearly the entire hood and integrates into the jacket collar. This provides additional protection from the elements and supreme visibility for up-hill skiers. The front of the Cordelia Jacket zips all the way up to shield your face with soft-as-velvet fabric lining so there is no irritation.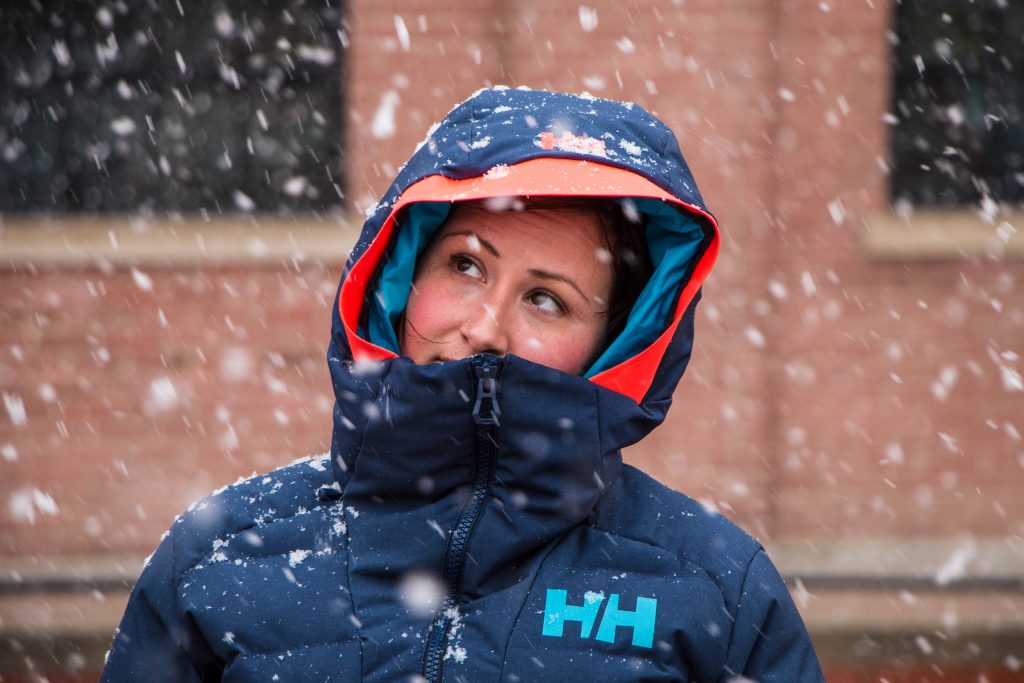 Speaking of protection from the elements, the Cordelia Jacket is a virtual fortress against snow intrusion. Extra long, silky soft wrist gators with thumb-holes keep your paws securely tucked into your gloves. Wide Velcro cuffs easily fit over gloves to provide an extra layer of protection. Going back country skiing or gearing up for a big powder day? The Cordelia Jacket has your back… literally.  An integrated snow-skirt can attach directly to snow pants or hug your hips with a super easy snap closure. Two bungee toggles at the bottom of the jacket help adjust the fit to almost any body type.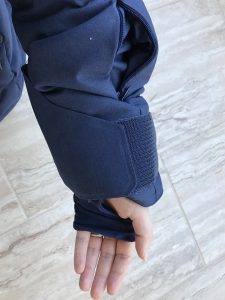 Helly Hansen also did a phenomenal job integrating easy-access pockets into the Cordelia Jacket. There are two large front-flap pockets that are perfect for storing lip balm, a small camera, or extra gloves. Classic zip pockets on each side and a hidden left breast pocket provide extra-secure storage for valuables such as phones and goggles. As if that wasn't enough, a ski-pass pocket on the left arm keeps pesky tags away from chairlifts and ski poles.
Pockets and hoods are, of course, important, but there is one final feature that deserves mention: the RECCO® Advanced Rescue System. The more experienced I get (read: older), the more that safety is on my mind. I know that northern Michigan is not the Rockies, but for the daring we do have some great back country skiing. As I push myself to the limits, I can rest assured that the RECCO® Advanced Rescue System will always lead search and rescue my way, without activation. The lifespan of the RECCO® system is virtually limitless, and the system requires no batteries or maintenance.
Performance & Durability:
There is no doubt in my mind that the Cordelia Jacket has outperformed every other big-name ski jacket I have ever owned. First and foremost, it is supremely warm. This is in no small part due to Helly Hansen's proprietary H²FLOW™ technology that uses a unique herringbone construction to trap and circulate body heat.  When the arm-vents are opened, the H² FLOW™ design redistributes cool air around your torso to maintain an even temperature. The entire jacket is filled with ultra-lightweight PrimaLoft® Black Insulation Down Blend. The PrimaLoft® fill is not only soft and warm, but it allows for a slim profile with minimal bunching, meaning that you have full range of motion.
The outer-shell is made of durable, two-ply Helly Tech® Performance fabric that is the end-all, be-all in breathable waterproof material. While the inner shell wicks moisture away from your body, the outer layer acts as a rain and snow busting shield. The Cordelia Jacket quickly became my go-to for sleet and rain conditions on and off the slopes.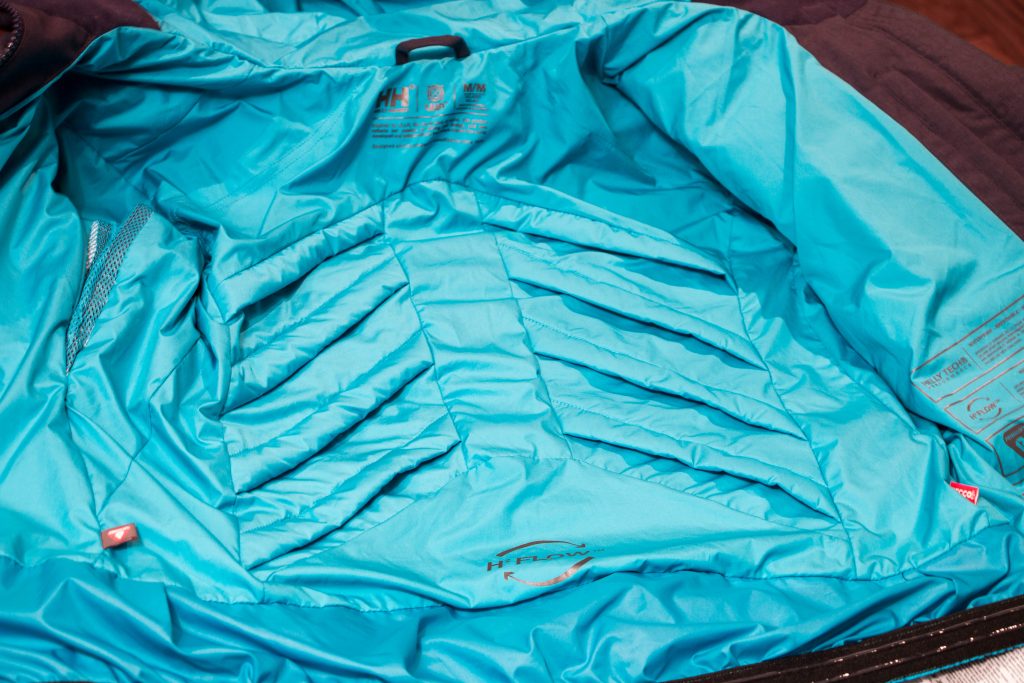 After a season of hard wear, the Cordelia Jacket looks practically brand new. From crashes on the slopes and nights out at the bar, to getting stuck in car doors and thrown around in the back of a pickup truck, this baby still looks fresh! I attribute this entirely to Helly Hansen's incomparable craftsmanship and superior materials. I am confident that there will not be a single seam out of place for seasons to come!
Comfort:
The Cordelia Jacket felt much more like a favorite robe than a ski jacket! Plush and soft, the jacket forms to fit your body. The high-cut of the sleeves ensures that the jacket is moving with you. Adjustable bungee cords and strategically placed Velcro tabs allow you to further customize the fit to your body. Even with extended use, I did not notice any rubbing, chaffing, or discomfort.
Though it is incredibly difficult to find anything negative about this jacket, I must confess that the fit could have been better. Advertised as a "relaxed-fit freeride" jacket, I anticipated much more generous proportions in the bust and hips. The Cordelia Jacket does fit very tight across wider hips. On the flip-side, the jacket does not bunch or ride-up. With that said, if you are a fabulously gorgeous and curvy lady who likes to shred (like me), it would be worth giving a couple of other Helly Hansen styles a try before landing on the Cordelia Jacket.
Style:
The Cordelia Jacket's style is on point! I tested the Cordelia Jacket in a classic navy with striking tangerine accents. The color combo, together with the contoured ribbing, looked great with my snow pants and transitioned nicely to apres ski activities. The classic cut and design won't make you feel out of place off the slopes, either. Pair the Cordelia with skinny jeans or leggings and boots and you are ready to hit the town in style! I have no plans on trading this beauty in next season, and I am confident that I will look just as sharp as I did this year.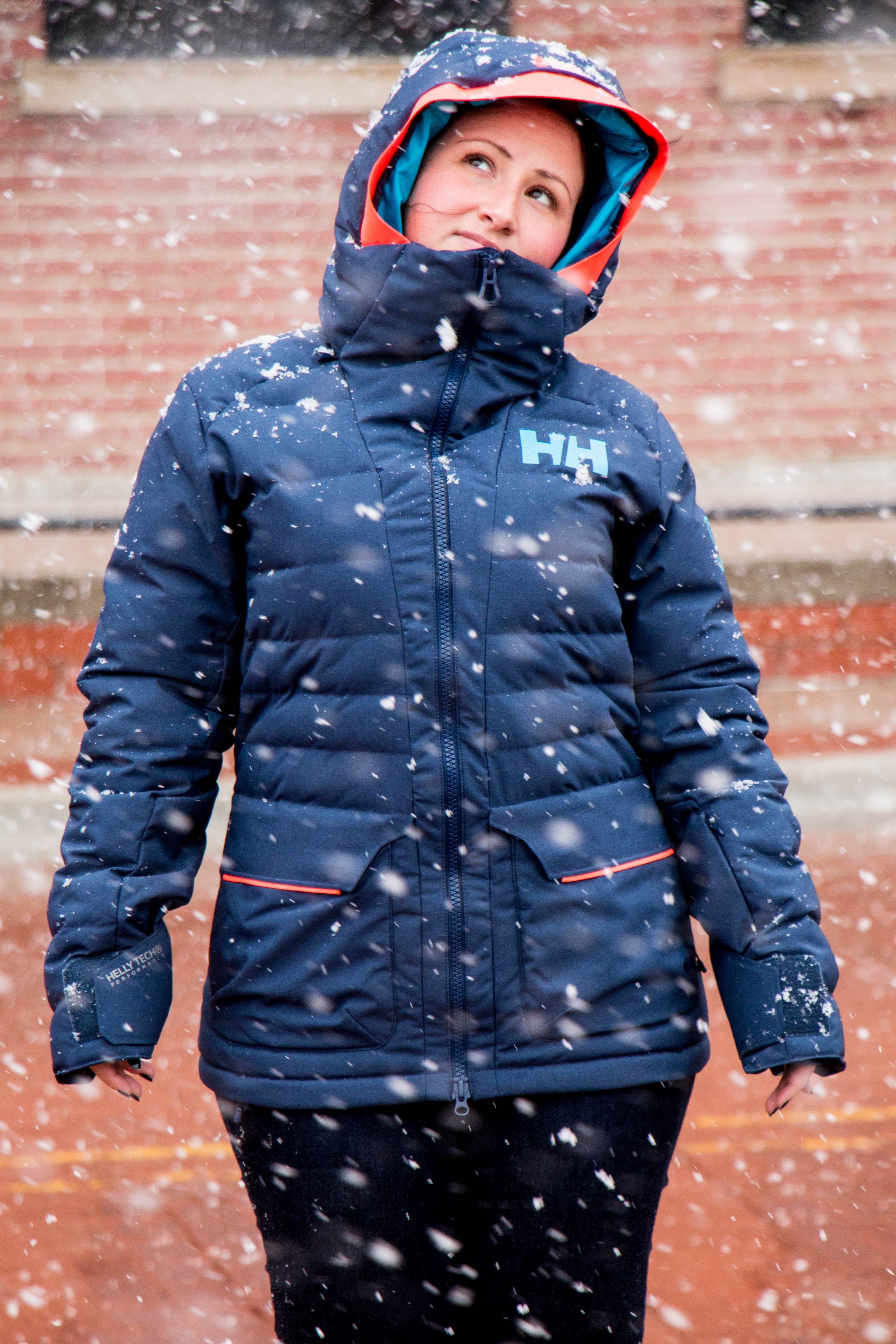 Value:
Ski jackets are expensive and the selection is simply overwhelming. But worry not! I am happy to report that for under $320.00, the Cordelia Jacket will give you all the bells and whistles without breaking the bank! Intuitively combining technology, function, and style, the Cordelia Jacket is an awesome value. This jacket will keep you safe and warm on the slopes from morning to night for multiple seasons. I wholeheartedly recommend Helly Hansen's Cordelia Jacket to all serious skiers.
Buy Now: $318.75, or to learn more go to HellyHansen.com 
Helly Hansen Cordelia Jacket - Gear Review
Helly Hansen's Cordelia Jacket is the ultimate performance ski-jacket for women who love to shred!
Performance & Durability
9.9
The Good:
Warm and dry even in the most inclement weather.
Intuitively designed pockets for secure storage.
Classic style for the slopes and beyond.
The Not So Good:
May not be a great fit for curvy ladies.