If you are going to spend a long day or a weekend hiking, having a backpack that fits correctly is important. Having suffered a couple of back injuries within the past 5 years, this is especially important to me. Although there are size guidelines for all backpacks and plenty of adjustments you can make, there are times where I wish I could make some small adjustments that would make my hike much more comfortable.
This is where the Granite Gear Lutsen Series of packs comes into play. With their patent pending RE-FIT suspension system, Granite Gear gives you the ability to adjust not only the torso length of the pack to fit your exact measurements, it provides the same mechanism to fit your waist size. With this system, gone are the days of having to buy additional belts for your pack. The team at Busted Wallet was excited to take the Lutsen 45 out for a 13 mile day hike in the Dolly Sods Wilderness area and put this RE-FIT system to the test. Well, how did it feel? Was my back sore by the end of the hike? Read the review below to find out!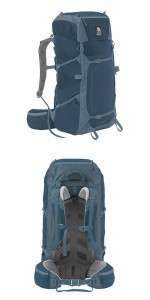 Key Features:
Small/Medium – 14''-18'' torso length, 3.0 lbs
Large/Extra Large – 18''-22'' torso length, 3.0 lbs
RE-FIT Air Current Frame with 40lb load rating
RE-FIT adjustable torso length and hip belt harness system
Stretch mesh front pocket
Two Stretch woven side pockets
One zippered stretch mesh hip belt pocket, and one tricot lined, water resistant hip belt pocket.
Hydration port and internal hydration sleeve
Granite Gear Lutsen 45L Backpack – Review Breakdown
Design:
The Lutsen series of backpacks is designed to fit everyone that falls within the specified size guidelines. Granite Gear's patent pending RE-FIT system allows you to custom fit the backpack to match your exact torso length and hip measurements so that it fits you perfectly. For the hip belt, simply slide out the velcro piece, detach the velcro, align it to the number that corresponds to your waist measurement, and slide it back in. For the torso length, pull up to detach the velcro from the RE-FIT system on the back of the back, find your measurement, and reinsert the piece so that your measurement lines up with the marking. This pack is designed to fit everyone, and you can read more about how it feels in the comfort section below.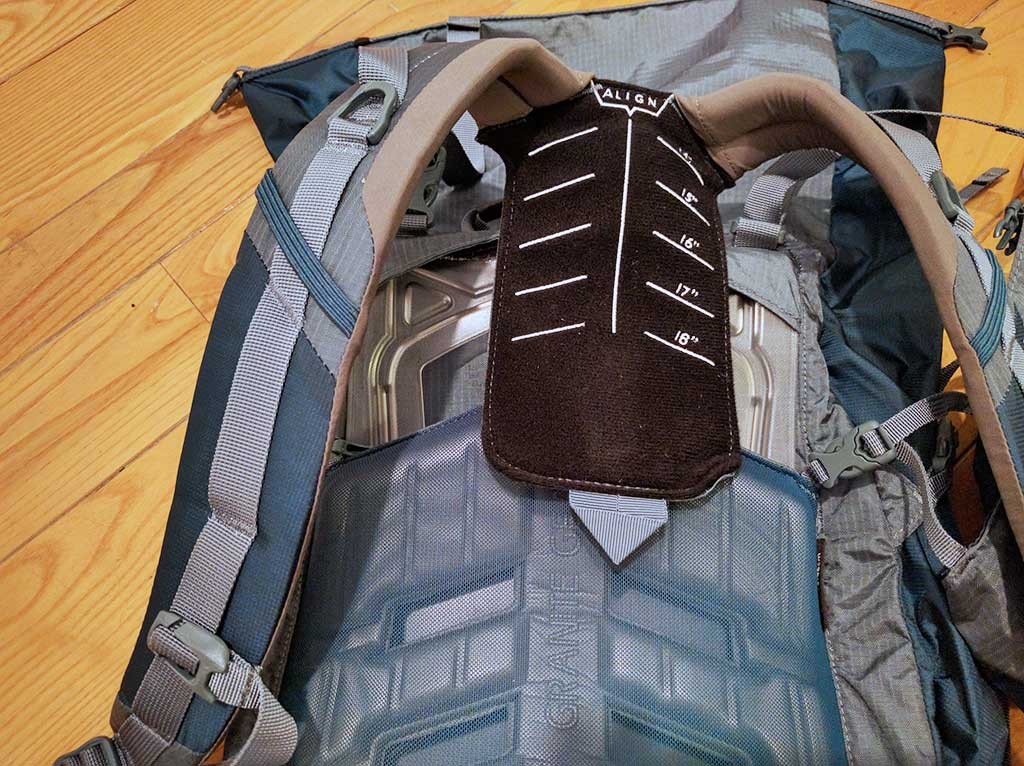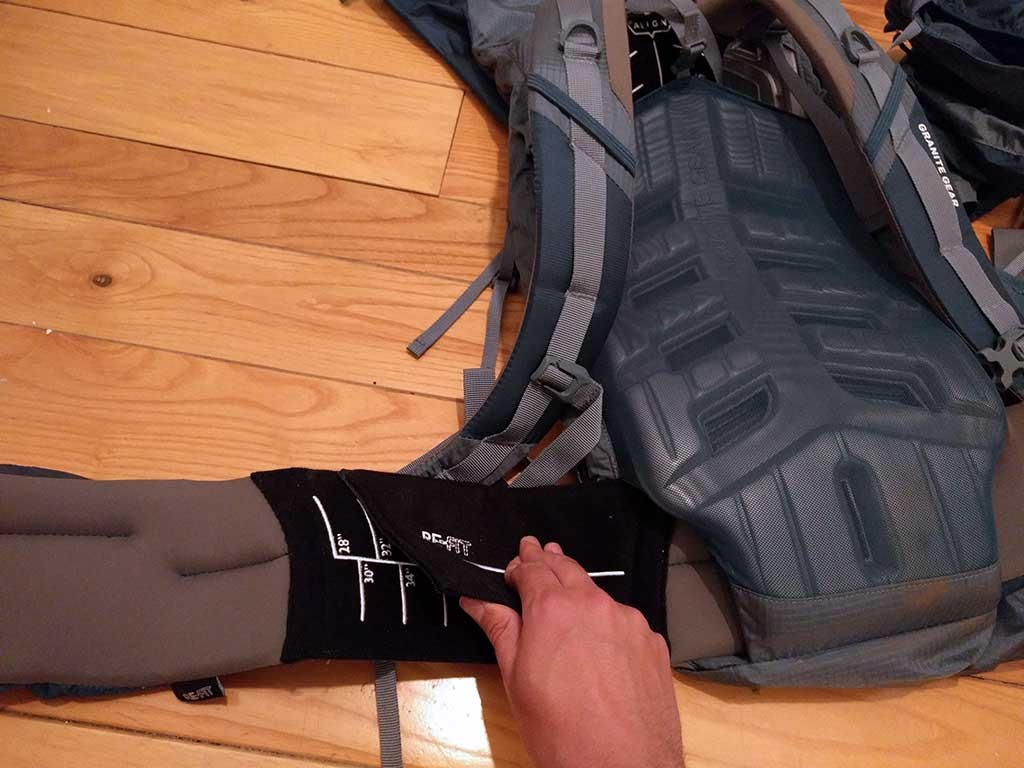 Looking past the new suspension system, you will notice that the pack has many, many straps. At times, the number of straps and buckles felt a little overwhelming. If you need to get inside of your back, there are at least 4 separate buckle clips that must be undone: two side clips and a middle clip which secures the lid, and a top clip which secures the roll top closure shut. The main issue I can see with this is that some of these clips aren't particularly large, so if you were winter hiking, it might become a pain to undo all of these small buckles with your gloves on. However, one nice feature is that you can fully disconnect the top lid and hike without it. Because the top of the pack uses a roll top closure, you don't have to worry about anything getting inside of your pack.
One incredibly small feature that I found very nice to have was a water resistant hip belt pocket. I often find myself storing any small electronics I am carrying in plastic bags, which is a pain not only because I have to carry around all of these extra plastic bags, but in order to get anything out, you have to first pull out the plastic bag, then pull the item out of the bag. Sure, this isn't a huge problem, but if you like having your camera easily accessible to snap photos while on the go, repeating these two steps numerous times can become a pain after a long day of hiking.
Comfort:
Having the ability to fine tune the torso size and the hip size allowed me to custom fit the pack to match my exact measurements. This adjustment is simple, and took me, at most, 5 minutes the very first time I did it. After seeing the RE-FIT system in action, I am confident in saying that this pack can fit almost everyone. I say "almost" because there are still size specifications to follow. The small/medium size fits a torso length of 14''-18''. The large/extra large size firts a torso length of 18''-22''.
The lumbar padding felt a little hard at first, and I was worried it might get uncomfortable, but after a few miles in, I didn't even notice it. We ended up hiking just over 13 miles, and the pack felt comfortable. I did have one small issue with the chest strap rubbing against the side of my body. I eventually fixed this problem by rearranging some gear and loosening up the strap. In terms of breathability, like every pack I have ever used, my back was sweaty by the end of the hike.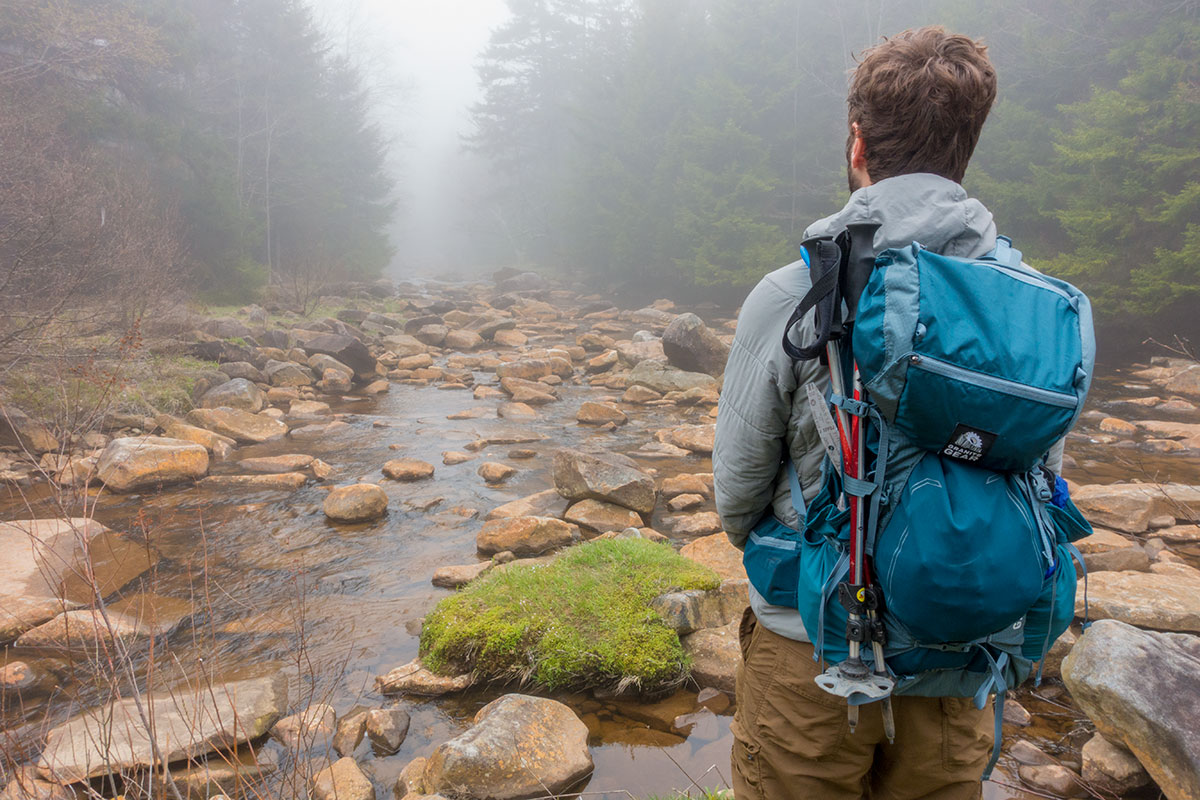 Most importantly, at the end of the day, my back did not feel sore.
Storage:
We reviewed the 45L version of Lutsen series of packs. The inside of the pack has plenty of room for a day hike or small weekend trip. We had no problem stuffing gear inside, and had plenty of room to spare. The only area that was tight was the water bladder sleeve. It was very difficult sliding my 100oz water bladder all the way in towards the bottom of the sleeve. I had this problem with both my 100oz Platypus, and my 100oz Camelbak. It would have been nice to get the sleeve just a little bit deeper into the pocket to help with the center of gravity. At the end of the day, I don't think this made a huge difference.
In terms of external storage, there are a total of 7 spots to store your gear: two zippered compartments in the lid of the pack, two stretch woven pockets on each side of the pack, two zippered hip belt pockets, and the large mesh storage area on the front of the pack. The two lid pockets are great for storing small items. This is where I put my headlamp, map, sunglasses, and a small towel. The side pockets are great for storing a water bottle, microspikes, food that you might need quick access to, or securing tent poles. The large pocket in the front has plenty of room to secure gear. You could easily use this area to store clothes, a tent body, a jetboil, etc. On our trip, I used it to store my rain gear and mid layer. I was able to fit my light down jacket, my outer shell jacket, and my outer shell pants all in this pocket with plenty of room. This gear is easily accessible, so it was perfect for rain gear in case I needed to grab my shell quickly.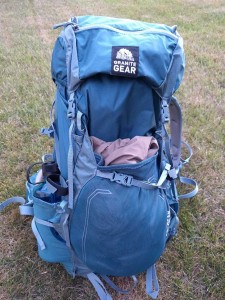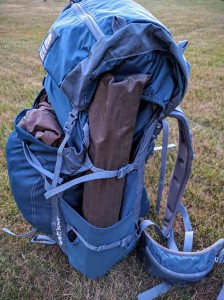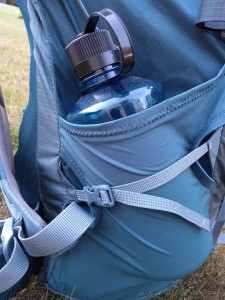 One of the two hip belt pockets has a water resistant tricot lining. This pocket is perfect for storing a phone or a camera. Not only can you store these items in a place that is very easy to get into (right in the hip belt), you don't have to worry about them getting destroyed by water. As someone who has had to put his phone in rice after a long, rainy hike, this pocket is a blessing.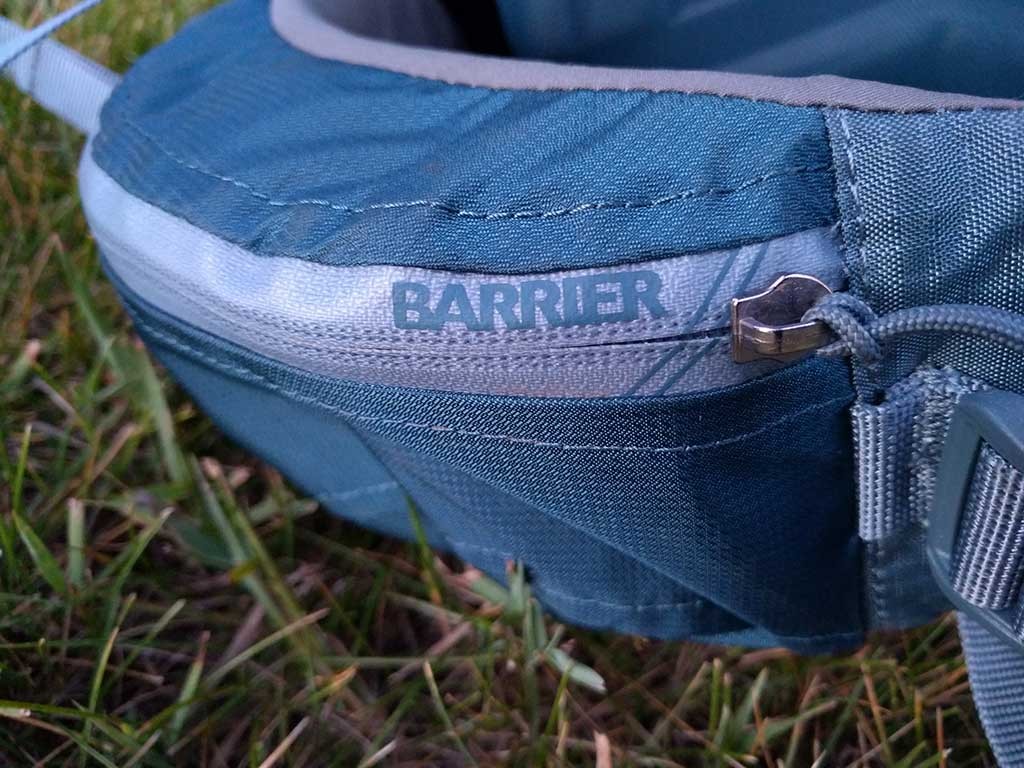 With all of the straps located on the outside of the pack, there are plenty of areas to secure a tent poles, a sleeping pad, or whatever else you might need. The straps can be overwhelming, but they are nice to have when it comes to strapping down gear on the outside of your pack.
Durability:
The pack is designed with both 210D and 100D high tenacity ripstop nylon with DWR, which is strong material that is suited well for a day hikes or even a small weekend trip. The buckles on the pack felt reliable and secure. The mesh pocket on the front feels strong, and didn't show any wear after we stretched it out by shoving in clothes and gear into the front compartment.
Value:
The Lutsen 45 has an MSRP of $199.95. This price seems a little on the high end for a 45L pack. There are many other 45L-50L packs in the $140-$160 range. With that said, the Lutsen truly provides the ability to customize the fit to your exact dimensions. For some people, this comfort might be worth the additional $40-$50.
Buy Now: $199.95 or to learn more, go to: GraniteGear.com
Granite Gear Lutsen 45 Backpack - Gear Review
The RE-FIT system allows you to adjust the torso length and waist measurement to your exact dimensions, providing a truly customizable fit. With plenty of storage options, this is a great pack if you are willing to pay a little extra for the comfort.
The Good:
Easily adjustable to fit your torso length and waist belt measurements
Huge front pocket that is perfect for storing gear you need quick access to
Waterproof hip belt pocket
The Not so Good:
The number of external straps and buckles can be overwhelming, especially for short day hikes
Hydration sleeve is a very tight fit
On the high-end of the price range for 45L packs