If there is one thing that Garmont knows it is feet. Their Anatomically Directed Design (a.d.d.®) places emphasis on understanding the complex structure of a typical foot, and applying that knowledge to design footwear that lets all of your bones, joints, muscles, ligaments, and tendons perform at their optimal ability.
Having never worn a pair of Garmont shoes that featured their Anatomically Directed Design, we were excited to test out the Garmont Men's Sticky Rock boots, which are part of Garmont's Approach series of footwear. Typically, the word "sticky" is not used to describe something positively. However, we knew that Garmont had our best interests in mind, and designed a boot that would provide great comfort and traction for our outdoor adventures. So does this design really work? Is the traction really sticky? Continue reading to find out!
Key Features:
1.6mm suede leather and nylon mesh
Vibram®S663 Round Approach outsole
Polyurethane (PU) footbed and Dual-Density EVA Midsole.
Built using Garmont's Anatomically Directed Design (a.d.d.®) structure.
Eyelet lace closure
Rubber toe bumper which protects your toes and provides abrasion resistance.
Garmont Men's Sticky Rock Boot – Review Breakdown
Design:
The philosophy behind Garmont's Anatomically Directed Design (a.d.d.®) is simple: let your foot do what it does best – stabilize, absorb shock, and propel you forward. Garmont is able to achieve this by designing the boot around the natural asymmetric shape of a typical foot.
For example, the Sticky Rock, as well as all of Garmont's a.d.d.® shoes, provide greater room for your big toe, allowing it to move and provide stability, cushioning, and propulsion. The lacing crosses your foot at an angle similar to the angle of your toe joints which allows the boot to flex, providing greater comfort and reducing the normal "break-in" period. The tongue of the boot is designed so that it is thicker on the outside and thinner on the inside, which provides a more anatomical fit resulting in better control and stability. Heel pads are used to provide a more accurate fit around your ankle bones, again, providing greater stability and support. Lastly, an asymmetrical cuff is used, which provides stability when traversing and scrambling.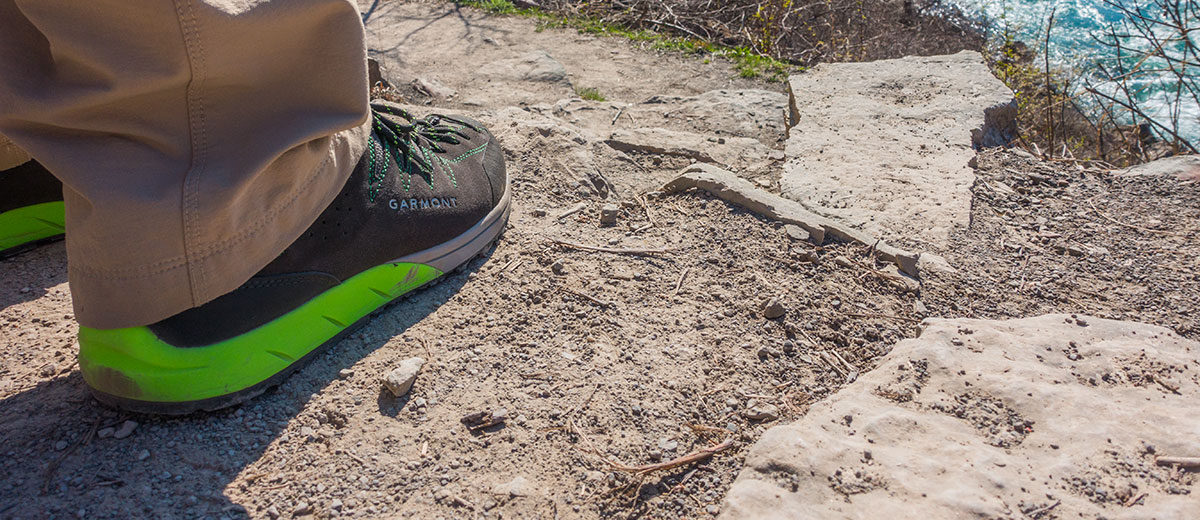 Comfort: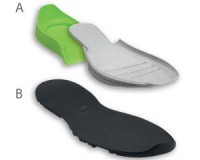 The first things I noticed when I put the boots on, laced them up, and walked around, was that the boots fit great. I typically wear a 10.5 size shoe, and received these boots in a 10.5. I had enough room in the toe area, the boot felt tight and fit the shape of my foot, and my ankle felt secure. The next thing I noticed was how "sticky" they feel. When I walked on my wood floor, the boots made a sound like they were sticking to the floor and it literally made me touch my floor to make sure there wasn't something sticky on it (there wasn't).
The first hike I took these on was roughly 5 miles. I had not worn them much before then, and did not do anything to break them in. After the 5 miles, my foot felt great! I had no blisters or soreness. The PU footbed and EVA midsole were very comfortable and provided great support and cushioning.
To fully test the boots, I wanted to get them on a rocky surface, where there is a greater likelihood of slipping. I took them to the Niagara Gorge, and hiked down the gorge and along the river. Walking on rock face and traversing small boulders felt very secure, both from a traction standpoint and in terms of cushioning and ankle support. I was able to move quickly without worrying about slipping.
Durability:
The 1.6mm suede leather and nylon mesh held up great during our testing. The rubber toe bumper at the front of the boot does a great job covering and protecting the front area from wear and tear. This bumper is great to have when hiking in rocky areas where the front of your boot might be rubbing up against the terrain. The Vibram®S663 Round Approach outsole appears to be built like the Vibram soles I am used to: tough and durable.
Value:
With an MSRP of $145.00, the Garmont Men's Sticky Rock offer an extremely comfortable fit for a reasonable price. Comparing the cost of the Sticky Rock boots to similar lightweight hiking boots, the price is within range of boots with similar options.
Buy Now: $145.00 or to learn more, go to: GarmontNorthAmerica.com
Garmont Men's Sticky Rock Boots - Gear Review
If you are in need of a light pair of boots that offer great stability, traction, and support for hiking or climbing, the Garmont Men's Sticky Rock boots are a great option.
The Good:
Provides amazing traction that truly feels sticky
Comfortable fit with minimum-to-no break in period
Garmont's a.d.d.® will allow your foot to do what it does best
The Not so Good:
These boots are not waterproof, so if that is a must-have, Garmont has other options.