Stow Fitness knows that your life is busy and with the holidays approaching things only will get more chaotic.  During the holiday season, we get out of regular routines and getting to the gym can be a struggle. Between family and work it is hard to carve out an hour or more at the gym to get the workout your body needs.  Often times working out at home is out of the question because there is no room for all of the equipment that you need.  Well those days are over and the folks at Stow Fitness are determined to make it easy for you to have to have your own gym, in the comfort of your living room, hidden beneath a chair.
Stow Fitness has determined most modern fitness equipment has a "space savings" element to it, whether it is designed to go in the corner or slide up against a wall, they just don't meet the expectations.  The equipment ends up being an eye sore in a room, shoved in a room that you really didn't want to work out in, or simply not purchased due to the size of a home or apartment.  Stow Fitness furniture is able to say that the fitness equipment does not take up any space when stowed away in the chair.  If you have room for a chair….you now have room for full size exercise equipment!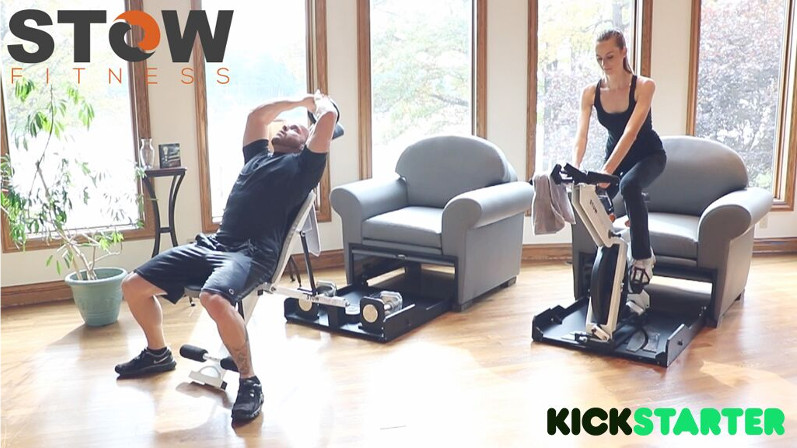 Stow Fitness has launched on Kickstarter today for two of their products, a spin bike and a weight bench.  After  getting a behind the scenes look at the product, we highly recommend you considering pledging to their campaign as everyone could use a unit in their home or office as it is important to take care of your body.  Let's take a deeper look at both products;
Spin Bike:
Anti-bacterial Powder Coat finish
40 pound flywheel
Fully adjustable handlebars and seat adjustments for different size riders.
Resistance adjustment.
Technology enabled cadence tracking.  Just connect to your favorite cycling app through bluetooth.  Works with IOS and Android.
Phone holder for fitness tracking.
Water bottle holder
Foldable bike pedals with cages
The Weight Bench:
Anti-bacterial Powder Coat finish
Soft cushioned, easy cleanable bench top
Includes quick attach dumbbells (2)
Includes quick attach kettle ball handle (1)
Includes 90 pounds of weight plates to use with dumbbells and kettle ball handle
Bench has multiple adjustments for different exercises
The stow fitness chairs are typical size as the actual dimensions of the chair without the fitness equipment deployed is approximately 46″ wide x 38″ deep.  If you are looking to take your home gym to the next level, the consider pledging to the Stow Fitness!
For more information visit their KickStarter Campaign or StowFitness.com!