Felling a tree can be a very dangerous job and you need to have the right tools and safety equipment before getting started. Depending on the size of the tree, wind direction, lean and other trees in the area, there are a lot of things to think about when dropping a tree to the ground. In this article we won't walk you through the art of felling a tree, instead we will show you the very best tools to get the job done.
However, if you're interested how to fell a tree properly and safely we've got you covered! Check out the embedded video below…
Alright, let's dive into the tools you'll need for felling a tree like a pro. Kicking things off with some power – here's the ideal chainsaw for the job.
STIHL MS 271 Farm Boss Chain Saw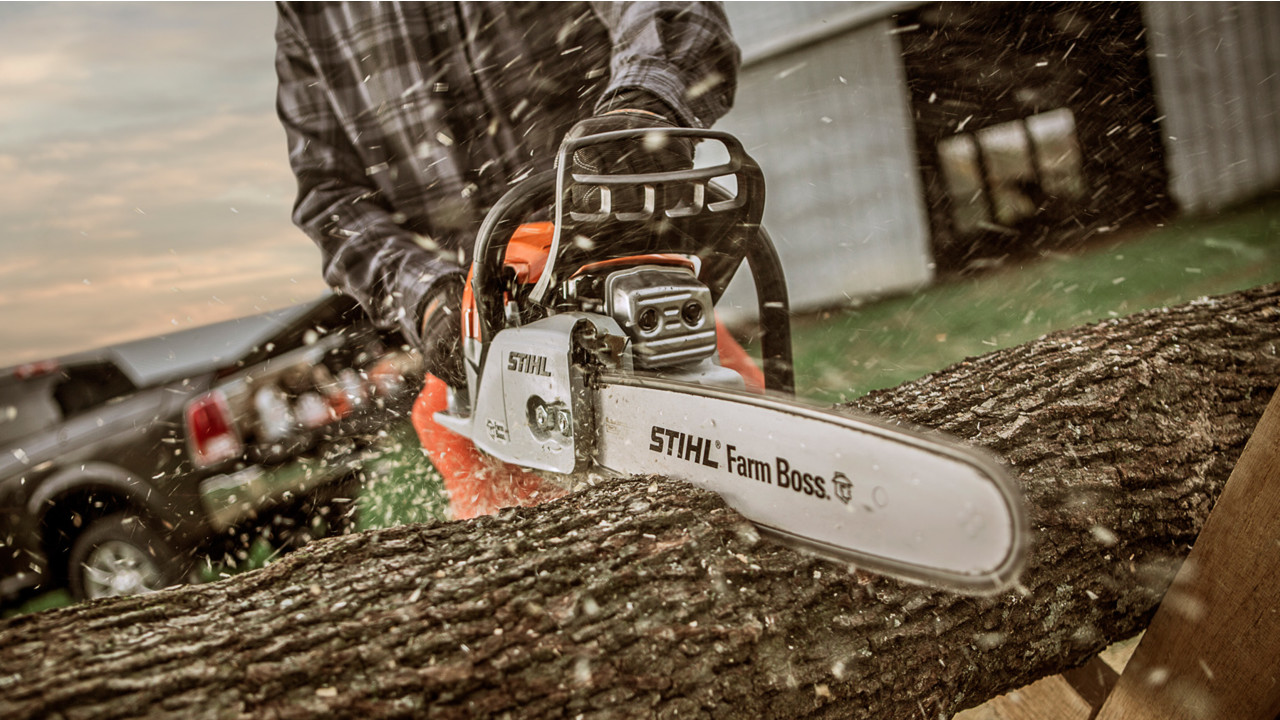 This chainsaw absolutely rips! We had a chance to go hands-on with Stihl's Farm Boss over the past couple months and there is nothing it can't handle. Boasting 50.2 cc's of power and an engine that delivers 20% longer run times between refuelings, this chainsaw is meant for doing serious work. Whether you're actually working on the farm or around the house the Farm Boss won't let you down.
We were really impressed with the farm bosses ergonomics, balance and ability to make easy plunge cuts and absolutely rip through wood. It didn't matter if it was pine or cherry – the Farm Boss allows you to fell trees and cut them up like a BOSS!
Key Features:
Reduced-Emission Engine Technology – Caring for Nature
The STIHL Inc. "Caring for Nature" seal identifies its powered products that are more environmentally conscious, producing zero or low exhaust emissions. STIHL Inc. defines "low exhaust emissions" as being cleaner than EPA and/or CARB exhaust emission standards.
Built in the USA
Indicates products that are built in the United States from domestic and foreign parts and components.
Pre-Separation Air Filtration System
This time-saving technology boosts the efficiency of the engine's filter system, doubling the time between air filter cleanings. Air drawn into the engine is first separated via centrifugal force, ejecting the heavier dirt particles before being routed to the air filter. This pre-separation means less dirt to be captured by the air filter, resulting in less frequent cleaning and maintenance.
Anti-Vibration System
STIHL has developed a system for minimizing the vibration levels of handheld outdoor power equipment. The STIHL anti-vibration system helps reduce operator fatigue and provides a more comfortable working experience.
Toolless fuel and oil caps with retainers
Simply lift the lever and twist the caps to remove or tighten. There's no need to use a tool to tighten or loosen.
Side-Access Chain Tensioner
The side-access chain tensioner makes it much more convenient for the user to adjust the saw chain with a bar wrench as opposed to the typical location of the guide bar adjustment screw.
Next, let's talk about axes! Axes are great for chopping down small tress and splitting wood. One company that knows what they're talking about when it comes to their axes is Fiskars. Here's three axes you should have in your arsenal…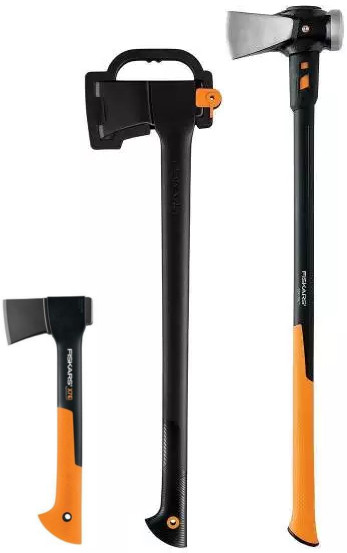 This splitting maul is a BEAST! At 8 lbs the IsoCore Maul is all you'll ever need for big splitting jobs. The IsoCore was engineered by Fiskars to reduce shock and vibration by 2X. So when you make contact with a log (especially in cold weather) your hands don't sting. This maul is also great for driving in wedges when felling a tree. The 8 lb forged steel head has a blunt end that drives wedges with ease. It's 36″ length provides a ton of leverage. Whether you're splitting seasoned or green wood the IsoCore is the maul for the job.
When you're felling smaller trees a good chopping axe is great to have on-hand. Or when you're deep in the woods without a chainsaw. The 28″ Fiskars Chopping Axe is deadly sharp from the factory and has some serious leverage – making quick work of small trees and even splitting wood in a pinch. The handle is virtually unbreakable and won't splinter like traditional wood handles.
This is the perfect companion for hikes and camping trips. The X7 Hatchet is able to go everywhere your chopping axe can't. We found this hatchet to be perfect for backpacking. We especially like having it around for splitting very small pieces of wood to make kindling for the fire. The back side is also perfect as a hammer for driving nails or stakes into the ground. This hatchet is something you might not need for felling a tree, but once the tree is down you'll love having it at your side to make quick work of branches.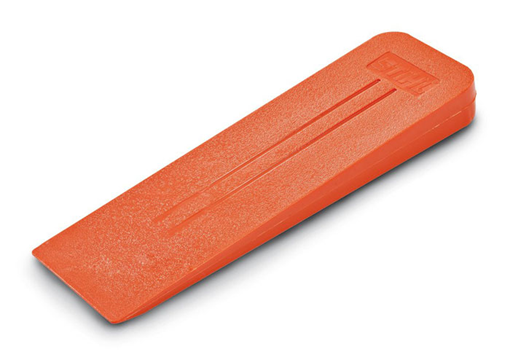 A wedge is almost as essential to tree felling and bucking as a chainsaw. When properly placed, wedges help keep the tree from pinching your chainsaw bar, and helps the tree to fall in the direction of the notch cut. With proper placement, wedges help keep the tree from falling backward or pinching your chainsaw bar. Like all STIHL products, these wedges can take a beating. STIHL wedges are made of high-impact polymer for long-lasting use.
When it comes to felling trees safety should be your #1 priority! Without proper safety equipment you shouldn't even begin cutting down a tree. Here's a list of proper PPE (personal protective equipment) you should invest in before dropping a tree of any size.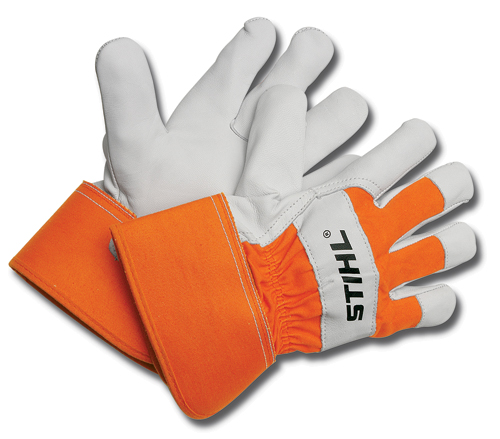 Steel Toe Boots: Logs are heavy and tend to roll and drop on your feet when you least expect it. To keep your feet save it is recommended that you lace up in some steel toes.
Chaps: Keep your legs protected from the chainsaw. You might think it would be hard to cut your leg open with a chainsaw, but it happens more often than you would think. A rugged pair of chaps will keep your legs safe for many tree fallings.
Gloves: A nice pair of gloves is a must. They will keep your hands clean and could possible save your finger.
Hearing / Eye / Head Protection: The best piece of equipment you can find for keeping your ears, eyes and head protected is Stihl's Woodcutter Helmet System. This helmet has earmuffs and eye protection built-in! Not only is this a really cool looking piece of PPE, but it is also very comfy too.
And there you have it! Nine tools and pieces of safety equipment you will need to properly fell a tree. Obviously there are more tools and accessories you can invest in, but these will get the job done and get it done safely. Happy cutting!
Products mentioned in this article were provided to Busted Wallet by Stihl and Fiskars for testing purposes.