Bigger is not always better, especially when it comes to run-and-gun type shoots.  As a filmmaker and adventure seeker, I am always looking for gear that'll perform and last in a variety of scenarios.  It's safe to say that we found an incredibly easy, fast, and durable solution for a lightweight camera jib.  The Feather Camera Crane is the most compact jib I have seen of it's kind.  I thought it was compact looking online, but when it arrived at my doorsteps I had no idea.  After unboxing it, I realized just how compact and light it really was (we're talking only 3.8 pounds).  But don't let the size fool you.  Extending from its compact length of 28 inches all the way out to 10 feet, it has a total 7 foot reach from the tripod and can hold up to a total of 10 pounds worth of camera and accessories.  Made of strong and versatile carbon fiber, this jib is light enough and small enough to fit right in my hiking pack.  So of course, after unboxing it, I threw it in my pack, hopped on my bike, and headed out.
Key Features:
10 foot Telescoping Boom – Constructed from 3k Carbon Fiber, which has a strong strength-to-weight ratio.
Adjustable Self-Leveling Camera Head – Maintains a smooth and consistent shot throughout large swooping motions.
Camera Crane Tower  – The core of this Jib which easily attaches to your existing tripod and/or fluid head's quick release plate for boom pivot and camera tilt using tripod arm.
Jib Control Handle / Counterweight Hanger – Makes it easy for you to manage the boom and capture smooth, fluid shots.
Micro Adjust System – Utilizes durable nylon webbing to make quick micro-adjustments to the angle of your shot.
 Black Diamond Carabiner™ – Strong & easy connection point between the Micro Adjust System and the Cable Slip.
Cable Slip – Quickly secures the Control Cable for different Boom lengths and it holds the cable in place during storage.
Control Cable – Eliminates the need for a second boom arm, thus lessening the weight of the crane.
Blue 6061 Anodized Aluminum Component Pieces with White Graphics – Offer a high strength-to-weight ratio and a corrosion-weather-scratch resistance.
Rock Bag – Used to stow your smaller Jib components & acts as a counterweight out in the field to eliminate the need for extra plates.
Tool-less Setup – Gives you the ability to easily setup and breakdown the jib in just minutes.
Feather Camera Crane Review Breakdown
Assembly & Construction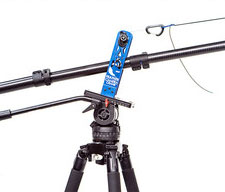 Setting it up for the first time was easier than I thought.  After all, everything is setup and broken down from two packable sections.  Once you have your tripod set up, you'll want to attach the Camera Crane Tower Assembly to your tripod head.  This piece is the pivot point of the boom and holds it in place.  After that is attached, grab the 10 foot telescoping boom and remove the last two sections.  You'll see a little hole where the pin from the Tower Assembly will attach, which creates the pivot point.  Once the pin is in place you can reattach the end section of the boom and extend out the rest using the flip-lock clamps.  I am definitely a fan of flip-lock clamps versus traditional screws, especially when you are out in the elements.  They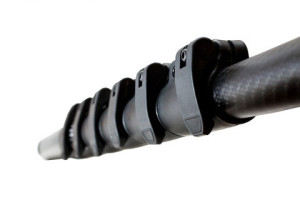 are much easier to use and handle.  The next step is connecting the cable system which I feared would not work as great as most standard solid bars.  My fears rested easy after I had attached it to the Black Diamond Carabiner located on the Tower Assembly.  The Carabiner is attached to a Micro Adjust System that can be used to tighten down the cable to the right tension.  Once the cable is taut, it holds the camera position like a champ.  The Control Cable is a Petzl™ which is sheathed with high strength synthetic fibers for  excellent abrasion resistance.  Plus it eliminates the need for a second boom arm that ultimately decreases your total weight load.  All that's left is to attach your camera and the counter weight.
[youtube http://www.youtube.com/watch?v=NfeXigqfshc?rel=0&controls=0&showinfo=0]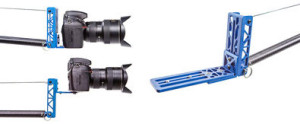 The Camera rests on the Adjustable Self-Leveling Camera Head.  The head maintains a consistent smooth and level shot throughout each jib motion.  Since I had some weight plates lying around, I used the  Jib Handle to slide them on and counter balance.  The included rock bag is also a great idea so you can pack even lighter and use the elements around you when you get there.  Depending which camera you use, you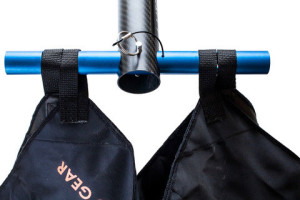 can get the optional extension plate (most smaller cameras and dslrs will fit fine without it).  When I had my Canon camera with a lens on, I used about 12.5 pounds of counterweight.  Right away I noticed a slight bend in the boom which had me a little nervous at first.  I quickly realized how strong the 3k carbon fiber was and was happily surprised by the responsive movement without any major wobble.  I also used a Black Magic Pocket Camera which only used about 5 pounds worth of camera weight and was even easier to use.
Although it is not required to use a fluid head with this jib, I highly recommend it so you can utilize the camera tilt option as well.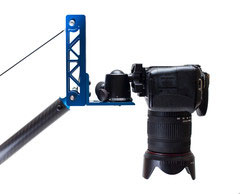 Another great solution if you have a camera without a flip screen, is to use a ball head mount so you can mount higher or on the underside of the mount for LCD visibility and even more viewable angles.
Operation
After the quick set up, I was jibbing in no time.  Like most jibs, once you have it perfectly balanced it becomes much easier to operate.  But because it is super light weight, any gust of wind can have some effect on your jib movements.  I did notice some side to side motion even though I had locked down my tripod's pan, so it'll take some practice time to really get a clean movement.  For more complex movements such as a pan and tilt with the tripod head it would have been nice to have a locking pin or knob to lock down the jibs vertical motion.  Overall, I did find it easy to operate but like I mentioned it will take some practice to perfect.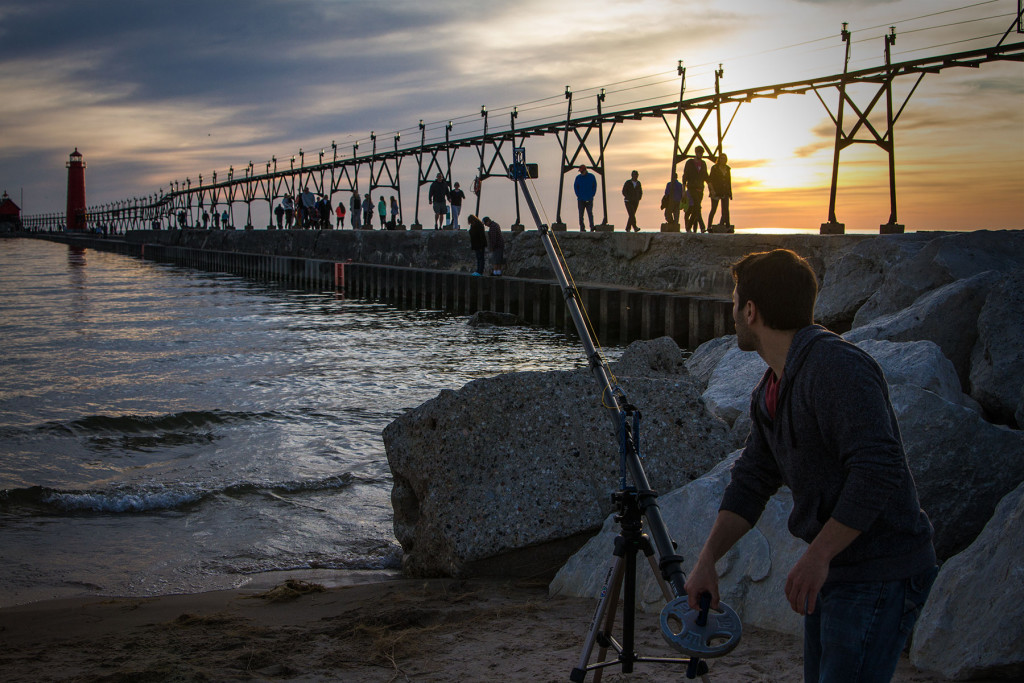 Bonus Features:
The Boom pole can also be used separately as a monopod, GoPro pole, or as a mic boom.  And because the Boom pole is made of carbon fiber which is corrosion free, the telescoping functions will continue to work effectively over time.
Value:
Compared to other smaller jibs on the market, it is priced pretty reasonably at $979.00.  When you factor in its compactness and durability I say it's a really good buy.  I'm sure you'll be happy if you make the investment.
Buy Now: $979 or to learn more, go to: LiteProGear.com
Feather Camera Crane - Gear Review
When you factor in how light, compact, and durable the Feather Camera Crane really is, you'll be happy to add it to your collection of mobile camera gear so you can get those creative and dynamic shots in those hard to reach places.
The Good
Fast and easy setup & breakdown
Compactness and packability is amazing
Made of strong materials for durability and rust resistance
Not so Good
Definitely takes practice to perfect movements
Would have liked to had some sort of locking pins for positioning