Diving into the world of boutique cigars can be a dangerous road to follow. There are so many popping up without a direction, only relying on great marketing and a cult-like following. On the other hand, there are producers like the Caldwell Cigar Company who has harnessed the knowledge and passion of founder Robert Caldwell, giving them all of the pieces for success. Crafting the 91-rated Eastern Standard with premium tobaccos, Caldwell showcases an appreciation for the top tier elements that go into the boutique cigar.
Caldwell Cigar Company was created in 2014 with a very simple agenda: to create special cigars using well-aged rare tobaccos and to enjoy the hell out of what we do. We are a business built on friendship and fun. Our goals will always be: Creation, Innovation & Ambition.  -The Caldwell Team
What's Inside:
Wrapper: Connecticut Shade x Brazilian Mata Fina (hybrid seed)
Binder: Habana Dominicano
Filler: Dominican Criollo '98, Dominicano Corojo Ligero, Nicaraguan Habano

 

Caldwell Eastern Standard – Review Breakdown
Construction:
The tightly wound Connecticut Shade and Brazilian Mata Fina (hybrid seed) wrapper started off a touch tight but quickly eased up. I was a little worried about how the tightness would affect the airflow and draw, but once the construction loosened up a bit, the craft in the construction really began to shine through.
Caldwell products are built using very well-aged and rare tobaccos. We use such aged tobacco to provide year-over-year consistency in flavor and experience. Tobacco is a crop just like everything else; It has its seasons. The best way to control consistency is to age the tobacco for a very long time. We have always leaned towards tobaccos that were harder to procure or more limited in nature so that we can deliver a flavor that isn't quite what you are used to. -The Caldwell Team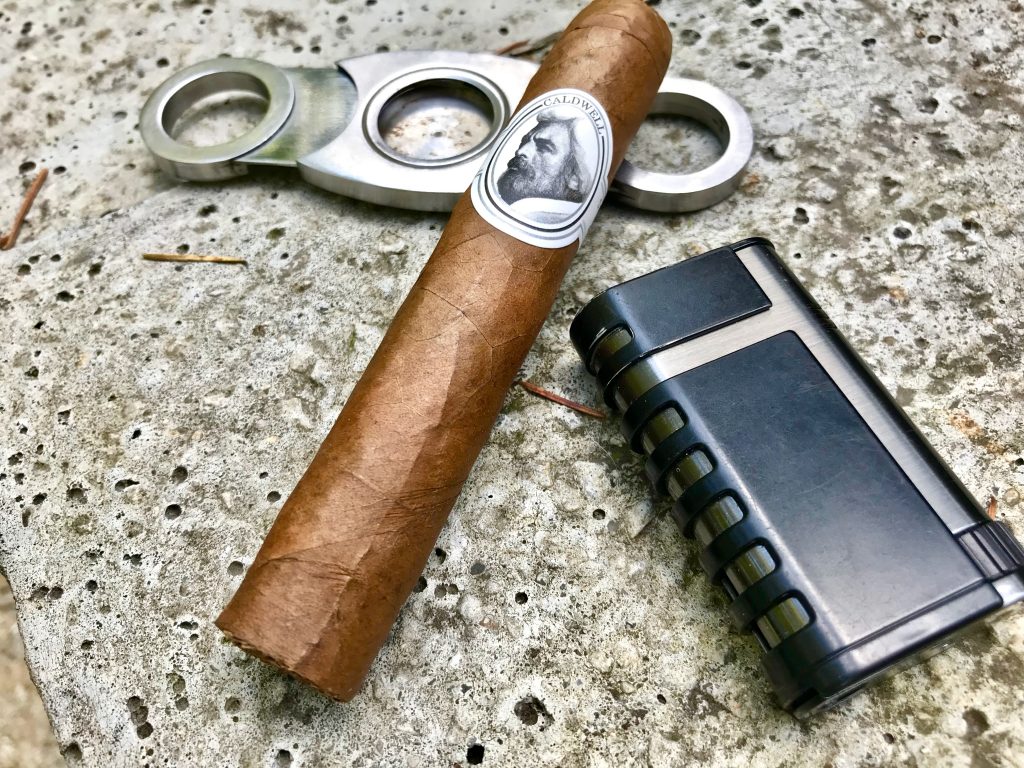 Draw:
Overall, the draw was outstanding. While the cigar may have started off a touch tight, the smoke and air were able to break through, creating a nice medium pull until the finish. After the initial stiffness, the rest of the first cigar mellowed out into an easy, enjoyable experience.
Burn:
This was the only part of the cigar that I had trouble with. Admittedly, I smoked this cigar after the weather had just dropped from the 70s to the high 50s, but the burn had to be corrected several times. Once it was corrected, the cigar stayed on a pretty straight burn course for a while before needing another helping torch-wielding hand.
Aroma:
Prelit :
Dark Roast Coffee
Burnt Leather
Toasted Nuts
Lit: 
Dark Cocoa Nibs
Burnt Toffee
Espresso
Flavor:
Simply put, the Eastern Standard does not lack for flavor. As soon as you light this boutique stick up, you get hit with a blend of black pepper, freshly roasted dark coffee, bitter cocoa nibs. Slowly, the flavors calm down and meld into some herb notes with wood and a slightly sweet finish. Overall, this is a great medium-bodied cigar that showcases a balanced flavor profile with some spice and sweetness.
Value:
This cigar is not for the faint-hearted or those looking for a simple, mild smoke. Filled with complex notes, and medium/full-bodied flavor punch, and a price tag of around $10 per-stick, it is definitely worth it. If you're in the market for bigger, bolder smoke, then treat yourself to the Eastern Standard from Caldwell.
Grab a 5-pack of the Eastern Standard for $47.50 here
Eastern Standard by Caldwell - Cigar Review
The Eastern Standard starts off big and bold, then mellows out to a medium-bodied cigar. While it needed some correcting on the burn, it showcased some great flavor and draw.
The Good
The construction allowed the cigar to shine.
Flavors definitely evolve as the cigar burns.
The aromas of leather and coffee paired perfectly.
The Not So Good
A little pricey.
The burn had to be corrected a few times.