Matured in handcrafted Spanish sherry oak casks for a minimum of 12 years before being married and bottled, The Macallan 12 year is a single malt scotch whisky that's produced in the heart of Speyside at one of the first (legal) distilleries in all of Scotland dating all the way back to 1824. Utilizing pure spring water sourced from the depths of the Macallan estate, locally grown barley and uniquely small copper stills, the distillation of Macallan Whiskys is made possible. Today Macallan is the second largest-selling single malt in the world. Their ability to produce luxury grade whiskys and market themselves have made the Macallan name a global success and household name.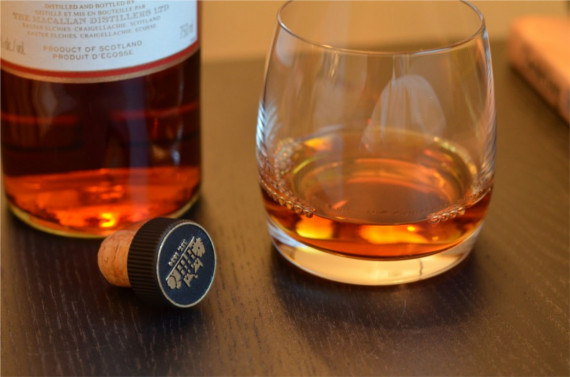 Did you know? In 2007, a bottle of 1926 Macallan was sold at a Christie's auction for $54,000, making it one of the most expensive bottles of liquor ever sold. And then… in 2010, a bottle of  The Macallan 64-year-old single malt whisky in a one-of-a-kind "Lalique: Cire Perdue" crystal decanter was sold for $460,000 at an auction at Sotheby's in New York City. With all proceeds from the sale donated to charity.

A few weeks ago we were given the unique opportunity by our pals at the Macallan Distillery to sit down at the tasting table with a bottle of Macallan 12 year and put it through the paces. Our goal, as always, is to point out the positives and shed light on any negatives a specific spirit may have. After an hour of swirling, smelling and sipping and sipping some more we quickly realized (spoiler alert!) we wouldn't have much negative to share…  
– THE REVIEW –

Proof: 86 (43% ABV)
Age: 12 years
Nose: Vanilla, dried fruit, caramel, slight woodiness and smoke
Flavors: Dried fruits, sherry, wood smoke and spice
Taste: A- (Excellent)
Mix–ability: N/A (mixing this fine whisky would be a sin)
Buzz Factor: A- (Excellent)
Price: $49.99 USD (750ml.)
  Overall: We give The Macallan 12 Year an A (Highly Recommended) This is an excellent scotch for both new comers and veterans to the whisky arena. Its slightly sweet profile is welcoming and easy to sip. We found the longer you sip on the Macallan the better it gets! While we'd never encourage you to mix such a fine whisky, we do advise pouring it on the rocks or adding touch of water to mellow the overall experience if necessary. During our tasting and review session with Macallan 12 we greatly enjoyed its fragrant aromas, complex yet light body and warm smooth finish. Whether you're in the market for a trusty night cap or new go-to stogie smoking scotch we wholeheartedly recommend The Macallan 12 year.   
MIX IT UP WITH… "Ice Ice Baby"
Ingredients: 4 oz. The Macallan 12 year and 3 large ice cubes.   Directions: Pour The Macallan over ice in a low-ball glass. Swirl, sip and enjoy!   Buy Now: $49.99 or go to: TheMacallan.com