Named after the Kentucky legend who started it all, Jacob's Ghost White Whiskey is Jim Beam's latest and most unique whiskey to-date. You see, Jacob's Ghost isn't quite moonshine and it isn't exactly white dog whiskey either… so what the hell is it? Well, Jacob's Ghost at its roots is based off the original Jim Beam formula that we all know and love. It's then aged in new charred white oak barrels for precisely one year before it's finished off with a proprietary filtering process which actually strips away the dark amber coloring that's typically associated with most Jim Beam bourbons and whiskeys. The end result is a semi-clear (Jacob's Ghost has a slight tan hue to it) 80-proof white whiskey that is said to draw flavoring from the oak barrels in which it is aged and offer a lighter body that's versatile in a way that traditional whiskies aren't.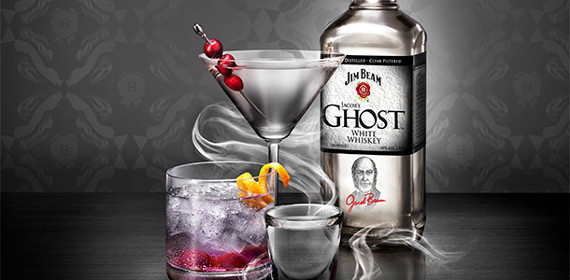 Photo Credit: Jim Beam  
Jacob's Ghost represents both our past and our future, it's a tribute to my family's ancestry and our first distiller, while also showing our chops at innovation by perfecting what Jacob first created into a whiskey that's unlike anything out there today. -Fred Noe, Jim Beam's Master Distiller
    Results from a recent tasting study preformed by Jim Beam indicate that Jacob's Ghost was the company's highest performing whiskey concept ever tested, with 77% of whiskey drinkers and 70% of vodka drinkers claiming that they would "definitely or probably" purchase Jacob's Ghost. After finding these results a few weeks ago, we knew we'd probably have to definitely set up a tasting session with our buddies in Clermont, Kentucky at the Beam distillery. So we did… and here's the results!  
– Jacob's Ghost White Whiskey Review –

Proof: 80 (40% ABV)
Age: 1 year – in new charred white oak barrels
Nose: vanilla, oak, corn and grains
Flavors: oak, honey, vanilla, spices
Taste: B+ (Very Good)
Mix–ability: A (Amazing)
Buzz Factor: A- (Excellent)
Price: $21.99 USD (750ml.)
  Overall: We give Jacob's Ghost an A- (Highly Recommended) On the nose this young whiskey delivers a rather fierce oak and alcohol laced aroma, but don't let that scare you off – because this whiskey is much lighter and smoother than the initial "sniff test" would lead you to believe. In fact we found Jacob's Ghost to be quite palatable when served on the rocks or with a touch of water. If you like your whiskey neat this incarnation of Jim Beam probably isn't for you, but if you like it mixed you're in for impressive experience. When mixed this white whiskey truly shows it strengths and possibilities. Simple drinks like whiskey and soda taste fantastic with Jacob's Ghost. We even found that vodka based drink recipes can be easily and almost universally interchanged with Jacob's Ghost. If you're a Jim Beam fan or a fan of Kentucky whiskey/bourbon we suggest you get your hands on a bottle of this stuff ASAP!
MIX IT UP WITH… "Beam Me Up!"
  Ingredients:  3 oz Jacob's Ghost White Whiskey, 1 oz pineapple juice, 1 oz orange juice.   Directions: Pour Jacob's Ghost, orange juice and pineapple juice in a shaker, and shake well. Pour into a highball glass with ice, garnish with an orange slice, serve and enjoy!   Buy Now: $21.99 ($USD) or go to: JimBeam.com   Follow BustedWallet on: Facebook & Twitter