Back in 2019, I had the opportunity to test out the Allpa 35L, and I was impressed. After several domestic trips – some short, some long – I came to the conclusion that I loved the bag's features, but felt that it was just a tag too large for weekender trips. Especially summer weekends where layers aren't needed like the winter. 
So, logically, I got my hands on the Allpa 35's little sibling – the Allpa 28L. I know what you're all thinking, does 8L really make that much of a difference? 
In a pack that does not have any external load adjustment cinch straps, it matters. An under-packed Allpa 35L feels (and looks) deflated and can suffer a case of cargo shifts. 
That said, I am not a fan of the load extender straps. They snag on everything and give bags a messy look. Personally, I'd rather own two sizes of the Allpa series than complain to Cotopaxi about a lack of adjustment straps. 
So that's exactly what I did; I went with two! Due to the smaller size, this pack is a lot easier to fill up, so the structural integrity point is not a concern.
Keep reading to see how the 28L stacks up to its big sibling in this Cotopaxi Allpa 28L Travel Pack review.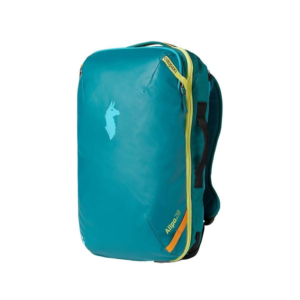 Cotopaxi Allpa 28L Key Features
Carry-on-compatible 28L capacity

Suitcase-style, full-wrap zipper opening on the main compartment

Padded side accessible laptop and tablet sleeve

Shortcut zipper to main compartment

Top zippered pocket

Security/"locking" YKK zippers

Carabiner lash loops

Stowable straps

4 reinforced grab handles

Included rain cover
Cotopaxi Allpa 28L Review Breakdown
Design: 
As I alluded to in the intro, I was initially drawn to the Allpa series by the streamlined design. Minimal adjustment straps and no water bottle holders, mesh pockets, etc. make this bag both aesthetically pleasing and durable. There's less to get snagged, rip, and deteriorate over time. The straps and tabs included are added for the sake of necessary functionality, and that is true on both sizes – the 28L and the 35L reviewed previously.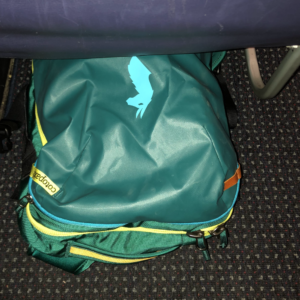 Like the 35L, the 28L has the same durable, TPU-coated outer fabric. It is a little bit shiny, a lot a bit grippy, easy to clean, and water-resistant. In this smaller size, I've found the TPU side prevents the bag from sliding around on buses/trains. Backpacks in this carrying capacity don't have the weight to stay put during motion, so the TPU is a definite practical advantage in more than one way. 
Speaking of buses and transportation, the 28L easily slides under airline seats. Yes, even on those anxiety-inducing tiny planes for short-haul connections – the 28L fits!   
Storage: 
At 28L, the Allpa is the size of your average backpack or day bag. It's fantastic for overnights and even better for long weekends when you can pack light with summer clothes. It is a weekend warrior through and through. 
Like its larger sibling, it has an external front pocket for quick access items like keys, wallet, headphones, and more. A clamshell design allows the Allpa to open flat like a suitcase. The internal mesh, zippered organizers are familiar and incredibly useful for keeping items grouped. There are two main differences between the two sizes:
Smaller internal zippered pockets – the 35L has two smaller ones, the 28L has one wider one.

Quick main pocket access – the 35L has a zipper that runs the length of the bag that allows for quick access to the larger zipper organizer inside the main clamshell. The 28L instead has a small accessory pocket.   
My favorite part about the internal organization is the ability to stuff my workout/hiking/sleeping clothes in with a pair of sneakers vs. having my sneakers brushing around with my dinner clothes.
Saving the best for last, the Allpa 28L has a side access laptop sleeve. Gone are the days of unzipping the main pocket of your favorite high school backpack to get to your laptop. Unfortunately, neither the 28L nor the 35L has a false bottom for drop protection, so I do keep my MacBook in its sleeve during travel. 
If I had one suggestion, it would be to add two adjustable loops on one side of the bag. These loops also allow you to sneak another item through without sacrificing carry-on restrictions – just pop it on while boarding the plane then keep it in your lap through takeoff. 
Strap System: 
The strap system is just as phenomenal as the 35L. It is completely customizable and completely stowable, which on a weekender bag is extremely important for light travel. With continued restrictions on bag size limits, tucking away Allpa's straps makes for easier under-seat stuffing.
The plane isn't the only place stowable straps are helpful – going through security is a breeze with the straps tucked, you'll see no snags on the rollers or x-ray machines. 
Cotopaxi outfitted the Allpa 28L with 4 heavy-duty suitcase-style carrying handles. No matter the strap configuration or ground position, the Allpa is ready to be picked up. I've found these carrying handles extremely helpful when packing up for a road trip. With a handle on all 4 sides, it's easy to push, pull, and place the Allpa 28L amongst other gear.  
Comfort: 
Cotopaxi did an excellent job incorporating comfort into this pack. The shoulder straps are thin in comparison to the competition, but their contoured shape and easy-adjust chest straps help distribute weight well.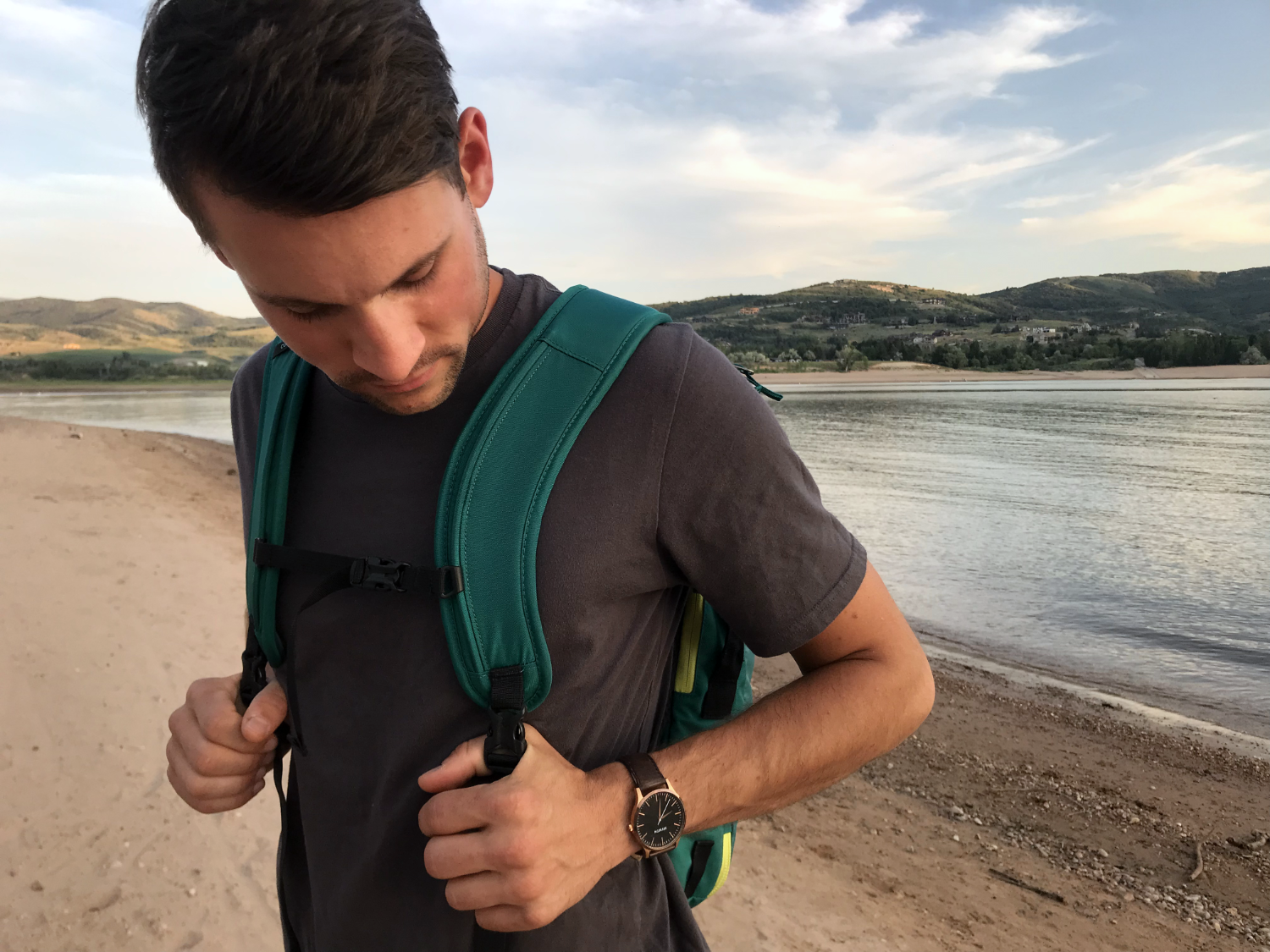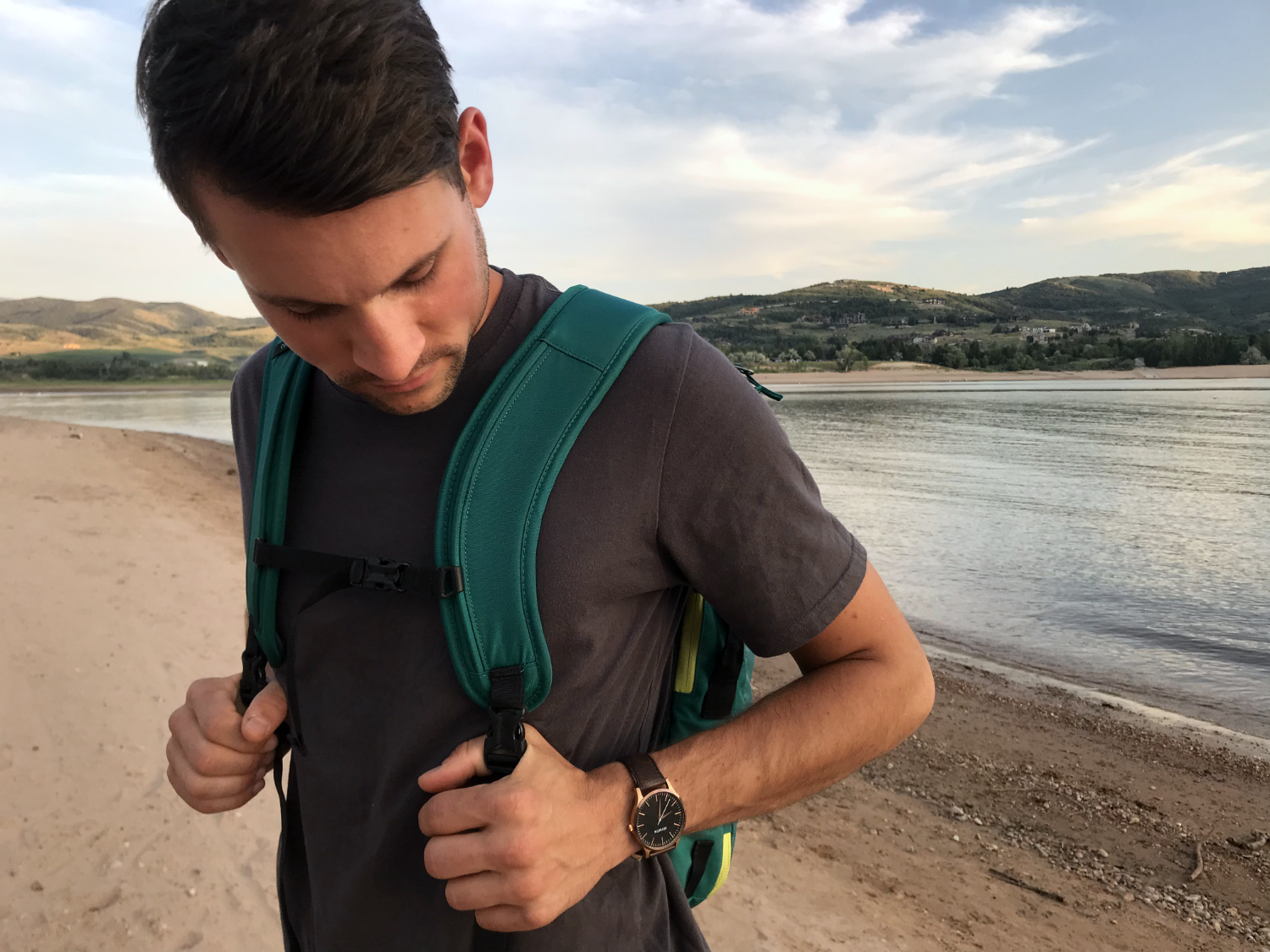 Cotopaxi included a very plush back lining which I appreciated while walking through the airport. Bags in this class tend to skimp out on the back padding to shave weight and unpacked volume, but Cotopaxi stayed true to customer needs here. 
Durability & Value: 
With a TPU laminated front panel, reinforced stitching throughout, oversized zippers, and high-quality materials, the Cotopaxi Allpa 28L is built to tackle your worst. From rickshaw rides to airport floors to green park grasses, throw the Allpa 28L TPU side down, and you'll have no problems. Just give it a quick brush off when you're through.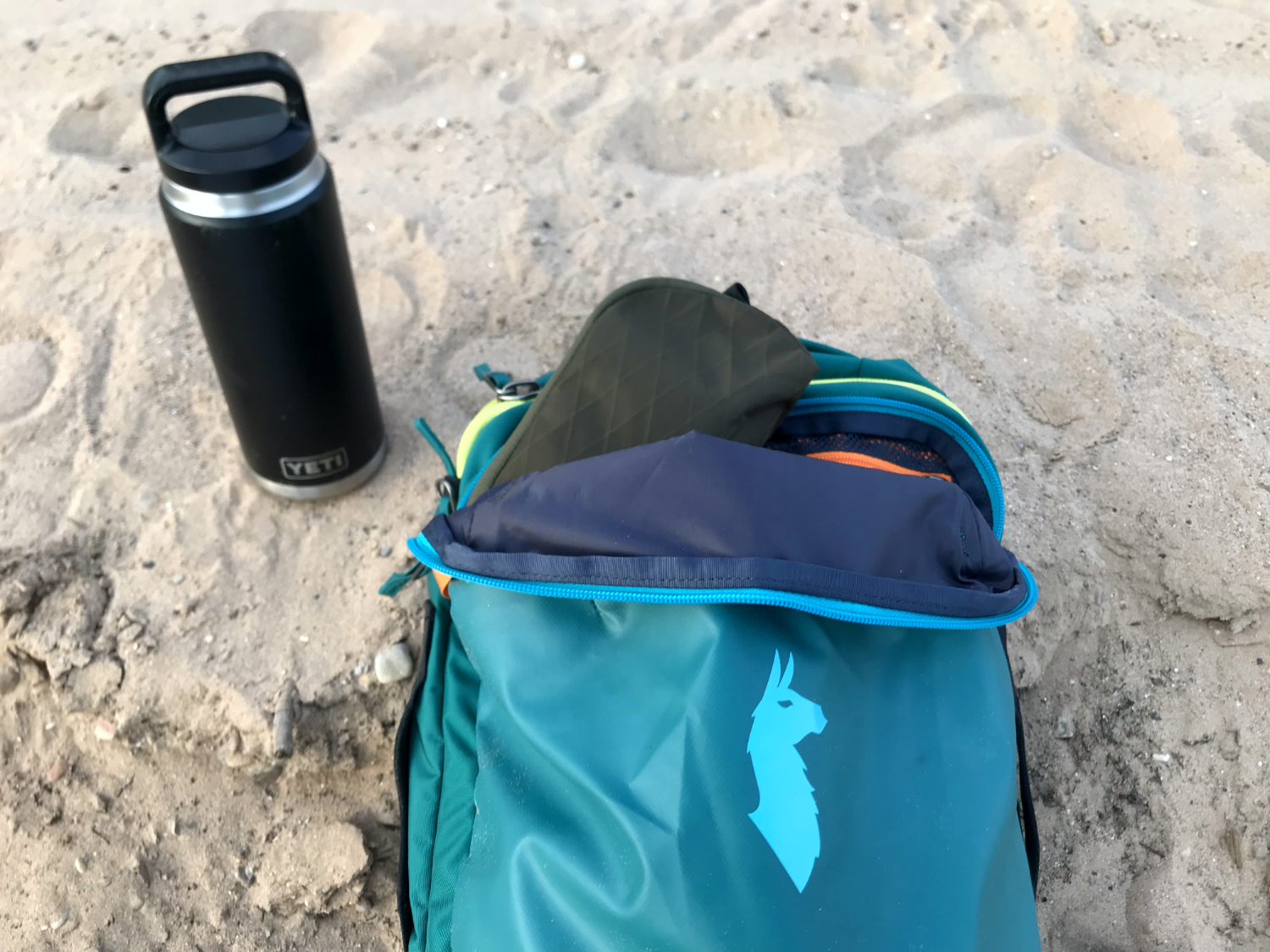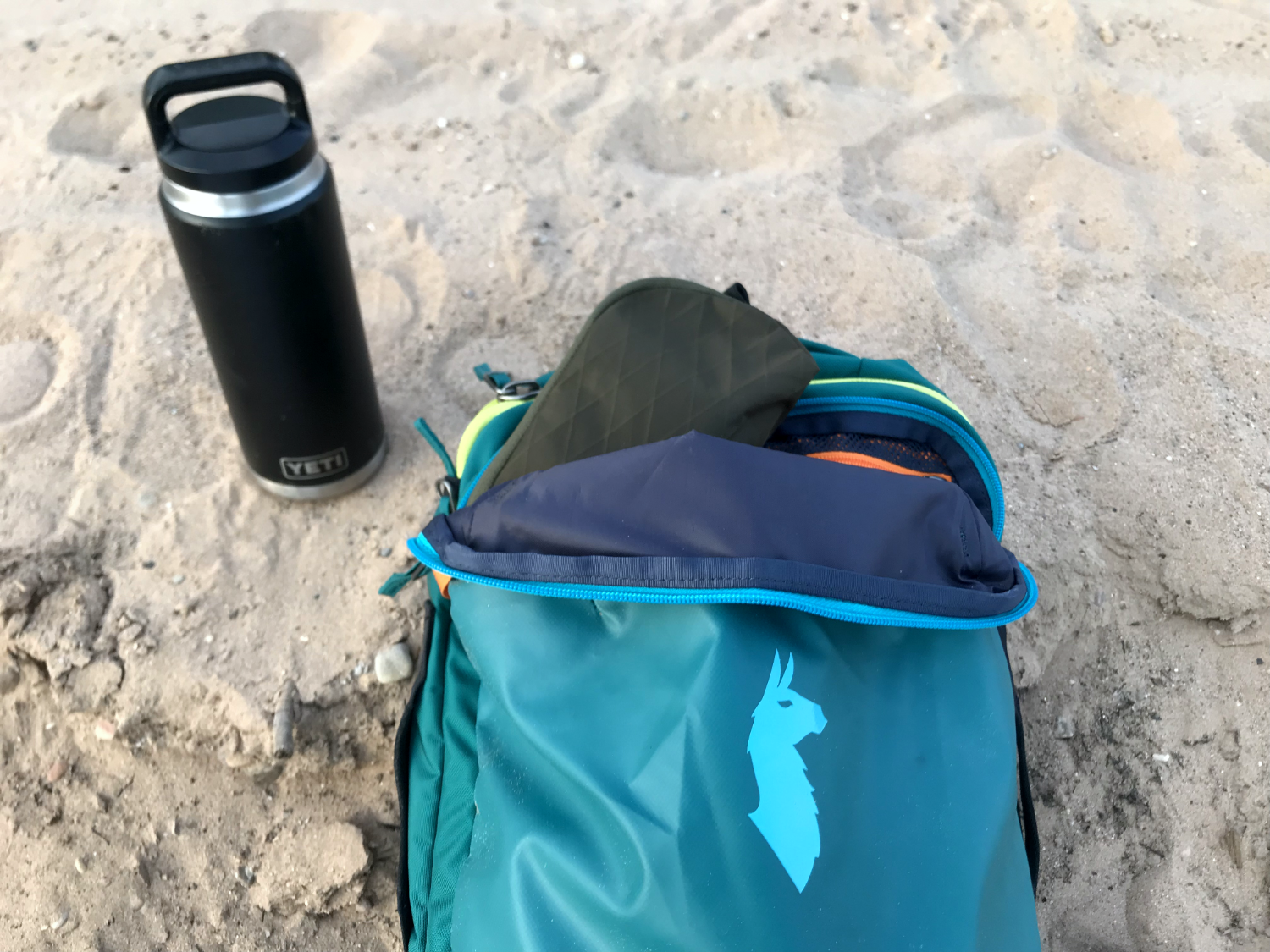 At $170, the Allpa 28L falls in the middle of the pack price-wise. If you're looking for an organization-heavy, travel-specific pack that sacrifices weight for features (and doesn't look like a high schooler's backpack), you absolutely cannot go wrong with this offering from Cotopaxi. It'll handle your day-to-day commute, gym stops weekend adventures, and everything in between.
Buy now: $170, or browse all Cotopaxi products – they have apparel & outerwear, too!
Cotopaxi Allpa 28L Travel Pack - Gear Review
A weekend warrior pack thoughtfully designed with a collection of organizational features. Out pricing your typical backpack, the Allpa 28L is a worthy investment with highly durable materials and reinforced stitching all throughout.
Durability & Performance
10
THE GOOD:
Suitcase-style opening
Side access laptop sleeve
Stowable straps
THE NOT SO GOOD:
No webbing loops or adjustable buckle loops