The Cotopaxi Allpa 35L – a crazy name for a pack with big game. Sporting a suitcase-style main zipper compartment, a side zipper laptop sleeve, stowable straps, and "locking" zipper pulls, this bag has many thoughtful features setting it apart from other weekend warrior packs.
The Allpa 35L comes in many vibrant colorways delivering a unique look that will also aid your luggage search if this bag ever ends up checked. Pairing eye-catching color combinations with a 1% donation of all profits to poverty alleviation, Cotopaxi has created a truly unique product line with a cult-like following. 
Cotopaxi Allpa 35L Key Features:
Carry-on-compatible 35L capacity

Suitcase-style, full-wrap zipper opening on the main compartment

Padded side accessible laptop and tablet sleeve

Shortcut zipper to main compartment

Top zippered pocket

Security/"locking" YKK zippers

Carabiner lash loops

Stowable straps

4 reinforced grab handles

Included rain cover
Cotopaxi Allpa 35L Review Breakdown
Design:
The Allpa 35L is an attractive bag with obvious durability. The outermost face fabric is a tough, TPU-coated 1000D polyester fabric – it has a slight sheen, but will shed spills and light rain like a champ. If you're caught in a pinch (or forgot the included rain cover) just flip the bag straps down for a bit of weather protection.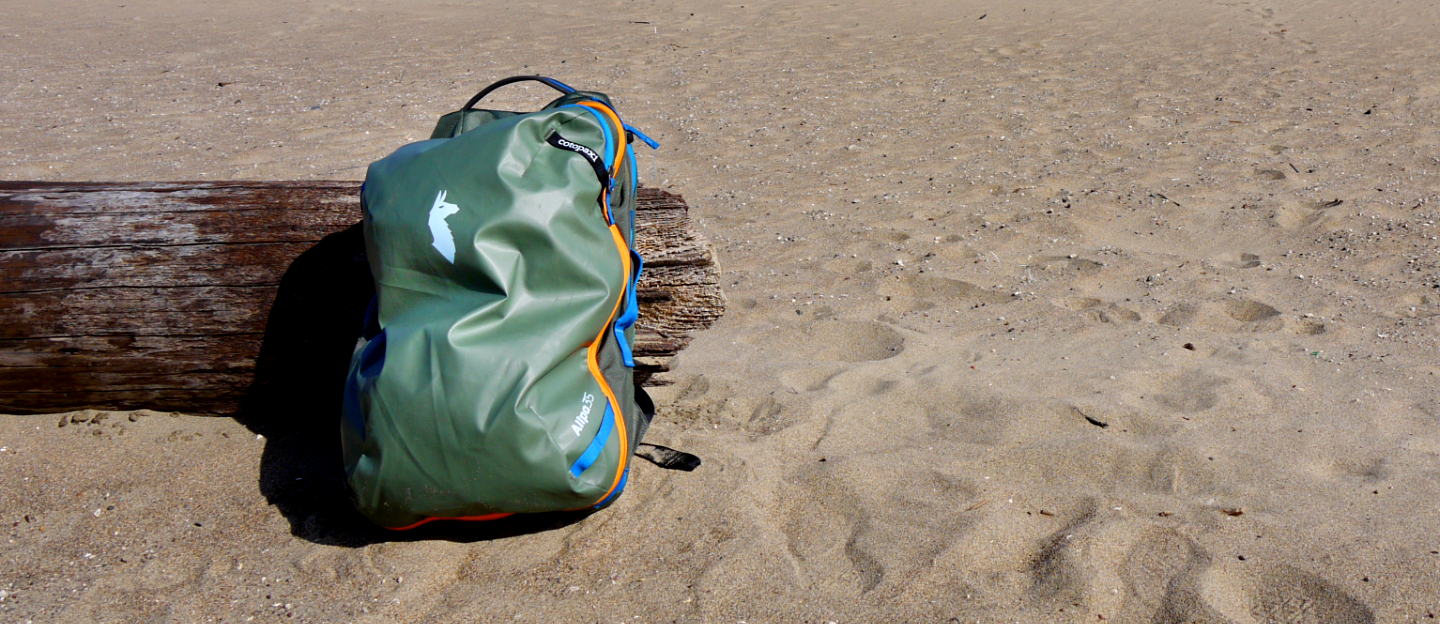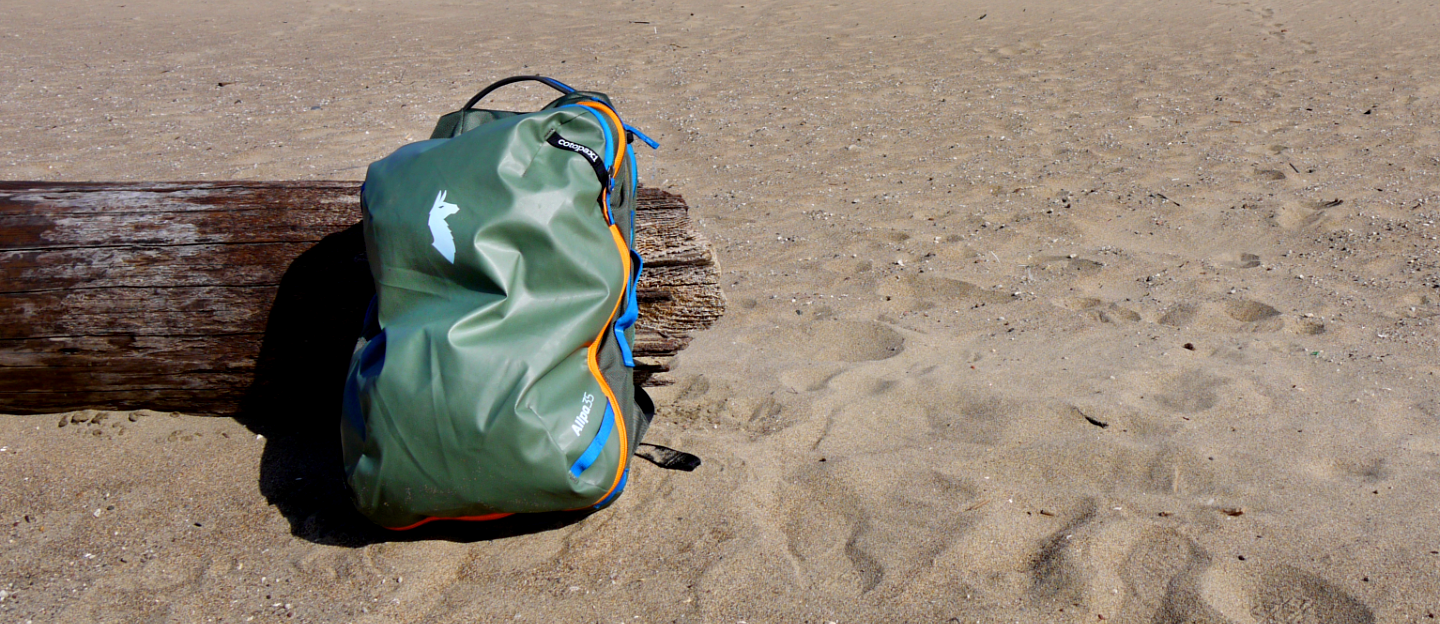 A secondary benefit of the TPU coating is grip; if placed straps up, this bag will not slide around like traditional backpacks or rollers due to the grippy plastic treatment. 
One downside to this bag design is the lack of adjustability/compression for lighter loads. When half packed, it lacks structural integrity – especially if the top zipper pocket is full but the bag's insides aren't. While this is not a make or break point, it does warrant some thought when planning which bag to take along on your next trip. 
This bag also fits under most standard airline seats, but doing so will limit foot space. The only it did not fit under the seat was on a small connection flight in which the plane had less than 25 rows; it did fit in the overhead bin, however.
Strap System:
Many bags have stowable straps, but lack execution on the design. Cotopaxi did a really nice job providing a fully featured strap system sporting nicely padded shoulder straps and a hip belt that is actually useful while still allowing for easy storage.
To stow the straps, the shoulder pieces break away at the bottom of the strap and tuck into the top of the back padding. The hip belts tuck into the bottom of the back padding and run horizontally across the lower back when stowed. 
I tend to keep the hip belts stowed, and found the method for the most comfort is aligning with opposite angles to one another and letting the buckle ends dangle outside the back padding. This creates a level plane across the lower back and adds extra padding. The picture below demonstrates how I align the hip belts underneath the back padding.
Comfort:
Due to the fully featured strap system outlined above, this bag remains quite comfortable for all-day wear. Most stowable strap systems lack proper padding and feel flimsy or include webbing-only hip-belts which end up rubbing and digging causing more problems than they're worth.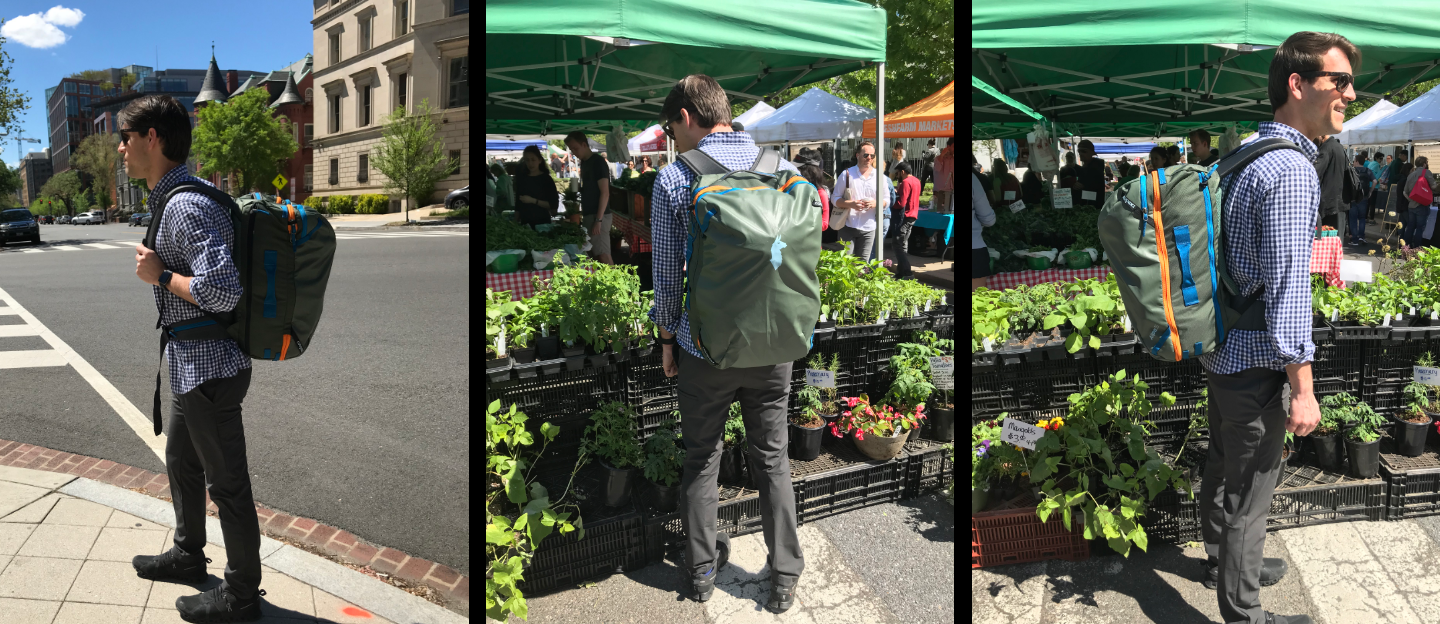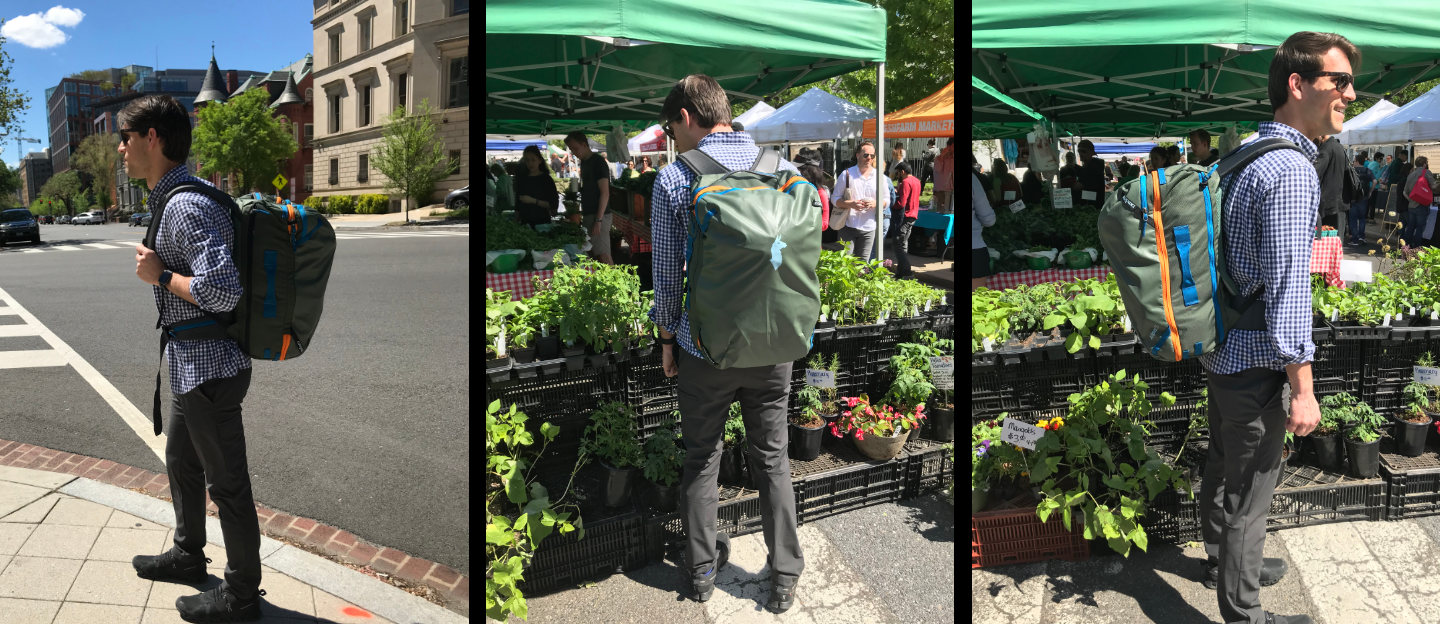 The Allpa 35L does not suffer from either of those issues. The straps are comfortable with proper padding that conforms to your shoulders. There is an adjustable chest strap that easily slides up or down on both sides for quick changes on the go when tightening or loosening the shoulder straps. 
If packed properly, this bag also distributes weight nicely. I am roughly 5' 10" and find that I have to let the bag hang pretty low to use the hip-belts, otherwise, they act as a waist belt preventing bag movement more than anything. I try to keep heavier items towards the back of the pack (the side where the shoulder straps are attached) and lined up at the bottom. This positions the majority of the weight down the lower back as opposed to hanging heavy at the shoulders. 
Storage:
As long as you're not trying to stuff a sleeping bag in this pack, it'll be good for a long weekend in the winter months and a week in the summer months. The suitcase style, clamshell design makes organization a breeze; the bag can be packed with a strategy in place rather than stuffing everything in one main compartment. 
Gone are the woes of digging for that sweater you thought you packed at the top for when the plane gets cold. 
This bag includes a side entrance "shortcut" zipper that allows for quick access to the larger compartment – I usually stuff my puffy/rainwear right where that zipper is for quick access.
On top of the clamshell opening, this bag has tons of "nooks and crannies" for storage of small items like watches, chargers & cables, SD cards, books and more. I do find that some of the pockets inside the bag are often just too small to be useful, and I tend to leave them empty. The organization inside the front zipper pocket is nice, though. 
The laptop sleeve sits outside of the main compartment and is accessible via a side zipper. This is one of my favorite features of the bag. It is so easy to slide my 13" MacBook in and out of the padded compartment while sitting at layovers or on long plane rides. There is also no repacking or shuffling needed since the sleeve is independently placed. On traditional backpacks, I find myself jamming my hand into the laptop sleeve first to push bag contents forward while simultaneously wedging the laptop in – this is especially painful when getting items together after TSA, but worry no longer with the Allpa 35L!
One last storage feature that is seriously underrated is Cotopaxi's security webbing zipper loops. The Allpa's zipper pulls can be tucked behind a small webbing loop that prevents "zip and rip" pickpocketing. It creates just enough of a barrier that you'd notice someone pulling at your bag before it was too late. 
Durability & Value:
The Allpa 35L is made to be handled. It has strong zippers with great feedback, a TPU treated front panel that can withstand plenty of abrasion, heavy duty materials, and reinforced stitching everywhere you look. This is a solid bag; you'll know it the moment you pick it up. All of this durability does come at a cost (in weight) as the bag is nearly 4lbs without contents. 
It's not the lightest feature conscious travel backpack on the market, but it'll outlast most of them and, for that reason, is worth every penny. 
Buy now: $200 (without accessories), or browse all Cotopaxi products – they have apparel & outerwear, too!
Cotopaxi Allpa 35L Travel Pack - Gear Review
A fully-featured travel backpack with exceptional durability and build quality. With a handful of thoughtful features, this bag offers great accessibility and organization at cost in weight. For one-baggers or ultralighters, this bag won't fit the need, but for the average organization-minded traveler, this bag is a great option.
THE GOOD:
Suitcase-style opening
Side access laptop sleeve
Stowable straps
THE NOT SO GOOD:
Heavily branded
Bold colors (may not suit everyone's taste)