We are no strangers to reviewing Chrome Industries gear.  In fact, Chrome Industries is personally one of my favorite apparel companies because their products are always stylish, simple, and extremely durable.  Built to last, the Spring/Summer '17 Collection is no different than previous years.  With their continuous focus on creating products that will last season after season, Chrome Industries is quickly becoming a company favorite among those who look for quality in their clothing, footwear, and bags.  Luckily for us, Chrome hooked us up from head to toe with a great line-up.
Skyline Windcheater Jacket
Key Features:
Shoulder Venting
Water-resistant zippers
Adjustable bottom opening and cuffs
Utility hand pockets
Pass-through back pocket
Reflective drawstring and locker loop
If there was ever a jacket to withstand the rapid change in weather while living near the lakeshore of Lake Michigan, it would be the Skyline Windcheater Jacket.  Designed for the temperamental weather fluctuations in springtime, this jacket is a result of when "Form meets Function".  Whether you are city bound or taking a hike along the beach, the 100% Polyester wind-blocking liner is a key feature in helping to keep you comfortable.  Toss in the water resistant 65% polyester and 35% cotton shell, and you have the comfort and protection you need to stay dry and warm.  Of course when you are out and about, biking or hiking, you will need some features that allow for adjustments to help regulate your temperature and comfort level.  The shoulder venting is an excellent feature as well as the articulated cuffs for full coverage while cruising on your bike. The athletic fit helps keep the material where it should be, and not flapping around creating resistance. What is Chrome gear without the signature Pass-through back pocket? The Skyline Windcheater Jacket has this plus utility hand pockets, water-resistant zippers, and reflective drawstring and locker loop.
Buy Now: $112.50 (25% off) or to learn more, check out: www.chromeidustries.com
Key Features:
Rib inserts at back raglan for improved mobility
Two exterior kangaroo-style pockets
Reflective drawstrings
Custom rib at cuffs, waist, neck and side seam panels
Reinforced raglan seams
Triple-needle stitching
YKK black oxidized metal zipper
Thermolite® Poly/Cotton blend
French terry loop interior
There is nothing better than a comfy hoodie that not only has a great look, but also has high-performance features that make it a must have while packing for weekend adventures.  Similar to the Skyline Windcheater Jacket above, the Hawthorne Zip Hoodie also has a poly/cotton face that helps shield the wind.  The durable material is also super soft and has an interior loop terry that is knit with Thermolite® to help keep you warm and dry, even when the weather shifts from 'chill' to 'seriously?'.  This is my second hoodie that I have personally reviewed from Chrome and definitely my favorite. After several wash and dry cycles, the Hawthorne Zip Hoodie has kept its size and comfort.  It always makes its way into my "go" bag when heading out for a long day of random adventures.
Buy Now: $101.25 (25% off) or to learn more, check out: www.chromeidustries.com
Key Features:
Reinforced seams
Triple-needle stitching
Chest patch pocket with pencil slot
100% dry combed cotton
Pre-shrunk
I can only hope this was named after one of my favorite TV shows "Dexter"; the Dexter Pocket Tee is classic, simple, and comfortable.  Right out of the package this Tee is pretty thick and heavy to the touch.  However, after a couple of wash/dry cycles it had a much better fit and feel to it.  Anytime I grab a 100% Cotton shirt, I always look for the "pre-shrunk" label (if it is a good fit to begin with).  Luckily the Dexter Pocket Tee is pre-shrunk and keeps its size and durability thanks to the triple-needle stitching and reinforced seams.  The chest patch with pencil slot is a nice finishing touch on the classic Tee look.
Buy Now: $22.49 (25% off) or to learn more, check out: www.chromeidustries.com
Key Features:
6-panel, 4 pocket design
Full-length seamless double layer crotch for on-the-bike comfort
Reinforced triple-needle flat felled seams
Flat seam, floating rear pockets
5-bar webbing u-lock holster
Reflective rear patch for visibility
Reinforced belt loops
Matte black hardware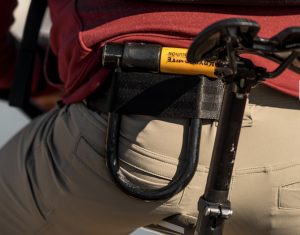 The Folsom Short 2.0 are a shorter alternative to the Union Shorts that we reviewed last spring.  Although shorter and slimmer, I'm still a fan of the original Union Shorts.  For me, the Folsom Short 2.0 didn't have as much comfort as the Union Shorts, but the Folsom does have a great level of durability.  So if it's on the go, ride hard type of durability you're after then I would suggest the Folsom Short 2.0.  If you're after comfort and normal wear, then I would go with the Union Shorts.
The Folsom Short 2.0 has a 6-panel, 4 pocket design which is great for stowing away your phone, wallet, keys, and other accessories. It also has a built in five bar webbing U-lock holster that is made out of the same seatbelt material as the Chrome bag straps. So with the reinforced triple-needle stitching, that holster is made to carry the weight and built to last.
Buy Now: $90 (25% off) or to learn more, check out: www.chromeidustries.com
Key Features:
Forged Rubber™ sole fused directly onto the upper at 300°F and 30 psi for superior durability
Signature reflective heel for night visibility
Antimicrobial sock liner for odor resistance and wearing without socks
Made in Thailand near the rubber tree farms where the rubber for the sole is harvested
12oz fire-hose canvas uppers for durable, breathable comfort
Contoured impact-resistant PU footbed for all day comfort
The Dima Sneaker is a hand made, one at a time, slip-on sneaker that has the look and feel of a traditional sneaker, but built army tough. Like all of Chromes shoes, the Dima Sneaker is built to last without compromising comfort and style.  I found these sneakers easy to slip on and wear with and without socks. For the days without socks, their is an antimicrobial sock liner with quick-dry contoured footbed to help keep your foot and sneaker fresh. The signature reflective heel is always great to have while riding your bike at night and the fire-hose canvas uppers help add another layer of durable/breathable comfort and style.
Buy Now: $63.75 (25% off) or to learn more, check out: www.chromeidustries.com
Key Features:
Naturally wicking fabric for ultimate freshness
Tubular knit with an ultra soft terry loop foot bed
Jacquard Chrome Griffin logo pattern
85% Peruvian cotton / 12% Nylon / 3% Spandex
As great as Chrome shoes are, you would be doing yourself a disfavor, if not to pair your feet with a pair of Chrome socks.  The Larken Crew Socks were my top choice for looks, but the level of comfort was definitely an added bonus.  The tubular knit with ultra soft terry loop foot bed provides some sweet comfort while the naturally wicking fabric helps to provide freshness after a long day walking or biking.  The 85% Peruvian cotton is super soft and the 12% nylon and 3% spandex help the socks to stay in place and not lose form.  Overall, I was pretty impressed with Chromes attention to detail, all the way down to their socks.
Buy Now: $10.50 (25% off) or to learn more, check out: www.chromeidustries.com
Chrome Industries - Spring/Summer '17 Collection
We were very pleased with another great collection from Chrome Industries. From head to toe, their gear keeps improving and having us come back for more.
Skyline Windcheater Jacket
9.7