Spring is here and the changing temperatures are becoming more evident as we await for the warm breeze of summer.  Until summer officially hits, Chrome Industries has a solid Spring Collection that will be sure to help ease the transition.  I've been testing out their Union Shorts, Hybrid Hoodie, and the Kadet Sling Messenger Bag for the past couple weeks and I'm happy to say that their craftsmanship and style has not diminished.
Key Features:
Lightweight Fleece
Reinforced stitching
Improved durability
Fleece/Hoodie Hybrid Goodness
Zipper Pocket
Ah, the best of both worlds is always a good thing. The Hybrid Hoodie is a testament to just that.  Dare I say… casual in the front, party in the back?  Well, with the full length zipper front to fleece collar topped off with a hoodie, I say it works!  The comfort level is definitely there and has the longer and narrow forearm fit in the sleeves that is similar to their IKE Windshirt (without the zipper of course) for optimal riding comfort.  I'm a fan of the hoodie style front pockets and love the additional zipper pocket to secure the important things.  Bravo Chrome!
Buy Now: $120 or to learn more, check out: ChromeIndustries.com
Key Features:
Water Resistant
Durable 4-way stretch material
Comfortable for riding and normal wear
I know it's hard to get those pasty white legs back out into the sunlight, but the Union Short makes it much more comfortable, plus I think the sleek style might help draw the focus away from several months of little direct sunlight.  The 4-way stretch material is super comfortable and make for an enjoyable ride on the bike.  Water resistant is also very important to me, especially during the summer when… let's face it… you sweat!  So walking around with wet shorts from biking is not an issue with the Union Short.  The deep front pockets are handy and I am a fan of the upward open position versus the slanted style, which definitely helps hold your items in more securely.
Buy Now: $100 or to learn more, check out: ChromeIndustries.com
Kadet Sling Messenger Bag
Key Features:
Compact Messenger Style with Sling strap
Built with Military-grade materials
Built for the essentials
Lightweight comfort
If it's one thing Chrome Industries is known for, it's their bags.  This is the third type of bag we've reviewed of theirs and I have to say that the Kadet Sling Messenger Bag is one of my favorites.  It's compact size is great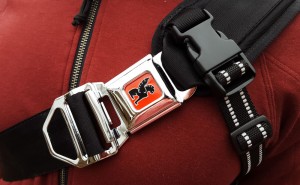 for simple grab and go adventures.  I've used it as a work bag (hard drives and tablet), lunch bag, camera bag, and a beach bag (extra sandals, shirt, and shorts).  It's small, but versatile and comfortable to wear when you ride. I love the sling strap and the iconic Chrome buckle.  The outside zipper pocket is nifty for separating smaller items and the amount of adjustable straps are great for making sure you have a proper and snug fit.
Buy Now: $80 or to learn more, check out: ChromeIndustries.com
Chrome Industries Spring Collection 2016
Overall, these three items are solid all the way around and are my new go-to-Spring-time essentials. Chrome Industries has plenty more to offer, but I can definitely vouch for this line-up.
Kadet Sling Messenger Bag
9.7