The leaves are changing, the air is crisp, and the smell of pumpkin-spiced everything is lingering in the air. Fall is here! Fall holds the promise of weekends filled with tailgating, bonfires with friends, and camping. As our earth does its yearly dance around the sun, fall is also a sure reminder that summer has ended and winter is waiting just around the corner. Ladies, if you are anything like me, you want to face this transition with style! Whether you are shopping around town or working at the farm, Carhartt's women's fall '16 collection has you covered! With durable all-cotton fabrics, apocalypse-proof construction, and sleek feminine lines, Carhartt continues to prove why it has been outworking them all since 1889. We had the opportunity to review the best of Carhartt's women's fall '16 collection. Here's the lowdown.
Weathered Duck Wesley Coat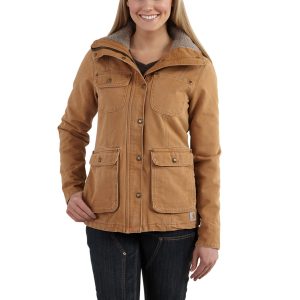 Key Features:
Durable, heavyweight 100% cotton weathered duck
Sherpa lined collar, fleece lined body, and quilted nylon sleeves for superior comfort and warmth
Zip front with snap placket
Pockets galore!
Carhartt's Women's Weathered Duck Wesley Coat is the end all, be all fall coat. The heavyweight 100% cotton weathered duck exterior is heavy-duty but soft to the touch (how did they do it?). The contouring of the back seams and back-snap details give feminine sensibility to this workhorse of a coat. The two lower front pockets with snaps and flaps are not only cute, but functional. From tools to wallets, the pocket snap flaps keep everything safe and secure. The front pockets also double as hand-warming pockets! The inside lining is soft and cozy. The fleece lined body and quilted nylon sleeves keep the coat slim and flattering while adding just the right amount of warmth. The Sherpa lined collar adds the perfect touch of style and contrast to the tough cotton exterior.  The coat fit true to size and was roomy without being bulky. This coat easily transitioned from outdoor chores to shopping with friends! Carhartt's Weathered Duck Wesley Coat is an easy favorite and a must have for your fall wardrobe.
Buy Now: $109.99
Relaxed Fit Sandstone Kane Dungaree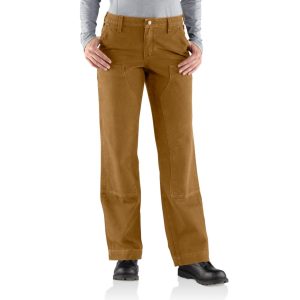 Key Features:
100% cotton duck
Double front construction
Utility pockets and bands
Triple-stitched inseams
Carhartt's Sandstone Kane Dungaree is toughest pair of pants on the planet, period.  Outdoor chores, construction work, bear attacks, these pants will hold their own.  The double front construction gives you the confidence to tackle any chore. The rivets add style while the triple-stitched inseams creates a structured, slimming silhouette. In selecting this pant, I used Carhartt's online size and fit guide. After entering my height (short) and weight (a lady never tells, but on the curvy side), Carhartt recommended the Sandstone Kane Dungaree in the relaxed fit. Though the pants feature a contoured waist to prevent gaping in the back, there was some gaping. The pants sat higher across the waist and had a rather snug fit across the front. Curvy ladies, such as myself, should plan on buying at least one size up from the recommended size. A belt (or tool belt) will address any gaping in the back. Once you find your best fit, you will love these go anywhere, do anything pants!
Buy Now: $54.99
Meadow Waffle Knit Henley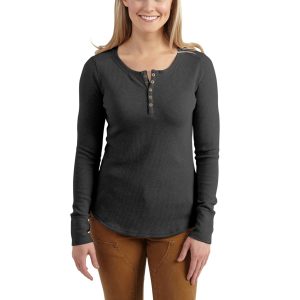 Key Features:
Soft mid-weight 7.5 ounce cotton blend with the perfect amount of stretch
5 button snap detail
Contrast camo yoke detail
extra long front and back shirt tails
Carhartt shows its softer side with its Meadow Waffle Knit Henley. It is the perfect fall layering piece with its oh-so-soft cotton and cute snap-front detail. The shirt tails are long in the front and the back, providing superior coverage and comfort. The no-fuss design and Carhartt-tough construction is everything you want in the perfect Henley! I put the Meadow Waffle Knit Henley through its paces, camping, hiking, four-wheeling in the mud, and backyard chores and it was breathable, soft, and comfortable through it all. What's more, the Henley washed up great with no color fading, shrinking, or stretching. The Henley fits true to size. Carhartt's Meadow Waffle Knit Henley is a fall essential!
Buy Now: $34.99
Force Performance Quarter Zip Shirt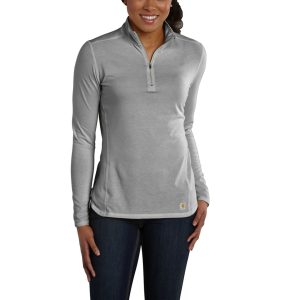 Key Features:
Super soft, lightweight 5 ounce poly blend
Drop tail hem for superior posterior coverage
Carhartt's FastDry® technology wicks away sweat
Stain Breaker® technology helps to break down stains in the wash
Fights odors by trapping and releasing them in the wash
Don't think Carhartt when you think athletic wear? Carhartt's Force Performance Quarter Zip Shirt will make you think again! Packed with a ridiculous amount of technology, Carhartt's Force Performance Quarter Zip Shirt is the only athletic shirt you will need for fall. The fabric is lightweight, stretchy, and breathable. The shirt was just as comfortable during an intense work out as it was lounging around on the couch. The structured seams and long back tail keep the shirt in place (no rolling, creeping, or bunching) while creating a feminine contour. Ready for a tough workout? Carhartt's innovative FastDry® technology really works! Like magic, sweat is quickly wicked away keeping you cool and dry during strenuous activity. When your workout is done, toss the shirt in the wash where Carhartt's Stain Breaker® technology seeks and destroys sweat, dirt, grease, grass stains, and red wine (part of my workout routine) with the greatest of ease. The shirt comes out fresh and clean after each and every wash!  Athletic apparel giants beware, there is a new kid on the block!
Buy Now: $39.99
Looking for something more? Perhaps a tote bag, sweatshirt, or classic button-down to spruce up your fall look? Peruse Carhartt's entire women's fall '16 collection here! You won't be disappointed.
Carhartt Women's Fall '16 Collection
Carhartt's women's fall '16 collection is the perfect combination of functionality, style, and comfort. Whether you are out for lunch with the ladies or working on the farm, Carhartt has you covered with the timeless look and superior quality of its pieces.
Women's Weathered Duck Wesley Coat
9.6
Relaxed Fit Sandstone Kane Dungaree
8.5
Meadow Waffle Knit Henley
9.7
Carhartt Force Performance Quarter Zip Shirt
9.9