Cannondale has been around the biking industry for a long time and has become a trusted name. Technology in biking has changed a lot since their first days and kept Cannondale constantly innovating. This is led Cannondale to develop the all new 2018 Cannondale Trail 2 mountain bike.
The new Cannondale Trail 2 is the result of a hard look at what types of upgrades people are fitting to their existing bikes and creating a highly equipped bike based on a progressive geometry frame.
Key Features:
SmartForm C2 Alloy Frame
RockShox Judy Gold Fork – 100mm
29″ WTB Tubeless Ready Wheels
Shimano Deore Hydraulic Disc Brakes
Shimano XT/SLX 1×11 Drive
Sunrace 11T – 46T Gearset
FSA Comet MegaExo 30T Crank
28.2 lbs (without pedals)
Cannondale 2018 Trail 2 Review Breakdown
Design
The design of the 2018 Trail 2 first catches your eye with the black and neon green paint scheme.  Pops of neon from the frame to the fork to the wheels give a surprisingly uniform color combo that isn't overwhelmingly loud.
Under the paint is a great frame for the weekend warrior rider who may do some casual XC racing or looking for a good all-around platform.  The geometry is set up for great stability, a steady downhill ride and even to be a solid climber.
Under the frame is a 29″ wheelset which has become a new standard for wheel design thanks to its ability to roll over small obstacles and not slow down.
While you can't deny there may be better downhill setups or better climbers out there, I found the balance of all areas in this bike to be surprisingly great. Perfect for a XC ride where you will experience everything.  I found myself constantly thinking "wow, that climbed great!" or "wow, it rolled right over that so well" or "that downhill got a bit sketchy but I kept it upright and didn't hit that tree!"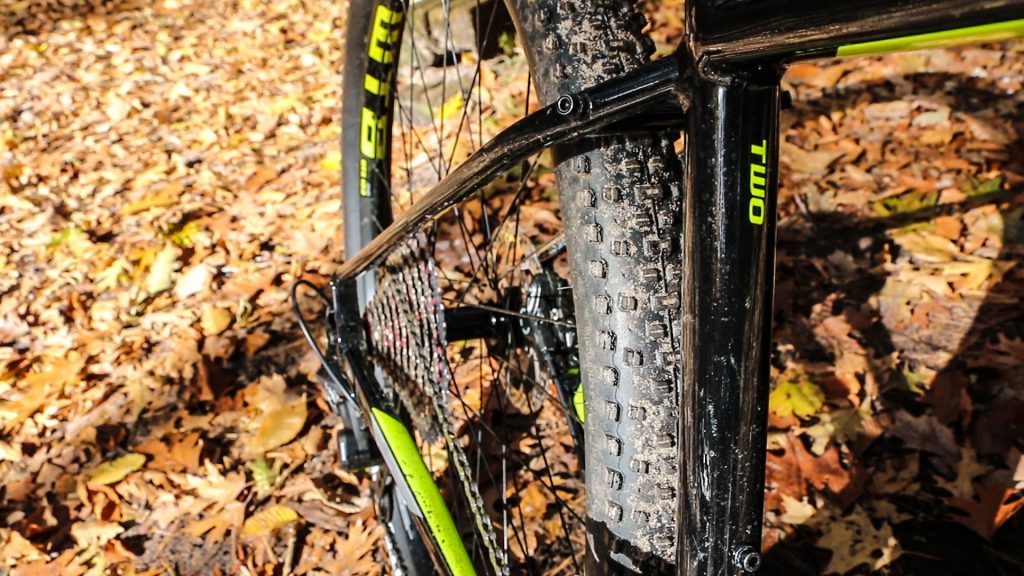 Components
The biggest leaps in the Trail 2 design likely came in the area of componentry.
If you are like me, you rode mountain bikes a while back and you instantly recognize the name RockShox Judy. It's a classic suspension fork that was once retired, but has made a triumphant return with an all new design and is the fork of choice for the Trail 2.
The Judy Gold on the Trail 2 has 100mm of air travel, lightweight alloy components, a lockout and is designed around the Boost standard that is all about making equipment designs stronger and better performing with a wide range of aftermarket setups.
My favorite feature of this bike has to be the Shimano 1×11 drivetrain. Once reserved for the more hardcore bikers, 1×11 is all the rage these days as manufacturers have found ways to take the gear ratio you would see in a more traditional 3×9 and fit into a 1×11.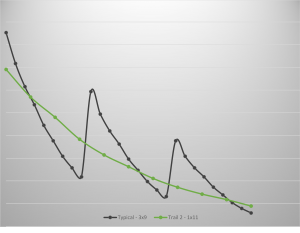 When you look at how the actual calculated gear ratios work out on a 3×9, you start to see the redundancy that is provided by the older equipment. Do you really need 3 different ways to achieve the same gearing? No. It's over complicated and when you are in the middle of the woods, anything mechanical that can break, will break. Not to mention its heavy having all that extra steel strapped to your frame.
So if you were asked if you wanted to have almost the same gearing with half or a third or even a quarter of the equipment (depending how you count), would you take it? Yeah you would, because it's a 1×11! Its light, reliable and just makes life simpler.
Cannondale didn't just make the features present, they made them good, also. XT derailleur, SLX shifter, Shimano Deore hydraulic disc brakes, external bottom bracket, tubeless ready wheels. The level of components definitely matches the price point.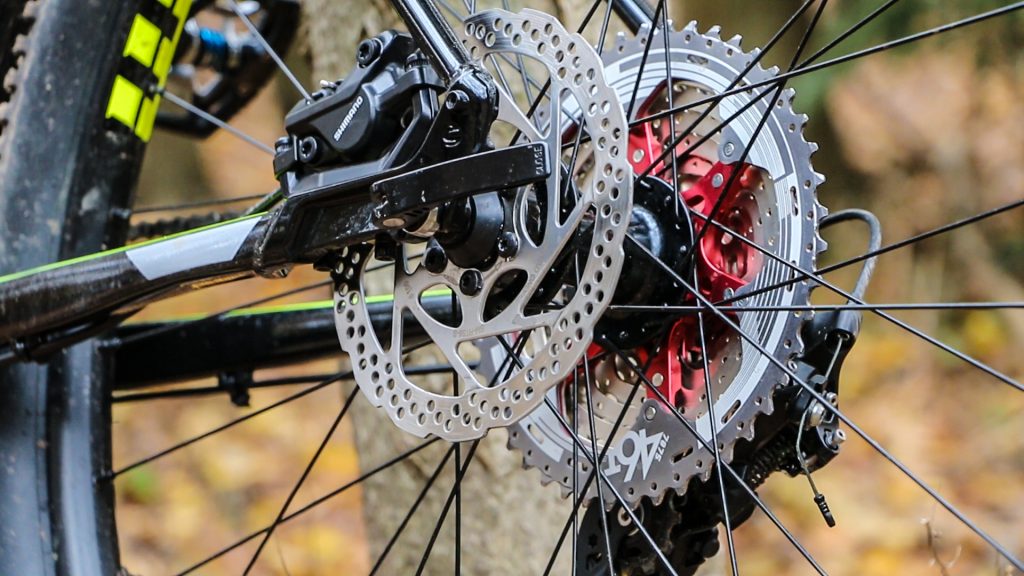 Capability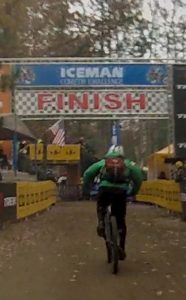 Its hard to pin down what gives this bike its capability because it's a lot of things working together. To truly test the capability, I put it to the ultimate test. I rode it in the Iceman Cometh Challenge, a 30 mile point to point XC mountain bike race in the north woods of Michigan in November! The race has over 4,500 riders on the notoriously unforgiving course. This is where we fell in love. I've done the race before, but this bike helped me set a personal record! Through the rain and the snow, I kept a smile on my face and enjoyed the noticeably easier ride as the equipment did its job and left me to focus on getting my burning legs to pedal faster!
The 29″ WTB wheels provide a ride that almost feels motor assisted in the right conditions. The extra diameter rolls over smaller obstacles much easier than the small wheels that were previously standard. That ease of rolling keeps you from losing speed and provides a faster ride.
The 1×11 drivetrain provides a huge 46 tooth gear for climbing steep hills with ease. There is also a small 11 tooth gear for giving you that high speed power. Of course the single 30 tooth front chainring also means that missed shifts up front are a thing of the past. With Iceman having several downhill to steep uphill transition sections, a quick shift can make or break your day. Not hopping a chain because of a bad shift was a welcomed improvement that has plagued many peoples past Iceman attempts.
The frame seemed to fit me just right. Steep uphill climbs I found to be extremely well balanced with no worries of wheelieing off the back of the bike on power strokes. Although this did add just the slightest bit of sluggishness in the tight turns, I adapted quickly and found that turning with proper form made the bike snap back to life.
The RockShox Judy Gold fork provided just the right amount of suspension to eat up those bigger bumps and keep control. While I never really had a good place to use the lockout during the race, during a few road rides later it was nice to have.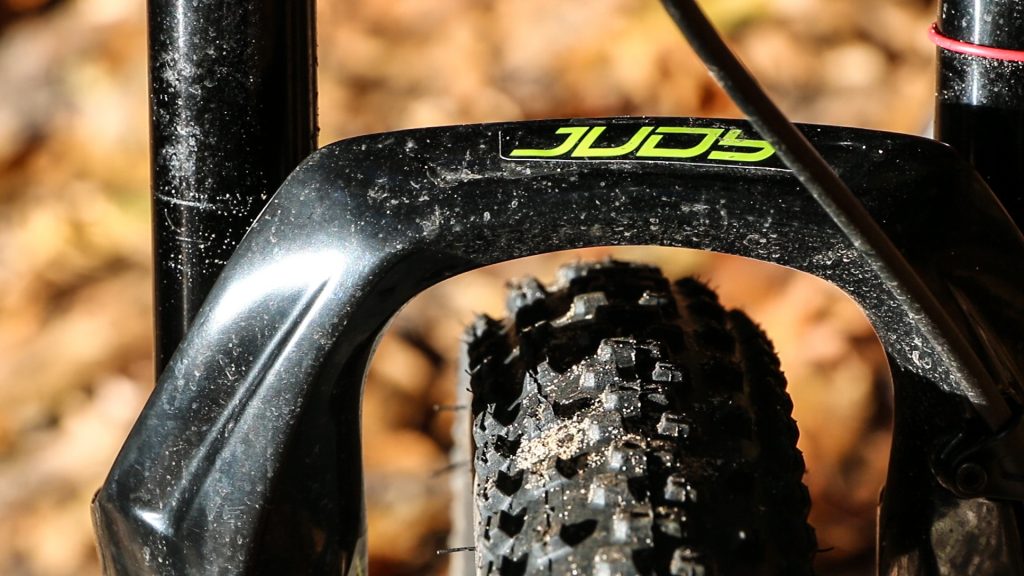 Durability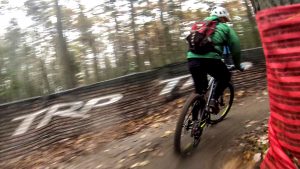 During the Iceman race, I experienced nearly every condition possible. Mud, sand, snow, gravel, grass, pavement, logs. From tarmac to mud and road to single track. The single track is where the durability of the bike was really tested. As you can imagine, putting 4,500 people on muddy single track through a Michigan logging operation while it's snowing is going to result in some crashes.
Fortunate for you, I was lucky enough to be involved in one of "the big ones" where a full blown pileup occurred. A few nicks in the beautiful paint was all that happened! Well, other than a few visits to a chiropractor for me. While it could have easily ended my day, the bike stayed in one piece and was able to continue riding over the extremely bumpy terrain during that section of the course.
Even when not in a crash, mud and sand can easily throw a drivetrain out of whack, especially one as complicated as a 11t-46t 1×11. We experienced no issues. It shifted at the end of the day just as well as it started.
We did experience a little bit of a wiggle in the headset after a good beating on the trail. Easily fixed through some re-adjusting, but it's hard to tell if that will be a common problem with the stem+Judy setup or if it was just a quirk from the building of a new bike as things settled into place.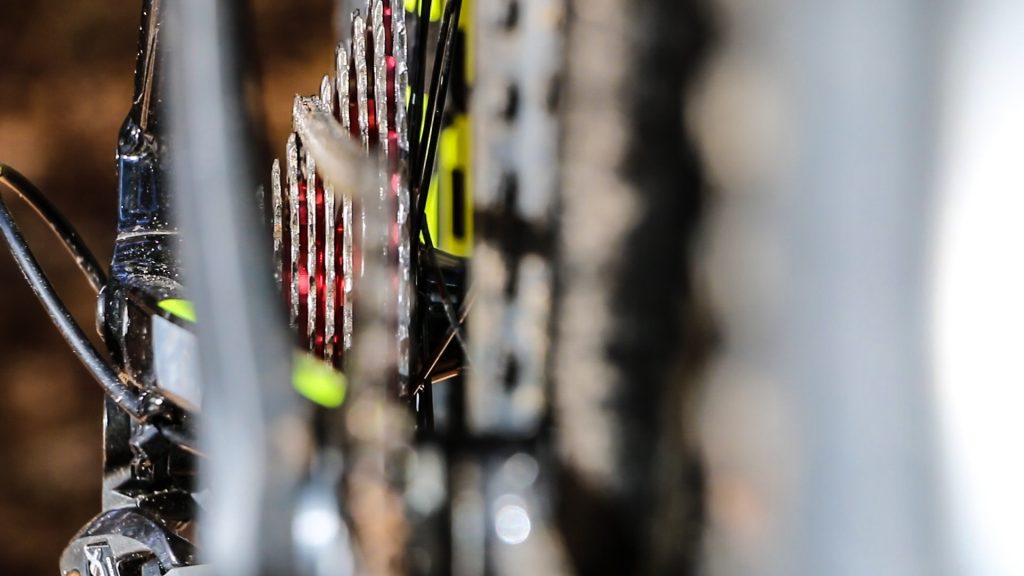 Value
The 2018 Cannondale Trail 2 has a MSRP of $1,499 which is not cheap and may be out of the price range of the casual rider who is mostly pedaling around town. But, that's not who this bike is for. This is for the person who is going to get out on the trails and ride!
For that person, this is an insanely good value. A progressive aluminum framed 1×11 XT 46t 29er w/ alloy fork and hydraulic discs is usually uttered in a sentence that is describing a pro level bike. The component list on this bike is typically the result of a few rounds of upgrading a $1,500 bike, not straight from the factory.
So if you are in the market for a new XC mountain bike, or even considering some significant upgrades on your current bike, I highly, highly recommend the Cannondale Trail 2. You'll likely find it hard to equally equip a bike for this price anywhere else.
Once you hop on a trail and let the bike loose, you'll find that the price tag is well worth it to be on a bike that will make you smile while you ride and bring a new level of fun to mountain biking!
Buy Now: $1,499.99, or learn more at: Cannondale.com
Cannondale Trail 2 - Bike Review
The Cannondale Trail 2 is a well-balanced, highly equipped 1x11 29er mountain bike that will make you want to keep on riding even if you have been off the trails for a little while. Designed to make you fall in love with XC mountain biking, that's exactly what is likely to happen.
The Good
1x11 Drivetrain
High End Components
Well Balanced Frame