I tend to do things to the extreme. When I pick up a new hobby, I go all in. So, when I decided that I wanted to start mountain biking, of course I jumped in head-first with the coolest gear and the toughest trails. Although I am not an expert (yet), I can tell you that there is something inexplicably awesome about the rush of the dips and dives, twists and turns, of truly challenging trail ride. Like a self-propelled roller coaster through the woods, hurling over jumps and skidding around tight turns gives an incomparable rush. I know that I would not get as much out of my rides without the proper gear. Second only to a well-fitted helmet, the right hydration gear is key to a fun ride.  Camelbak, the leader in extreme hydration, let me test out the K.U.D.U. 10 – a specialized hydration pack fit for mountain biking. Engineered to take on anything your body and nature can throw at it, Camelbak's K.U.D.U. 10 is the ultimate pack for mountain bikers, from novice to expert. Here is the low down on why I love the KUDU 10!
Key Specs:
3L Hydration capacity
CRUX Reservoir with Quicklink System
Proprietary Impact Protector Insert for added safety on tough rides
Load bearing waist belt with cargo pockets
9 L gear capacity
Weight of  approximately 9.4 pounds with full reservoir; weight of approximately 4 pounds with empty reservoir
K.U.D.U. 10 Gear Review Breakdown
Design:
At first glance, you would think that the K.U.D.U. 10's design is the same as any other of Camelbak's hydration systems. Although there are some similarities in construction and design, one significant feature sets the K.U.D.U. 10 apart:  Camelbak's proprietary Impact Protector Inserts. Hidden in the back of the K.U.D.U. 10, the Impact Protector Inserts are flexible back panels that deliver the highest level of CE-certified back protection, absorbing 94% of impact in a crash! The Impact Protector Inserts are so lightweight and comfortable that you hardly notice that they are part of the pack – although they are easily removed through a zipper pouch. Knowing that the Impact Protector Inserts literally have my back, let me push myself to the limit! Even though the K.U.D.U. 10 is designed specifically for mountain biking, I look forward to using this baby on the slopes this winter and on the hiking trails.
Apart from the Impact Protector Inserts, you can expect the same quality construction and design in the K.U.D.U. 10 that Camelbak is known for. Appropriately placed straps and clips keeps it comfortably in place while zipper and expansion pockets keep your gear secure…. but more on this later!
Storage:
Do you remember your awe as a child watching Mary Poppins unpack her carpet bag?  Lamps, coat racks, and mirrors all unfurling out of one, small bag. The K.U.D.U. 10 gives me this same joy and awe! It is an absolute marvel of engineering how many pockets are tucked into the K.U.D.U. 10.  Here is the lowdown on K.U.D.U. 10's unbelievable cache: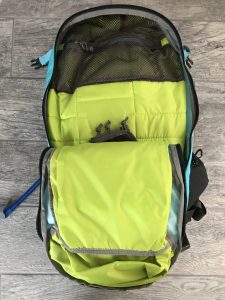 The front pocket with stretch sides clips open to store anything from an extra pair of shoes to easy-access nutrition. I like to tuck my bike pump in this outer pocket. A zipper and Velcro pocket behind hides compartmentalized storage for wallets, sunglasses and other essentials. In this same nook, Camelbak added an extra organization pouch perfect for stashing bike tools. A top zipper pocket is lined with soft, insulated fabric ideal for phones and other gadgets. Zipper pouches on the hip strap allow for easy access for storing riding gloves, nutrition, or (in my case) lip balm.  The largest storage compartment, the big mamba jamba, unzips about 2/3 of the way around and opens the length of the pack. From storing food to extra clothing or your helmet, the K.U.D.U. 10's main compartment allows you to bring all your essentials for a long trail ride or hike. I have replaced my day-hiking pack with the K.U.D.U. 10 and I don't think I will ever go back to my regular pack.
To ride without the pack or the hydration system, you simply zip the pack apart. This leaves the Impact Protector Inserts with two stretch pockets for water bottles and nutrition. I use this for shorter rides because it decreases the total pack weight (without a full reservoir) from about 4 pounds to 1 pound 6 ounces. My only critique of the zip-off system is that I wish the main pack had additional shoulder straps so it could also be carried separately and that the water reservoir could zip-off with the Impact Protector Inserts so that I would not have to carry water bottles when riding without the main pack.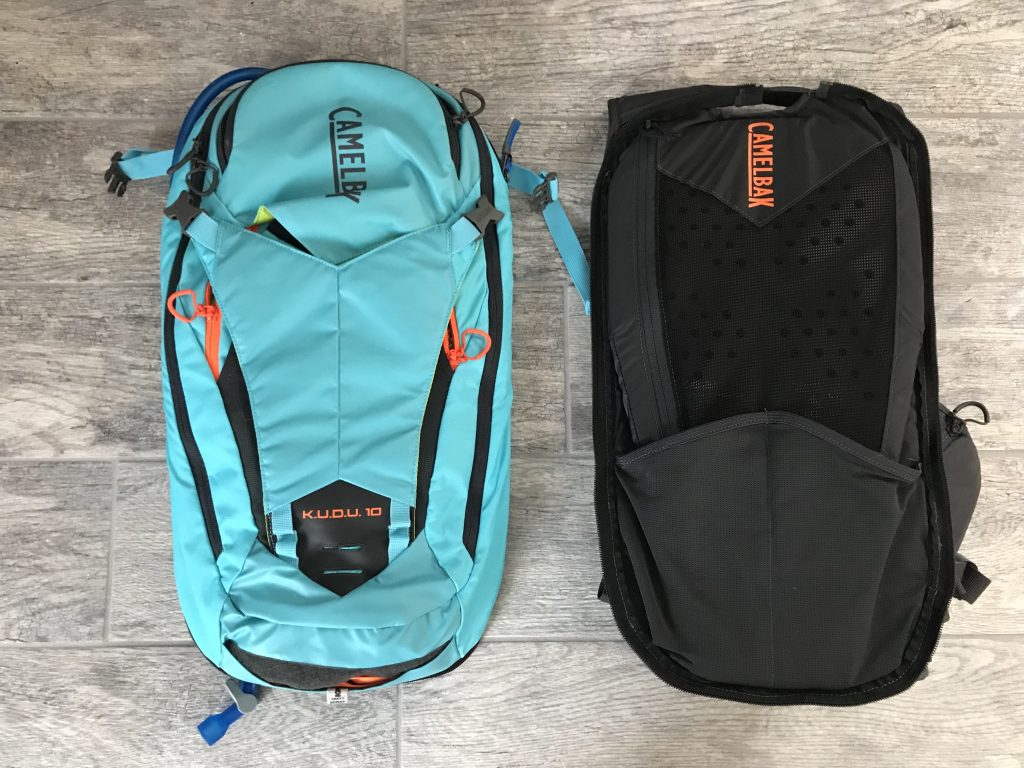 Comfort:
The first time I hoisted the K.U.D.U. 10 on my back, I admit I was skeptical about whether it would be comfortable during a long ride. The K.U.D.U. 10 is noticeably heavier than other Camelbaks I have used. With an empty reservoir, using a scale I weighed the K.U.D.U. 10 in at a beefy 4 pounds. With a full reservoir, this baby tops out at over 9 pounds; and that does not include any gear you pack in the main compartment! For comparison, the K.U.D.U. 8 specs lists the pack weight with an empty reservoir at 1 pound 9 ounces.
Despite the weight, I was pleasantly surprised to find that after properly fitting the K.U.D.U. 10 to my body, the weight of the packs is properly distributed between my hips and shoulders making for comfortable wear during any activity. This is in large part to the Velcro hip-strap and shoulder straps. The shoulder straps are fully adjustable and feature two lateral straps that not only cinch together for a perfect fit, but can move vertically up and down the pack for perfect placement. The hip strap is quite hearty and helps to bear the weight of the pack. My only critique of the hip strap is that I wish it was longer. If you have a wider waist and hips (like me), you will wish that the Velcro strap and clip were an inch or two longer so that that the closure (and therefore distribution of weight) feels complete. All in all, the K.U.D.U. 10 adjusted nicely to my petite 5 foot 2 inch frame and I was happy with the feel of the pack as I rode.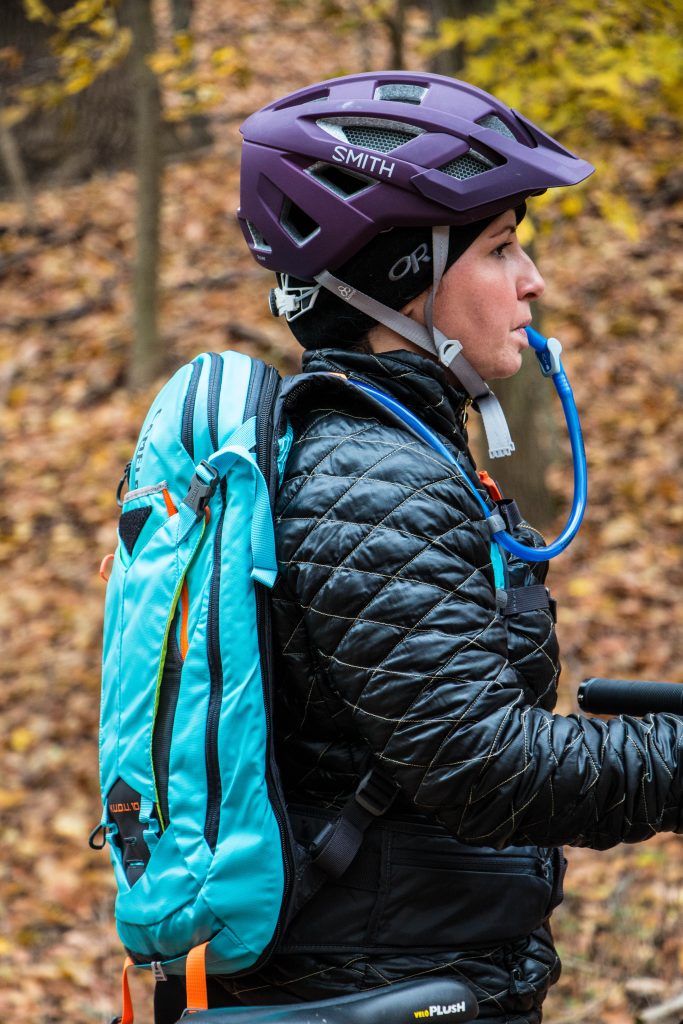 The K.U.D.U. 10 also has some great integrated features to ensure adequate airflow through the pack so that you don't experience hot-spots. Camelbak strategically placed honeycombed padding (a multi-layer EVA foam pod) at both the shoulders and small of the back to encourage airflow and to increase comfort as the weight of the K.U.D.U. 10 is distributed across your back. If found that unique honeycomb material stays dry and decreases rubbing and chaffing. A smaller honeycomb mesh is used on both the shoulder straps and waist straps to encourage airflow and moisture wicking.
Durability:
In my humble opinion, the K.U.D.U. 10 is hands-down the beefiest, sturdiest, most durable pack Camelbak I've ever tesrted. I put the K.U.D.U. 10 through its paces not only mountain biking, but hiking and snowshoeing. No matter what I threw at the K.U.D.U. 10, it handled it in stride. The extra-durable nylon materials means that mud and ice simply wipe off the pack. In heavy rain you can deploy the rain-shield from the bottom of the pack to give full water-proof protection.
I packed, unpacked, and repacked this sucker to the gills and the seams were sturdy, the straps were strong, and there was no resulting wear or tear. After stretching the pockets to the max, the material continued to maintain its original shape. The zippers do not catch on the nylon material and the plastic clips have withstood rigorous pulling, tugging, clipping and un-clipping. After 2 months of use, I am happy to report that with a simple wipe-down, the K.U.D.U. 10 looks as fresh as the day I took it out of its box! I am excited to use the K.U.D.U. 10 for many adventures to come.
Value:
The K.U.D.U. 10 is a hefty pack with a hefty price tag. At $200.00, the K.U.D.U. 10 is one of Camelbak's more expensive hydration packs. However, it is tough to put a price tag on the safety and security of the K.U.D.U. 10's CE-certified Impact Protector Inserts or the comfort and versatility of this pack. For serious mountain bikers, the K.U.D.U. 10 delivers great value for the money. Novice bikers may want to check out the K.U.D.U. 8, which has many of the same features as the K.U.D.U. 10 (including the Impact Protector Inserts), but for a smaller price tag of $142.00.
The K.U.D.U. 10 will be launching in early 2018! To learn more, go to Camelbak.com
Camelbak K.U.D.U. 10 - Gear Review
The K.U.D.U. 10 is a serious hydration system for serious mountain bikers. From its Impact Protection Inserts to generous storage, the K.U.D.U. 10 has your back on any trail-riding adventure!
The Good
Impact Protector Inserts absorbs up to 94% of crash impact.
Ample storage means the K.U.D.U. 10 can replace almost any day-pack..
The water reservoir is a snap to fill and clean.
The Not so Good
The K.U.D.U. 10 is a hefty pack and may be cumbersome with a full reservoir and packed gear.
The waist strap is a bit short on length; this pack is not ideal if you have wide hips.
The water reservoir does not zip-off with the Impact Protector Inserts; riding without the main pack means you must bring a water bottle.