Bulleit Bourbon - Drink of the Week
Slowly but surely you have seen the Bulleit Bourbon bottle getting more and more shelve space at your local liquor store.  With accolades rolling in, the Buelleit brand continues its impressive climb in popularity. While the Bulleit is still distilled in small batches it has been gaining popularity and recognition over the last few years.
As the story is told, in 1987 Thomas Bulleit, Jr was the keeper of an old family bourbon recipe and decided to give up on his day job as an attorney and he opened Bulleit Distilling Company.  With the recipe developed by his great-great-grandfather Augustus Bulleit who made high rye whiskey.  As legend has it, one day Augustus was transporting barrels of bourbon from Kentucky to New Orleans, he vanished and to this day, no one knows what happened.  While the recipe that Augustus developed is different then what they are producing today, it set the frame-work for a great tasting and smooth drinking whiskey.  The folks at Bulleit  gave us an opportunity to do some tasting recently, but truth be told, this has been a staple on our office shelf for years.
Distillation Process: When Tom Bulleit started the company in 1987, he did use the original recipe from Augustus, but currently that recipe has evolved.  These days the Bulleit recipe calls for 68% corn, 4% malted barley, and 28% rye. If the percent of rye seems surprisingly to you, join the club, this number was caught our eye.  28% is significantly higher than most Bourbons on  the market.  The original recipe called for 66% rye and 33% corn which does not meet the current specifications of Bourbon by today's standards, which calls for a grain mixture of at least is 51% corn.
Accolades: In 2013 the Ultimate Spirits Challenge they were rated a 92 which landed them in the Excellent, Highly recommended category.  In 2012 at the Ultimate Spirits they finished as a Finalist and were rated as Extraordinary, Ultimate recommendation.  It is a safe bet to see Bulleit continue to compete strongly in the awards arena.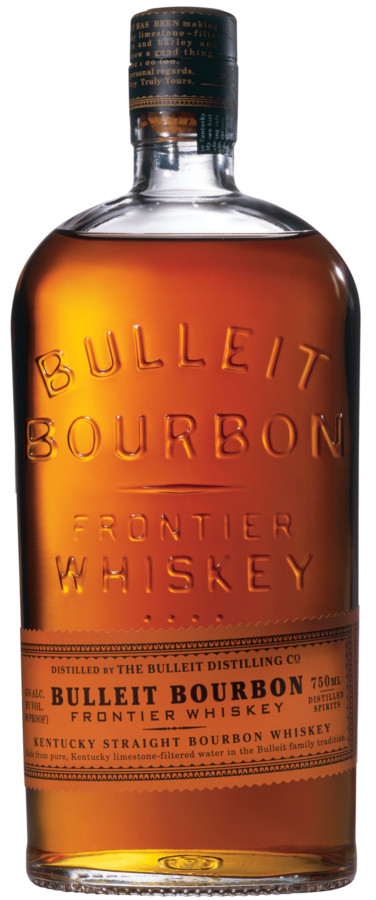 Proof: 90 (45% ABV)
Age: At least 6 years
Appearance: Light golden amber
Nose: Sweet oak, creamy vanilla, pickling spices, and buttery pralines
Flavors: Maple, oak, and nutmeg, light toffee
Price: $24.99
Scoring a very highly rated 8.9 out of 10, our tasting panel was thoroughly impressed with  with this easy to drink bourbon that offers a taste of creamy vanilla, pickling spices, and buttery pralines. We were concerned that the high rye content was going to be overpowering but instead added a subtle taste that was very well appreciated. What we found with Bulleit is really no need to mix it with anything as the unique recipe offers a taste that will make a a traditional cocktail taste than you are used to with a traditional bourbon.  We really enjoyed this on the rocks with a splash of orange bitters which helped extenuate the light toffee flavor and bring out the spices a bit more.  Bulleit is aged for at least 6 years and a recipe that has evolved over 175 years, you are getting a quality, mature tasting bourbon that any bourbon drinker will enjoy.  We have found this to this to be a go-to drink on our shelf when we are the mood for a good sipping bourbon.
MIX IT UP… "Bulleit Bourbon Old Fashioned"

Ingredients: 2 slice(s) Orange, 2 Cherries Kirsch Soaked, 1 Sugar Cube Soaked in bitters, 1 1/3 oz. Bulleit Bourbon, 1 tsp. Honey, 1 splash Elderflower Syrup.
Directions: In a mixing glass, muddle the oranges, cherries and sugar cube. Add the Bulleit Bourbon, a splash of Elderflower syrup and honey.