Back in 2017, I had the opportunity to review the original P7s, which were Bowers & Wilkins initial response to increased demand in the premium headphone market.
I quite liked my P7s; I used them every day I was at the office. But due to a lack of noise-canceling technology and poor foldability, they didn't travel with me often.
If you look back at my P7 review, you'll see that those two points were my biggest complaints about the headphones.
Enter the PX7s, which address both of those complaints and more. The PX7s are just as handsome as the P7s – if not more than – and offer 3 levels of noise-canceling, ambient pass-through controls using the companion app, a lighter weight design, and better packability.
With USB-C charging, the PX7s allow folks with newer MacBooks or Android devices to leave one less cord at home. I have a lower wattage travel brick for my MacBook Pro that charges the PX7s safely when on a trip.
Keep reading to see in-depth coverage of the Bowers & Wilkins PX7s.
B&W PX7 Key Features:
Carbon fiber composite arms (carbon model)
Adaptive noise canceling
Ambient noise pass-through
43.6mm drivers – largest of all B&W headphones
30 hours of battery life
Auto pause with earcup lift
Bluetooth connectivity
Wired connectivity, 3.5mm & USB
Bowers & Wilkins PX7 Review Breakdown
Design
In my P7 review, I stated, "These headphones are as functional as they are stylish." I share the same sentiment about the new and improved PX7s.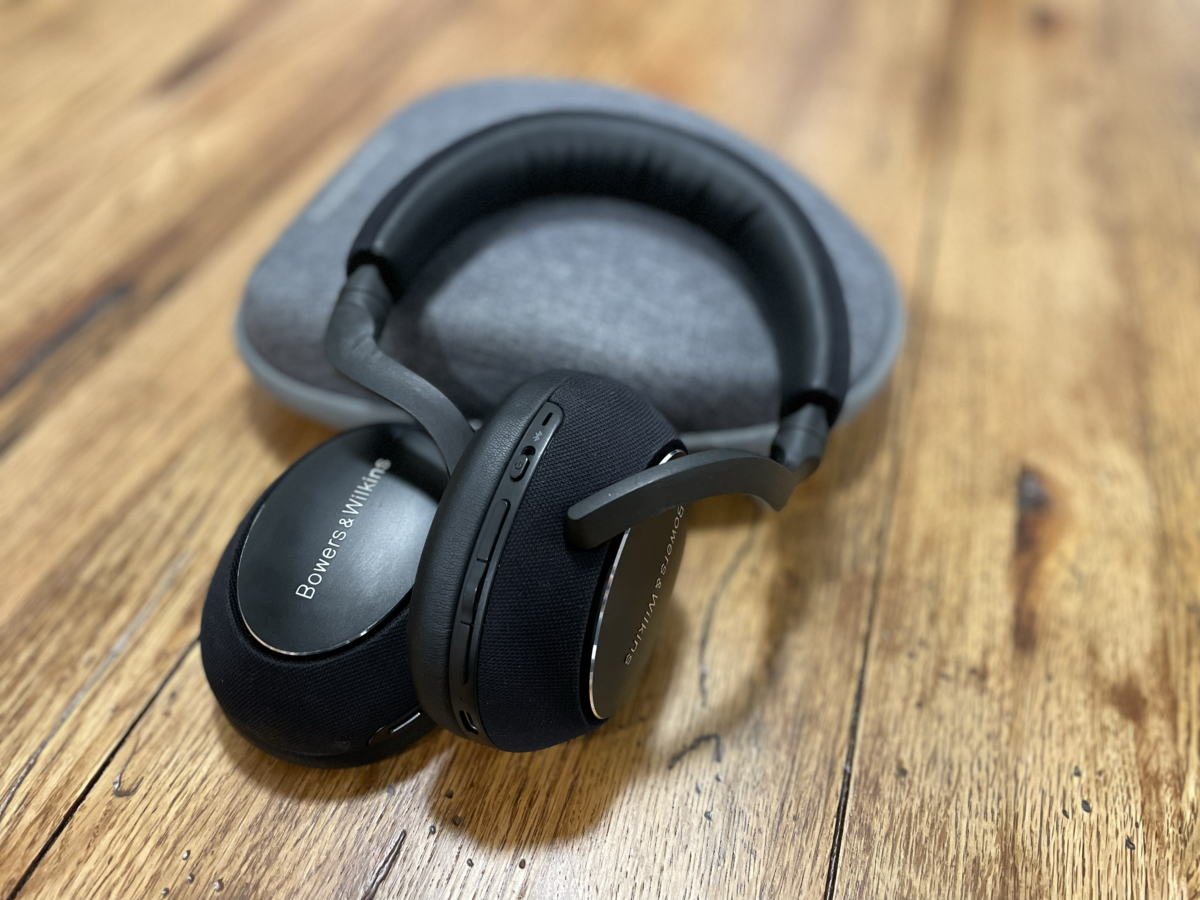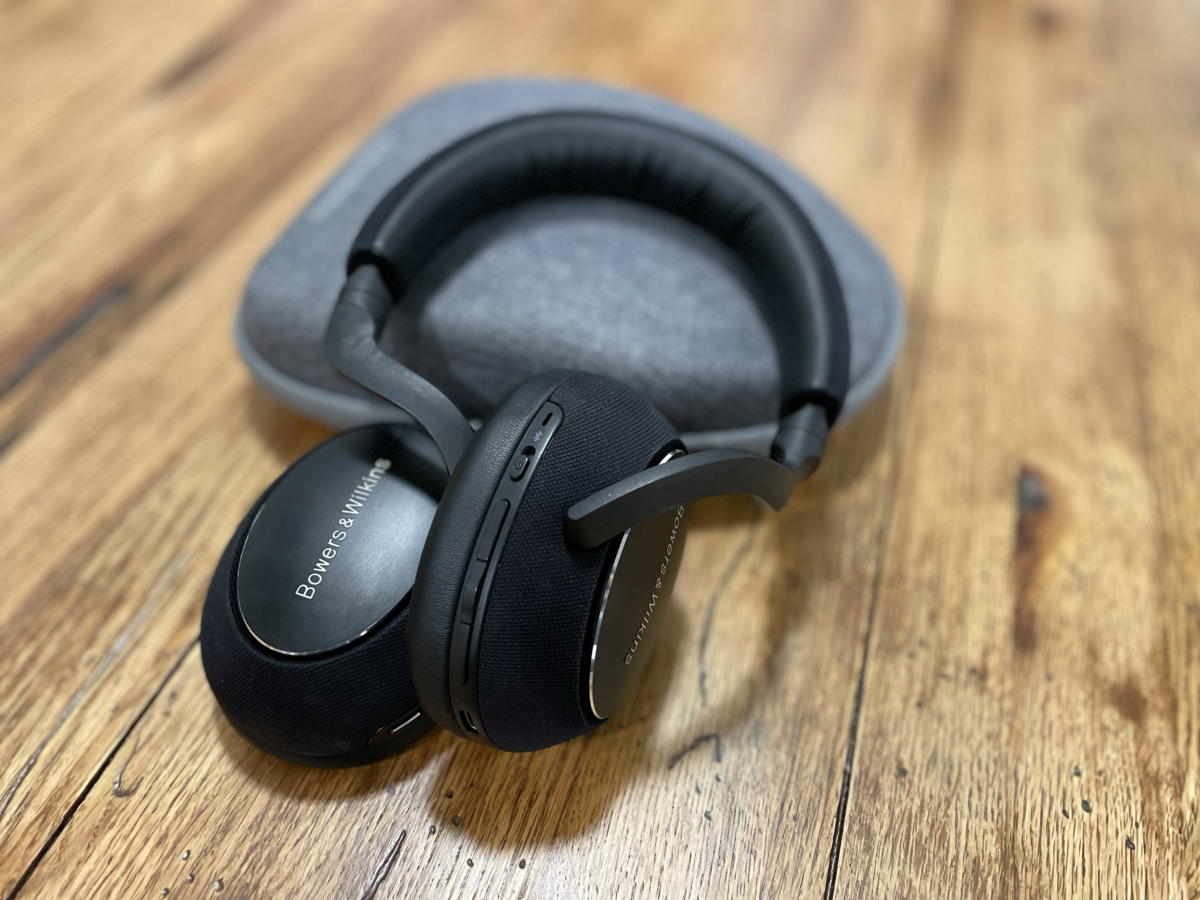 The carbon arms bring these headphones into their own design class. B&W set the PX7s apart from the competition utilizing unique carbon fiber while simultaneously increasing their durability and resiliency for everyday use. The rest of the materials are premium as one would expect from B&W, but the knitted cloth bit might not have been the greatest choice. Between snacking at my desk and climbing chalk at the gym, I notice that I dirty the cloth bit up. That said, there might be a technical reason for the cloth that I am unaware of – mics for ambient passthrough & noise canceling purposes? Either way, a very lightly dampened cloth does the trick for the most part.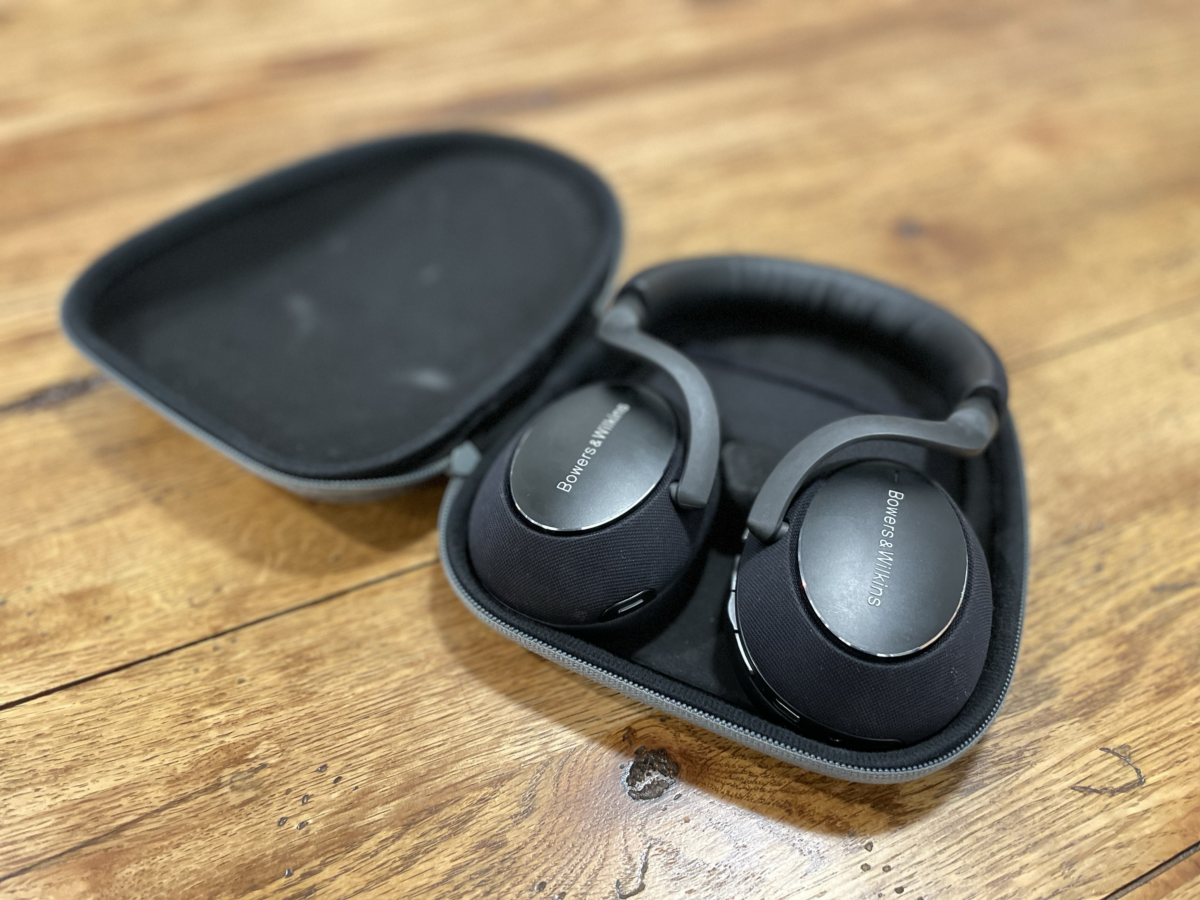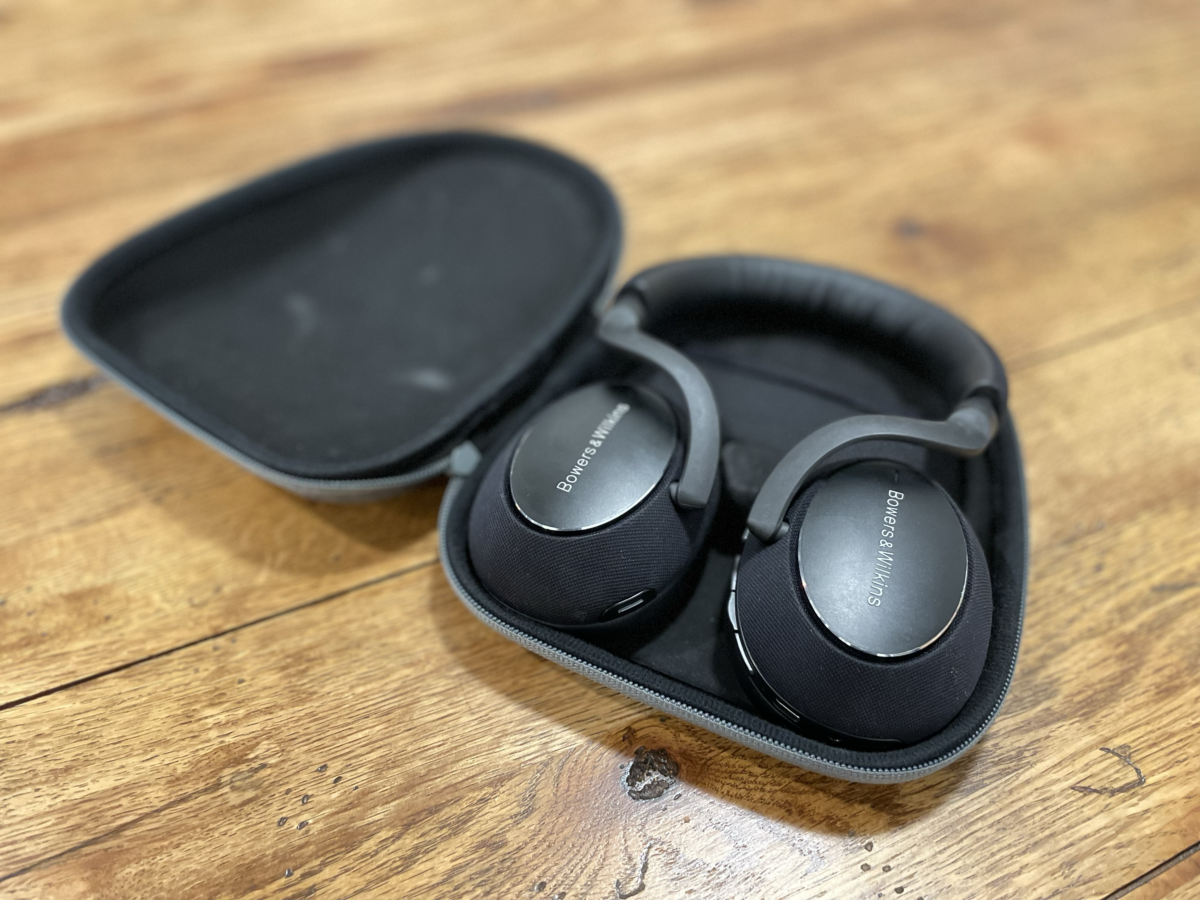 While there is no great way to fold away over-the-ear headphones, the PX7s are leagues ahead of the P7s. The PX7s' earcups turn and rotate so that the earcups can lay flat on the table. This allows for a slimmer carrying pouch, which is also new and improved with secure zipper closure.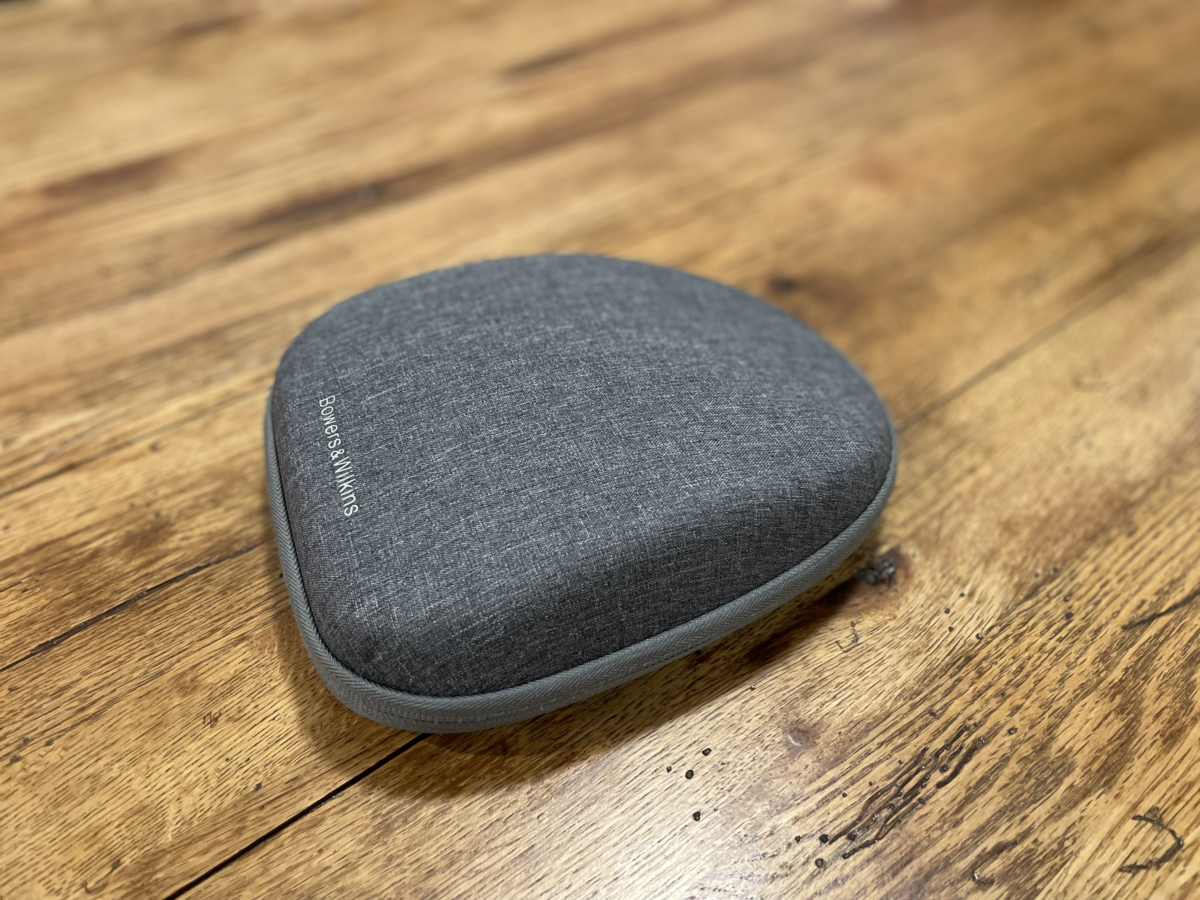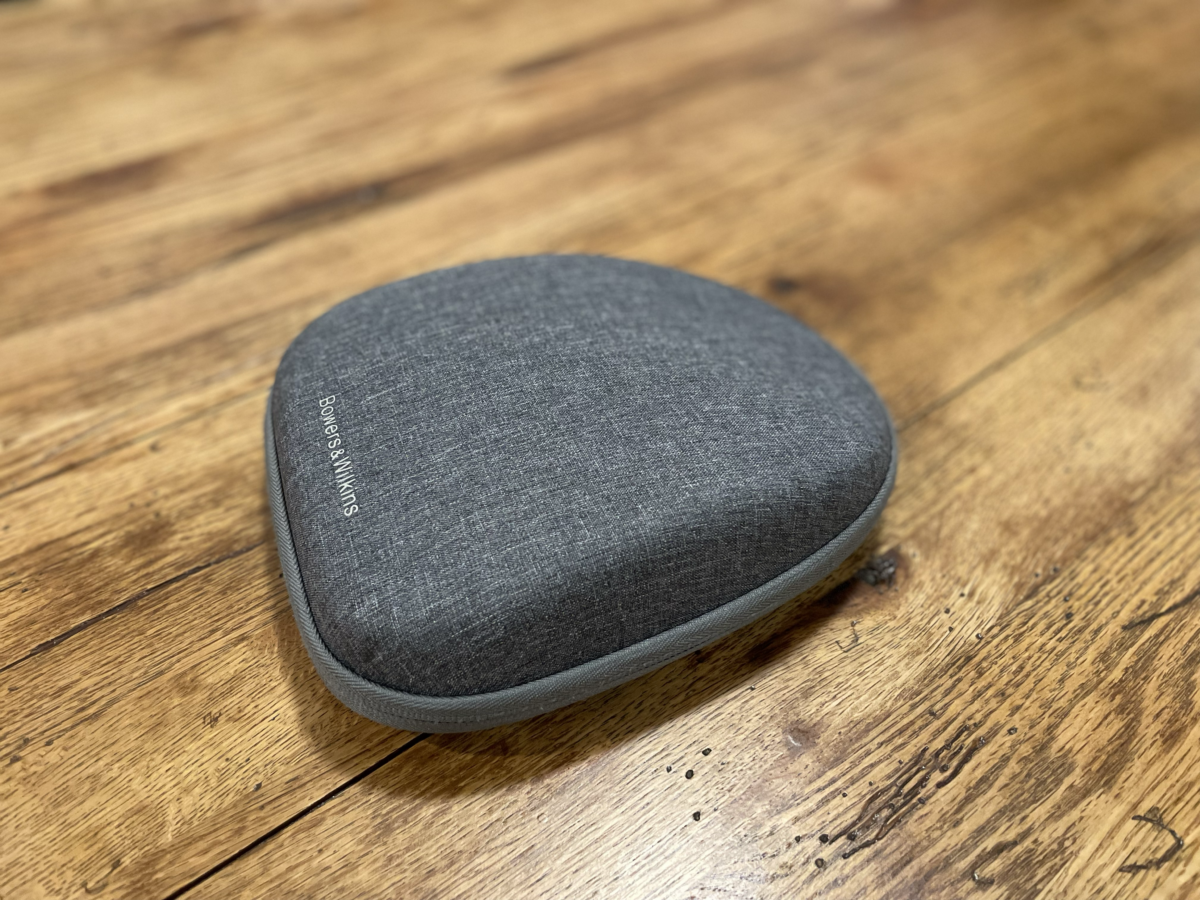 Beyond the materials and foldability, B&W took a step in the right direction (in my opinion) by eliminating the removable earcups. They moved the hardline 3.5mm outside the ear cups and replaced the 3.5mm to 2.5mm tapered cord with a full 3.5 to 3.5. Over many years of use of the P7s, the glue around the magnets of the ear cups oozed out and became very sticky and messy. A stationary ear cup is just a better-lasting design.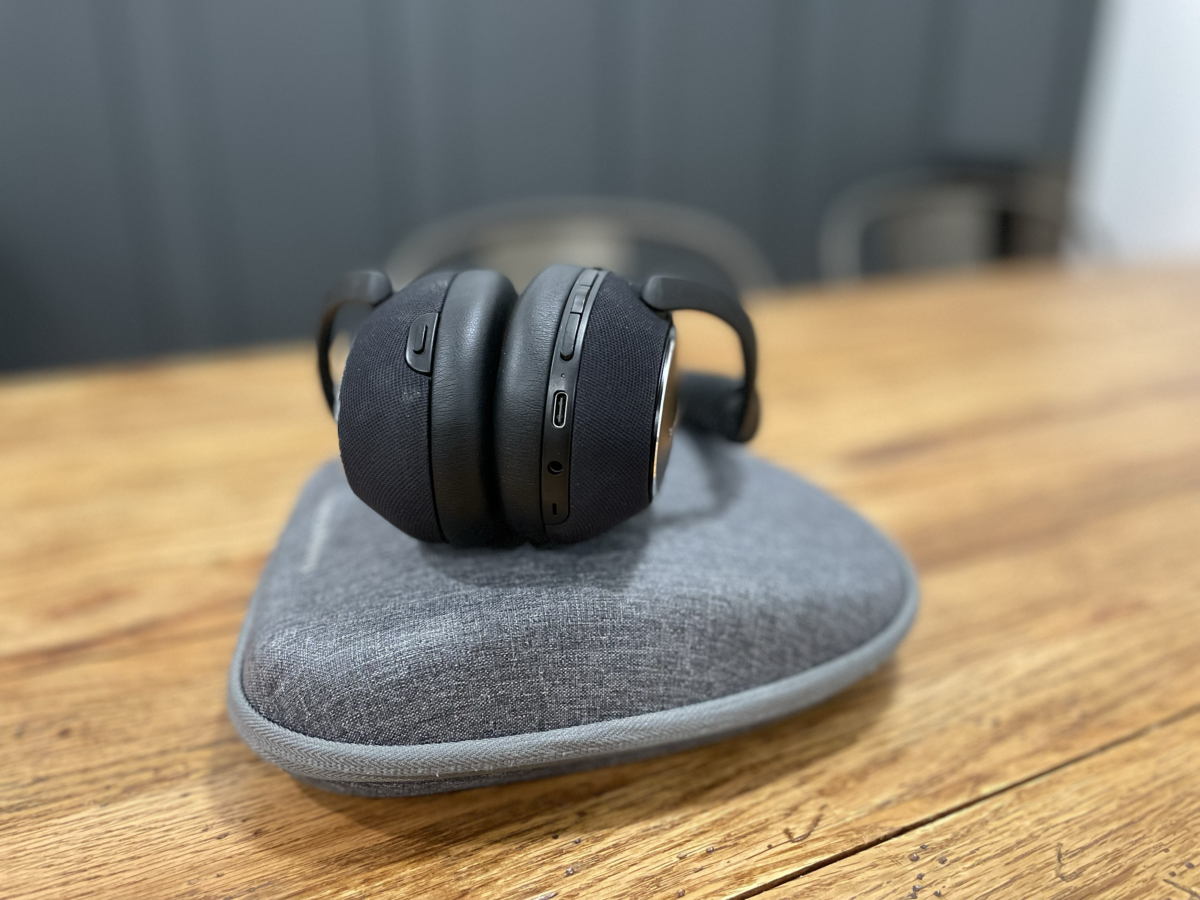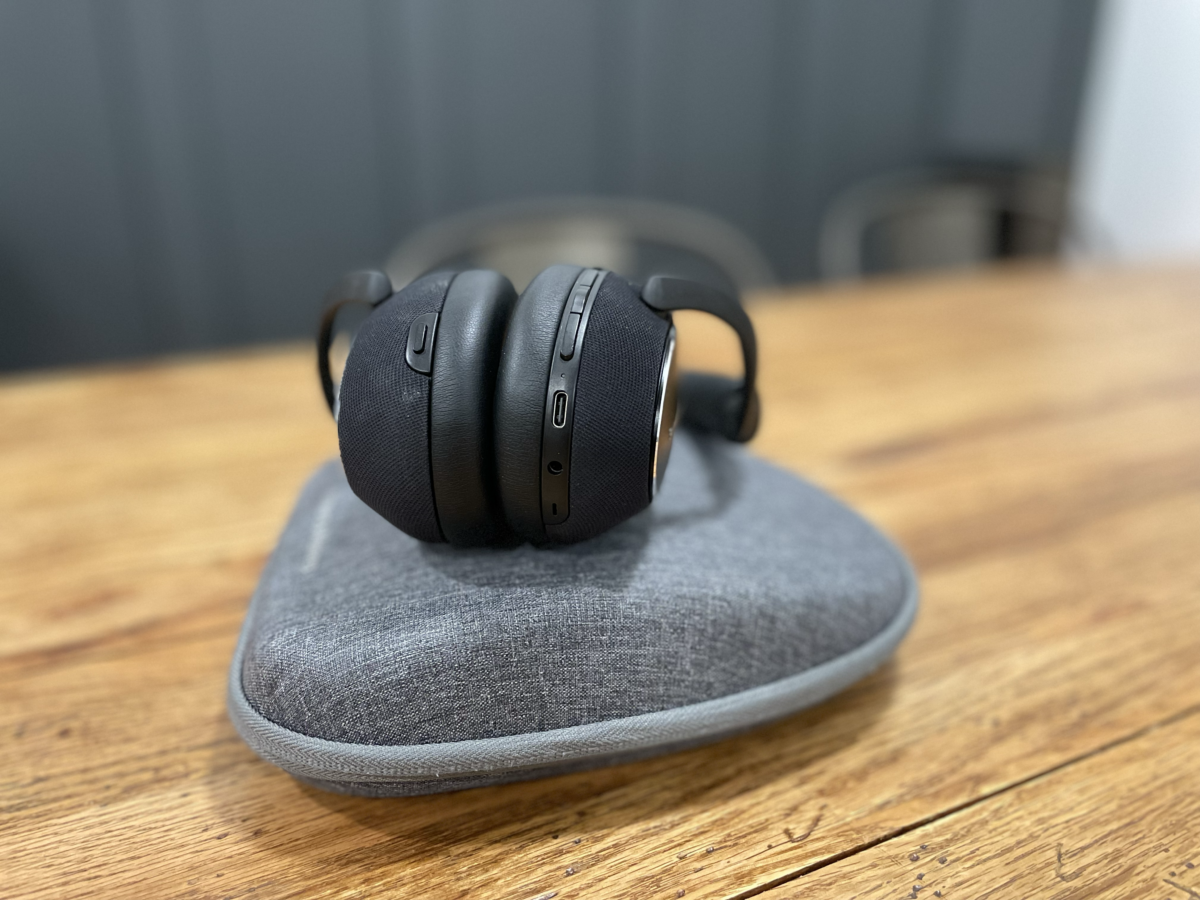 Noise Canceling

This is my first time owning noise-canceling headphones, and I will say I will never go back. I'll admit I had a bit of a misunderstanding about how noise-canceling works… I thought it blocked everything, but upon using them, I realize they work on a predictive model.
They listen for ambient noise, isolate constant noise, and cancel that out. So, in simple terms, they're phenomenal at blocking out noises like plane engines, clothes dryers, fans, and vent noise. Constant noises that are predictable.
Where they fall short is, well, unpredictable noises – human voice, dogs barking, the microwave cycle complete chime are all examples. That said, there is still a serious decrease in the ability to hear voices with ambient pass-through turned off and the sound level on the higher side. My coworkers often need to tap my desk to get my attention!
All that said, once I had a better understanding of the technology, I was thoroughly impressed. Believe it or not, I am sitting on a plane while typing this review and it's hard to believe I ever flew without noise-canceling before. It's such a pleasant experience – music is clearer and richer, and movies are distraction-free.
The PX7s have 3 noise canceling levels – high, low, and auto. I generally keep it on high all the time because I love how well they work, but that's just me.
There is also an ambient pass-through option, which is great for commuters. I drive to work, so I don't utilize it often except for work calls. Due to the solid earcup seal and noise-canceling, chatting on a Zoom/Teams call or phone call with the PX7s and pass-through turned off is a bit disorienting as you cannot hear yourself talk. It's a bit like getting out of a concert and talking loud due to the inability to realize your level. But a simple flick of the ambient slider in the B&W companion app fixes this issue.
Functionality
The PX7s have a few buttons – a power slider that doubles as the Bluetooth pairing trigger, a three-pack that has play/pause, and volume up/down. Double tapping the center button will skip a track. Finally, there is a button for the noise canceling levels. The only button that is missing is a physical adjustment for the ambient noise pass-through. Sometimes the app doesn't connect, and it's the only way to control the ambient feature.
All that said, I rarely use the physical buttons. Removing the headphones or lifting an earcup auto pauses your audio or video and I tend to skip songs and change volume on my devices, but always nice to have physical buttons nonetheless.
In addition, USB-C charging and wired audio playback are both huge pros – great job, B&W!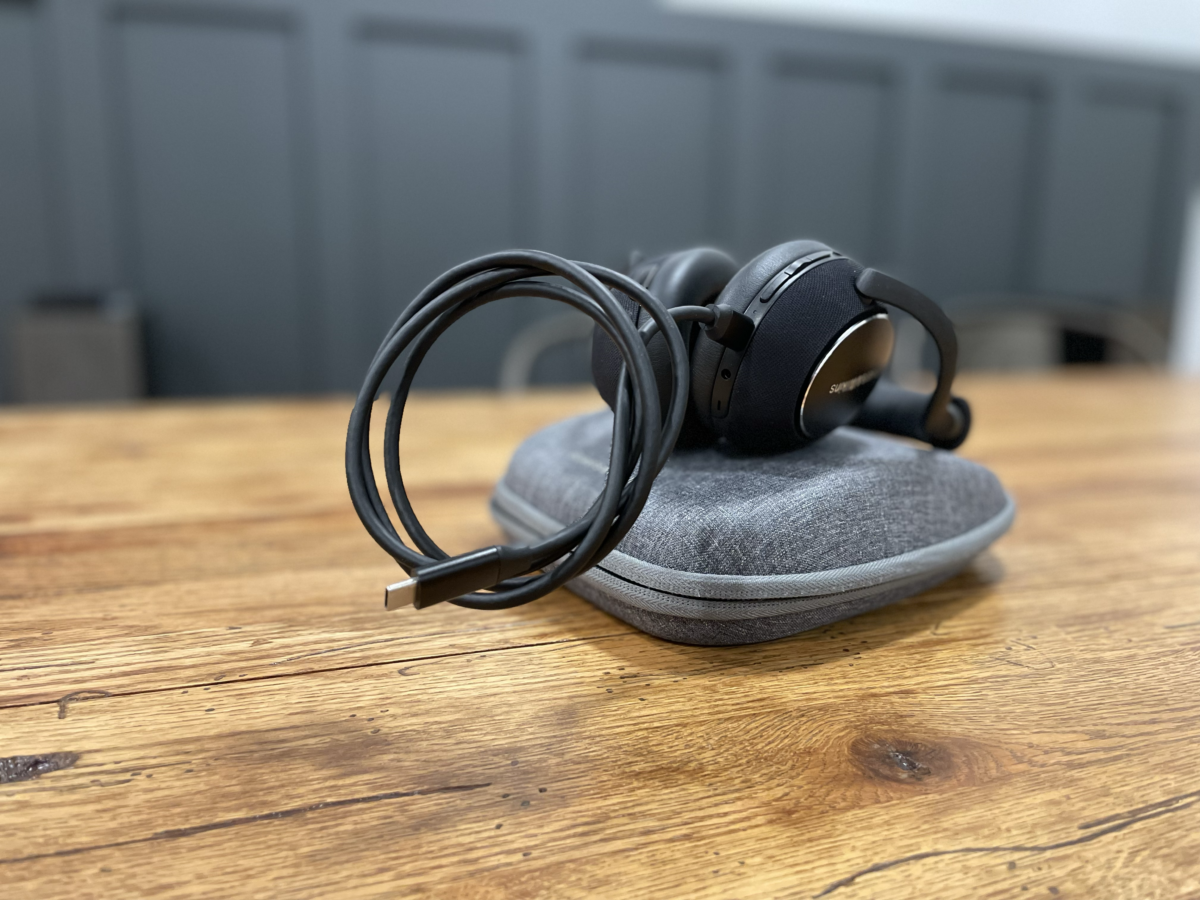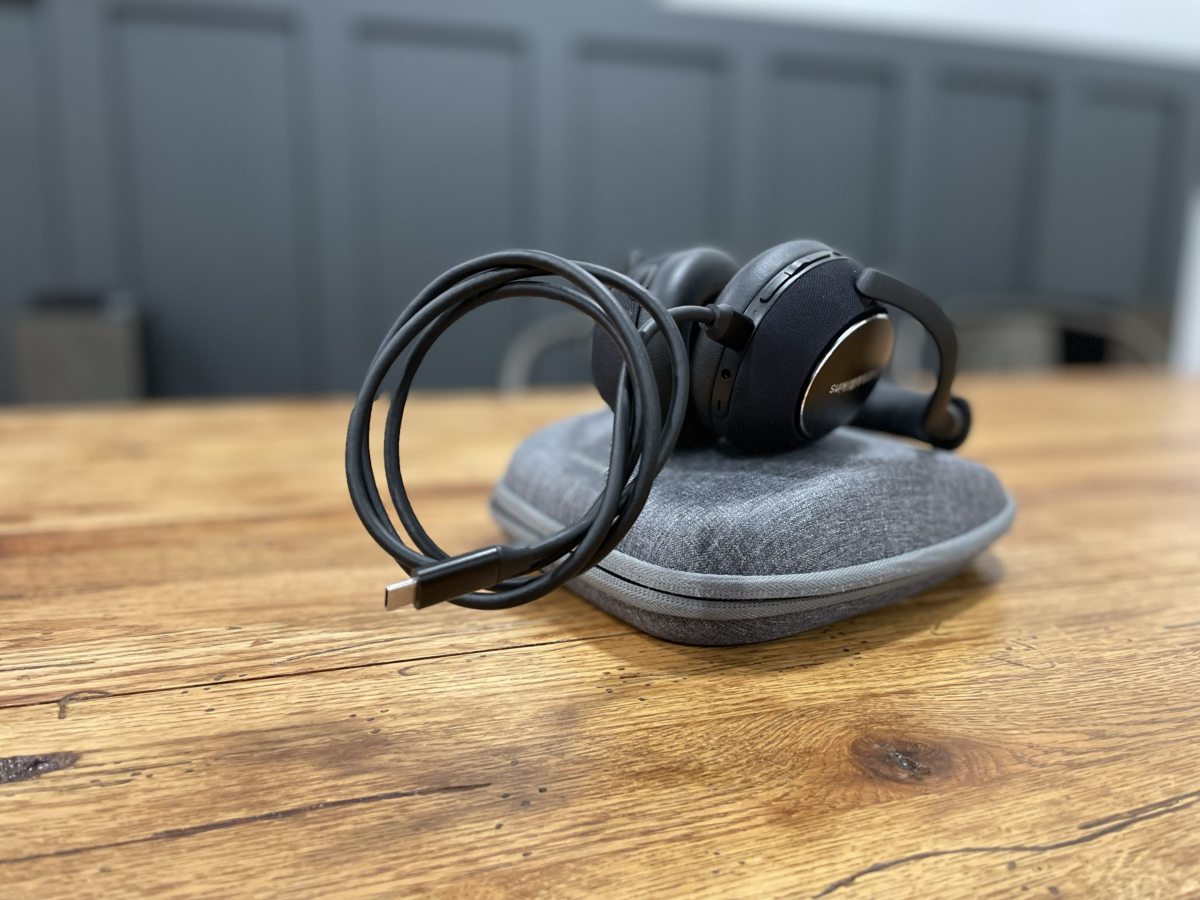 Sound Quality
Honestly, I am not audiophile status or anything, but B&W did a great job here. With 43.6mm drivers, these can really crank out the sound. The bass response seems improved over the original P7s allowing for an engaging moving watching experience, especially action movies with a lot of hard-hitting notes. The mids and highs are well balanced and pure allowing spoken voice to come through crisp and clear on calls.
I listen to a wide range of music from poppy hip hop, to low-fi and chilled-out electronic, to folk and acoustic. There isn't a single genre I've been upset with.
Value
At $399, the PX7s offer all the modern standards one would come to expect for a pair of headphones of this caliber. When compared to the P7s, the PX7s offer incredible value with a much more functional design and great performing noise-canceling abilities.
Looking a few years back, the PX7s seem to fit the $399 price tag better than the P7s ever did, but hey, there's a price to pay for beautiful design and experienced audio engineers.
All in all, if you're in the market for noise-canceling over-the-ear headphones, you know what to expect. B&W isn't the cheapest, but they're certainly no AirPods Pro.
Bowers & Wilkins PX7 Carbon | Tech Review
A fantastic update to the original P7 foundation. The PX7s offer noise-canceling technology, great battery life, and a more foldable/stow-able design.
THE GOOD:
Fantastic noise-canceling performance (if you understand the technology)
Great battery life
Easy functionality control
THE NOT SO GOOD:
Companion app sometimes struggles to connect
Mesh fabric can dirty easily