Designed for comfort, HiFi acoustics and simplified style, the Bowers & Wilkins P5 Wireless is an on-ear headphone that allows you to cut the cords and listen to music without any distractions. Bluetooth technology has come a long ways in the past several years. With companies like Bowers & Wilkins finally adopting the technology, people are realizing that high quality distortion-free wireless listening is here. It used to be that Bluetooth was for headsets and gaming, but today they've fine tuned the technology so well that you can find it integrated into some of the world's most luxurious headphones and earbuds.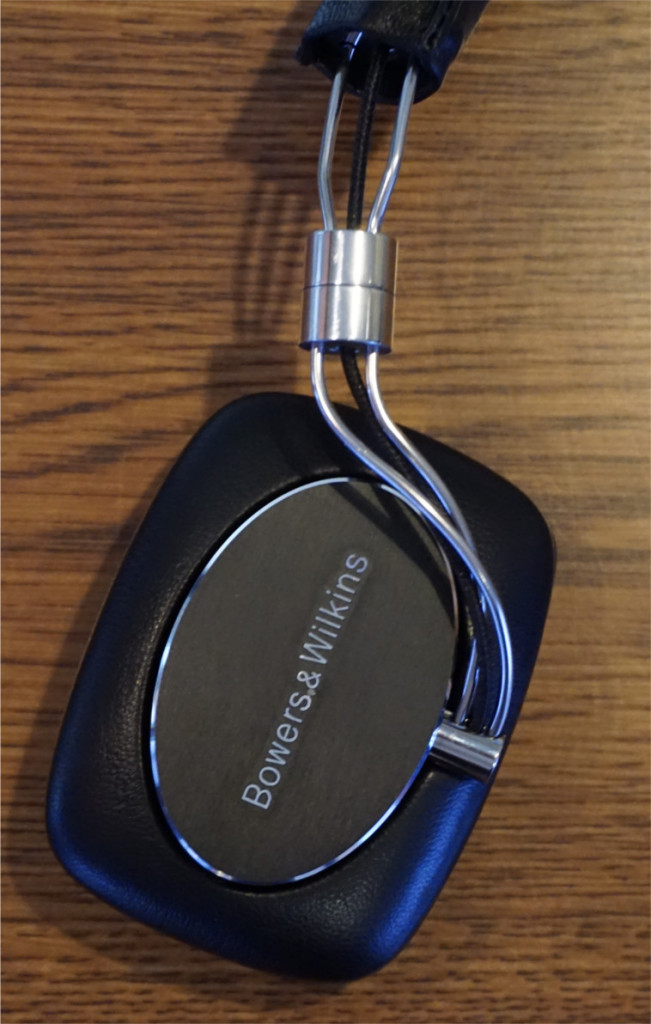 Recently our friends over at Bowers & Wilkins asked us to take a look at their P5 Wireless headphone and put it through the paces. And that's exactly what we did. From home use, to cross-country travel to public transit, we put these headphones through the ringer. After more than two months of testing, here's what we discovered…
Key Features:
Sheeps Leather Ear Cups
Lightweight Aluminum Frame
Integrated three-button control panel
Bluetooth aptX enabled (v4.1)
Key Specs:
2x 40mm drivers
17-hour battery life
Impedance: 22 ohms (passive)
Distortion: <0.4% (1KHz/10mW)
Sensitivity: 109dB/V a 1kHZ
What's in the Box:
P5 Wireless Headphon
Micro USB charging cord
Carrying Bag
Instructions
Aux-in cord
Bowers & Wilkins P5 Wireless Review Breakdown
Design:
On-ear headphones aren't typically what you think of when it comes to comfort in the headphone world, but through the use of super soft foam and sheeps leather, these are some of the most comfortable headphones we've ever tried on. The aluminum frame is ultra flexible, yet holds the headphones on your head with just enough pressure. We've taken several cross-country flights with the P5 and comfort was never a complaint.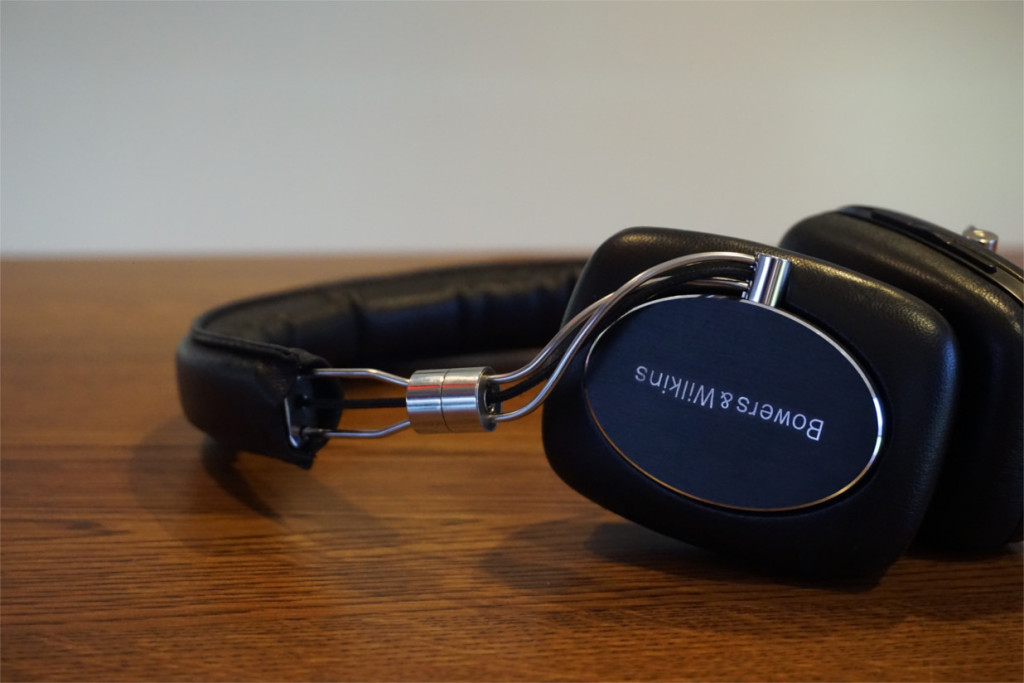 Beyond comfort the P5 Wireless is also rather stylish. The design in minimalist and subdued. The control buttons are even laid out nicely – almost hidden unless you know where to find them. For a somewhat small headphone the P5 actually looks proportional on a lot of different head sizes, though it does skew towards smaller heads.
Overall, the P5 Wireless has an ideal design for every day life and travel. They are lightweight and stylish. With noise isolating technology at work inside the P5 it's easy to concentrate on your music and block everything else out. Being Bluetooth enabled means you don't need to mess with wires and we love that!
Pro Tip: Both ear cups are magnetically attached and are removable. Behind the leather of the right ear cup you'll find a reset button and behind the left ear cup you'll find a place to plug in your Aux-in line.
Functionality:
With four buttons in-all, the operation of the P5 Wireless is very intuitive. On the bottom of the right ear cup you'll find the power/pair button. To turn the headphone ON simply slide the power/pair button forward. To pair with your device, hold the button in for 2 seconds. A tone and blinking blue light with signal you that the headphone is ready to pair. Once you're connected, on the side of the right ear cup you'll find three more buttons. Using these buttons you can play/pause skip track back and forward and adjust the volume.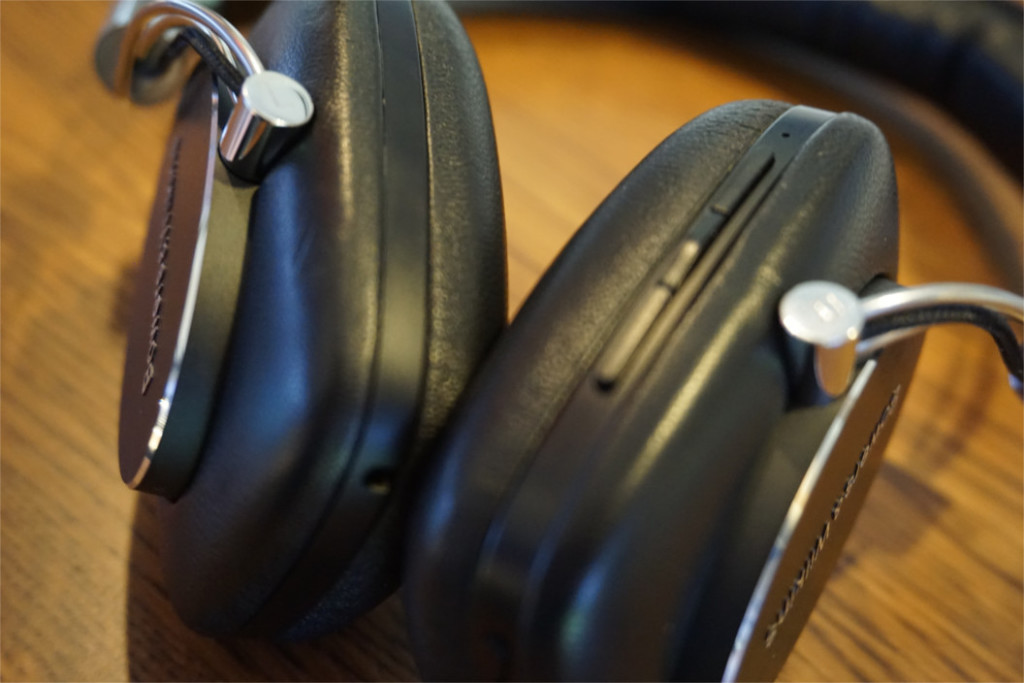 The Bluetooth control buttons are slim and easy to use and work for both Android and iOS. Pro Tip: if you forget to turn the P5 wireless off, don't worry, after several minutes of inactivity they turn off automatically.
Acoustics:
This it the section we're most excited to talk about. Bowers & Wilkins really wow'd us the acoustics these headphones can produce. Bass is full and rich, while the mids and highs ring crystal clear with no distortion, even at full volume. Whether you're listening to Johnny Cash or Lil Dicky, the P5 Wireless is tuned for a tremendous listening experience.
Value:
Stylish headphones that preform like a finely tuned orchestra don't come cheap and neither do the P5's. You'll find that they are priced at the higher end of the spectrum when it comes to on-ear headphones. At $399 you're getting an expertly tuned headphone with some of the best comfort we've ever experienced. The fact that they are also wireless is a huge bonus. If you do a lot of traveling or simply love your music and want to look fashionable while rocking out, we highly recommend checking out the P5 Wireless for yourself.
Buy Now: $399 or to learn more, go to: Bowers-Wilkins.com
Bowers & Wilkins P5 Wireless - Tech Review
The P5 Wireless headphone is among the favorites in our office. The on-ear comfort was a true surprise, while the acoustics are exactly what we expect form Bowers & Wilkins. These headphones are lightweight powerful and downright sexy. These headphones are music to our ears... literally!
The Good:
Easy to use controls
Super Stylish
Impeccable acoustics - no distortion!