Bolle is a company well known for ski goggles and winter sports eyewear. Bolle is in the golf game as well and recently asked Busted Wallet to try out what they've come up with. So what makes a pair of glasses specialized for golf? We wondered that ourselves. Do they give you special Tiger vision on the greens? Do they strike fear in the hearts of those in your foursome?  We've got a few rounds under our belt now with these and we'll let you know our thoughts…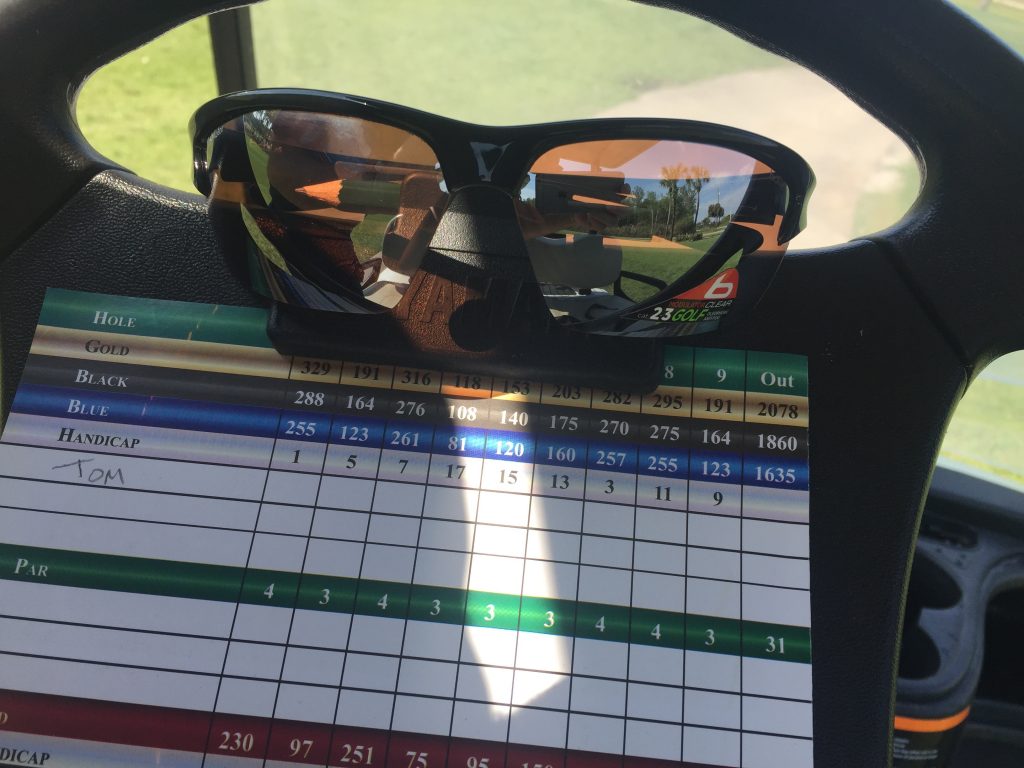 Key Features:
B-Clear Lenses
Anti-fog treatment
Thermogrip
Adjustable nosepiece
Carrying bag and semi-hard case included
Available in 5 colors
Comfort:
Are these shades comfy? These shades are some of the most comfortable I have put on my fat face! They are so incredibly light and the way they wrap your face they really only touch you behind each ear and on your nose. This makes it feel like they are not even there. I really do not like it when I'm being active and my sunglasses slide off my head. With the thermogrip temple tips and nose pads these guys are not going anywhere not matter how much you sweat or move. The adjustable nose piece is a nice customizable offering to adjust to your nose whether it be narrow or wide. With just a pinch of the nose piece you are all set.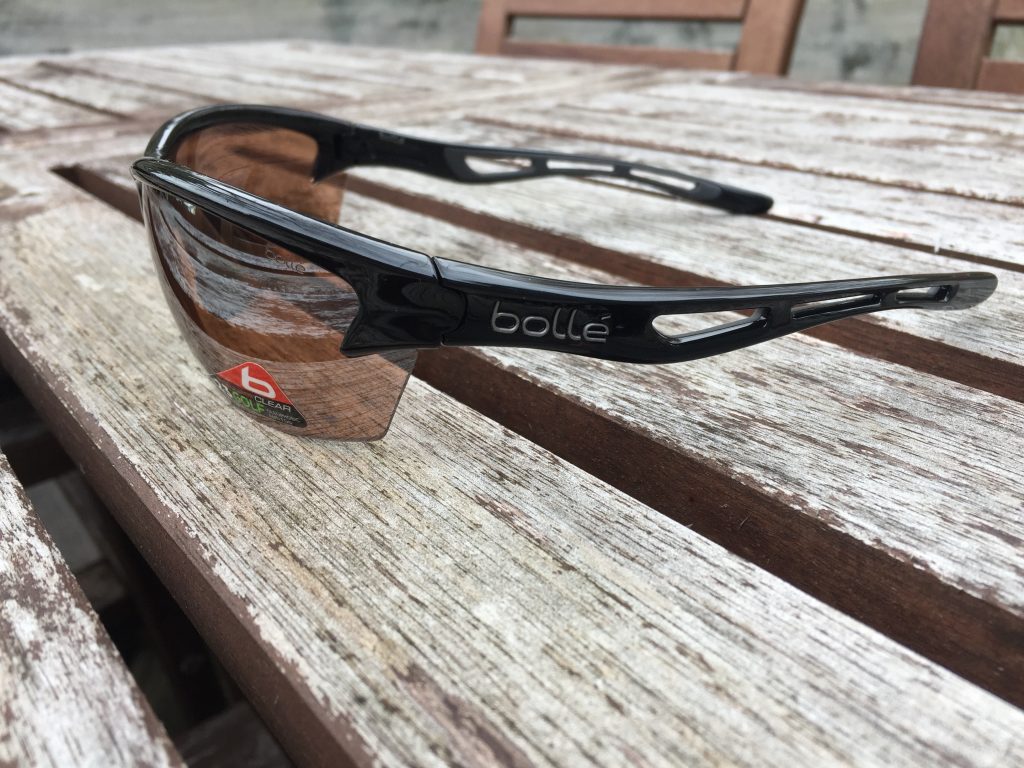 Design / Style:
Whether or not you think something is stylish is pretty subjective. I am not a huge fan of the style of these glasses but I do like them for athletic ventures, like say maybe some golf. I also sweat a lot. Especially when it's 94 degrees out when you're golfing. Like it was during one of our testing rounds. What I did like is the half round frame design which makes it easier to clean the lenses when they get covered in sweat. I also liked how the lenses on my face did not touch my eyebrows like many other sunglasses do. It seemed like one less distraction when I was trying to stick it on the green. The lenses offer full eye coverage with no room for Mr. Sun to sneak into your eyeballs. They do not have a ton of color options but there are at least 5 options Bolle offers for you to choose from. Overall, these glasses aren't anything I would wear out on the boat or for style but they are really nice for those summer rounds of golf for sure.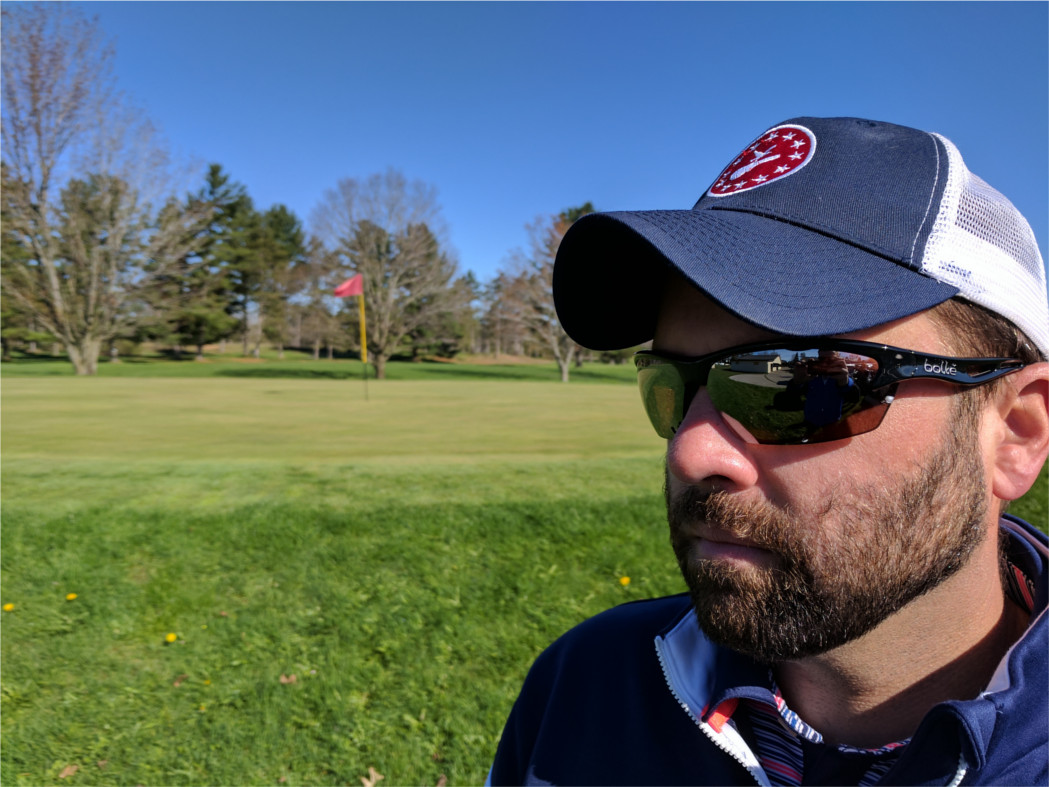 Optics:
The B-Clear lenses on the Bolt claim to have unrivaled clarity and are lighter than polycarbonate . They are very clear and seemed to make all the colors out on the course pop. The lenses also have an anti-fog coating. To try this out I left the glasses outside all night. The low that night was 35 degrees. Walked outside in the morning and put them on and walked into my 70 degree house. Usually this action would yield a whiteout of fog. But not in this case. So yes I would say the anti-fog coating works well! The photo chromic lenses automatically lighten and darken according to the conditions which helps whether it's full sun, partly cloudy, or overcast during your time on the course. It would be nice if the lenses were polarized but overall the optical quality is very good as expected from Bolle.
Value:
There are some price variations but the pair of Bolle Bolt's we tested ring in at $169.99. Is it worth it? Will these glasses earn you a PGA tour card? These are a nice pair of glasses that performed well for us on the golf course but they probably can't correct that terrible slice of yours.
Buy Now: $169.99 or to learn more visit: Bolle.com
Bolle Bolt Modulator V3 - Range Review
A very nice pair of sunglasses that adjust to varying light conditions and good optics.
The Good:
Very Comfortable
Good Optics
Light Weight
The Not So Good:
Not polarized
Not the Most Stylish