When it comes to protecting your noggin you shouldn't spare any expense.  Plus, if you can protect your head with something stylish and versatile, even better right?  With Bell's Super 2R helmet you get style, versatility, and protection – all in one convenient model.  Bell has been protecting the heads of superstars, daredevils, and everyone in between for years.  Since 1954, their philosophy has been all about creating an essential performance tool with every aspect of its function in mind.  The fact that their gear is beautifully designed is an added bonus.  After all, most riders will agree that it's all about substance over fashion and performance over pose.  But I have to admit that the style and functionality of this helmet is one of the best I've ever seen.
Key Features: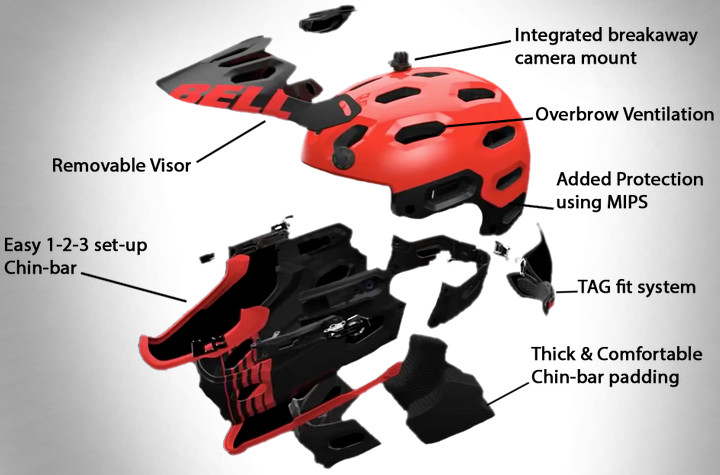 Bell Super 2R Helmet Review Breakdown
Design
When tackling any off-road challenge in a true all-mountain experience, it's all about being prepared with gear that'll give you ultimate confidence, comfort, and performance.  With the all-new Super 2R you get two helmets in one, to help conquer a wider range of terrain.  With the chin-bar on, you get that added protection when riding the steep side of the mountain or hitting those monster jumps.  When you just want to cruise the flats or bike to town you can easily remove the chin-bar with just 3 clicks (no tools needed).  Simply open the rear buckle, then both side buckles and pull the chin-bar away from the helmet.
I am very impressed with the design of the chin-bar which is almost seamless.  Plus, the helmet looks and feels great with or without it.  The added padding in the chin-bar definitely helps it stay in place and creates a more secure fit.
Construction & Comfort
The overall shell has a multi-directional impact protection and an overbrow ventilation system to help protect and keep you cool.  The multi-directional impact protection system (MIPS) was integrated into the Super 2R helmet to help protect across a wider range of potential crash scenarios.  Here's how it works:
The inside is equipped with a TAG (Twin Axis Gear) fit system which you can dial in for that perfect snug fit.  The helmet lining has a thin layer of padding but because the helmet is relatively light, it still felt comfortable after a few hours of continuous use.  The chin-bar has a thick padding that lines up to your jaw for a secure fit and to help keep the helmet in place and not sliding down your face.  There is no real way to adjust the fit of the chin-bar but as long as you order the proper size, I don't see it being a problem for most people.
Accessories
The version we tested came with the integrated breakaway camera mount.  You would think from its velcro straps that you would get a little bit of camera wobble, but it actually holds still.  I like the design versus a traditional GoPro mount which has a strong adhesive that you have to leave on even when you're not using your camera.  With this mount you simply undo the straps and it slides right off.
Protection
Along with integrating the multi-direction impact protection system, Bell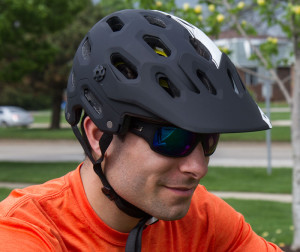 has also added another level of protection with their ICEdot integration service. In the case of an emergency there is a sticker on the back of the helmet with a unique number that can be entered from first responders.  They would then send an SMS text message containing the PIN found on the sticker (located on the back of the helmet), and would receive an immediate response message containing information on the individual (so long as you take the time before hand to register and enter your information).
Value
After riding with this helmet for a few weeks now, we're still impressed with the level of comfort, and appreciate the time and thought Bell spent on creating a true all-terrain mountain bike helmet that transforms to fit my needs.
Buy Now: $220.00 or to learn more, go to: BellHelments.com
Bell Super 2R Helmet - Gear Review
If you're looking for a new helmet that'll be sure to keep up with your all-terrain experience then we highly recommend picking up the Bell Super 2R.
The Good
2-in-1 helmet design with removable chin-bar
Added Protection using Bell's MIPS
Integrated breakaway camera mount
The Not So Good
It tends to get a bit warmer when the chin-bar is in place, but it is balanced by its added protection