In the red corner, weighing in at 325 grams – hailing from Santa Cruz, California with 21 channeled vents, an adjustable visor and Twin Axis Gear fit system – it's the Bell Sequence Helmet. Let's get ready tooooo…. REVIEW!

And now that you know who it is, here's a little about what it is… The Bell Sequence is an European inspired XC helmet that's obviously rugged and handsome, but is also packed with more protection and technology than you might expect including, 21 channeled vents to beat the heat, a Variable Position Visor (VPV) that allows for up to 15 degrees of horizontal movement and a Fusion In-mold Microshell and Bottom wrap to give this helmet its shape and strength. If you think all bike helmets are alike, you might want to think again!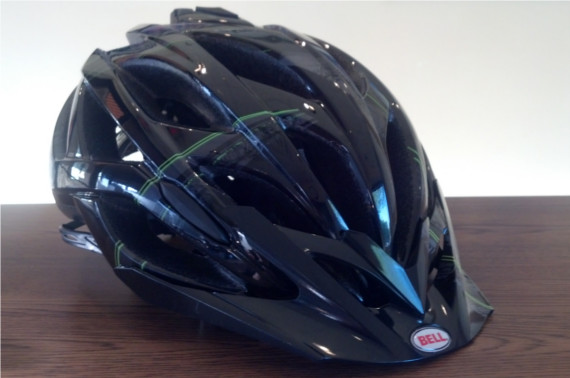 Over the past month we were asked by our good friends at Bell Cycling to put their pride and joy through the paces – on the trail, road and everywhere in between. Never one to turn down an offer to get crazy in a new brain bucket we jumped at the opportunity. And now, after testing the Sequence in several conditions and terrains we're happy to be able to share the results with you today. So sit back, crack a beer and get ready… because we're going in-dept! Enjoy.  
Key Features:
Cam-lock Levers
Channeled Ventilation
Fusion In-Mold Microshell
In-Mold Bottom Wrap
Internal Reinforcement
Registered Graphics
Twin Axis Gear
Variable Position Visor
Specs:
Weight: 325 Grams
Vents: 21
Certifications: CE EN1078 & CPSC  
– Bell Sequence Helmet Review – 
Design: 
(9 out of 10) The Sequence feels surprisingly lightweight and incredibly aerodynamic overall. With 21 vents in all it's actually quite refreshing to wear on long rides and looks aggressive and stylish. For testing we choose the Black/Titanium/Green Scattered version and have to stay it's a beaut! The paint job itself is somewhat subdued, but has enough flair to keep it from being boring. Over the course of testing we received several positive comments and compliments about the Sequence from fellow pedal pushers.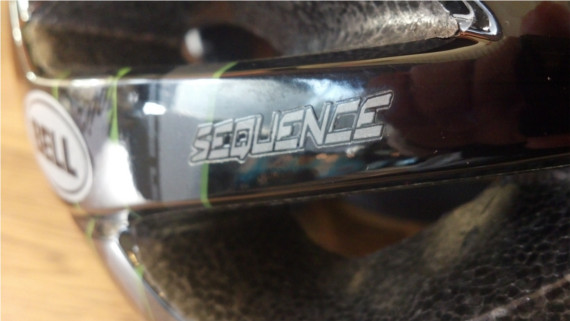 Some standout design features that caught our eye throughout the testing process were the Twin Axis Gear and the adjustable/removable visor. The Twin Axis Gear (TAG) adjusts at the back of the helmet with a simple roll of your finger to adjust to your head size and shape (more on that in a little bit.) The visor itself is actually adjustable up or down a few inches in either direction (up to 15 degrees) and is also completely removable. Though we felt the helmet looked nicer overall with the visor on, but it functions all the same without it as well… minus the sun blocking aspect of course.  
Comfort: 
(10 out of 10) At just 325 grams, the Bell Sequence is a dream to wear while riding. As a child of the early 80's (when helmets would get you laughed off the playground) I actually prefer no helmet at all in my day-to-day rides, but after wearing the Sequence for more than a month on some extreme trails and not-so-extreme leisurely rides, i'm converted… well, almost 100%.    In the comfort department, the Bell Sequence has a lot going for it – the inside forehead and top are lined with soft padded and breathable fabric that is removable, and more importantly washable as it does get funky from sweat over time. We found the adjustable chin strap and TAG system to work fantastic together to provide a snug and comfy fit overall.   
  The TAG system is Bell's next-generation fit system that adjusts to the head on two axes – circumferentially as standard fit systems do, but also horizontally to better accommodate differences in the up/down position of the occipital lobe. After properly sizing the chin strap adjusting the TAG system is a breeze. Just turn the dial right to increase fit size and left to decrease. It only takes moments to get the perfect (secure) fit.  
Ventilation: 
(9.5 out of 10) The Bell Sequence helmet uses what's called "Channeled Ventilation" which utilizes vents on the outside and deep channels on the interior of the helmet's liner to bring cool air in through the front of the helmet and pass it over the head and flush the warm air out of the rear ports. And it truly works! From our experience it's never going to keep you from sweating all together, but does keep your head surprisingly cool. Especially on hot muggy days.  
Protection: 
(9 out of 10) Without taking a spill myself and risking injury it's hard to actually put this helmet to the test for protection, but we can assure you that the Bell Sequence is both European CE EN1078 and United Stated CPSC safety certified for protection.   
Durability: 
(8 out of 10) It's a damn helmet… it better be durable, that's the point right?! And the Sequence is, thankfully. Aside from general scratching and scuffing from wear and tear occurring on the trails, in the garage and from rolling around in the trunk of the hatch-back the Sequence stands up nicely to typical abuse. After a month of use all we could find to complain about was some surface scratches and dings to the outer edges where the foam is exposed, but nothing you'd probably even notice unless we pointed out.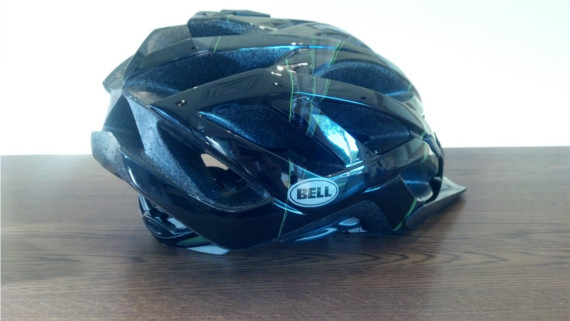 Beyond the minimal dings and scratches to the foam and paint job we did notice that the chin straps and clasps are nice and heavy duty and feel like they're built to last. As well as the TAG system and all of the anchoring points for the straps.  
Value: 
(8 out of 10) For less than $100 we found the Bell Sequence Helmet to be a very nice value. The Bell brand is well known and respected in the cycling industry and they're quality is top tier. With the Sequence you're getting style, protection and durability, which is well worth the $90 asking price in our humble opinion.  
The Bottom Line

:
Whether you're a casual lazy Sunday peddler or a gear crushing, trail stomping freak – the Bell Sequence Helmet is prepared to accompany you where ever your bike may lead you. We found this helmet to be exceptionally comfortable, sneaky stylish and highly durable. The venting system is no joke. It's like air conditioning for your dome! If you're in the market for a new bike helmet don't hesitate on the Bell Sequence it's a just about all you could ask for!   Buy Now: $90 or go to: BellHelmets.com