Engineered specifically for survival in the most extreme conditions, the Bear Grylls Survival Tool Pack from Gerber is a rugged 12 component multi-tool, flashlight and magnesium fire starter rod that's not only endorsed by the world's foremost survival expert – Bear Grylls, but was also designed to his exacting specifications. The pliers are spring loaded and outfitted with rubber grips for simple one-handed manipulation. Each the tool locks into place when open for safe use without fear of injury. Hopefully we'll never have to use the Bear Grylls Survival Tool Pack in an actual survival situation, but just in case we took this bad boy into the depths of the Michigan wilderness last week to see what it's made of!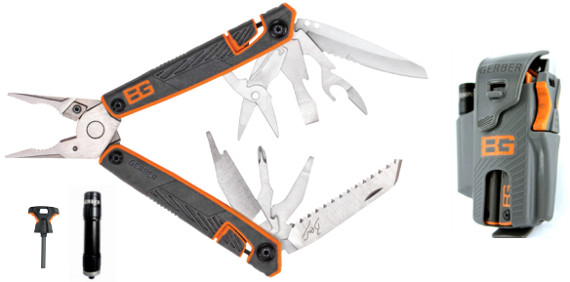 Whenever I pack my kit I want stuff that's reliable, tough and going to work when I need it most. The survival tool pack really is the survival tool with it all. If you're going to take one thing with you into the wild I'd take this because it's got everything on it. Even the case is super tough and durable. Compact, tough and ready for survival. -Bear Grylls
Components & Features:
Locking Case
Attaches to Belt / Backpack Strap
Needle Nose Pliers
Standard Pliers
File
Wire Cutters
Partially Serrated Blade
Wood Saw
Small Flathead Driver
Bottle Open
Scissors
Crosshead Driver
Pierce
Medium Flathead
Flashlight
Firestarter Rod
Priorities of Survival Pocket Guide
Specs:
Open Length: 6.0″
Closed Length: 4.0″
Weight: 11.14 oz 
– The Review –
Design: 
(9 out of 10)
 Designed to be carried on your hip or stuffed into a pack, the entire kit is surprisingly compact and not as bulky as we had assumed it would be. Each accessory (flashlight, fire starter rod and multi-tool) fits nicely into the carrying case and makes for easy access. The high visibility orange outlining and accents Gerber outfitted the pack with make it easy to find should you drop or misplace it. From a functionality standpoint, the fire starter rod is amazingly simple use and can produce wickedly hot embers, but make sure to have extremely dry tinder when attempting to spark a fire. Anything other than the driest of the dry tinder will give you fits attempting to make fire. The flashlight is rather dinky yet delivers an impressive beam of light while only running on a single AAA battery. The multi-tool is the workhorse of this kit, with 12 tools in all, including needle nose pliers, wire cutters, wood saw, pierce, scissors, partially serrated blade and more. It's extremely well made and built to handle just about anything you can throw at it! After spending some quality time with this kit in its element it was quickly evident that it earned the Bear Grylls seal of approval for good reason.   
Capabilities: 
(8.5 out of 10)
This survival pack is equipped with a freakish amount of tools without being cumbersome. We especially enjoyed the saw blade which makes quick work of tree limbs and wood up to 3 inches thick. The file was designed to be used in conjunction with the fire starting rod to produce blazing hot magnesium embers. Additionally we were impressed with the ultra sharp knife blade Gerber integrated into the multi-tool and its quick access thumb release, though we could do without the serrated portion of the blade. What's missing? Not much, but if we could add one thing it would be a compass. We'd love to see Gerber upgrade this unit in the future with a compass integrated into the carrying case.
Durability: 
(9 out of 10)
Each tool and accessory incorporated into the Bear Grylls Survival Tool Pack is produced from high quality stainless steel and plastics. That being said, it's not quite indestructible either. The kit was designed to make short work of small jobs. It's not the tool you're looking for to overhaul your transmission, but is excellent for a slew of camping / outdoor projects. Overall we were quite impressed with the finishes, blade sharpness and strength of the tools. 
Value: 
(8.5 out of 10)
Backed by Gerber's warranty and ringing up at $85 we found the Bear Grylls Survival Tool Pack to be a reasonable asking price for the piece of mind it delivers as a survival tool and it's overall quality. 
The Bottom Line

:

If you're an outdoors man or woman who frequently enjoys camping, hiking and generally spending your time bunked up in a tent river-side with your food cooked slow over an open fire, that you started (without a lighter) we highly recommend you consider adding the

Bear Grylls Survival Tool Pack

to your equipment checklist. It's built for survival and is highly durable. Hopefully you'll never need it for anything more than cracking open beers while enjoying gods country, but in the event you get turned around or lost this kit will have your back and increase your chances of survival no matter the situation.  

Buy Now: $85

or go to:

GerberGear.com