Versatile, fashionable, AND waterproof? Sign me up. The Demarco from Baro keeps you dry without compromising style. Based out of Vancouver, B.C., Baro Dry Wear dedicates itself to "Bringing the trusted technologies that keep you dry into classic silhouettes and styles, designed for your daily life and all the rad stuff you do." Inspired by your grandfather's mac coat, The Demarco brings  classic style with up to date technology.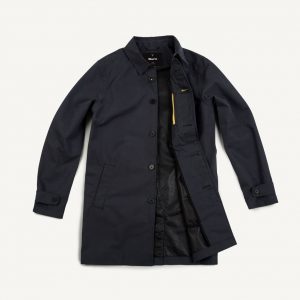 Key Features:
10,000mm Waterproof / 10,000g Breathability rating

3-Layer fabric system has a soft cotton look and feel.

Technical bonded layer keeps you dry and comfortable

Fully seam sealed to prevent water penetration

Removable hood with hidden collar attachment.
Design:
I was excited when I received The Demarco. I am game to give any company that attempts to blend classic style with updated performance a try. I have had my eye on longer coats this season so I was more than happy to welcome The Demarco into my collection.
The Demarco has 4 waterproofing components. 1) The DWR.The outer layer is comprised of durable weather repellent treatment or DWR. 2) The membrane. This layer allows body heat and sweat to escape while keeping rain and moisture out. 3) Taped. The seams are stitched together and protected with a strong bonded taping. 4) Wicking. The moisture wicking lining keeps your dry and comfortable.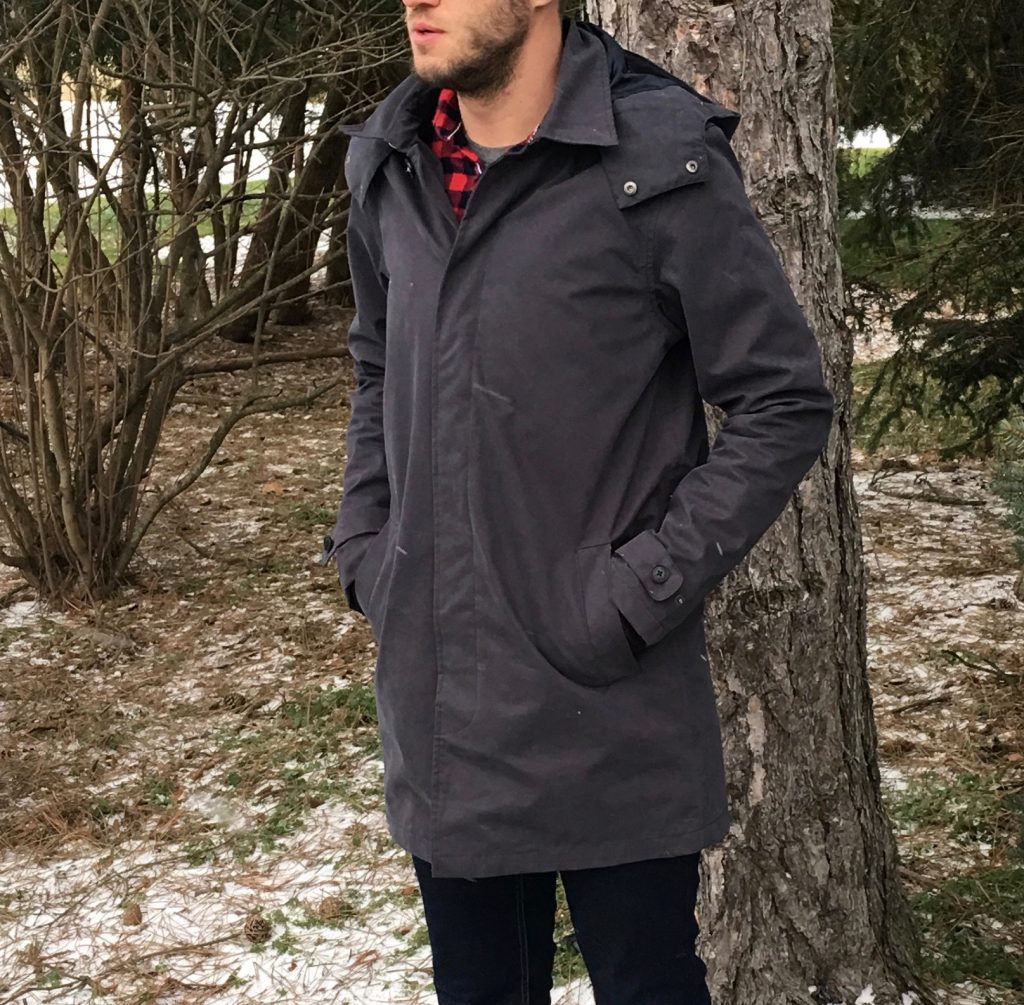 So how did it hold up? Wonderfully. I wore this jacket in the rain and snow and kept nice and dry. On more humid days, the jacket didn't feel "too stuffy" and the rain and moisture were kept completely out. It is important to note that this is not the warmest coat. It will keep you dry but an inner layer is necessary to stay warm. The coat alone is a great transitional garment for fall or spring.
Style:
I love the new twist on this classic style.  The Demarco comes in two colors: black and storm. "Storm" is what is featured here. The buttons down the front and the length of the coat allowed me to wear this for both casual and "dressier" occasions. The length (down to about mid thigh) provided a classic, sophisticated look without going overboard. I loved wearing this coat totally buttoned up or completely unbuttoned.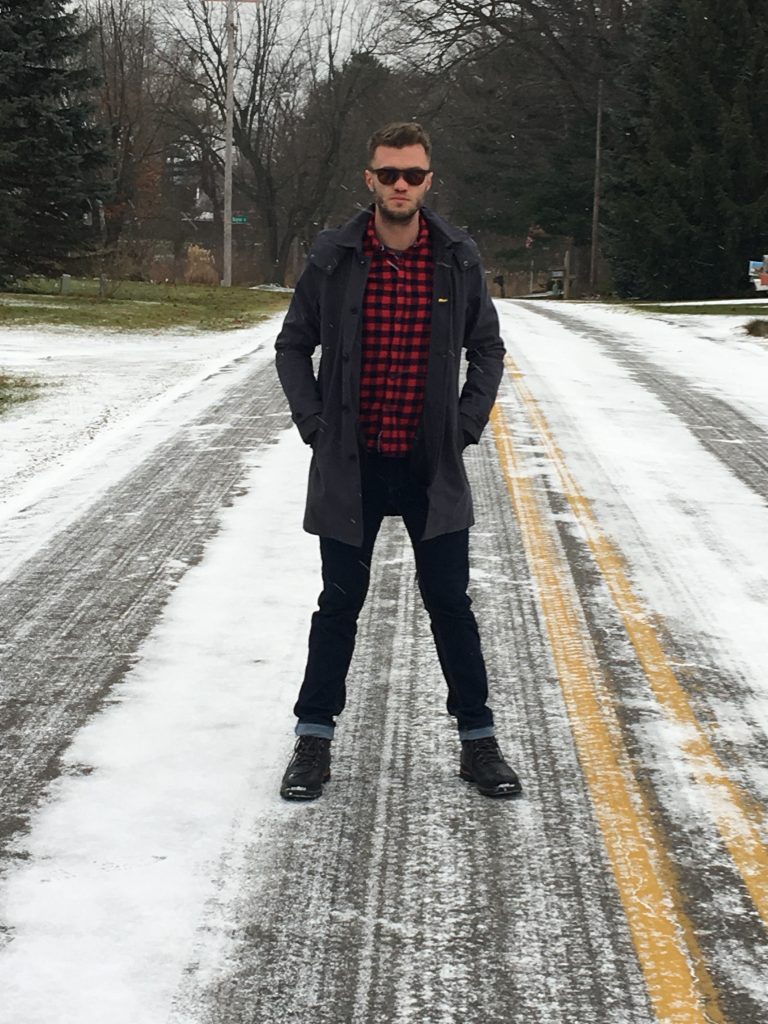 I am glad the hood was detachable. Although the hood did keep my head dry in the rain in snow, I loved the look of the classic collar on dry days. The hood was very simple to detach and reattach.
The days of a bulky coat are long behind me (thank goodness). This coat was the perfect fit. It was fitted without being too tight. I absolutely hate swimming in my outerwear. This coat allowed me to keep a nice, masculine silhouette.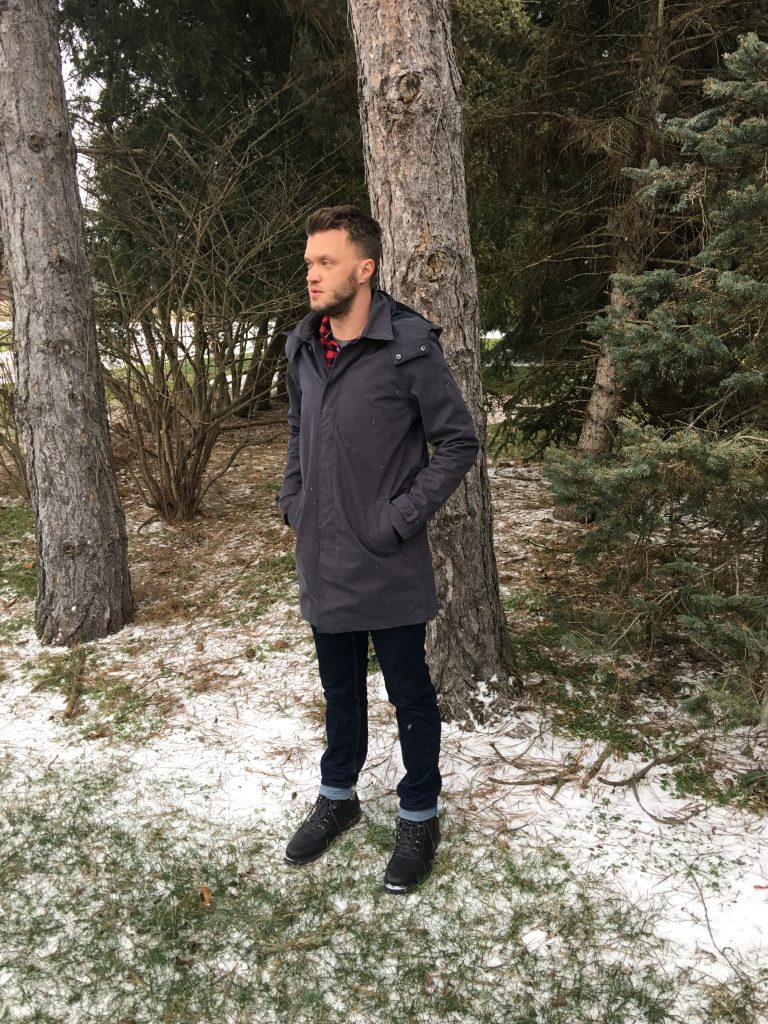 Comfort
Overall, I found the coat comfortable to wear. However, the inside protective lining did rub against my bear skin if I threw the coat on with a short-sleeved shirt. Wearing a long sleeve in this coat is a must, which you most likely would.
The coat is flexible and soft to the touch. Having a coat that is this waterproof as well as breathable and movable is a tough combination, however, I think Baro nailed it.
Value
The price of  $340 (USD) for a coat may seem on the high end for the average consumer but you get what you pay for: the highest quality of materials, a modern take on a classic look, and a totally waterproof coat. Based on the materials used, this coat is going to treat me well for years to come. And because of its classic look, it's not going out of style anytime soon…if ever. So you have to ask yourself, are you willing to pay for quality?
The Baro website is definitely worth a look. Their take on the classic bomber jacket, The Dean, is definitely at the top of my Christmas list. Their Instagram account is also worth a look for more styling tips.  Keep an eye out for this company!
Buy this look now for $340 (USD) or check out Barodrywear.com for other modern twists on classic styles.
Demarco Jacket by Baro Drywear - Style Review
The Demarco from Baro Dry Wear gives a modern twist on a classic style. Baro intergrates top of the line dry tech with classic looks.
The Good
Keeps you dry
Classic look, perfect fit
Quality materials
The Not so Good
Not warm on its own
Inside layer not comfortable on bare skin