Looking for the functionality of a traditional golf shoe with the versatility and comfort of a tennis shoe? Well, that's exactly what the folks over at Ashworth are promising with the addition of the new Cardiff Mesh golf shoe. Since the late 80s Ashworth has been creating golf apparel and footwear that's not only fashionable, but quality made. The new Cardiff Mesh is said to be no different. Ashworth's latest creation has been marketed as a golfers best friend… breathable and lightweight all the while providing excellent traction. Recently we were given the opportunity to fully test and review these shiny new kicks ourselves on (and off) the course!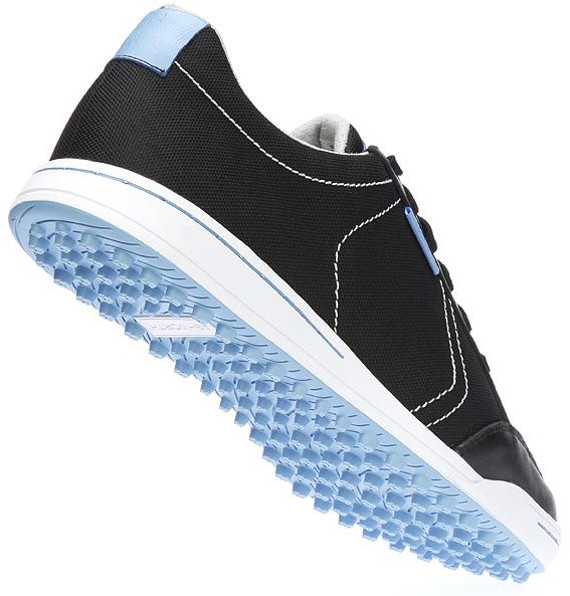 We've seen our fair share of spikeless golf shoes over the past two years, so we figured this review would be pretty straight forward, but after doing a little research we quickly realized that he Cardiff Mesh is packed with additional technology and features to others skipped by.
Key Features:
Abrasion-resistant rubber outsole provides full-length spikeless traction
Dual-density EVA + foam footbed provides long-lasting comfort
Super-durable toe overlay for improved abrasion resistance
Canvas upper provides a sportier look
Iconic Ashworth upper design
2-Year Waterproof Warranty
Color Options:
Black / Black / Columbia Blue (seen above)
White / White/ Neo Iron Metallic
Black / Black / Pallatina
I started wearing the Cardiff at the Sony Open this year. It's a comfortable shoe that looks great in shorts. I started wearing it with my buddies playing leisurely golf when i'm at home and I kind of liked the way that it felt and thought i'd give it a try this year. It's a good look and a good feel.                                                                                   -Sean O'Hair PGA Tour Pro
– The Review – 
Comfort: 
(9 out of 10) Overall these shoes have a great fit and feel. The fact that they're flexible and lightweight make them ideal for both walking and riding. We did however notice the fit was a bit snug in the width department initially, but after a few rounds of breaking them in they did become very comfortable. The integrated dual-density EVA + foam footbed Ashworth has incorporated into the Cardiff Mesh is no joke my friends! Playing around of golf in these shoes is refreshing. Let's put it this way… you won't be rushing to the car after 18 to slip on your comfy shoes, because these are the comfy shoes! 
Design: 
(8.5 out of 10) Somehow the Cardiff Mesh balances the very thin line between being Mr. Roger's lame loafers and a truly trendy – almost hipster-esque pair of sneakers. I think what makes them most appealing is the bold stitching and use of vibrant color along the bottom. Beyond appearances the Cardiff Mesh features an athletic fit that is ideal for grippin' and rippin'! Additionally we found the durable toe overlay to be a nice touch. If you look at my collection of golf shoe all of them have damage to the toes. It's inevitable, but the overlay was designed specifically to protect against damage for the life of the shoe.
Traction: 
(9 out of 10) The spikeless tread Ashworth has outfitted the bottoms of the Cardiff Mesh with is simply outstanding. These shoes are like an off-road tire! Only in extremely soggy conditions did we notice instances of slippage. During dry days the shoes preformed flawlessly. If you're not quite sold on the spikeless fade just yet, these golf shoes will likely change your whole perspective on things if you give them a whirl.
Waterproofing: 
(9 out of 10) Surprisingly enough the mostly canvas construction of these golf shoes actually do provide an adequate level of protection from water. Provided you don't go into the pond after your ball and keep your feet out of puddles that are deeper than the level of the shoes laces, the Cardiff Mesh should keep you high and dry. Casual water, morning dew and rain proved to be no match for the Cardiff Mesh's waterproofing. 
Breath–ability: 
(8.5 out of 10) To be truly breathable shoes need to have holes and vents, but unfortunately holes and vents don't lend themselves nicely to the category we just discussed above.  That being said these shoes do supply decent air flow to most of the foot. We were impressed with their ability to keep our feet cool even in the blistering hot sun. The trick is to keep moving. If you're walking, walk faster. If you're riding in a cart,  floor it! 
Value: 
(9 out of 10) Ashworth has produced a stylish shoe that perfectly functional in our opinion. At $120 it's not the most affordable golf shoe on the market, but for our money it's one of the best values dollar for dollar you'll find right now.
The Bottom Line:
If you're a serious golfer who takes pride in your game and your appearance we suggest you give some serious consideration when purchasing your next pair of golf shoes to the Ashworth Cardiff Mesh. We've fallen in love with them for their simple yet eye catching styling, aggressive spikeless tread and comfortable fit.  The fact that they're breathable and come with a 2 year waterproof warranty are bonuses in our book!

Buy Now: $120 or go to: AshworthGolf.com