The days of summer are officially here, and we all want to get out there and enjoy it for all it's worth. Sometimes it's a real challenge to squeeze it all in, so when given the option to combine our favorite activities we will always embrace the opportunity. This year we took the Ascend FS12T Sit-On-Top Angler Kayak to the lake, and to the river, broke out some fishing tackle, and enjoyed the mobile fishing experience. With so many shapes and models of kayak on the market, Ascend® has embraced the challenge of designing a versatile, high-performance kayak that's great for beginning paddler's and hardcore kayak anglers alike.
Technical Features:
User-friendly kayak made for both beginning paddlers and avid anglers
New design for even more stability, function, and comfort
Advanced Tunnel Hull design – increased primary and secondary stability
Deluxe removable seating system – fore and aft adjustment
Flat casting deck footwell design – solid casting platform
Multipurpose molded dash – deep molded catch all trays and cupholder
Medium forward storage area with weathertight hatch
Weathertight deck plate storage – great for small items like wallet, keys, and more
Multipurpose sternwell – accepts most full size coolers
Adjustable foot braces – fits paddlers from 5'2″ up to 6'2″
Flush mount paddle holder
Molded rod tip stagers
Fully adjustable rod tender – 360° of horizontal movement and vertical rod adjustment
Threaded and sealed drain plug
6 self bailing 1-1/2″ scupper drains
Maximum weight capacity: 350 lbs.
Specs:
Length: 12′ (3.66 m)
Width: 31″ (78.74 cm)
Weight: 77 lbs (34.93 kg)
Maximum weight capacity: 350 lbs (158.75 kg)
Made in USA.
Ascend FS12T Sit-On-Top Angler Kayak Review Breakdown
Design:
A sit-on-top kayak by design, the FS12T Angler Kayak remains comfortable and adjustable to the needs of the paddler. With regards to comfort, the seat is adjustable by the pull of an accessible strap, and the foot braces are adjustable for that perfect positioning, no matter what the size of the angler.
The FS12T Sit-On-Top Angler Kayak also comes equipped with two watertight storage areas for keeping your gear dry and accessible. We did notice in more tumultuous waters or while caught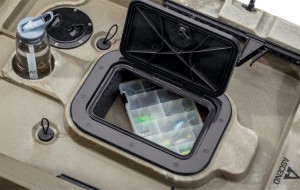 out in the rain, that some standing water can collect over the deck plate storage area. This is something to consider before bringing along non-waterproof devices that may need to be accessed.
When we did find a good spot to land and try a few casts, the flush mount paddle holders came in extremely handy, and we were able to store the paddle alongside the seat with no difficulty. Just remember that fishing while in motion, especially out on the river, will require steering at a moments notice. Multi-tasking in this manner will prove to be a challenge, but not impossible depending on your location.
For those interested in doing some trolling for fish while paddling, or just making an adjustment to position without having to real in the line, the FS12T Sit-On-Top Angler Kayak is equipped with an adjustable rod tender on the right side. When not in use, the rod tender can be detached and stored, and we would recommend doing so to prevent catching with your right hand while paddling. For those who prefer fly fishing, we would like to note that the rod tender is more specifically designed for a spinning rod, and a stable fit may be more suspect than you will be comfortable with.
Portability/Storage:
Weighing in a 77lbs, the FS12T Sit-On-Top Angler Kayak is a bit more bulky than your average kayak. While it can be pulled along the ground by the average sized person, we would recommend against doing so on abrasive surfaces. fortunately, if a helping hand is available, this kayak is designed with grip handles on both the bow and stern. The handles have a remarkably forgiving grip, and there is very little in the way of leg bumping or discomfort while carrying the kayak in this manner.
Obviously, since the FS12T Sit-On-Top Angler Kayak in the larger size category (12′ x 31″), lifting it onto a car roof rack will definitely require at least two people. If you plan to take a fishing excursion on your own, you can count on running into some problematic scenarios. This is also something to be aware of while considering storage, as space can fill up quickly.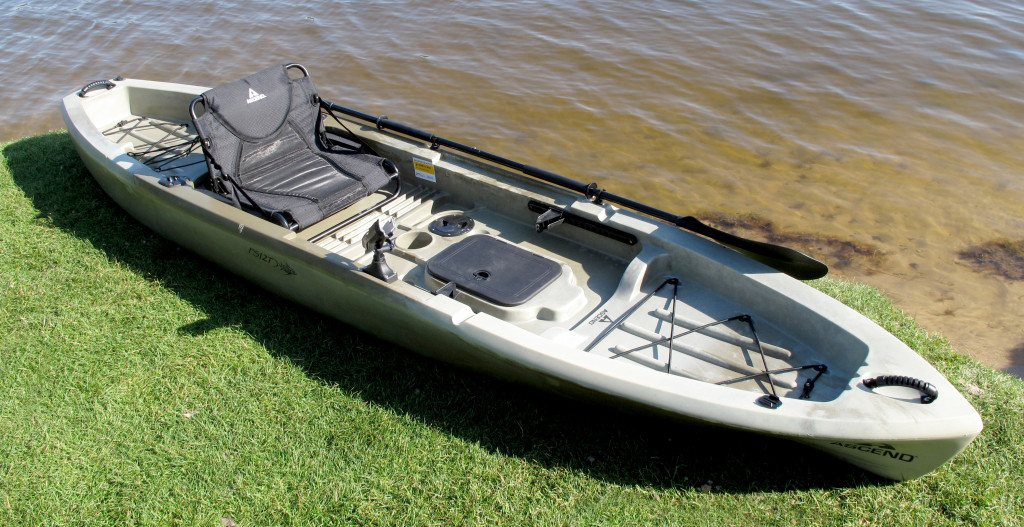 Looking to get the most out of your adventure?! Check out our review of the Yakima BigStack Kayak Carrier!
Mobility:
For a considerably wide, sit-on-top kayak, one would suspect that the maneuverability of the FS12T would be less than adequate. Sure, it is a wide rig, so obviously getting through those really tight spots will be more challenging. We did find, however, that when it came down to turning radius and speed, the FS12T Sit-On-Top Angler Kayak delivered great results on the lake and on the river. Tested on a glassy lake surface, the FS12T had close to the same pick up and go of some smaller sit-in kayaks in friendly racing challenges. When on the river, we did bump into a few rocks below the surface, but nine times out of ten we were able to successfully maneuver around whatever obstacles were in our way at a moments notice.
Stability: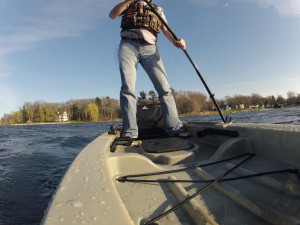 The ultimate test for any kayak you want to fish out of is in its capability of staying stable while fishing in the upright stance. This isn't the intended use for a kayak per say, but being able to stand up, get the vantage point, and even make a few casts without ending up in the drink is a very nice advantage. Even on choppy lake waters, we were able to stand up on the main deck, and ride the FS12T Sit-On-Top Angler Kayak much like a paddle board. Don't expect to get great mobility out of the kayak while used in this fashion though.
As previously stated, there are those rocks and branches that seem to pop up out of nowhere, and while hitting an object on the river's current is inevitable, we are pleased to report that we've experienced no turnovers. This is indeed a sturdy and stable ride, and you can count on staying dry while kayaking in reasonable conditions.
Durability:
As with most rigs of its kind, the FS12T Sit-On-Top Angler Kayak is not made of solid steel, so it is expected to catch a few dings here and there in the molded frame while going through the rough stuff. We did manage to bash this kayak into a few obstacles along the way, and although it did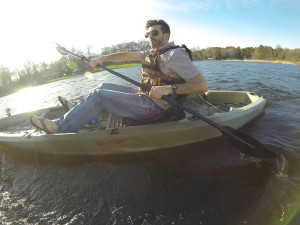 experience some noticeable wear, there have been no leaks to speak of so far. If properly used, we're confident that this particular kayak will provide many years of good old-fashioned water recreation.
Value:
Retailing at $549.99, we couldn't be more pleased with what the FS12T Sit-On-Top Angler Kayak has to offer. This is a bargain when compaired to a lot of the competition that runs upwards of $999.99 and up. Maybe a bit on the heavier side than some and with slightly less elaborate features, this kayak offers up just about everything one could ever need on a fishing expedition at a competitive price point.
Buy Now: $549.99 or to learn more, go to: BassProShops.com
Ascend FS12T Sit-On-Top Angler Kayak
We took the FS12T Sit-On-Top Angler Kayak everywhere, and we have to scratch our heads at the question of whether there was anything to be disapointed over. This kayak is versatile in its design, extremely comfortable for people of all shapes and sizes, and stood its ground admirably under all of our testing conditions. We all love the water, whether to paddle out and enjoy a quick ride or to pluck out a few fish. Now we have that capability to do both simultaneously, and life is good!
The Good
Highly Adjustable and Comfortable
Extremely Stable Making Standing Possible
Excellent Value
The Not So Good
Large and Heavy with Limited Portability
Can Accumulate Standing Water Over Watertight Containers
Rod Tender Doesn't Work Well With Fly Rods