Recently Busted Wallet got its hands on the Amesbury Knomo Leather Zip Briefcase. Knom0 is a London based company that brings luxury style with a practical purpose. The Knomo briefcase recently accompanied me on a trip to Southeast Asia where I got to see what this item was made of. I was originally anxious about bringing such nice item on a trip across the world, but The Amesbury proved it could hold up while allowing me to travel in style. The Knomo Amesbury is perfect for the traveler, a busy college student, or a business professional.
Key Features:
KNOMO organization

Fully opening front pocket for easy access

Detachable shoulder strap

Discreet back pocket zip to slip over a luggage handle

Unique MYKNOMO ID

RFID Pockets for protection

Fits up to 15.6" laptop

Available in Leather
Amesbury Briefcase Review Breakdown
Design:
Knomo calls their Amesbury: "Organized Luxury" and I could not agree more. They start with a full grain luxury leather that is soft and smooth to the touch. The company claims that this leather will age well. Time will tell if this is the case, but judging by the quality, I have very little doubt that this bag will look better with age.
The cool, masculine design changed the way I look at briefcases. Gone are the days of your dad's worn out black briefcase. Knomo is changing the game with the definition of briefcase and I'm on board. Although I love a stylish duffle or briefcase, I avoid the "man purse" look. This bag is considered a "luxury" item, but is still both practical and  masculine.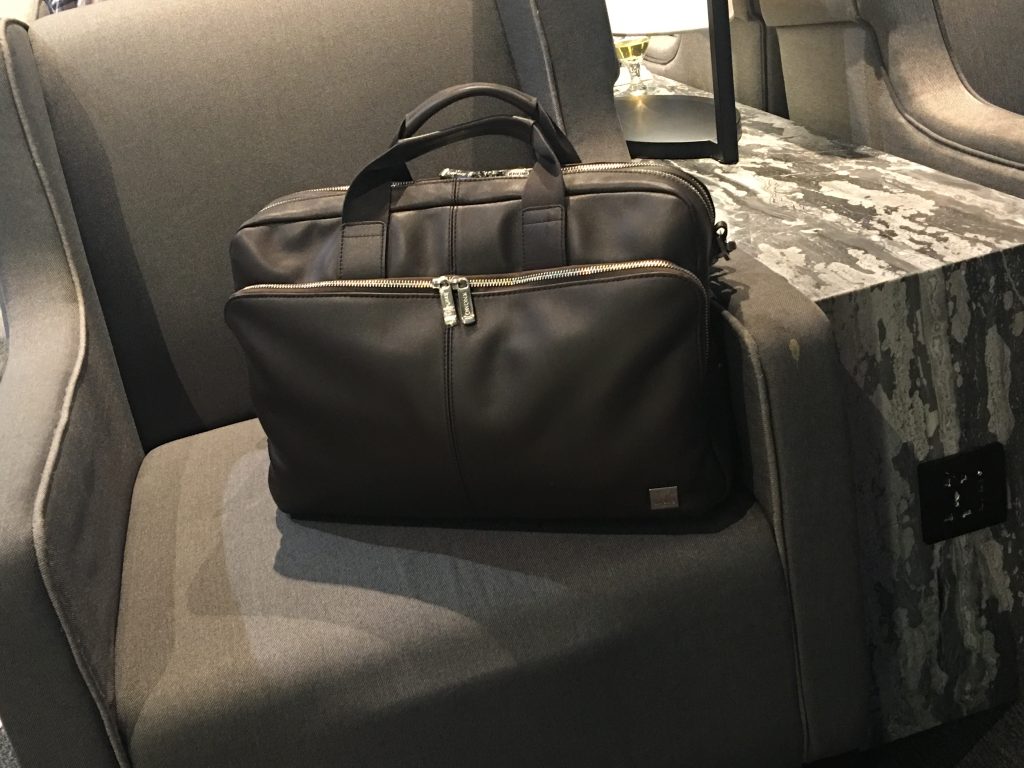 The zippers are nicely made and exactly what I hoped for. They were durable when I pack my briefcase full. I had confidence that The Amesbury would  hold up as I went place to place.
I tested the bag in brown. I found this color more versatile for me; I am able to wear it with almost any outfit. The bag's design is clean, simple, and stylish. Many awesome bags on this blog are for outdoor and adventure use,  so I appreciate a product that steps out of that realm and is made for the everyday man. Even though it was "just a briefcase," throwing this item over my shoulder to go into an airport or coffee shop made me feel confident and stylish.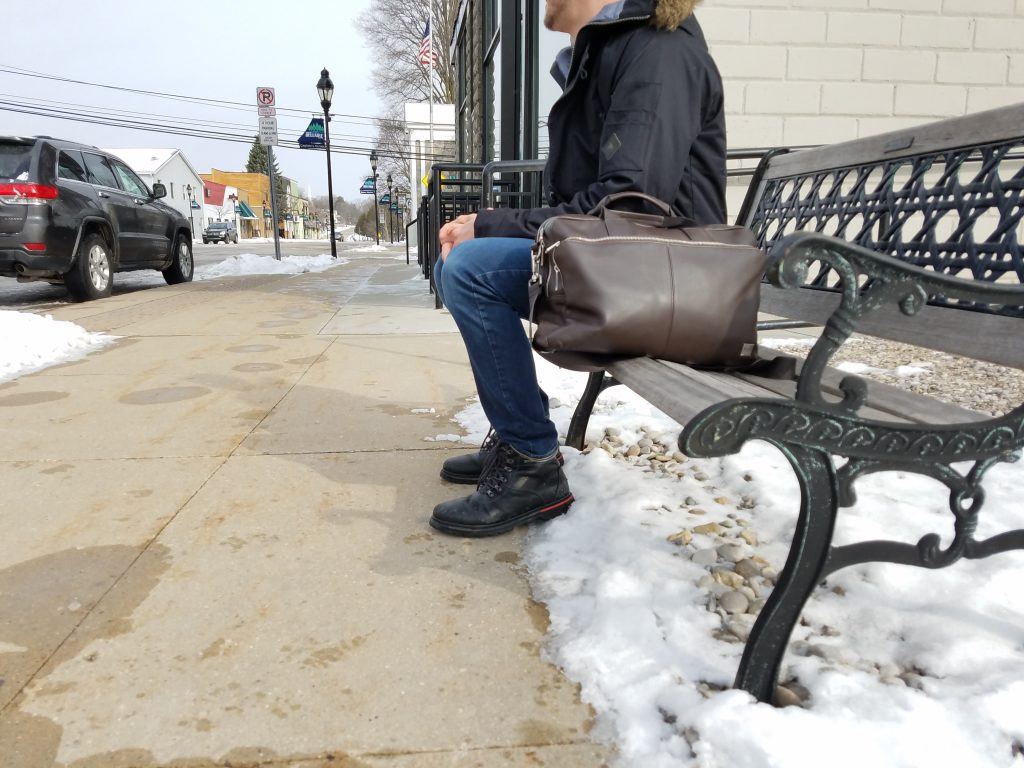 Comfort:
The Amesbury can travel in a variety of ways. The adjustable shoulder strap is conveniently detachable. I have not found a reason to detach the shoulder strap just yet, but I like any item such as this to be versatile and accommodating. The Amesbury can also be carried by way of padded short handles as well- to give your shoulders a rest OR for a different look style-wise.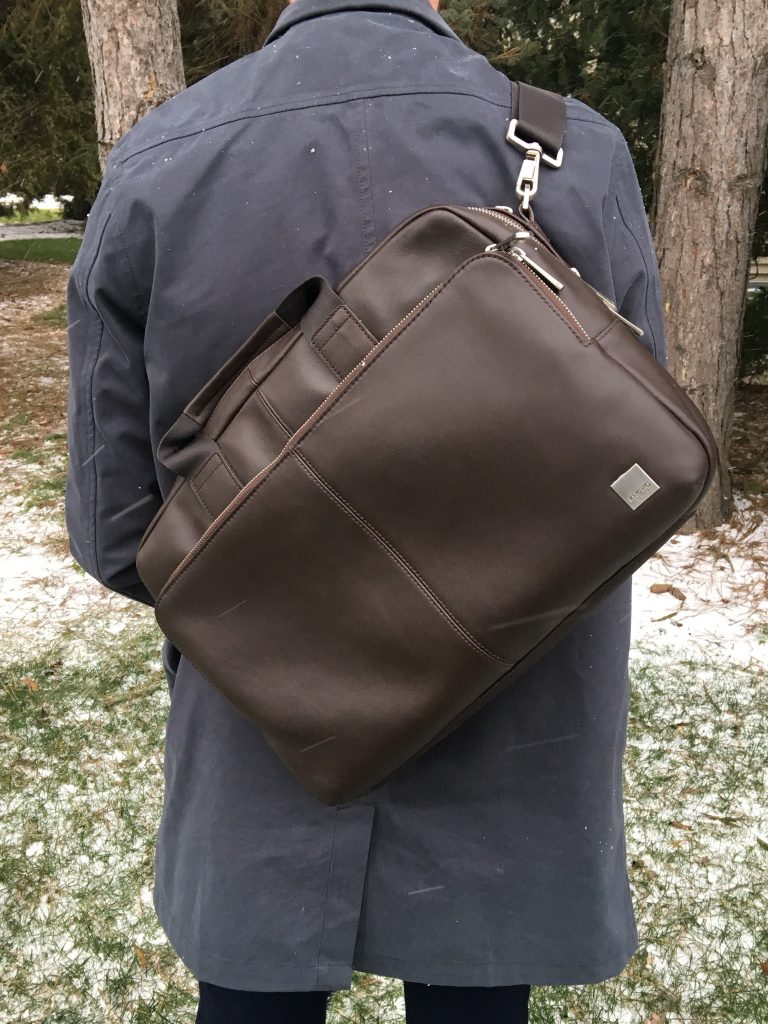 My favorite feature is the back pocket zip. This allows its user to slip the bag over the handle of a suitcase. This was perfect when walking across airports to the next gate when traveling.
Storage:
The Amesbury provides a spacious design without being too bulky. The measurements of this bag are H 11.5″ x W 16″ x D 3.7″ and can fit a laptop top up the 15" in one compartment. The main compartment is spacious and perfect for storing away books, headphones, or other materials. The front pocket is best used for holding tablets, wallets, keys, etc.The front pocket fully opens making all your items easily accessible. 
Just remember to be aware of your surroundings when storing important items in the front pocket.
Value:
At $425 (now on sale for $318.75), I would expect the perfect briefcase, and that's just what I found. Not only was this briefcase crafted with fine, luxury materials, it was also practical and had great storage for all my items. Luxury is a treat and this bag is no exception. What is lacking in most luxury products is the practicality, however,  The Amesbury delivered and gave me the best of both worlds. Now, it's time to strap on my new favorite travel companion and see the world in style.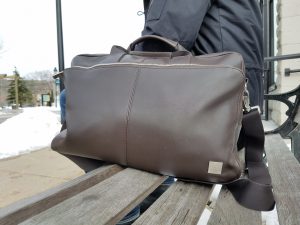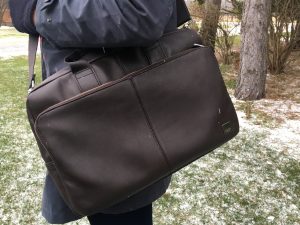 On sale now for $318.75 or explore Knomo for other great products.
The Amesbury Briefcase by Knomo - Style Review
The Amesbury Knomo brings "Organization Luxury" in a stylish and practical briefcase. Made from fine leather, this versatile briefcase will keep any man stylish and organized while on the go,
The Good
Made from fine, quality leather
Optimal storage
Detachable shoulder strap
The Not So Good
Price tag may be too big for some consumer